Is this diamond-fuelled skincare collection the ultimate in luxury beauty?
In creating their cult line of skincare creations, Stephen and Margaret de Heinrich of Omorovicza work with a Hungarian dermatology laboratory which previously won a Nobel Prize. If that isn't a marker of how serious the founding duo take their skincare, then the ingredients with which they formulate them, surely is. Following on from the lauded anti-inflammatory Gold Collection, Omorovicza's Blue Diamond line is centered on the energising properties of every girl's best friend. It's quite likely that we have just discovered the ultimate skin regime…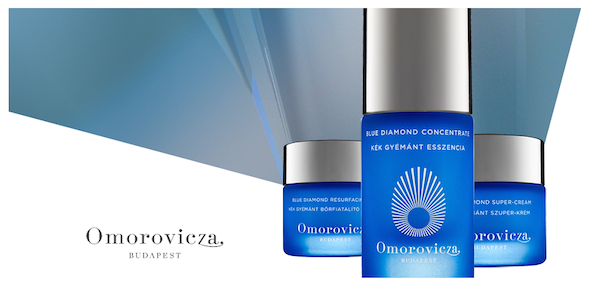 This precious trio of products works to infuse skin with energy, creating luminosity from within. The formulas harness the powers of restorative diamond peptides (yes, that's real diamonds,) copper amino-acid compounds and arabinogalactans (that's a water-binding hydrator to you and I.) Using the brand's patented Hydro Mineral Transference delivery system, (more on that here) these remarkable ingredients penetrate deep into the skin to fuel its own rebirth, reversing the signs of ageing.
The collection is made up of a resurfacing peel, a cream and a super-charged serum, all of which work together to heighten their individual effects. We recommend beginning with the Blue Diamond Resurfacing Peel, which is rich in exfoliating acids and sebum-regulating copper glutinate. It's the at-home equivalent of a serious facial peel, and the results are as impressive, as one might expect from an intense salon treatment. The Blue Diamond Super-Cream is the ideal following step – diamond microspheres mimic natural proteins in the skin to combat signs of stress and minimise DNA degradation. Finally, the ultimate intensive skin-boost comes courtesy of the Blue Diamond Concentrate: a highly active serum which lifts, hydrates and plumps.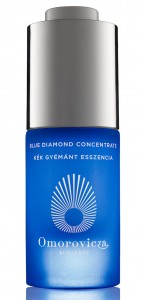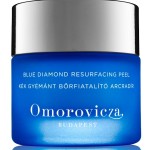 The real appeal here is the instant visible effects – skin immediately appears soothed and hydrated (which is especially welcome after this week's plummeting temperatures, leaving our complexions ravaged). But after continuous use come the truly stunning results: hydration lasts all day, and small wrinkles certainly appear less noticeable.
The old – and often disputed – adage that 'you get what you pay for' may be a particularly irrelevant concept in today's booming beauty market. Yes, we are proud of those bargain beauty discoveries and cut-price make-up lines, but every so often a 'high-end' brand releases a product so utterly innovative, luxurious and, most importantly, effective, that we can't help but forget everything we were told about savvy spending and throw ourselves into total indulgence. In light of this, Omorovicza had us at hello, and the Blue Diamond collection has done nothing but heighten our love affair with the brand.
Omorovicza Blue Diamond collection is available at Harrods, from £145.
Words: Roberta Lister