Because who doesn't wish for longer, thicker hair?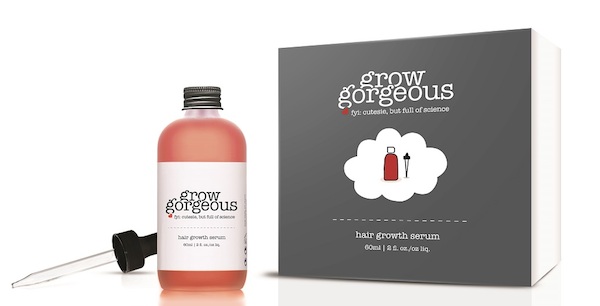 It's like our beauty prayers have been answered: longer, stronger hair in a bottle. Grow Gorgeous is the latest wonder potion from Deceim (the brainboxes behind high-tech hits Hand Chemistry, Inhibitif and Fountain) and contains an active complex serum which works to awaken lethargic follicles and encourage hair health and growth.  
The serum contains  21.5% active complex, which works to boost hair density by approximately 13% after 4 months of use, which we are told will result in about 13,000 more hairs on your head. Genuis, huh?
This impressive statistic is owed to a curious cocktail of complicated-sounding ingredients, which work to condition, strengthen and thicken those tresses. Bio-active Pea Sprout stimulates hair at the root, whilst Acetyl Tetrapeptide-3 increases collagen production in the scalp, helping follicles to anchor effectively: resulting in reduced hair loss and longer locks. Chinese Skullcap, Soy Sprout and Wheat Sprout pamper the follicles to improve thickness and lustre. And our favourite super-hydrator Hylauronic Acid helps to deliver the magic deep into the follicles.
After 3 weeks of usage, we can't quite say we'll be taking on Rapunzel in the hair stakes just yet, but our locks are certainly thicker and fuller. However, we're remaining optimistic- patience is a virtue, after all.
It may look cute, but this little bottle packs a serious punch. Massage 20 drops into your scalp every day for seriously big results, because when it comes to your crowning glory- bigger is always better.
Grow Gorgeous is available now at Boots and at Boots.com
Words: Roberta Lister