It's haircare, but personal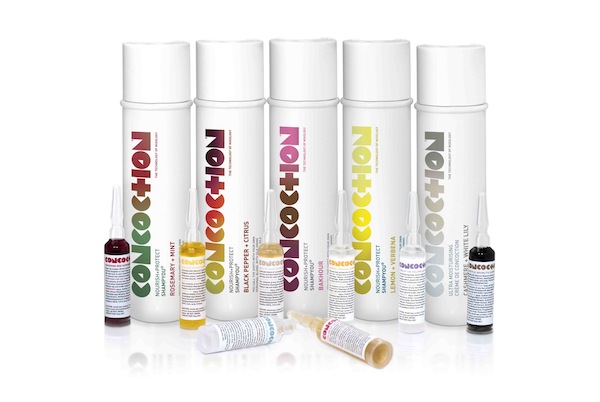 Ever felt that your relationship with your shampoo was a bit, well, impersonal? No, us neither- but Concoction's new line of tailor-made haircare may make you wonder how you ever settled for off-the-shelf.
Concoction is the brainchild of Alex Epstein, who believes that haircare should be fun, interactive and most of all, a bespoke experience. Hair has multiple care and nutrition needs, and so Epstein wanted to create a prescriptive system which works to deliver multiple benefits simultaneously. Two years ago, she called upon Millie Kendall MBE (of Ruby & Millie and BeautyMART fame) and Will King (of King of Shaves) and Concoction was born.
Concoction's philosophy is simple: we all want different things from our haircare, and these things vary from wash to wash. Maybe you need a colour boost one day, and a moisture injection the next. Concoction offers a completely customisable regime, where the base shampoo and conditioner are enhanced with shots of nutrients to suit your exact needs.
The process involves a 'base blend' (that's shampoo to you and I) which is combined with 'superserum shots' every time you wash. Each serum contains a blend of natural extracts, vitamins and scientific actives, and there are eight to choose from, depending on your desired outcome: brunette, blonde, red, moisture, volume, thermo-straight, root-soothing and curl-enhancing. That's an incredible 256 potential individual blend combinations. (We haven't tested the math, but let's take their word for it.) To complete the ritual, there's a silicone-free Cashmere and White Lily conditioner too. Whilst this all may sound a little complex, it's actually very straightforward. Simple choose your two serums, pop them into the shampoo base, shake (yes- like a cocktail) and you are ready to wash.
We opted for the Lemon Verbena base blend, combined with the Beautiful Brunette colour shot and the Gimme More Moisture treatment shot. The essential oils made for a blissfully fragrant experience, and hair was left soft and shiny, with a definite tint of rich chocolate colour.
Concoction is one of this year's truly innovative beauty launches- a uniquely unrivalled idea which is both unusual and remarkably effective. After a week of tailored-made shampoo experiences we are truly hooked- no more one-bottle-suits-all.
Choose your Concoction at ASOS, BeautyBay, BeautyMART at Harvey Nichols, Topshop flagships, and Selfridges.
Words: Roberta Lister