This week's most exciting beauty launch comes courtesy of mineral make-up masters BareMinerals: the brand responsible for igniting the skin-loving, mineral makeup revolution of recent years.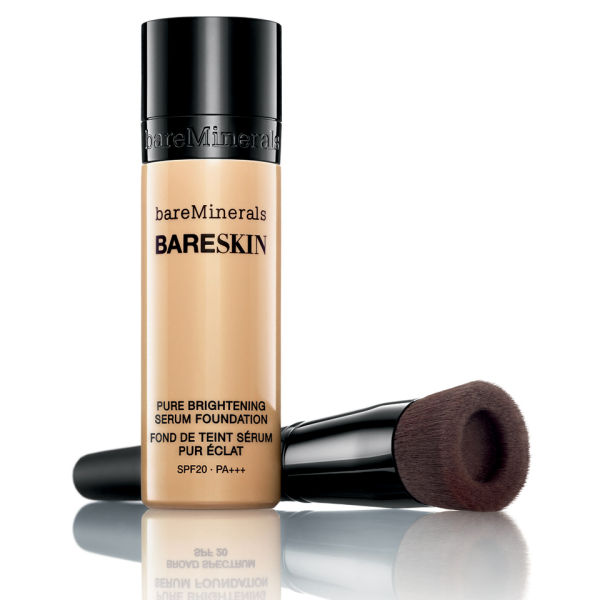 BareSkin Pure Brightening Serum Foundation marks the brand's first foray into the realms of liquid foundation, and has predictably caused high levels of hype on the blogosphere for its innovative serum-like texture and skin-loving composition. It's a hypoallergenic formula is created from a coconut-derived base, with jojoba-coated mineral pigments, lilac plant stem cells and a heavy dose of vitamin C – which basically means that it works to brighten the complexion and reduce dark spots. And trust us, it works really hard. 95% of users noticed a marked improvement in the appearance of dark spots.
So, we've established that the mineral formula is good for the skin. But does it make us look good? The verdict on this seems to largely depend on skin type. After a late-night-laden week, my slightly-on-the-dry-side complexion loved it. It provides customisable coverage (double the dose for a fuller finish) with plenty of that glowy luminescence one expects from a serum-based formula. However, more oily complexions may not be so enamoured with the dewy consistency.
As with all BareMinerals products, the key to perfect results is all in the application. The brand have launched a specially-crafted make-up brush alongside the foundation, which features a central reservoir designed to hold the product before it is 'buffed' onto the skin. It may sound dangerously gimmicky, but it truly does make application a breeze, and is well worth the investment.
BareSkin Pure Brightening Serum Foundation is available now from Bareminerals.co.uk, Boots, QVC and selected salons and spas.
Words: Roberta Lister