PHOENIX visits the heady halls of a Morrocan Hammam in the comfort of London town
We all know the pre-holiday exfoliation drill by now. We're forever being reminded that a dedicated all-over body scrub before jetting off not only equates to improved skin tone and texture, but also to that holy grail of British holidaymakers: a longer-lasting tan. But is there a superior option that blows shop-bought and homemade concoctions out of the water? In the name of dedicated (and entirely selfless) research, I checked in to The Spa in Dolphin Square – winner of Best Luxury Day Spa at the World Spa Awards 2014 – for their blissful signature Hammam Ritual.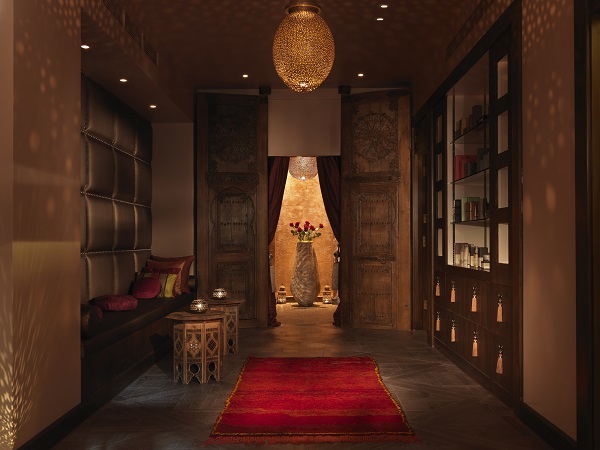 Steeped in heritage, the traditional Moroccan Hammam experience is billed as the ultimate purifying and detoxifying body buffer. Short of flying to Marrakesh, The Spa in Dolphin Square is the place to experience it, being London's only spa offering the combined benefits of authentic Rhassoul (techniques to draw out impurities), Hammam (rituals to cleans and exfoliate), and salt-infused steam rooms. What's more, the spa's mineral-rich water is drawn from Dolphin Square's own artesian well, the only remaining working well in the City of Westminster.
Set just off one of Pimlico's prettiest squares, the spa is unlike any other I've been to. I descend down a stairway into a dimly lit, deliciously scented underground sanctuary, dotted with glimmering lanterns and draped with plush curtains. The expansive space is made up of long passageways lined with pottery, trinkets and clusters of flowers, its vast wooden doors leading to luxurious relation lounges, steam-filled chambers and treatment rooms. One of the attentive spa mentors leads me to a gorgeous walled courtyard garden, where warm water is poured over my hands from a golden teapot – a traditional greeting in Moroccan households. I'm then taken to the invitingly warm changing rooms to robe-up before my treatment.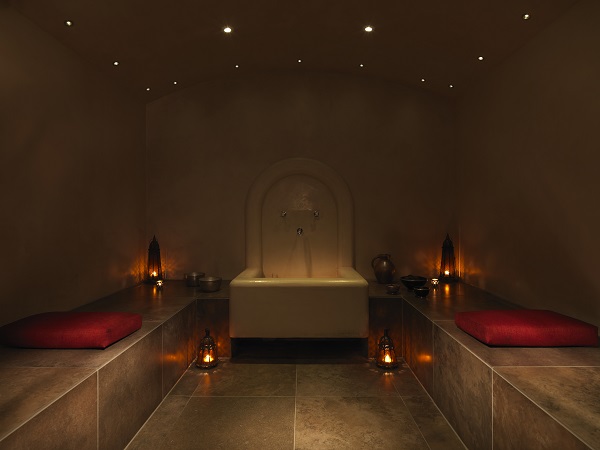 Before entering the Hammam itself, I'm invited to use the steam room, to open up the pores and soften the skin. I'm then taken into a darkened room bordered by marble slabs and, at the far end, a gigantic stone sink with large taps. Once I'm lying down on one of the stone slabs, the Hammam tellak douses me with warm water. It may sound contrived, but the novelty of having someone else wash you is an incredibly soothing experience, and I soon feel my muscles begin to unknot and relax. Next, my body is generously coated from the neck down in Savon Noir, a cleansing soapy balm made from crushed olives, olive oil and Eucaluptus, and I'm left to relax while the ointment seeps in. I'm close to drifting off when my tellak reappears to exfoliate away the mixture, improving my circulation as she scrubs away impurities and dead skin cells using a Kessa mitt made of course, crinkled fabric. Be warned, the scrubbing motions are rigorous, but not so much as to be off-putting. I'm left with the silkiest skin I've ever had – completely unlike anything I've managed to achieve at home. Even problem areas, like knees and elbows, come up baby-soft.
Post-Hammam, I relax in the Trepidarium on one of the gently heated recliners, raised high from the floor, and am given dates, apricots, almonds and hot mint tea. The staff are incredibly helpful and discreet, welcoming me to take my time and stay as long as I like.
I can't recommend this treatment – or the beautiful backdrop of the spa – enough. The results last several weeks, long enough to notice improved tanning on a heat-wave weekend in the capital. If you book one pre-holiday treatment this year, make this it.
Hammam Ritual, 25 minutes, £39
The Marrakech Ritual Spa Day costs from £85 per person, this includes the hammam ritual, a 25 minute massage and a Moroccan Ceremonie de The.
The Spa in Dolphin Square can be booked through the UK's spa bookings specialists SpaSeekers who offer a carefully selected collection of over 500 of the finest spa venues – whether you're looking for the perfect spa day, spa break or spa gift, they will help you to find the perfect one for you. 

Words: Mary-Jane Wiltsher