We know it can be tough to seek out those products that nimbly tread the line between modern and traditional. The 21st century dandy is a complex being, often seeking a fine balance of heritage and progressive elements from his grooming paraphernalia.
Gentlemen's Tonic's signature product range delivers on both fronts – perhaps unsurprising from a luxury barbershop that steers resolutely away from the two camps its industry associates inhabit: hipster or senior citizen. Think premium hot towel wet shaves in front of flat screen TVs in your own private 'shave station', against a backdrop of glass cabinets and dark wood that gives an understated, masculine nod to the past.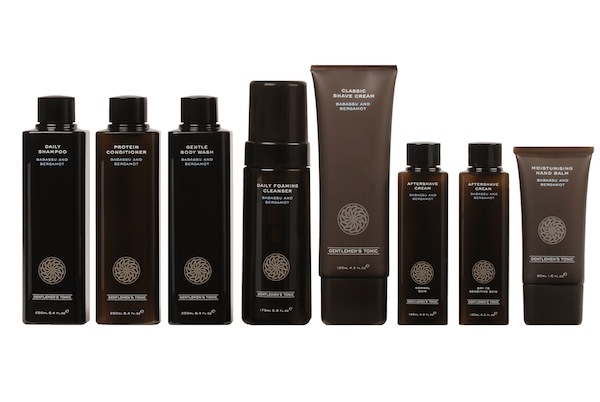 Incorporating haircare, bodycare and shaving, the 13-piece plant-derived collection is built around two core ingredients: babassu and bergamot oil. Oils – from avocado to coconut – have experienced a beauty renaissance over the last few years, with argan oil sky-rocketing to new heights in haircare. But the latest wonderchild of the oil family is babassu, a hyper-moisturising nut-derived oil rich in fatty acids, extracted from the kernels of palm trees in Brazil. Renowned for nourishing the skin, soothing the scalp and replenishing hair follicles, this miracle emollient alleviates dryness without leaving a greasy residue. Coupled with the classic citrus-turned-floral scent of bergamot, the range achieves a deeply invigorating quality.
PHOENIX's male contingent has favourited the rich lather Shave Cream, £19, laced with powerhouse manuka honey, and the Daily Shampoo, £14, with its spicy additions of ginger and nutmeg. They also have their beady eye on the Savile Row Shaving Sets, £175 each, available in faux ebony, horn and ivory finishes, accompanied by superior pure badger hair shaving brushes.
You can find Gentlemen's Tonic at 31a Bruton Place
Mayfair, W1J 6NN. For full details of treatments, products and prices, visit the website. 
Words: Mary-Jane Wiltsher