Now it's not like we've ever weighed it, but we're willing to bet that the contents of our entire everyday beauty arsenal weighs a considerable amount- certainly more than a 22kg baggage allowance can accommodate. Yes, a fully-stocked cosmetics cabinet is certainly something we take for granted, but don't resort to a painful process of prioritising and elimination this summer: with our selection of the best mini beauty bottles, (all of which pass that 100ml carry-on rule,) there is no reason to take a vacation from your beauty regime.
The following mini-kits contain every essential for a trip away, no matter how far – it's a hell of a lot easier than frantically raiding the travel toiletries section at the airport Boots.
The Skincare
With all that sun, sea and, er sangria, your skin needs some serious loving. New brand-on-the-block Verso has already crafted a legion of loyal devotees thanks to its high concentration of Vitamin A derivative Retinol-8 (it's actually the highest available without a prescription.) Verso tells us that this formula is eight times more effective that standard Vitamin A products on the market- making it the ideal remedy for a week in the sun.
The Travel Series contains miniatures of three of the brand's most essential products: Foaming Cleanser, Day Cream SPF 15 and Night Cream, all housed in a sleek aluminium bag. This little set also works as a perfect introduction to the brand, and we predict the full-size products may find their way into your possession very soon.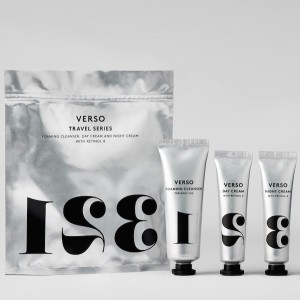 Verso Travel Series. £40
The Body Indulgence
A holiday just isn't a holiday without a little indulgence, and the contents of Aromatherapy Associates's Weekender bag fit the beauty bill perfectly. The Revive Body Gel is formulated with grapefruit, rosemary and juniper, and works to even skin-tone and maintain healthy circulation, whilst the De-Stress Muscle Gel is perfect for soothing tired muscles after that sightseeing trip (read: continuous walks to the bar.) Finally, the Rose Body Wash and Body Cream, fragranced with rose, geranium, Shea butter and evening primrose, are a beautifully indulgent luxury – you'll never touch those mini hotel toiletries again.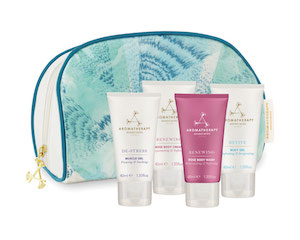 Aromatherapy Associates The Weekender. £25
The Haircare
Holidays are the perfect opportunity to ditch the straightening irons and try out those cool, beachy tresses that you just can't quite seem to pull off in the city. Embrace a laid-back attitude and leave your hair in the hands of Bumble & Bumble's Surf Set. It contains little bottles (enough for a week) of the cult Surf Foam Wash Shampoo and Surf Crème Rinse Conditioner: the perfect base for tousled, beach-ready tresses, and the salt-water based Surf Spray – famed for its unique ability to create body and lift with a matte texture – get practicing your 'oh I just woke up like this' line.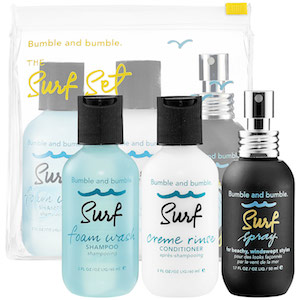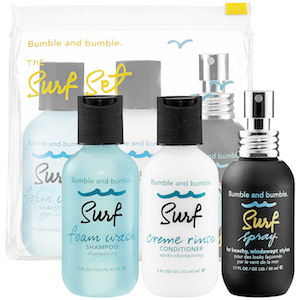 Bumble & Bumble The Surf Set. £18
The Makeup
A finely-perfected face of makeup has no place on holiday – no one likes a smudged mascara or a melted lippy. However, this doesn't mean that going it bare-faced is your only option. BareMinerals solves this holiday make-up conundrum with its Ready To Go Complexion Perfection Palette. This clever little set houses the brand's SPF 20 Foundation, SPF 15 Touch Up Veil, Bronzer, Luminizer and SPF 20 Correcting Concealer as well as two mini brushes. In other words, it's your flawless, holiday complexion contained within one convenient kit.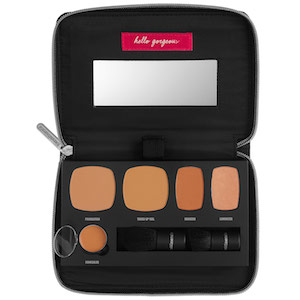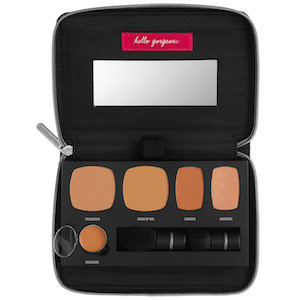 BareMinerals Ready To Go Complexion Perfection Palette. £39
The Share-with-your-boyfriend Set
Travelling with a significant other doubtlessly leaves your toiletry bag vulnerable to ransack. Stay one step ahead of your travel companion with the unisex London Travel Case from Aesop. From shampoo to cleanser, and even mouthwash, it contains the whole package, which (if you must) can share with your boyfriend, leaving more space in the case for those oh-so-necessary outfits…it's a win-win situation, if you ask us.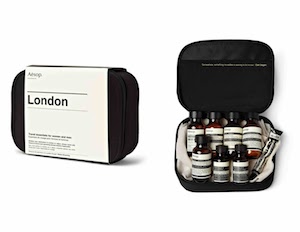 Aesop London Travel Case. £50
Words: Roberta Lister