We talk Gankin with Japanese massage gurus Suqqu
Ever sacrificed your morning skincare routine in favour of that extra 10 minutes in bed? We've all been there. But this week we've been addressing those skincare commitment issues and reviving the pleasures of a proper facial massage with Japanese skincare innovators Suqqu.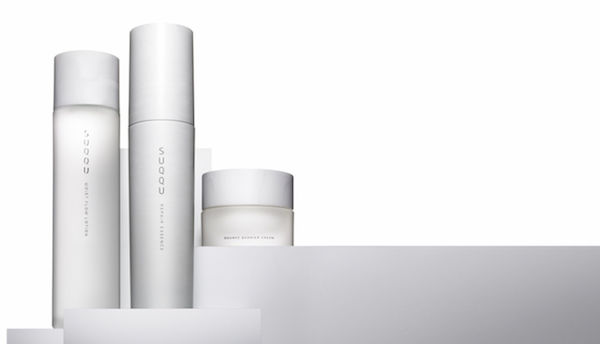 Suqqu's spa-treatment-at-home products are created in line with the Japanese belief that proper skin preparation is the key to a beautiful complexion. The brand's skincare gurus explain that, when it comes to getting the best out of your skincare, it's all in the technique. By hurriedly slathering on those expensive serums and creams, we aren't getting the best out of the active ingredients. And no-one wants their youthful complexion dreams dashed by sloppy application, right?
Suqqu's patented Gankin facial massage technique, created by ex-Suqqu beautician Yukuko Tanaka, is the answer to the above. It addresses the issues of stiff facial muscles, poor lymphatic drainage and sagging skin in 3 easy minutes. We are told that stiffness in the face is an indication that the lymph node is not working efficiently, and this prevents waste from being drained smoothly- resulting in swelling and sagging (the horror!) The Gankin technique promotes blood circulation and lymph flow, encouraging skin metabolism, softening tense facial muscles and preventing that dreaded skin saggage. The result is a firmer facial contour, sharper chin line, and a more defined face, (yes really!)
The method involves applying pressure in short, firm stokes, using the back of the knuckles, to problem areas including the jaw-line, the cheekbones, the eye area and the forehead. Sound a little complicated? Fear not, as their website provides a step-by-step guide to firmer skin.
With such firm pressure being applied to the skin, a thicker-than-usual cream is essential. Suqqu's Musculate Massage and Mask cream is a dense, oil-based formula created specifically for the Gankin. The density of the cream works in synergy with the pressure applied to enhance moisture retention and suppleness. And as an added bonus, it also doubles up as an intensive hydrating mask. We followed our massage with the new Moisture Repair Essence– a tightening pre-lotion serum which enhances the firming effects of the Gankin.
After a week of perfecting our technique, (which boyfriends/flatmates will be pleased to know makes for hilarious spectating, by the way,) we now consider ourselves veritable Gankin experts. A quick morning massage left our skin noticeably plumped and bouncy for the rest of the day, as well as prepping the skin perfectly for our heavy-duty Winter foundation. Although the most noticeable result thus-far is the vast reduction in jaw-line tension and stiffness.
Suqqu recommend performing the massage twice daily, and take it from us- this is one worth making the time for. Learn the technique, and pick up your products at the Suqqu counter at Selfridges Nationwide.
Words: Roberta Lister