Mary-Jane Wiltsher takes her seat at Blo, the new holistic blow-dry service that's giving heat styling a health kick…
Most of us will have had the conveyor-belt blow-dry bar experience: a rigorous shampoo followed by a substandard amount of conditioning, before being frog-marched over to the mirror to have your hair scorched aggressively into shape. Of course, time is of the essence in these temples of express styling. You want to be in, out, and follically revamped in under half an hour. But should that be at the expense of your hair's health?
Step up Blo, sister of salon Realhair, a new blow-dry chain rearing its (impeccably coiffed) head around the capital, offering London's first holistic heat styling service. The premise is simple but genius: treat your hair with the same respect you would your skin. Every detail of Blo's approach is tailored to the wellbeing of your barnet, from the natural boar bristle brushes to the power-charged conditioning glosses. Think of it as a mini-facial for your tresses. What's more, a 30 minute session will only set you back an affordable £25.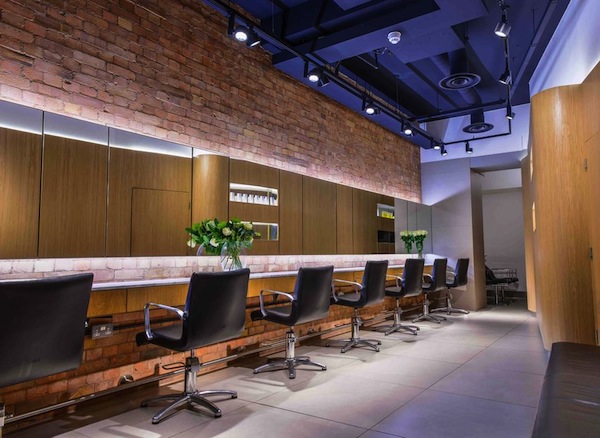 I'm greeted at the Cale Street salon – tucked behind the King's Road – by the efficient and personable Amy, who assesses how best to treat my fine, poker-straight, highlighted hair. The protective product range is Blo's backbone: vitamin rich, with virtually no silicone or alcohol components. My hair is washed with a gentle cleanse shampoo and nourishing conditioner, before being treated to a shot of Blo's signature 90% conditioning gloss, which stays in for around 8 washes, regenerating colour and promoting shine.
The blow-dry itself is the gentlest – but most effective – I've ever had. Being prone to fly-aways, I'm usually left with an over-dried, static-charged scenario. But thanks to Amy's expert use of the natural bristle brushes (which unlike their metal counterparts only heat to a certain temperature, minimising damage) I'm left with smooth, natural waves. If, like me, you lack volume, I'd recommend styling products like the Plumper and Root Lift, which work at a molecular level and include ingredients like California meadow formulate to protect from heat and styling implements.
I leave the salon thoroughly obsessed with the newly healthy, hydrated feel of my hair, and by the evening it still has plenty of body and curl – a minor miracle given its stubbornly straight personality. Girls, the days of frying your hair under the hairdryer are over. Put your locks in Blo's holistic hands.
Appointments at Blo aren't usually necessary, but recommended at peak times. Find them at 18 Cale Street, Chelsea, SW3 3QU and 36 Elizabeth Street, Belgravia, SW1W 9NZ