Forget your organic-but-not-quite skincare regime; this is the real deal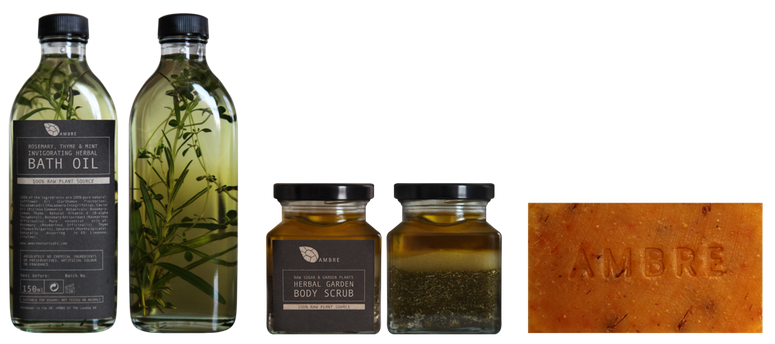 It's easy to love the idea of ethical, natural skincare, but harder to love the results. All too often, pious products fail to pack the same punch as the lab-focused big brands. Could independent Brit brand Ambre Botanicals bring us both?
Founded in 2012 by Mira Ambre, each Ambre product is handmade, often to order, in Islington, and produced using 100% fresh and pure ingredients. Only plant-derived extracts in their raw, original state make the cut, meaning the ingredient lists are refreshingly free from chemistry-lab jargon. With no water dilution or chemical fillers, the good stuff comes highly concentrated, and seriously potent. And whereas commonly used heating, refining and bleaching processes destroy the nutrients in skincare botanicals, Ambre uses a cold-pressing process to extract oils and butters from their source, ensuring they remain active – and effective.
"I started Ambre Botanicals as a way to reconnect with the pre-chemical, pre-urban and pre-global era that I was so lucky to experience when growing up with my grandparents and great grandparents in the Caucasian mountains," Ambre explains. "It is one of the worlds' richest areas of plant species origin, a renowned centre of biodiversity and a time-capsule of traditional, rural farming and gardening."
The collection comprises a dozen products for face and body. The one most likely to get beauty junkies talking is the Luxurious Oils Blend Facial Serum, an intoxicating combination of African Marula, Meadowfoam, Rosehip and Evening Primrose oils. After use, skin certainly feels brighter and tighter, although the jury is still out on the long-term effects.
Another highlight is the Rosemary Thyme and Mint Herbal Bath Oil, which not only looks fantastic on the bathroom shelf, but leaves skin soft and nourished too. And the Mango and Carrot Seed Hand Cream is an instant winner: more of a concentrated balm than a cream, it nourishes nails and cuticles with no greasy finish.
Overall, the variety and quality of the essential oils, clays, butters and botanicals is impressive, and the heavenly fragrances remove any sense of hempen worthiness. What's more, with Ambre citing "cancer, skin irritations, allergies and sensitivity, cell mutation, reproductive and endocrine complications" as long-term outcomes of using synthetic chemical ingredients, it seems sensible to pay a bit more attention to the ingredients we slap on our face.
Ambre certainly believes that out current fascination with all things natural is part of a longer term paradigm shift.  "I have observed that for women who choose natural skincare, it is just one choice out of many better choices that they are making: exercising; maintaining a healthy, varied diet; attempting to truly understand their bodies and treating them with respect; a mindful, holistic approach to their life and health."
But hey, your face serum seems a good place to start.
Words: Roberta Lister
Ambre Botanicals is available at London's niche beauty mecca Content Beauty & Wellbeing, and Urban Outfitters in the US. For a full list of International stockists, visit www.ambrebotanicals.com