This week's beauty inspiration comes courtesy of the Great British Weather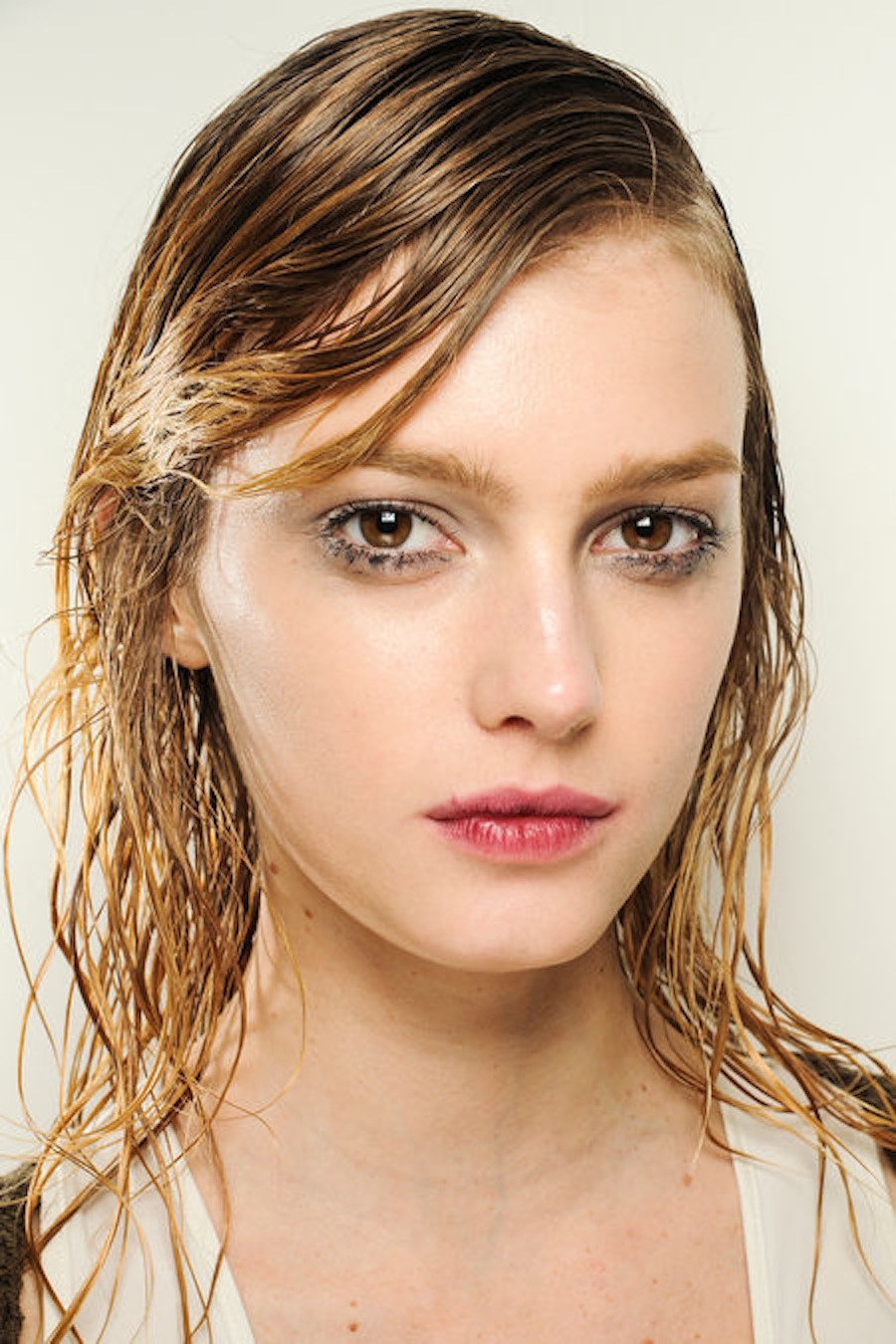 No, that isn't a drowned rat, it's a Prada AW13 catwalk model
Let's face it- come winter, we all live in fear of that caught-in-a-thunderstorm situation, and last week's Storm St Jude was an unwelcome reminder that the British weather always has a torrential surprise in store. With uncharacteristic practicality, for AW13 designers embraced the murky weather, pushing wet-look beauty to the extreme. From Marni to Gucci, Cavalli to Prada, Milan's runways were a rain-soaked spectacle. Hair was slick and straggly, whilst eyes were smudged and smoky in deep, sultry shades. Not for the faint-hearted, this is definitely a look reserved for die-hard fashionistas, but get it right and it's beautifully dramatic – not to mention only enhanced by unexpected downpours.
In attempting the new wet-look at home, we provide one word of advice: proceed with caution. Away from the catwalk, this is a beauty trend which requires more than a little toning-down. The soaked and soggy look is not something which instantly incites desire to recreate, but there are elements of this trend which may be translated into something wearable and alluring.
For daytime, we recommend keeping the face fresh and clean, leaving the focus on slick hair. Spritz liberally with a beachy hair mist and leave to air-dry for a dishevelled, insouciant look. After dark, take your cues from the Gucci power-woman, loading roots with a wet-look gel and combing strictly back off the face. Slather the ends in oil for supreme shine, and team with sultry make-up to take the look into evening. On the catwalk, lashes were thick and clumped; reference this with a heavy slick of mascara, but if it's running down your cheeks, beware: you've gone too far. Finish with a subtle swipe of crimson lip stain, and blot with tissue for a kissed-off effect.
This is our chance not to fight our inevitably miserable weather, but embrace it with aplomb – being caught in a shower has never looked so chic.
THE SHOWER PROOF MAKE-UP BAG
Bumble & Bumble Hairdresser's Oil
Rekden Hardwear 16 Super Strong Gel
Sachajuan Ocean Mist
Eyeko Fat Lash in Black
Nars Cream Eyeshadow in Corfu
Maxfactor Lipfinity Lasting Lip Tint in Berry Burst
Words: Roberta Lister