This season, the perennial goth girl becomes a lady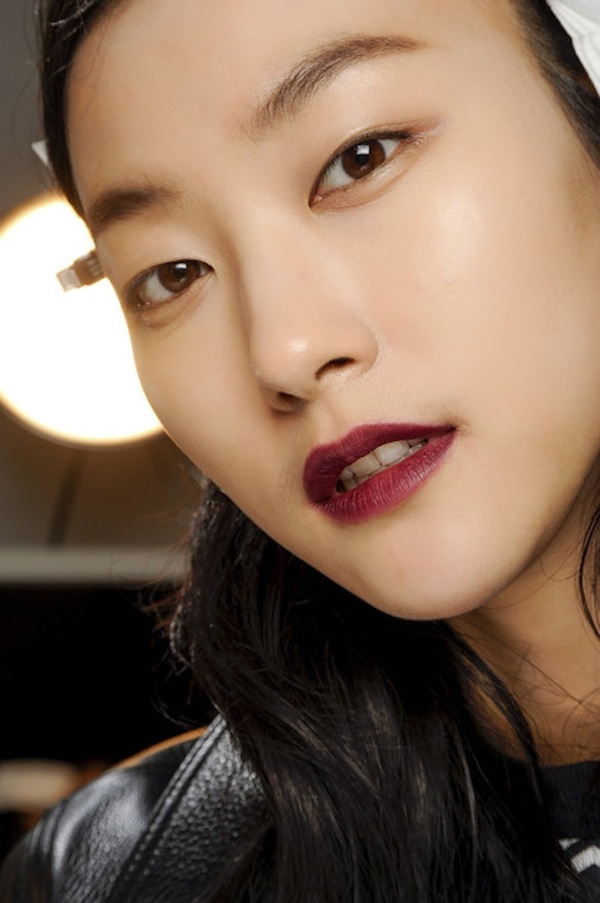 Vera Wang A/W13 – style.com
Oh, goth. Each winter it appears, resurrected with some new quirk or edge. There are few trends which divide the style tribes as cleanly or with as much emotional force. For some, it conjures memories of rebellious teenage phases which are better left forgotten; for others, it's a juicy beauty feast to be eagerly welcomed back after months of bland bare-faced chic.
But whether adored or feared, once the shorter days and colder nights arrive, vampish beauty inescapably rears its dramatic head. So what does gothic look like for A/W 2013?
This season's vamp is mature and haunting, and her bite is delicate. At Roskanda Ilincic, eyes were sunken with a touch of caramel shadow, and tempered with a clean, nude lip. At Bottega Veneta, Vera Wang and DKNY the focus was placed strongly on the lips, painted in velvety crimson and contrasted with bright eyes and neatly groomed brows. This is goth grown up, not teen redux: think 90's-era Angelina, not cyber-freak Lisbeth Salander.
To achieve this look, the first thing to address is your base. Avoid Wednesday Addams' deathly complexion by keeping skin fresh and luminous. Heavy foundations and powders are off the menu – replace them with lightweight, illuminating formulas to perfect the complexion. For the eyes, eschew heavy black hues in favour of softer caramels, taupes and chocolates.  Brows should be natural and thick, yet tidy and groomed. Most importantly, colour on the lips should be decadently rich. This is the season to truffle out a signature lip shade, and new technology has made it much easier to find a striking shade that lasts – a bold high-pigment lipstick is your new everyday staple.
For goth sceptics, this is the ideal season to play with a sophisticated take on a very old look. You're even allowed to smile – in a knowing, predatory sort of way.
THE MODERN GOTH MAKE-UP BAG
Words: Roberta Lister