Rediscover proper beauty for the party season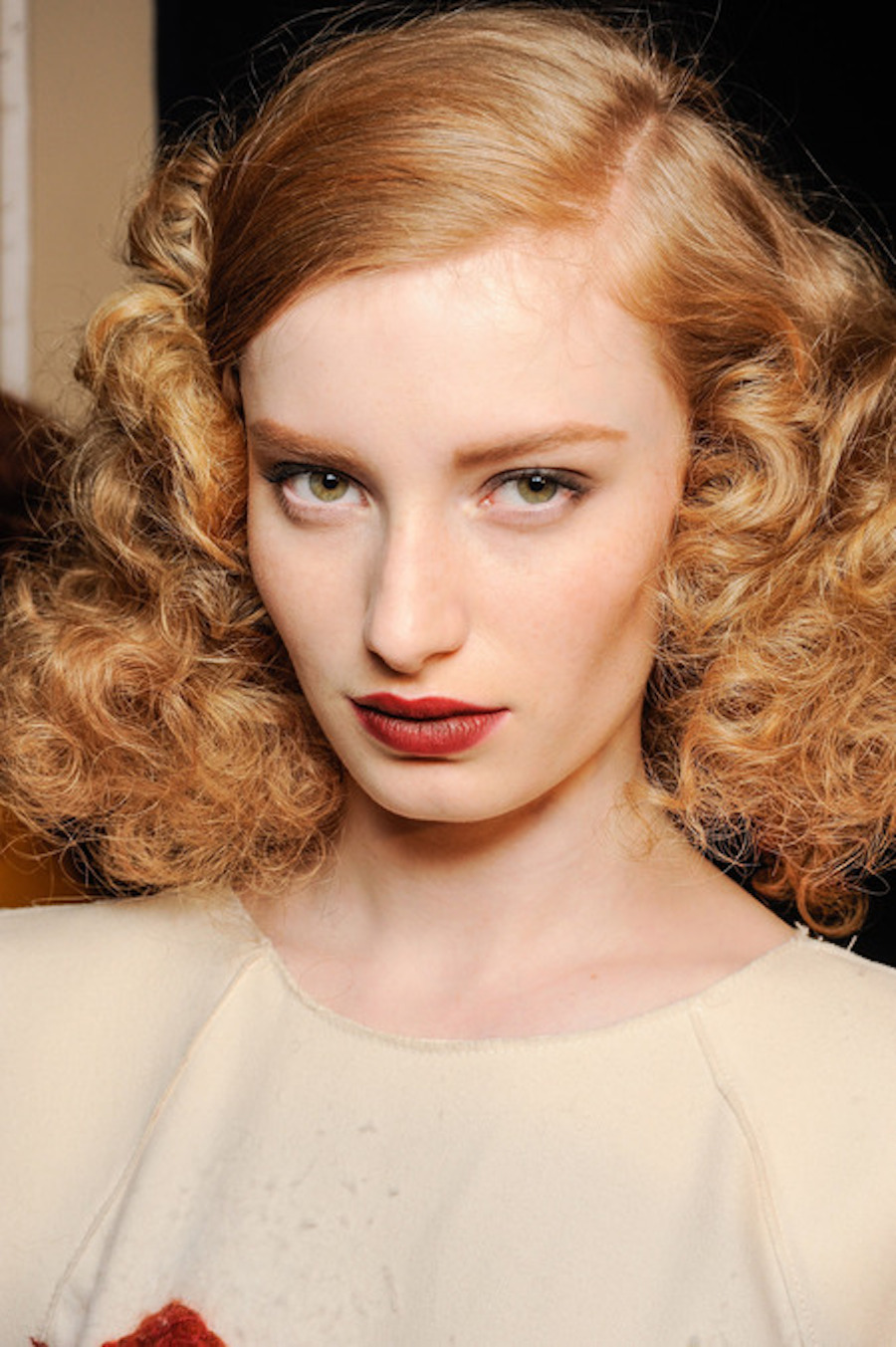 Bottega Veneta AW13
With the perennial popularity of bare-faced beauty, tough-girl chic, and gothic grunge, it is delicious to be able to herald the return of 'proper' hair and makeup. High maintenance, precise, and unimpeachably feminine, this classic look is perfect for those of us left cold by the supposed allures of androgyny.
This season's most elegant beauty trend looks to 1940's starlets for inspiration – think Marlene Dietrich's strict yet sexy take on grown-up glamour. Hair is delightfully retro with tight pin curls and frothy texture, whilst makeup is groomed, glossy, and impeccably finished.
This look was championed on the A/W catwalks at Bottega Veneta, where hair legend Guido Palau blended elements of the '40s look with '70s updates, brushing out his pin curls to create a soft, candy-floss texture. Makeup was a modern take on the sultry screen siren, where Pat McGrath neatly dusted eyes with a blackened chocolate shade, and finished with a super-matte terracotta lip.
Avoid the rather tired textbook retro look by paying attention to these modern tweaks. Hair should be free and bouncy, not set rock-solid – Bumble and Bumble's nutrient-rich Prep de-tangler will help you get the perfect base, while Aveda's Pure Abundance potion will bulk up texture without the weight. Don't powder skin into submission, but let a natural glow shine through – we rate Dolce & Gabbana's dewy liquid matte foundation. And keep bold lips fresh with high-tech formulas – NARS Fling Lip Kit, a special edition set of lipsticks and chubby pencils inspired by the iconic photographer Guy Bourdin and presented in a red-lips clutch, is a gorgeous Christmas present-to-self.
After months of au-natural beauty, such heady makeup packs a powerful punch, and about time, we say. With the party season looming, this is the ideal time to channel your inner Hitchcock heroine – and delight in the sensuality of a proper beauty look.
THE 40s GLAMOUR MAKE-UP BAG
[nggallery id=116]
Bumble and Bumble Prep
Aveda Pure Abundance Potion
Dolce & Gabbana Perfect Matte Liquid Foundation
NARS Fling Lip Kit
ARTDECO Nail Lacquer in True Red