Longer, stronger hair – interested?
There's no denying it – it is now seriously cold outside. Once winter really sets in, so do a number of factors which threaten to wreak havoc on our locks. During the winter a myriad of environmental factors take their toll on our hair: blustery winds can induce untameable frizz, rain and icy temperatures can make strands brittle, and indoor heating threatens to parch your hair to the texture of a haystack.
But this year, don't let the season become one long bad hair-day – just follow our expert advice for a happier head all winter-long.
The Newbie
When it comes to celeb-worthy hairdressing, Windle & Moodie (the hairdressers behind Cara D's Burberry looks) are a force to be reckoned with, and now the formidable duo have ventured into the world of at-home styling with an immense debut haircare collection. The line comprises a gargantuan 22 products and runs the gamut from tea-infused treatment shampoos to essential oil elixirs. Every product is impressive, but the one you really need to know about is easily deduced – the Invisible Day and Night Cream is essentially a moisturiser for your hair – when applied throughout the day our parched strand literally drank it up, and looked all the better for it.

Windle & Moodie haircare, from £12.50 at Liberty of London.
The Organic
Whilst products which make your hair look or feel amazing are two-a-penny, there are significantly fewer that work to actually improve hair condition. These days, we demand a little more from our haircare – we're in it for the long-haul, and want our products to provide results with a little longevity. Cue Davines: an all-natural Italian haircare brand which works with organic and active ingredients to address and correct issues with your strands, rather than simply mask them in a beautifully-perfumed sheen.
We raved about this under-the-radar haircare brand a while ago and so are particularly excited about the expansion of their original Essential Haircare line this month. The all-encompassing collection houses nine targeted capsule ranges to address specific hair concerns – from the colour-preserving Minu line to the volumising Volu line. At Davines, sustainability is a core business concern, so each collection is created using potent organic ingredients which are sourced from Italian farms in collaboration with the Presida Project – an initiative which works to support artisan traditions. So for the hydrating extract of Cartucciaru di Paceco melon in the Momo collection, you can thank Mrs Francesca Simonte in Dattilo, and for the elasticising extract of Noto almonds in the curl-enhancing Love Curl collection, you can praise Mr Carlo Assenza in Noto. In today's big-business beauty industry, a simple, personal touch is hard to come by, yet it fills us with confidence in a way that science-laden performance claims cannot.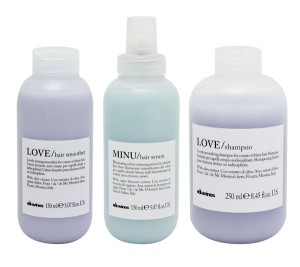 Davines Essential Haircare, from £11.
For information on UK stockists visit: www.davines.com/en/salon-locator. 
The Luxe
If you've ever dreamt of longer locks – perhaps you eternally seem to be paying the consequences for that scissor-happy hairdresser – then you need to know about this next product. Unlike anything else currently on our hair-conditioning radar, Extract for Hair and Scalp is a genuine game-changer, with visible results. Instead of coating the hair strand, this targeted treatment works to maintain a healthy scalp – as a conditioned scalp ultimately leads to healthier hair. The product is billed as an oil, but has a thankfully thin consistency and soaks into the scalp with ease.
How does it work? No crazy, beauty-industry jargon here – just a potent blend of Nastursium and mettle extracts, thyme and sage oils gently encourages hair growth. Sisley recommends commencing with an intensive course – apply to the root with the (super-luxe) glass dropper and lightly massage daily for 6 weeks. After that, maintain the hair condition with a weekly application – you'll be kicking yourself for not discovering this one sooner.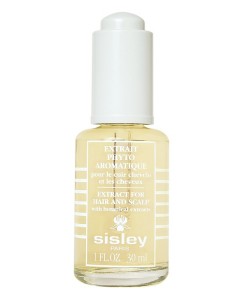 Sisley Extract for Scalp and Hair, £87.50.
The Classic
Aveda's Damage Remedy range has been a bestseller since its debut years ago. Today, it remains a firm favourite with everyone from hairdressers to beauty editors, and owes its success to its (not so) secret ingredient – quinoa. The grain contains more protein than any other, and is high in amino acids which penetrate and adhere to the hair shaft to fortify, condition and repair.
The line comprises two products which work together to produce a complete hair-saving regime. The Daily Hair Repair is an easily-absorbed leave-in treatment which protects from heat styling and environmental aggressors, and the Intensive Restructuring Treatment is a weekly boost which uses a blend of castor, jojoba and meadowfoam oils to smooth and protect.
Aveda's advice for effective winter hair protection is simple yet effective. Joon Miller, Aveda Hair & Blow-dry specialist tells us that when it comes to treatments, less is more. She explains that the hair only absorbs the product which it needs, leaving the rest to sit on the hair and simply wash away. To avoid this, start at the nape of the neck and apply product in sections before combing through.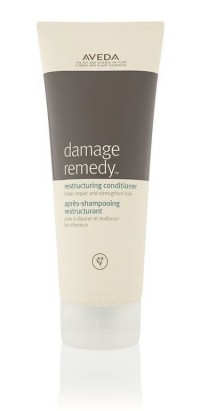 Aveda Damage Remedy, from £20.50.
The Budget
If you and your bank account aren't on the best of terms this month then fear not – here is a hair-saving secret straight from the kitchen. The recipe couldn't be easier: simply blend one tablespoon of raw honey with one tablespoon of coconut oil and gently rub into parched ends, leaving for as long as possible before washing out. This one works on wet or dry hair, but we love slicking it onto parched dry ends before shampooing and conditioning as usual. Think of it as a superfood diet for your hair. Honey is a natural humectant, which helps to seal moisture into the hair, and is full of antibacterial powers which work to maintain a healthy scalp, while coconut oil is rich in fatty acids which bind to the hair protein to protect from stress and breakage. Beauty on a budget has never been simpler.
KTC Coconut Oil, £2.25, Tesco
Words: Roberta Lister