When was the last time you applied a proper faceful of slap? Thanks to the inexorable rise of BB, CC, DD and now EE creams (yes seriously; it stands for Extra Exfoliating, with offerings already on sale from Previse Skincare and Omorovicza), fancy tinted moisturiser has shunted single-function foundation out of many a make-up kit.
Fans of the new trend claim that the sheerer coverage and skincare smarts of these creams makes them feel and look more modern than foundation, but we're sensing a backlash in the works. The gloopy texture and one-shade-fits-all approach of the BBs can make them tough to tailor to your individual complexion. Applying a cool, silky primer and then feathering a little light foundation onto key areas with your fingers suddenly seems much more elegant – and really does nail that 'invisible perfect' look better than anything else.
It helps that foundation formulas are now super-sophisticated, with most of them delivering just as many anti-ageing, moisturising and sunscreen benefits as their alliterative little sisters. Below we reveal the hero products that have outshone the others in a two-month test.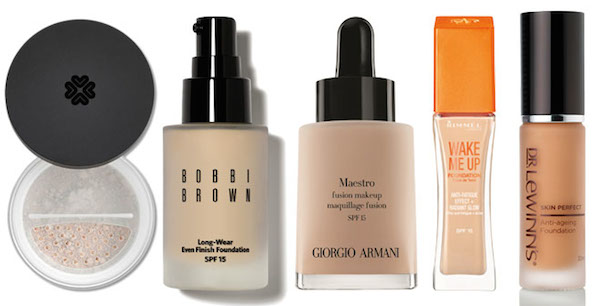 The Newbie
Super-scientific beauty brand Dr LeWinns is probably best known for its cult nail strengthener RenuNail, but it turns out that those Aussie research labs do an excellent job on make-up, too. Last year saw the release of its first Skin Perfect Foundation, which boasts Rose Stem Cells, Tourmaline and Matrixyl Synthe'6. The pump bottle dispenses a neat blob of cream which feels a little thick between the fingers, but it instantly transforms into a matte, velvety finish that really does deliver on that old promise to make you look 'natural' yet 'unnaturally great'. It feels so comfortable and looks so fresh that it has become my new daily staple, particularly when used with the accompanying silky primer. On bare-faced days my dry, sensitive skin is better than it has ever been. Easy to use, absolutely reliable and packed with active ingredients: if you buy one new foundation to see you through spring and summer, make it this.
DrLewinn's Skin Perfect Foundation, £25 for 30ml and Skin Perfect Primer, £22 for 30ml.
The Luxe
For a special event such as a wedding, Armani Maestro delivers a flawless, movie-star finish without so much as a sniff of cake. Much has been made of its "innovative Maestro-Fil™ fusion technology" that supposedly adapts to skin tone and texture for "tailor made coverage", and although that sort of over-hyped PR is usually just an excuse for an overinflated price tag, turns out that Maestro really does feel pretty damn magical.  Be careful when dispensing from the dropper; this powerful formula requires a light touch. But the result is undeniably impressive: luxurious and luminous. Great for days when you want to feel like Claire from House Of Cards.
Armani Maestro Fusion Makeup, £39 for 30ml.
The Mineral
Bare Minerals may be taking over the world one swirl, buff, tap at a time, but Lily Lolo is the beauty insider's mineral brand of choice, UK-made, vegan-friendly and oil-free. I've always struggled with the mess involved in powder foundation, but Lily Lolo has made me a convert. When used with a primer, its 'airbrushed' look – achieved with the help of light-reflecting mica – is hard to beat. It's like putting your face through a soft-focus filter, and it finely-nuanced shades are particularly good for fair skin like my own, which looks orange with the slightest colour misstep.
Lily Lolo Mineral Foundation, £13.49 for 10g.
The Classic
Bobbi Brown is the queen of the neutral yet 'done' New York look, and her much-loved Long-Wear Even Finish Foundation is still one of the best staples you can buy. I wore this at my wedding, and it was a stalwart friend, lasting through the day and night; its a great choice if you want fuller coverage for problem skin, or an extra-polished look. The range is also one of the only truly effective mainstream options for black and Asian skins, with a vast colour spectrum and a texture that works for both oily and thirsty complexions. Bobbi really does know what she's doing.
Bobbi Brown Long-Wear Even Finish Foundation, £30 for 30ml.
The Budget
If you hit it rather too hard the night before, you could do worse than pop into Boots and shell out £8.99 for Rimmel's Wake Me Up Foundation. The modestly priced make-up brand with the deep London roots has become something of a guilty secret for beauty stylists and editors recently, with clever formulations and fashion-forward colourways that punch well above their price point. With peptides and vitamin-enriched complex, this easy multi-tasker has excellent overall coverage, an uplifting scent and a particularly dewy finish. It will transport you back to your teenage days – in soul as well as skin.
Rimmel Wake Me Up Foundation, £8.99 for 30ml.
Words: Molly Flatt | @mollyflatt