Beat the heat this July with these skin-saving body oils
Ok, so it may not be sub-tropical climes outside, but for the UK, it's pretty hot at the moment. Whilst we studiously slather on hydrating face creams and heat-protecting hair serums, our bodies are often left sadly neglected in the height of the Summer heat. Whoever said that your body deserves less love and attention than your face? So this is why we've studiously committed ourselves to a rigorous examination of the beauty market's latest and best bodycare product.
Body oils are no new feat, but recent months have seen a surge in popularity for these next-gen moisturisers. Hydrating better and longer than the traditional cream, an oil-based product generally contains more organic actives than its cream-based competitor, and so provides incredibly impressive results.
Read on for the PHOENIX team's top picks..
The newbie
Moroccan Oil debuted its much-anticipated bodycare range earlier this year, and the products certainly live up to the hype (which isn't surprising when you consider the revolutionary impact its haircare debut achieved.) The Dry Oil Spray, unlike the rest of our picks, has a dry finish – ideal for those get-up-and-go mornings. The blend of argan, olive and avocado oils absorbs quickly and locks in moisture, whilst essential fatty acids work extra hard to soothe those particularly dry areas. Oh, and it smells just like the hair oil, which in our books, is an instant winner.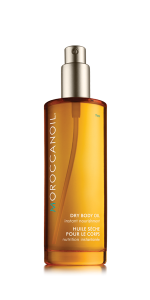 Moroccanoil Dry Oil Spray, £26.50 for 100ml
The Luxe
The key ingredient earning Omorovicza's Gold Shimmer Oil our most luxurious accolade is actual gold. Collldial gold is prized for its anti-inflammatory properties, working to heal the skin, whilst looking gorgeous too. Rice germ, calendula, apricot kernel and carrot oils soften the skin and boost collagen production, whilst the subtle gold flecks leave skin glowing without that school-disco shimmer.

Omorovicza Gold Shimmer Oil, £52 for 100ml
The Organic
We've raved about the multi-purpose Authentic Formulas range from all-natural beauty brand Davine's before, but the Nourishing Oil has remained proudly at the front of our beauty cabinets since that first hello. This super-natural oil contains nothing but 100% naturally-derived ingredients, and feels amazing when massaged into damp skin after showering.
Davine's Authentic Formulas Nourishing Oil, £25 for 140ml
The Classic
A hidden weapon in many a beauty aficionado's cabinet, Caudalie's Divine Oil is a classic which continually stands tall next to its newer counterparts. This is party due to its uniquely addictive sunkissed-floral scent which lasts beautifully on the skin. Also works wonders as an intensive hand and nail treatment.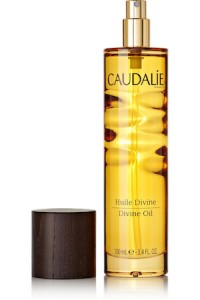 Caudalie Divine Oil, £27 for 100ml
The Budget
Garnier's latest offering is one of the few budget-friendly oils which compares to its more expensive counterparts. Ultimate Beauty Oil is an easily-applied, spray-on blend of Almond, Macadamia, Argan and Rose oils which leaves skin illuminated and radiant. Application is not quite the decadent affair of the others, but the end result is excellent still.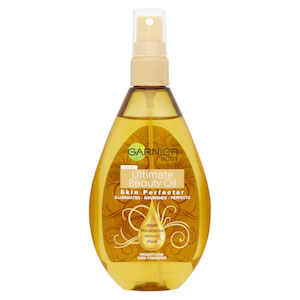 Garnier Body Extraordinary Body Oil, £7.49 for 150ml
Words: Roberta Lister