The genre-blurring artist wants world domination.
The pandemic has changed all of us. For Darkoo, it's been a waiting game. The Lagos born, London raised 19-year-old rapper-singer was on the cusp of great things back at the end of 2019 when Gangsta, featuring One Acen went the good kind of viral, quickly becoming a TikTok favourite, gaining 22 million Youtube views and charting in the UK Top 40 in its first week of release, going on to win Afrobeat Song of 2020 and notch up three MOBO nominations.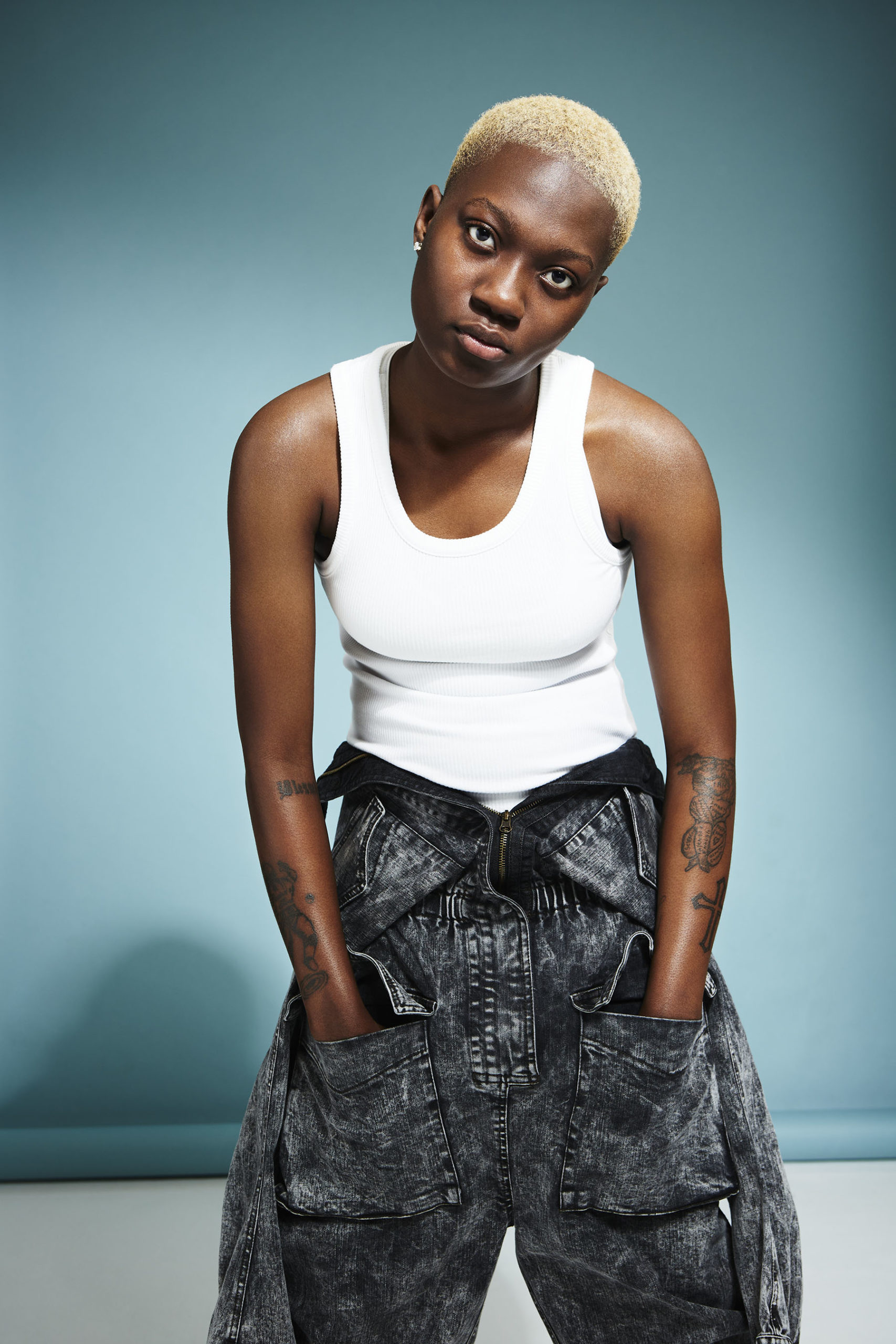 The change of pace over lockdown forced her to re-evaluate priorities and attitude to materialism. "Now I know I'm going to come out, do my shows, make money from shows, and I'm not just thinking like 'yo, let me buy a watch, let me buy a chain'. I'm thinking, 'let me take that money, invest it and flip my money'. My head is definitely in a different place". Her first big purchase as her career took off was that ultimate badge of status, a Rolex, and a house at the behest of her parents. Now she's thinking of investment projects: buying land and developing houses. "There are really amazing ways these rich people are doing to keep them rich. It's definitely a nice thing to know."  
This month she's hoping for the reopening of the clubs, excited to feel the bass of live performance again: "I'm gassed about that still, I'm gassed that I'll have my EP out before shows start up again." She's also relieved the music industry will shift back to wanting "club bangers", after the focus on pandemic "TikTok bangers". 
The artist's hotly-anticipated debut EP '2 in 1' is set for release on 16th July on Atlantic Records. "This is a body of work that truly represents who I am," she explains. "I've merged my two cultures, where I came from and where I am now encompassing my journey from Lagos to London. It's literally two in one". The intended first single She Like (featuring Blanco) dropped Friday 28th May and is upbeat, endearing, and impossible to get out of your head. Darkoo describes it as "a feel-good track about letting the boys know what a girl likes. Today everybody wants the finer things in life, they want to live the high life. You can be a rapper, a hustler or a banker but all a girl really wants is to be treated nice regardless of the guy's background, she knows what she likes." 
She describes her music as "Afro, feel good vibes." It comes from growing up in Lagos, Nigeria and her musical upbringing consisting of Afro throwbacks 9ice and D'banj, alongside pioneer of Afrobeat, multi-instrumentalist and political activist Fela Kuti and jùjú artist 'Chief Commander' Ebenezer Obe, famous for the pop style derived from traditional Yoruba percussion. After she moved to London, she says her "ear for music changed a little bit" and admits that she was obsessed with Justin Bieber's Baby ("that was my tune"). 
She continues to be influenced by contemporary Nigerian artists Wande Coal, Tems (who we interviewed recently), and Wizkid. The latter she uses as a benchmark for success, based on her theory that there are three levels of recognition as an artist. The first, where you blow up and people know you for a specific song or set of tracks. The second, where you are known territorially as a big artist. Finally, the shift to "globally recognised artist" where "people in Columbia, people in Asia and Tokyo know who you are." "The whole world knows who Wizkid is. They're playing his music everywhere, so I definitely look up to him a lot." She reveals a tattoo of an astronaut, inked with the motto 'on top of the world', which states her ambition.
It's not just her cultural heritage that's two in one. With Gangsta she experimented seamlessly flitting between feminine long hair and makeup, and a normatively masculine way of presenting herself, with low trim and bare skin. Such was the diametric contrast that some fans online were convinced she was a man. Darkoo shows another tattoo of two faces on her arm, "I'm very comfortable showing two different sides of me," she explains.
A football addict in high school, and a talented striker, when her profile as a rapper blew up, Darkoo became a veritable "hood celeb". She says she never went to school with the "tomboy" look, and in the video for her first release Gas Station in 2017, when she was just sixteen, she's conventionally styled as the female rapper prototype, all lashes and long hair. There was a point when she had a management team pushing her to do "the whole sexual female rapper" look, but she broke free to "do her own thing". Her increasing success gave her the confidence to pursue her natural persona.
"I never really felt like I could come out with just a short trim and be ok with no makeup. I definitely started to get comfortable with myself and my skin and me as a person, so I was able to come out like that. In the same way I also come out with my wig and pull a full makeup or wear a dress." By the time of the two-day video shoot for Gangsta she was happy to be seen plus or minus the wig, and a new, more in-tune management convinced her to shoot the second day in her natural look. Her most recent release, 2021's Pick Up, to paraphrase one fan on Youtube capitalises on the confusion as she plays her own love interest in the video. The song itself came from a place of pain, "I wrote the song when I was really upset and heartbroken." Not writing about it would have been "wasted emotions".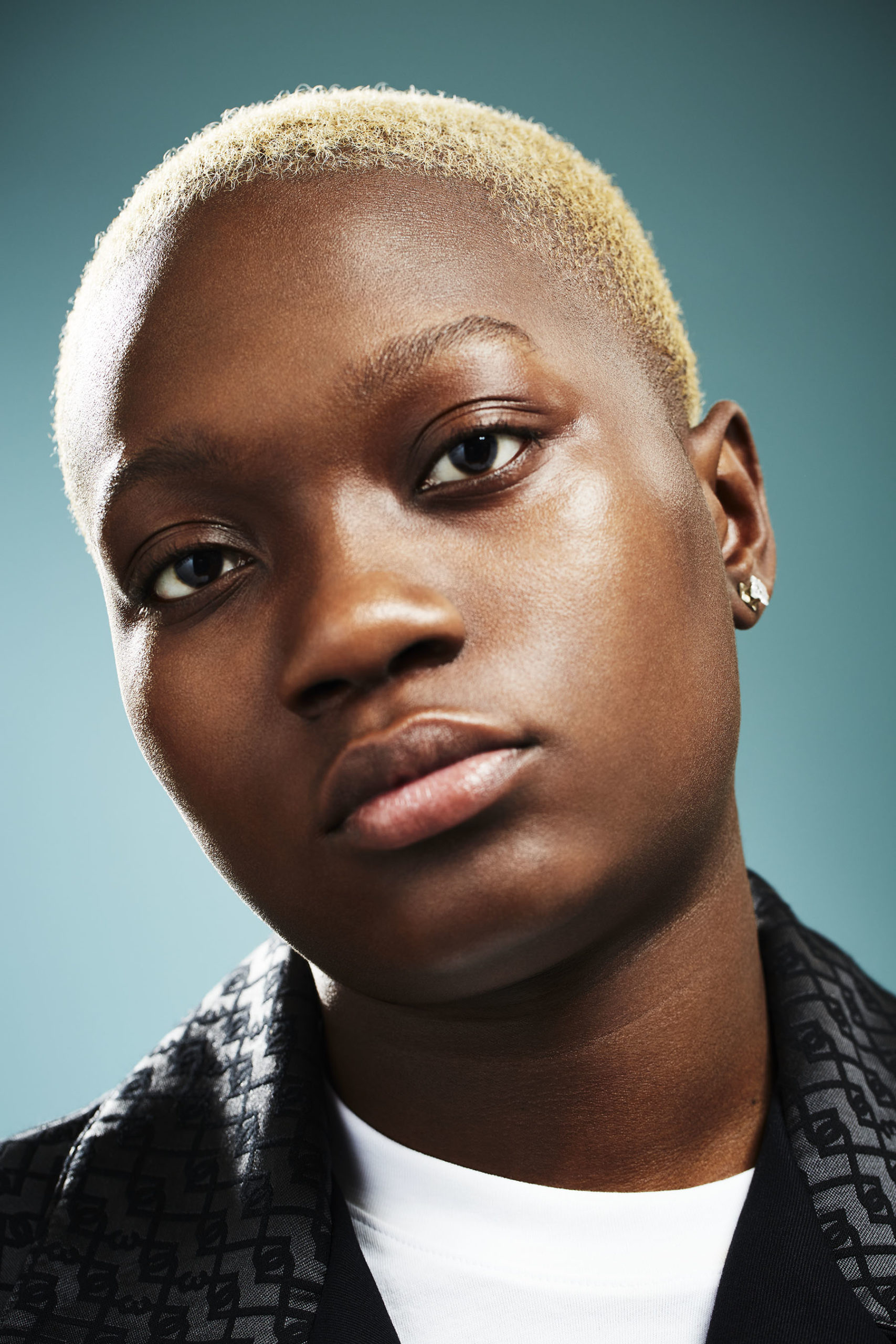 Darkoo is careful not to attach labels to the way she presents herself, for example, considering 'gender fluid' to be incorrect. "I always say, 'don't over complicate me'. Like, I'm different, but don't look too deep in it. It's literally just me being me in different, I wouldn't say forms, just different looks, different hairstyles, different outfits. Still, me being me." As a teenage artist she's understandably reticent to put into black and white her feelings on sexuality and gender, but her lyric "swing both ways so bring your lady" in Body 2 the remix to the UK's first drill number one Body by Tion Wayne x Russ Millions and also featuring Arrdee, 3x3E1 & ZT, Bugzy Malone, Fivio Foreign and Buni helped clarify the situation for fans who thought she was a man, not to mention, "if you wanna eat it no pressure," from Gangsta.
Darkoo's smoothly androgynous flow and unique female energy confidently breathe life into well-trodden themes, such as gangsters, watches, cars, money, women and sex. We're excited to hear the new EP '2 in 1', for which there was no press preview available, an intimate look into the artist's cultural identity that pays homage to her African roots.
Ultimately Darkoo reminds us that it's our choice how we present ourselves. There's beauty in duality. 
'2 in 1' will be released on the 16th July on Atlantic Records
TRACKLIST 
Oti Bere
She Like feat. Blanco
Drunk Texting
Pick Up
Slow Down ft Tion Wayne
Outro voice note
Come Up ft Unknown T