PHOENIX Magazine partners with the disfigurement charity Changing Faces for their inaugural Facial Equality Day on May 26th to photograph the portraits of three inspirational women who have what society would call an "unusual appearance" in a move to help redefine modern standards of beauty in fashion publishing
Words Hannah Kane
Photography Josh van Gelder
Production Andrea Blood @ Blood & Co
Post-production The Shoemaker's Elves
Make-up Kelly Mendiola
Hair Stylist Hamilton Stansfield
Photography Assistant James Sharpe

More than a million people in the UK have a significant disfigurement to their face or body. Some are affected from birth such as by cranio-facial syndromes, Neurofibromatosis, birthmarks and cleft lip and palates. Others acquire a disfigurement during their life such as eczema, acne, psoriasis, vitiligo, Bell's Palsy or from scars and asymmetry from accidents, burns, violence and self-harming, and from cancer treatment or surgery.
Jude Lewis had her face reconstructed after jaw cancer and surgeons removed both her fibulas (calf bones) to complete the reconstruction, yet incredibly discovered a passion for long-distance running post surgery and recently ran the Virgin London Marathon. Tulsi Vagjiani, a burns survivor, works as a Pilates Rehabilitation Specialist and motivational speaker. Natalie Ambersley, who has the skin condition vitiligo, works in a quirky East London company and has a passion for sport. Lensed by well-known industry photographer Josh Van Gelder, the series of beauty portraits celebrates the journeys told by these women's skin. They share their advice on how to accept yourself as you are.
JUDE LEWIS, 47
Prop Supervisor at the English National Opera 
It wasn't until after her jaw cancer surgery that Jude Lewis took up running. "Literally, it was just a Forest Gump moment. You know, just use it or lose it," she says. "Some of my friends started doing park runs, and I thought 'I sort of fancy that' and it unleashed the demon, the running demon, and I just carried on." The demon took her to the finish line of the London Marathon this year. All the more impressive considering surgeons removed both her fibulas (calf bones) to reconstruct her jaw after surgery. She has the scars to prove it.
The day of the Marathon marks the six-year anniversary to the day when Lewis underwent the first of her operations. Coming round after theatre, her first concern was that her son, then only three years old, wouldn't recognise her. "They first thing I said was 'what do you think Mummy looks like?'
Lewis holds up a photograph taken in the hospital – she's unrecognisable to this elegant beauty with an English Rose complexion. Her irises look like a satellite shot of the Earth, blue and greens streaked with hazel. Back then she had already been through chemotherapy, lost her hair, and was bloated due to the steroids. "I had changed already in his eyes. Then with the surgery I was very swollen and I had the trachea. I was hooked up to all sorts of machines and things," she pauses. "It makes me well up a little bit actually, because he said to me, 'you look like Truly Scrumptious!'" Despite having never been a bouffant blonde, her son thought that she looked liked the character from Chitty Chitty Bang Bang. "He was just still seeing his Mum. And it was that moment that we knew he's alright with this, actually it's me that's got the issue."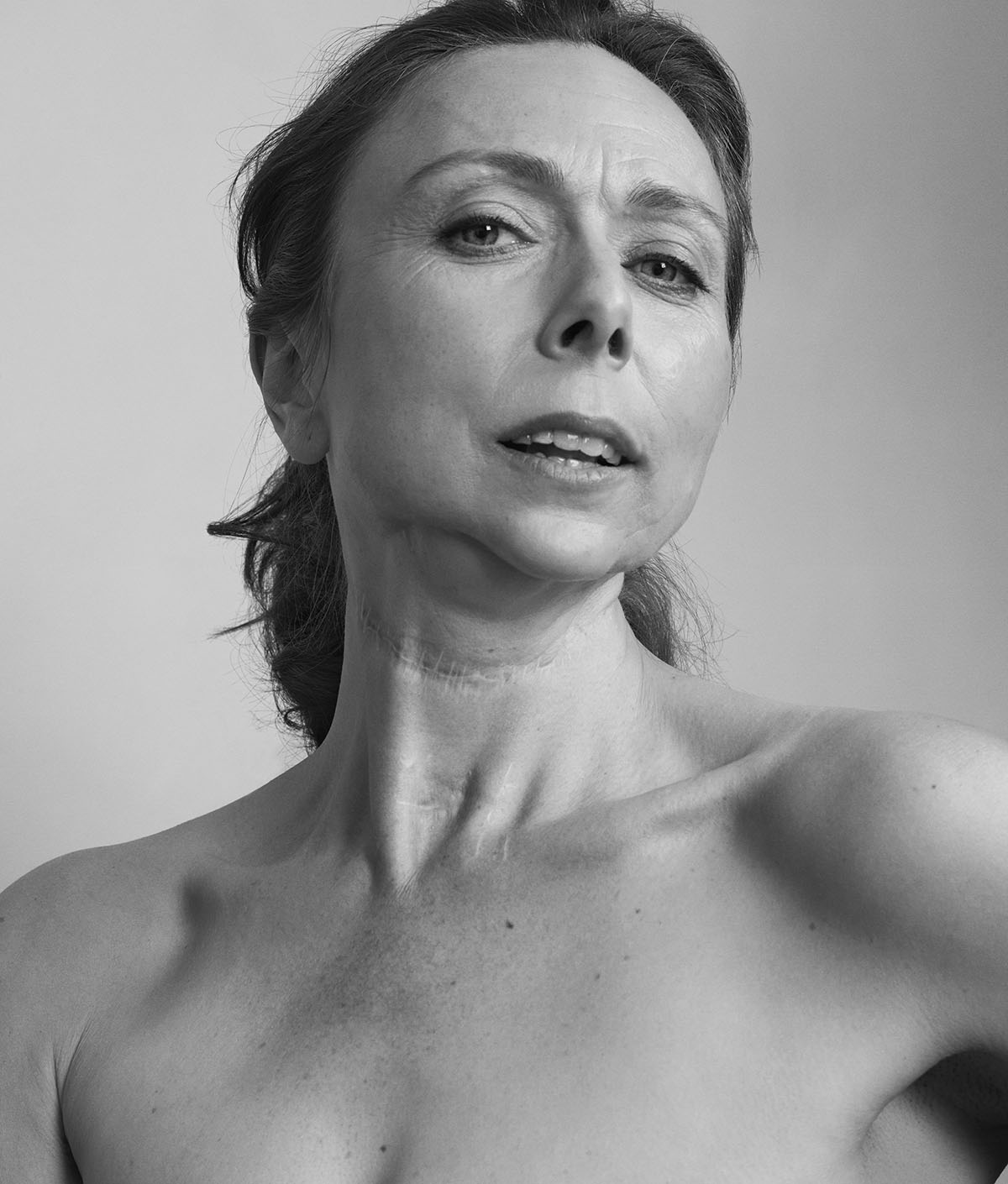 "You look in the mirror and vanity doesn't come into it, 'cause you're used to the way you look. It's not that we spent hours fawning over how we look, it's just that you look in a mirror – you glance – that's you. And I didn't have that. I didn't look like me."
Last Halloween, Lewis painted her neck scar with fake blood and went trick-or-treating with her son Woody, an act of dark humour and self-acceptance she doubts would have been possible without the help of Changing Faces. It was her specialist head and neck nurse that encouraged her to call the charity as she struggled to come to terms with her cancer battle scars. "One day I said something really down about my neck scars, and she whooped my arse," admits Lewis. "She said, 'listen, those scars are the reason you're still alive.' And she said 'you need to just rejig the way that you think about these. Don't be ashamed, because you fought a big battle.' It really was what I needed."
Lewis contacted Changing Faces and describes the one-to-one counseling they gave her for three months as "amazing". "I've always been pretty positive and driven and all the rest of it, it just reconnected me back with the good bits. Over time I stopped grieving and being angry about what had been taken away, because I was really pissed off." The chemotherapy had also brought on early menopausal symptoms. "You know, I can't have kids anymore. I'm now menopausal. I can't feel anything with my lips. You know? These bits hurt. I was just fucked off." She decided positive thinking was needed. "I thought, right, I want to help people as well, and I decided I was going to go back to work. And I did."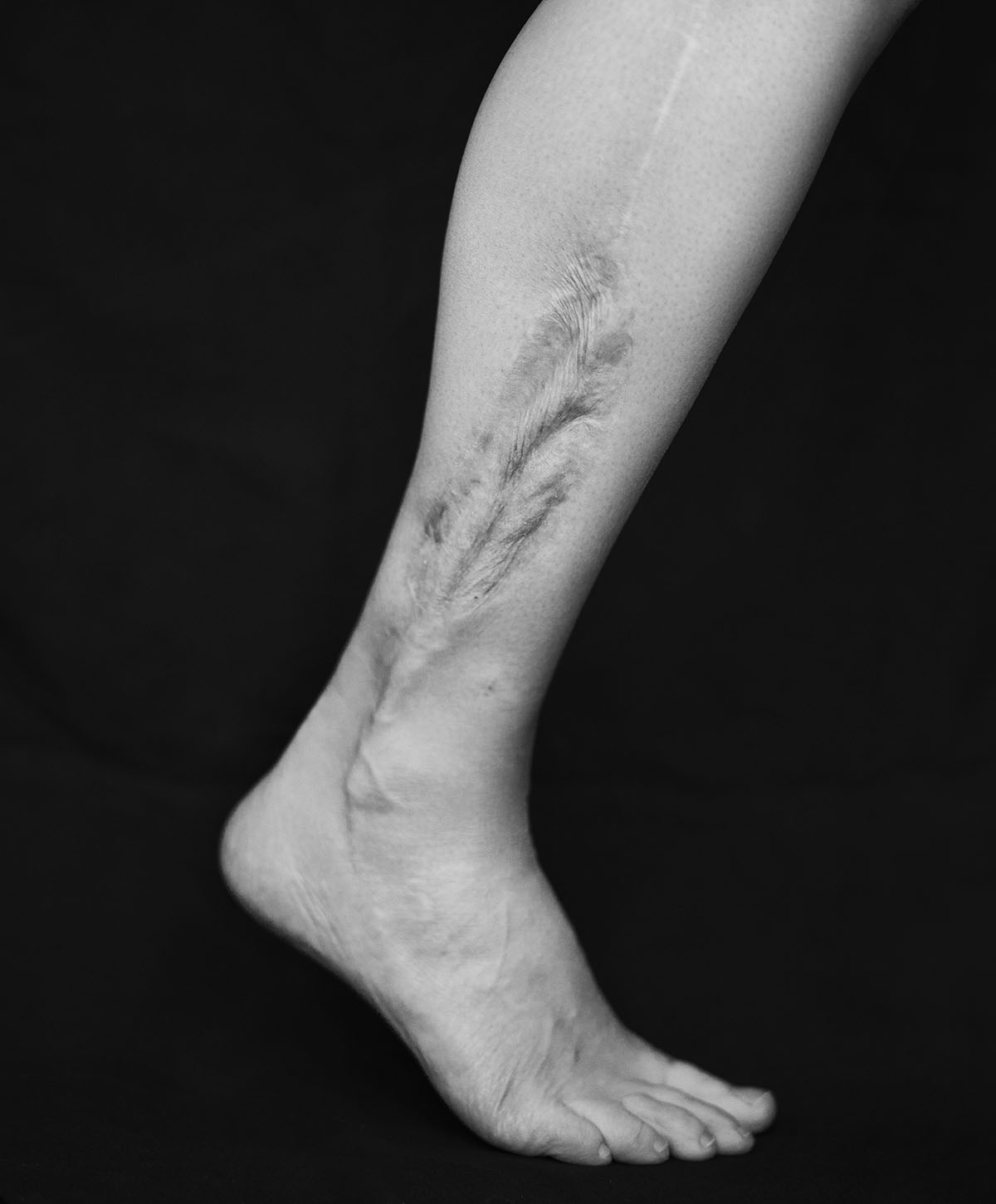 She went back to work a year after surgery but says without the charity it would have been much longer. She also kept her resolve to help others, connecting patients in relevant hospital wards to the charity when they need it most. "Any work that I do for Changing Faces is an absolute pleasure because I know that there are people out there like I was that may not realise how much they need it." Counsellors from the charity also gave her psychological tools to empower herself. They advised, "be mindful of other people's reactions because they're curious, they're going to look at you. And if someone asks questions, it's absolutely up to you whether you answer or not."
Lewis has never experienced any negative reactions to her looks, adding: "I think so much good has come out of it." She's now "reconnecting with what's important," and laughs that post-surgery she's "way less tolerant" and seizing the day. "I just have absolutely no sense of time-wasting. It's my way or the highway." She rolls up her jeans and sits on the floor of the PHOENIX studio so that Van Gelder can photograph the scars on her athletic calves. Her philosophy is "we all deserve that right to be in the skin that we're in."
"Don't take things for face value," she advises. "We've all got baggage. Some of that baggage is obvious because we've got scars. And it doesn't necessarily mean that it's there for the world to know about. Or it doesn't mean that we're any different." To Lewis, Facial Equality means that, "we're all skin and bone."
She's happy. "I just try and do the best I can. And I'm not hung up on my looks. I don't wear scarves to hide my scars – I'm really proud of them. I don't wear makeup – but that's because I'm just lazy. That hasn't changed! But I don't want to cover it up. Kids ask because they're curious and they're quite open, you know like 'oh what's that on your neck?' and that's fine," she smiles. "Life's good."◼
TULSI VAGJIANI, 37
Pilates Rehabilitation Specialist
Tulsi Vagjiani got her burns in a plane crash on the 14th February 1990. "A date I won't forget."  She was ten years old. "I lost my parents and my brother, my only family. The date's connections with love are especially poignant to her, "because they were my first love – your parents are always your first love." She used to avoid any contact with the day's festivities. "At that time I didn't want to deal with it, I didn't want to look at it or anything associated with it. Now I actually celebrate the day. I celebrate it with people I love and I fill the day with love. It's kind of like an ode to them."
Vagjiani helps speak out for Changing Faces to "create awareness, just showing that any sort of disfigurement … we're all part of society and we shouldn't be treated any different." The word "disfigurement" requires empathetic use. The charity website www.changingfaces.org.uk describes it thus: "Changing Faces uses the word 'disfigurement' as it is a succinct general term, widely understood by the general public and enshrined in law in the Equality Act 2010, which gives legal protection to people with 'severe disfigurements'." It goes on to say, "It's important to note that not everyone likes the word 'disfigurement', preferring instead words like 'visible difference' or 'unusual appearance'. Where possible, we encourage the cause of the disfigurement to be explained (i.e. 'Jane has a cleft lip'; 'Gary sustained burns in a house fire') because this is an informative way of describing the person's condition."
Vagjiani is ok with it on the basis she hasn't read too much into the word. There are other words that grate on her more. "What actually gets me is when people often refer to, for example because I suffer from burns, a "burns victim". That word really makes me cringe because I've never seen myself as a victim. I always see myself as a survivor. I'm very much a burns survivor."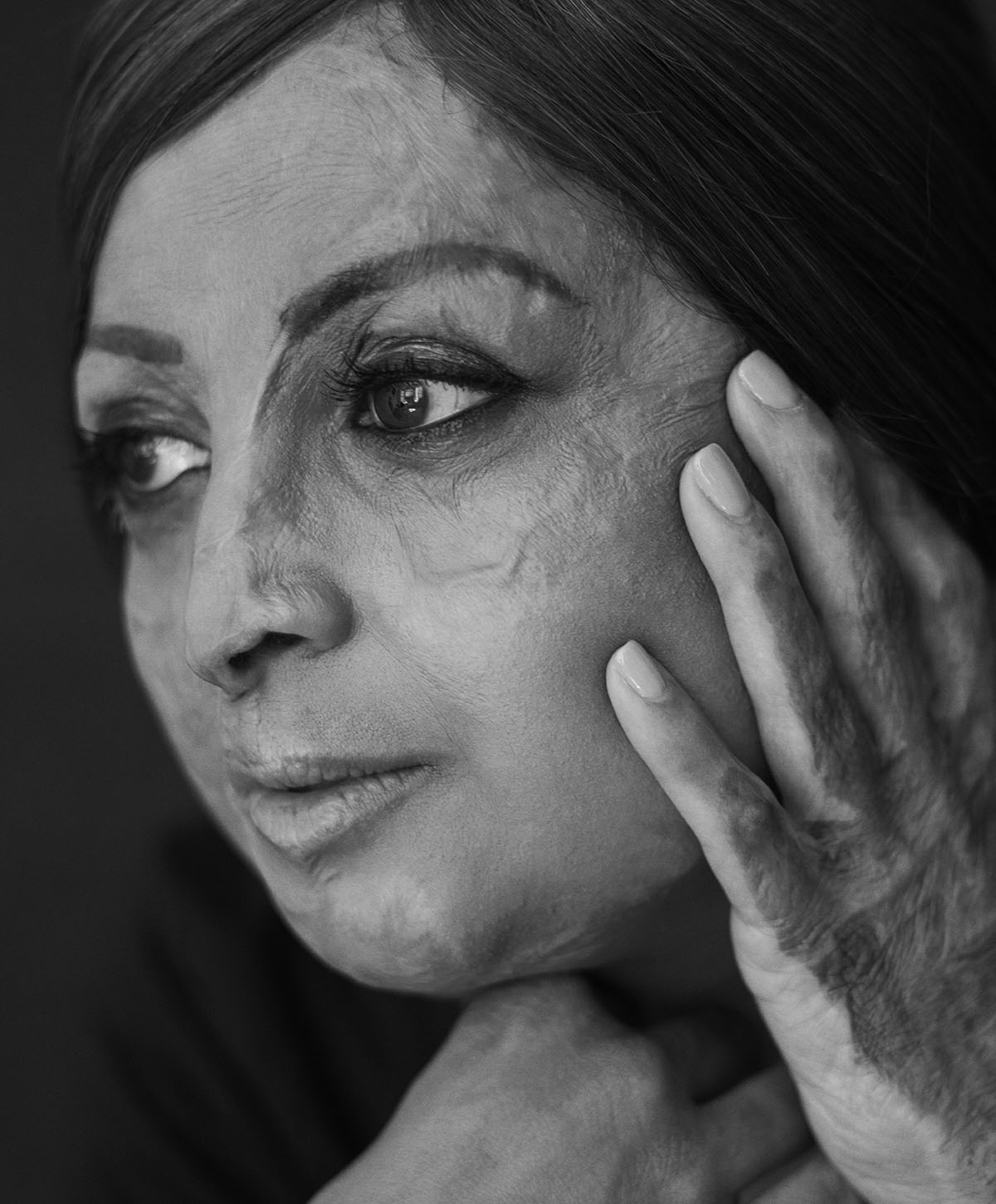 "I was waiting for a bus casually at a set of lights, and a car pulled up, there were four guys in the car and they screamed out, 'you should have died you're so ugly'."
Vagjiani points out that to be 'disfigured' there must be a social agreement on what it also means to be 'figured'. "Every single one of us is different, from our eye shape and colour to everything, you know? Even to smiles and cheekbones. So does that mean we're all disfigured? In that context I don't think it's an appropriate word, because it makes out like you're different." She echoes the thoughts of Jude Lewis. "I've got a scar that you can see, but people have scars that you can't see."
Since her childhood she has experienced public reactions from curiosity and bullying, to unprovoked hostility. "Not in school, school was great because everyone was aware of what had actually happened to me. It was more the journey to-and-from school. The staring. Also me coming to terms with what's actually happened." She recalls the first time she saw herself in the mirror, two months after the accident as they removed the bandages. She didn't know how to develop it in her mind. "I didn't know what burns were. What would they look like? I didn't know. I was very young."
She continues: "How can you imagine what burns on a face look like? When I saw in the mirror, I thought 'who's drawn this on?' I actually thought someone had drawn a face on me! But because I could see myself moving, I could see what was happening. Inside I'm still the same person – but that's what shocked me. When I'm walking round in the street I can't see my face, so I'm like, 'why are they looking?' And then it hits me that it's because I've got scars or burns. I've had people staring out of curiosity – as you do when you stare at shoes, because they're pretty, or when you like someone's hair. Even then you think, 'why are they looking at me?' But you literally are just looking because you're processing information."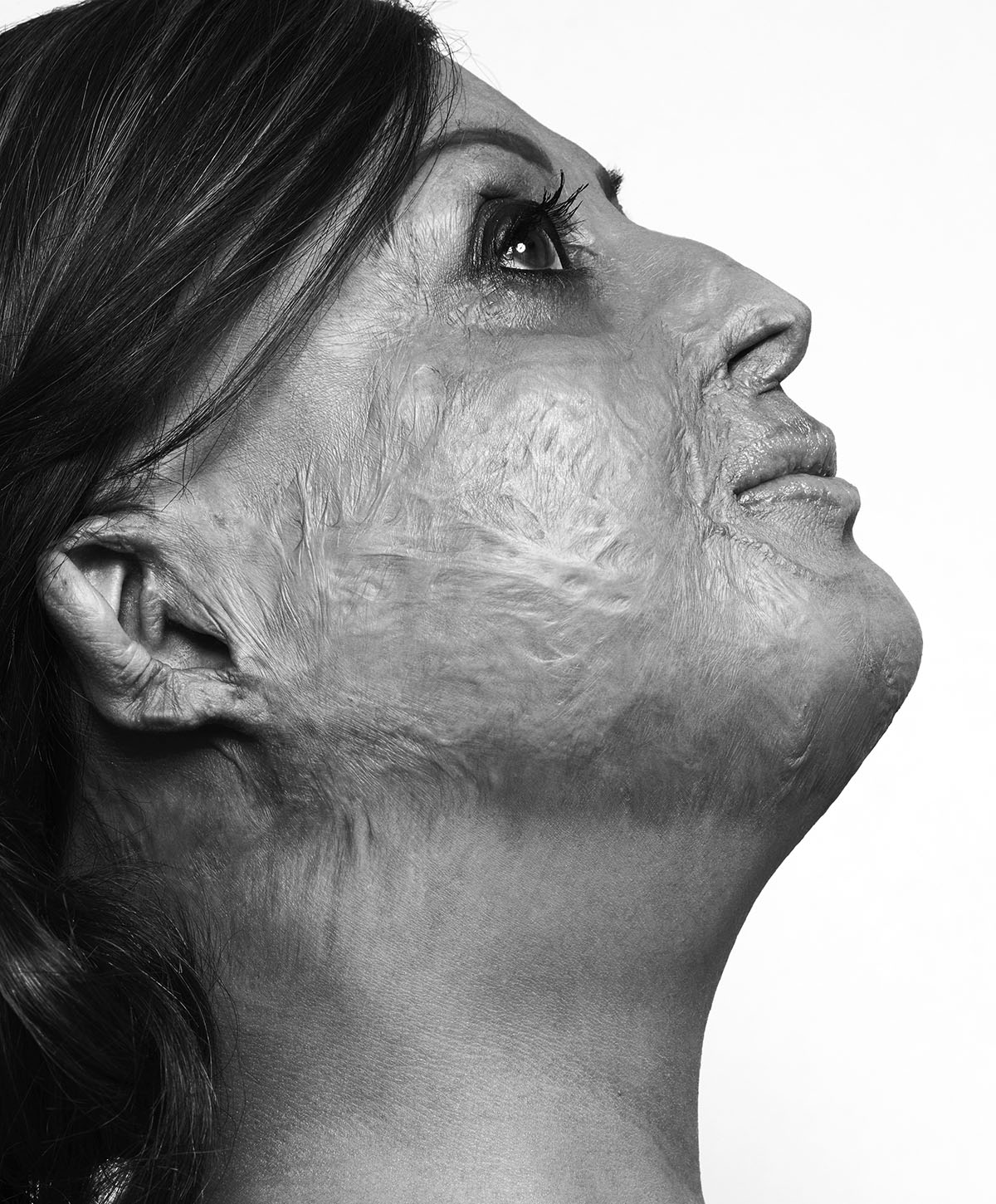 Her road to Damascus moment came as she made her way to the Job Centre a few years ago. "I was waiting for a bus casually at a set of lights, and a car pulled up, there were four guys in the car and they screamed out, 'you should have died you're so ugly'." Vagjiani recognises it was a "moral low" on their part, but explains, "that was really poignant for me because at that moment I had a decision to make. I can't let the Job Centre down because I need the money, and I'm never late for appointments, so not turning up wasn't an option. So I got on that bus and I went." Inside she felt broken, wondering: "is this the world's views?' I thought that's how everyone would be thinking."
She decided to be positive and "turn things around". As luck would have it, the Job Centre highlighted an upcoming course in health and social care. Vagjiani looks out from under a mane of long hair, she has almond-shaped eyes ringed with kohl fitting of Cleopatra. "Something turned around that day."
Vagjiani's studies focused on counselling. "With counselling you have to be really real and so genuine, so I was finding a lot of my own demons while I was doing the course," she admits. Deciding she wasn't ready to be a counselor, in 2004 she began a degree in Complimentary Therapy at the University of East London specialising in Pilates and therapeutic massage. Then in the middle of her degree she faced life-threatening renal failure, completely unrelated to the earlier accident. "Both my kidneys failed. I was broken."
"For the first time, my burns weren't important anymore – my health was." Vagjiani continued her university studies alongside dialysis.  As soon as she graduated she got a transplant, but there were complications, and for another nine months she was in and out of hospital. It was a lot to come to terms with. "I kept punishing myself and thinking 'what are you doing wrong that you keep ending up here?'
The doctor told her that the way her body was behaving was out of her control. "When he said the word 'control' it sort of hit me," she explains. "I realised that some things in life I can control – like what goes in my mouth, or how much I drink, or don't, but there's other things I can't control, and those are the things that I need to let go of. The minute I let those feelings go, things just fell into place."
"I realised that some things in life I can control – like what goes in my mouth, or how much I drink, or don't, but there's other things I can't control, and those are the things that I need to let go of. The minute I let those feelings go, things just fell into place."
She found a new sense of direction. "I thought if two big things have happened to me, there's a reason why this happened to me – and I've got to come out of this. I knew there was a purpose." The purpose is to share her story, she explains. "And to be honest about my story. It's not just positive, because a lot of negative has happened, but if I can reach out to somebody, whatever they're going through, then that's one person that I've helped." She's found a knack for public speaking and hopes that one day she will go on talk shows such as Oprah and Ellen.
As a rehabilitation specialist, she particularly enjoys working with women and children. "We are our own worst enemies. If you're a woman you're constantly thinking things like, "am I a good Mum?' Even when you're doing the most amazing job in the world. It's that constant questioning."
She's wants to help empower women and encourages empathy. "Until that moment came and I accepted who I was and I decided to be kind to myself, I've realised that this is what's missing for everybody. It's just about being kind to yourself. You're doing a good job. You're doing what you're capable of doing at that moment. The things we see as imperfections are actually perfection in other people's lives. And it's learning that." ◼
NATALIE AMBERSLEY, 34
Works at Colt Technology in Shoreditch, East London
"It started as a tiny little patch on the back of my hand," says Natalie Ambersley, referring to her skin condition vitiligo, which first appeared when she was two years old. It was the eighties, vitiligo was an uncommon condition, and the GP didn't diagnose it immediately. Over the next nine months it spread to her arms, legs and face. "I had two panda eyes and a panda mouth," she recalls. Her parents were distressed, and a referral to a dermatologist at Great Ormond Street Hospital confirmed straight away what it was. The prognosis was that it was incurable, but there were things they could do to slow down the process. The unstable nature of the condition made it a constant source of anxiety. "It's a very unpredictable condition to have because you don't know if it's going to get worse, you don't know if it's going to get better," she tells me. 
The condition came on aggressively when she was young. "I was in and out of hospital for a number of years, trying lots of patient trials, things that just didn't work. We went backwards and forwards to hospital, trying different things. Blood tests, pasting creams into my skin day and night, nothing worked. My parents felt quite lonely because they didn't know anybody else with this skin condition and there was no support, no charities. People would look at me and stare at me, people would question if my mum was my mum – because people were just unsure. It was probably worse for her because she knew that I had a skin condition, whereas I didn't. I thought that all kids looked like me, and I thought that all kids went to hospital, so I was none the wiser. My parents put me in shorts and t-shirts and skirts and let the world see that I had a skin condition and I didn't really care because I didn't know any different."
As such, Ambersley didn't lack confidence when she was a child. "When you're little you don't know what confidence is. You think that everybody looks like you, so confidence wasn't even something that entered my head." It was in her teenage years that the problems started. "I was quite uncomfortable. Probably quite vulnerable," she remembers. Covering up her skin, she wore trousers with her school uniform or two pairs of tights so that people couldn't see through. "I literally just wanted to ignore it and I wanted everyone else to ignore it. And the thing is, people did, it was more my insecurities. I'd see it all day. And I thought people were judging me because of it. It took over my life. Everything just revolves around your skin condition. It's all you see."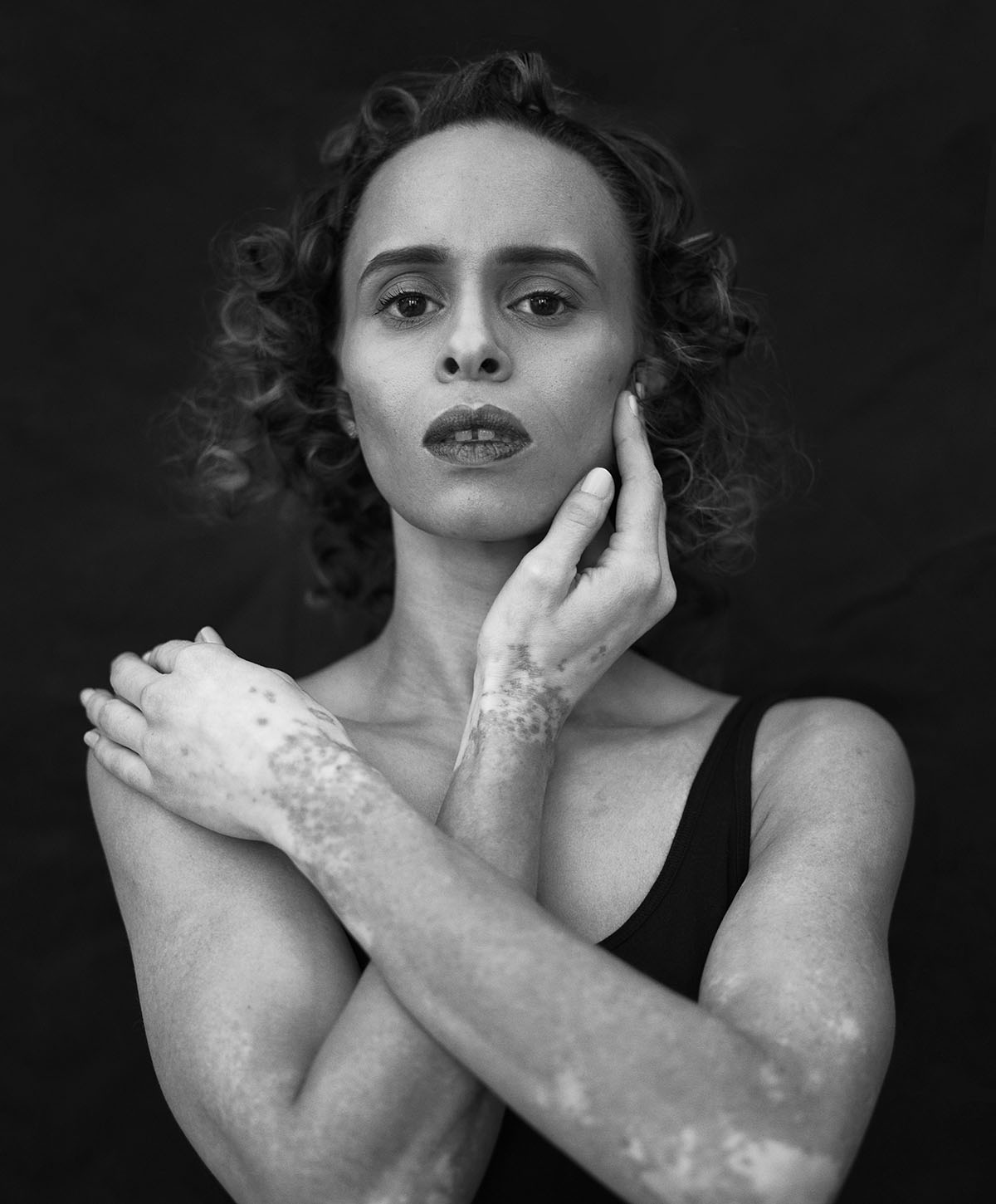 I was going through treatment and I was thinking, 'this is going to get rid of my skin, it's going to get rid of my story, it's going to completely wipe away my identity. I need to keep some of this, this is who I am.'
Covering up wasn't compatible with her passion for staying active. "It made going swimming difficult, it made sports difficult – and I absolutely loved sports." Although she had a "lovely" group of friends and was never bullied, she became increasingly shy, and didn't date. Her secondary school was an all white school, which she says added to the stress. "When you're the only person of colour in a school and you have to deal with that as well as dealing with vitiligo, and exams and boys, and problem skin, it's all too much."
The real world of college and work put things into perspective, and Ambersley let go of her insecurities enough to appear on London Live. "I guess I finally started to accept it when I went on TV and spoke about it. It was almost like me telling the world 'I've got a skin condition and you know what? It's actually ok. I think not talking about it and ignoring it and pretending it wasn't there made it worse." The coverage of white patches reached almost 60% as she approached 31. "You're constantly looking for more patches: they came and they went; and they got worse, and they got better. Sometimes through stressful periods more patches come," she explains. "It can be psychological."
It was an intense UV treatment helping repigmentation, carried out twice a week over a year that made her reevaluate her relationship with her skin. "I was going through treatment and I was thinking, 'this is going to get rid of my skin, it's going to get rid of my story, it's going to completely wipe away my identity. Do I really, now at 31, having had it for so long, want to wipe away all my skin?'" She says she stood in the tanning booth thinking, 'I need to keep some of this, this is who I am.' She repigmented to 50%. "I've still got it on my legs, but it means I can go on the beach now."
She's finally found peace. "I wouldn't change it for the world now. I love it. I can stand on a train, hold on to the rail, I don't care if people are looking, it really doesn't bother me at all. And if people ask me questions, I'll answer questions about it. If my close friends make little jokes about it, I can laugh at that. It's made me who I am now. I wouldn't change it for the world."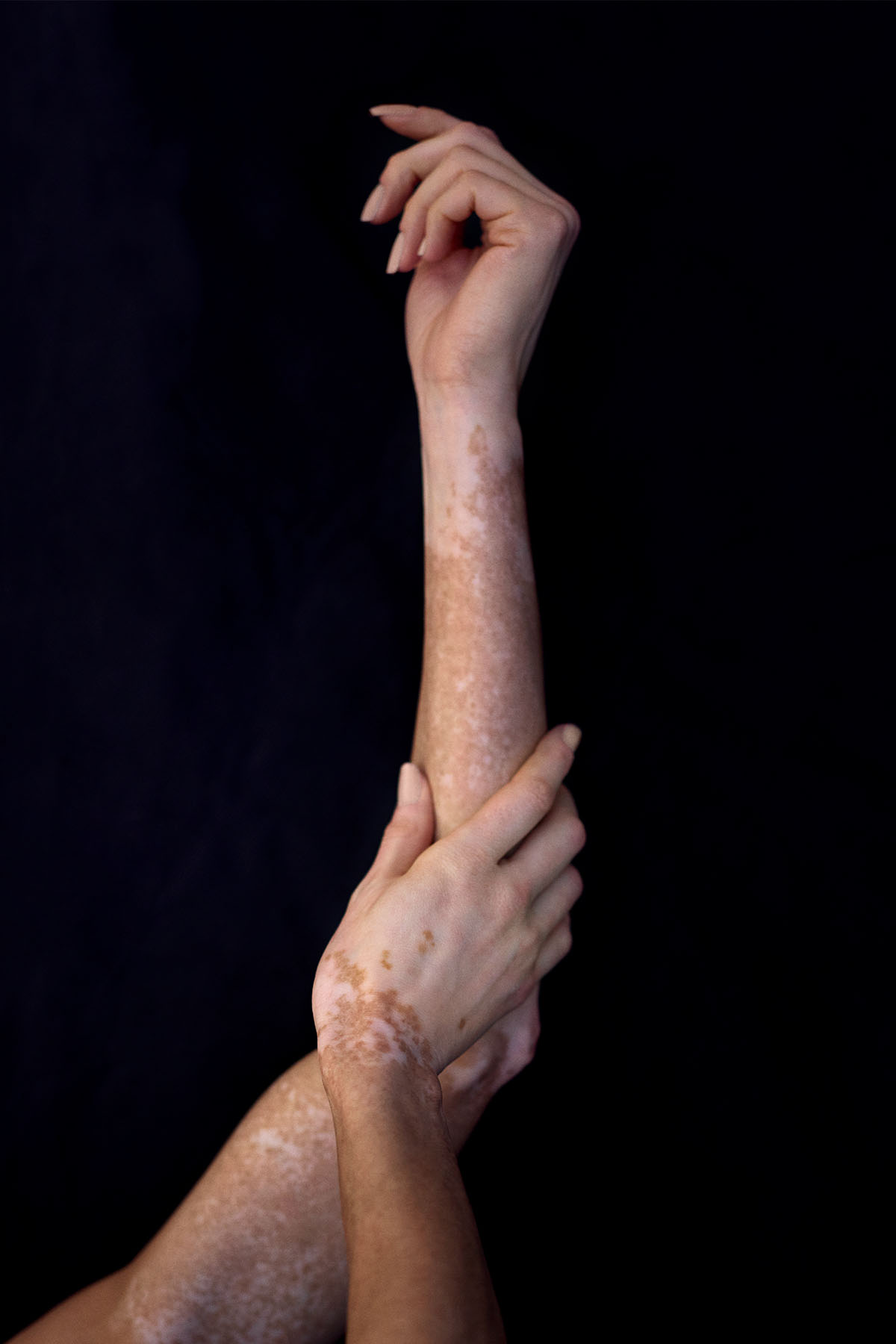 The Canadian model and activist Winnie Harlow, whose almost perfectly symmetrical vitiligo has been photographed by fashion magazines around the world, is a source of inspiration to her. "Growing up I never thought I'd see someone like myself in a media role, and I find myself fascinated by her. Sometimes I look at her and I forget that I've got the same issue as her, because her condition is so artistic – it's like blocks of colour. I look at her and I'm just amazed that she's someone representing and redefining beauty in the media, and she's confident, and she's comfortable, and she wears skirts – and she's cool. I just think it's amazing that people, not just with vitiligo, but people with psoriasis, eczema, any kind of disfigurement – that we too can be beautiful, we don't have to look a particular way."
She considers the way the word disfigurement should be used. "That word has negative connotations. I would never say I've got a disfigurement. I would say I've got a skin condition. Disfigurement makes you sound like you're sick, or not healthy – and I'm completely able. Some people use the word 'disease' and I don't like that word either. It's not a disease. It's just your natural skin condition and 1% of the UK suffers with it. But it's not a disfigurement. It's not a disease. It's just a skin condition, like acne is a skin condition. So I try not to call it that."
Ambersley hopes the message readers will take from the publicity around Facial Equality Day is "don't let your skin define who you are. Your skin is just another part of you– don't let that be the focus." ◼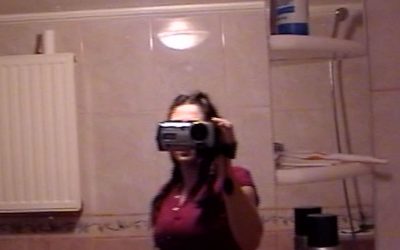 The musician opens up about Syria, spirituality and using anger in a positive way
read more