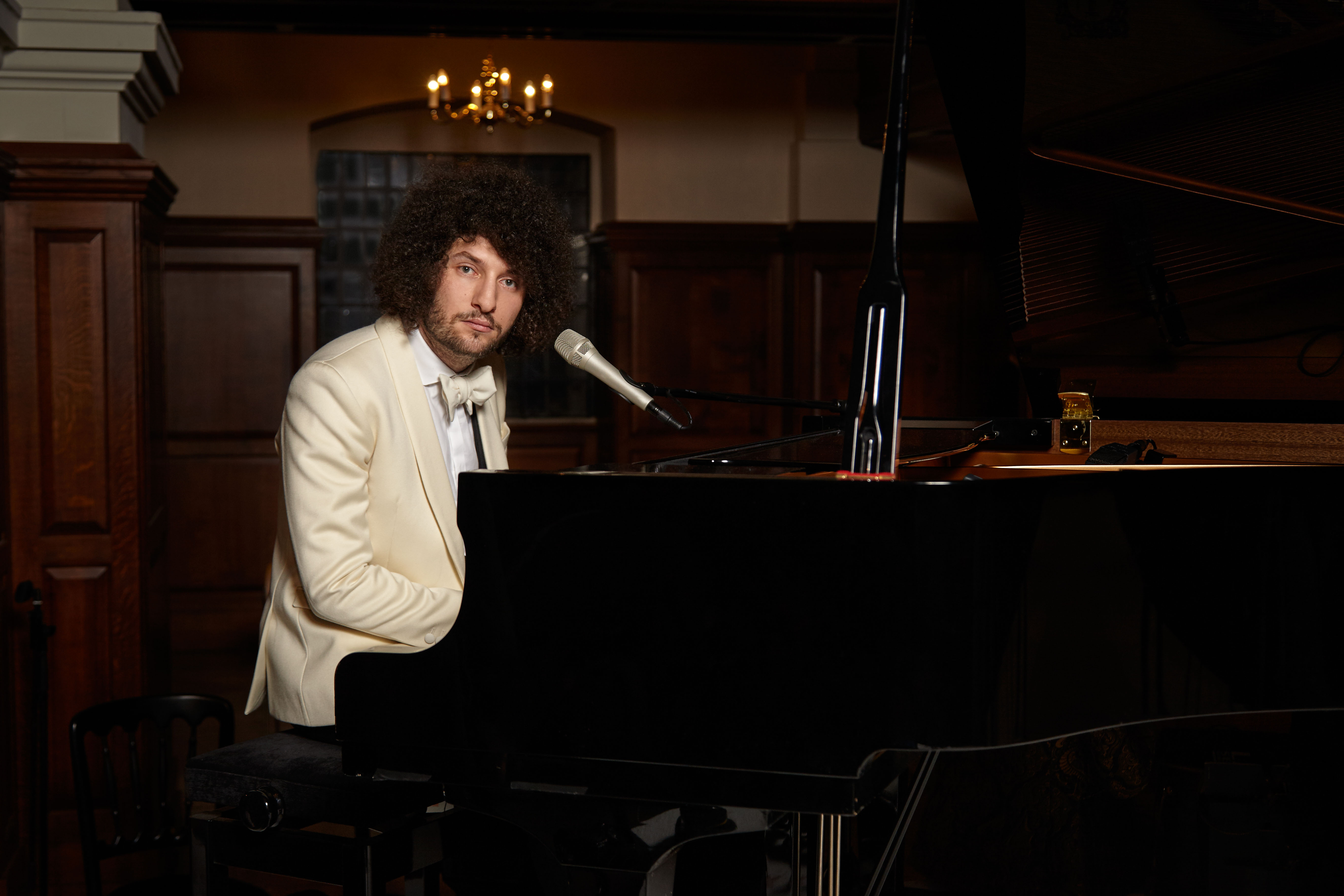 We interview one of the UK's hottest unsigned musicians Billy Lockett moments before his stunning catwalk show performance at London Collections: Men and discover how love and heartbreaking loss inspired his new music
It's a balmy Monday night in Spitalfields at the tail end of Men's Collections and Christ Church's beckoning white tower marks where rising star tailor Joshua Kane is presenting his SS17 collection 'Langtry'. We arrive early and walk through the catwalk rehearsal as beautiful models float up and down, their hair slicked and pinned. A gleaming black grand piano takes pride of place at the end of the runway. Dropping down into the marble crypt backstage area the studio team is feverishly unloading boxes of shoes and preparing the rails while the fashion press mainlines elderflower and gin cocktails.
Caught in the fashion storm is Billy Lockett, a man of unflinching normality, despite being dressed in a white tailcoat and possessing an unruly mass of dark, curly hair. The look is part Bee Gees, part Kit Harington. The Northampton born singer-songwriter met Kane through a mutual friend and his track "Burn It Down" features on the designer's AW16 campaign film as well as providing the haunting vocals and sweeping piano melodies for the evening's show.
The 24 year old is hugely popular online with over 30,000 listens per month to tracks made in his cellar and remains one of the most surprising unsigned artists.
Are you excited about tonight?
Yeah, I'm completely over the moon, it's probably one of the most amazing shows I've done actually. Josh has really, really helped to get me this slot and it's a dream come true.
Have you ever had any contact with the fashion world before?
Not at all, I mean it is very obvious that I am the music guy! But I like it, I like being the odd one out, the extra, it's great. I'm the soundtrack – it's nice. Obviously the fashion world is not something I'm used to.
We haven't seen you in a while…
Yeah, I was very busy a couple of years ago touring with Lana Del Ray for ages, and Birdy. And my Dad passed away so I kind of had a gap. So now, I think I'm just starting again. This is kind of the rebirth.
Do you feel there's anything different this time around with your music?
Oh God yeah. It's good now. I really love what I'm doing now.
How is it different?
It's honest, I just mean what I'm singing now, it's real and I care about everything that I sing in these songs. They're my babies and I've never such a strong attachment to something before.
Is this part of the new album?
Yeah, it's just a new me the new album, everything, it sounds a bit cliché but I'm a completely different person now, I play differently, I used to play guitar, I play piano, I've completely changed my voice, changed the look, changed everything. This is exactly what I want to be, forever now.
What's inspiring you when you're writing music?
All the songs are love songs, but they're love songs about my Dad, rather than it being about an ex it's about missing my Dad. It's obviously very accessible to people but at the same time for me it's got that tinge of personality.
Do you find it cathartic, does it help you?
It helps. It really helps. I'm really lucky that I have something to use to vent it. A lot of people, if something awful happens in their lives they just go to work and it doesn't help in any way, whereas I'm lucky enough to be able to. It's an 'every cloud' situation.
interview continues below….
When is the release day for the new album?
No idea yet, in progress, it's coming.
Have you got a record label yet?
I haven't no, I'm unmanaged and unsigned. It's purely, it's all me and my soundman, my tour manager, my band, my lighting guy, my booking agent. We are a team but we haven't got the right manager or the right label hasn't come along yet. It's kind of been from choice because I don't really want to make a mistake, I really don't want to make the wrong decision, I want to be completely sure that whoever I sign to is going to be perfect for what I'm doing.
What's it like when you're singing your songs and you see people singing the words back?
It happened yesterday at the Isle of Wight quite a few people were singing a new song that I hadn't really played that much and it's weird, I mean, I am used to it now but it's always great because I wrote that in a cellar when I was younger and you never dream that people will be doing that.
Where does the dream end up?
I just want people to be able to get what I get out of the songs. I don't really care about fame, I don't really care about money. I'd love to play Wembley and all those things, everyone would love to do that, and Jools Holland and all those things, but all I really want is people to just like the songs as much as I do and that's pretty much all it should be about really.
Finally, tell us one thing about yourself that might surprise us?
I've got minor Tourettes. Not the sweary kind, all sorts of other things
Words Hannah Kane
Photography Bart Pajak