Created by chef Finn Baird, this healthy but hearty fish stew is rich in omega-3 oils and will warm your cockles on even the bleakest of February evenings…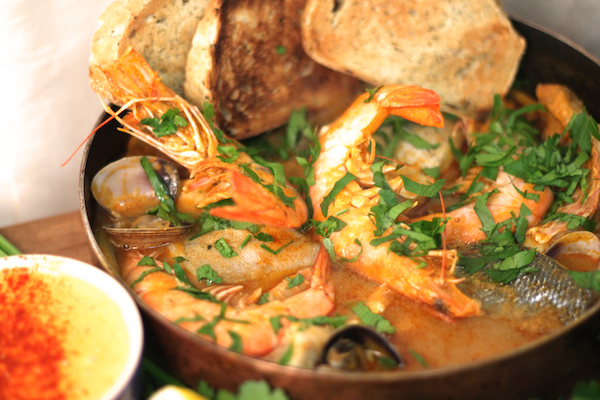 Bouillabaisse is a traditional French fish stew perfect for those long winter months. After all those heavy dished something a little lighter goes down a treat, and the lean white fish and natural oils make it a fantastic tasting and healthy dish.
This dish lives or dies by the quality of the saffron-infused, lightly spiced tomato fish broth, so it's well worth spending some time making the fish stock yourself and putting some love into it (or at least buying the best quality of pre-made you can find). Luckily, this can be done in advance and reserved in the fridge for a day, or in the freezer for a month. Then the fish and seafood can be poached in the simmering broth for just a few minutes before serving, garnished with parsley and served with well toasted crusty bread and rouille (a roasted red pepper garlic mayonnaise).
For the very best bouillabaisse, you'll want to have a decent variety of fish. This makes it perfect for feeding a crowd. For a fantastic communal experience, try asking each of your guests to bring a portion of their own favourite fish or seafood to add to the pot.
Ingredients 
3 large onions
3 large leeks
8 cloves of garlic
2 star anise
1 red chilli halved and deseeded
1 bay leaf
Sprig of thyme
The head, tail and bones from 3 mixed whole fish (fillets cut in equal size pieces and reserved – if you are not confident about doing this, ask your fishmonger to do for you)
2 litres water
Half a bottle of dry white wine
Pinch saffron
Salt and pepper to taste
Juice and zest of a lemon
Parsley
Extra virgin olive oil or cold pressed rapeseed oil
2 tins tomatoes
3 tablespoons tomato puree
1 bunch of carrots, peeled, cut in half, then sliced thin at an angle
Half a head of celery, washed and sliced thin at an angle
Method
1. Finely slice the onions and leeks and sauté with the oil in a large saucepan over a low heat.
2. After 10 minutes add garlic, saffron, anise, thyme, bay leaf and a good helping of ground black pepper and cook for 2 to 3 minutes.
3. Add the bones and heads of the fish and cook for 10 minutes.
4. Add the wine and reduce by half.
5. Add the tinned tomatoes, tomato puree, chilli, water and plenty of seasoning, bring to boil and simmer for 20 minutes.
6. Blend and then put through a fine sieve. Taste and season with salt, pepper and lemon.
7. When finishing the bouillabaisse, bring your fish broth to the boil in a wide shallow saucepan with a tight fitting lid.
8. Add your carrots and celery and blanch for 2-3 minutes.
9. Place all of your fish fillets and seafood flesh side down into the broth in a fan-like shape.
10. Cover with a lid and bring back to the boil. Once at the boil bring back to a simmer for 7-10 mins depending on the size of the fish fillets. Finish with chopped parsley, extra virgin olive oil, fresh squeezed lemon juice, salt and freshly ground black pepper.
Words: Finn Baird
Photo: Jack Greenall