PHOENIX's Editor-in-Chief Hannah Kane presents a beginners' guide to spring cleaning your wardrobe, and finding your signature style
I've always been fascinated by people who have a signature style. The fashion weeks are the supreme observation platform for this. There's always the brilliantly over-the-top Anna Della Russo in whatever eye-popping get-up she can get her talons on. The indescribably glamorous Elina Halimi, art director at Kabuki boutique Paris, who often does cigarette pants and block colour. Editor Caroline Issa who does feminine tailoring to perfection. Not to mention the dashing David Gandy, a heaven sent clotheshorse for Savile Row's finest.
It all works because it's authentic. The concept of finding your 'authentic self', who you are at your absolute core, is gaining momentum in modern psychoanalysis as one of the key factors to achieving happiness.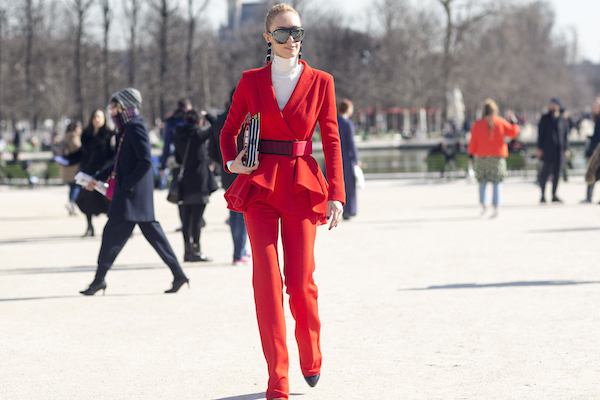 Elina Halimi
There are several ways to help identify your authentic self apparently – the most fashionable of which is identifying the clothes that you feel most comfortable in. As the saying goes, you 'should look as though you picked out your clothes with great care and attention in the morning, and then not given them another thought for the rest of the day'.
Recently I have been inspired by this quest for sartorial inner peace to instigate a spring-clean of my wardrobe. It went something like this:
Step 1. Pull everything out and fold on the floor. Have minor panic attack at said ginormous pile of fabric on floor. This is one of those 'it has to get worse to get better' scenarios.
Step 2. Try everything on. If it doesn't fit you, it doesn't want you. Let it go.
Step 3. Chuck the cheap stuff (launder it first then send to charity). I've reached the magical age (32 if you're asking) where I have edited my knitwear choices down to a few pieces that I love, not the shelves of polyester tat I used to own. Cashmere zen, if you will.
Step 4. Sell the designer stuff or anything of value that you don't like or doesn't fit. Utilise the services of vintage exchange stores like Bang Bang Clothing, or consignment stores like The Dresser. Failing that there's always eBay (it's pretty much idiotproof these days with the smartphone app). Car boot sales are a hoot if you go with a few mates and pitch up next to each other.
Step 5. Have a reshuffle every season. If there's a piece that suits you but you're simply not 'feeling' right now, archive it – you know that baby's coming back.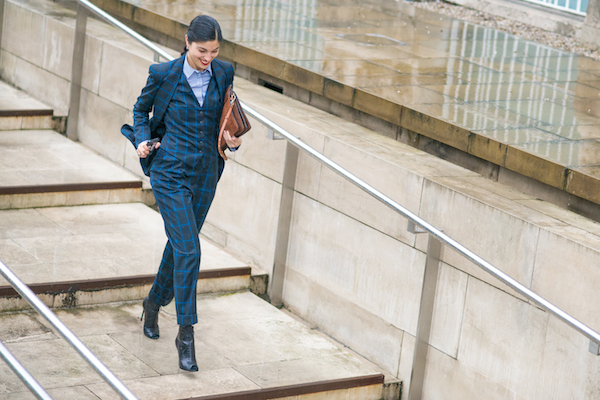 Caroline Issa
Now you've created some space, time to figure out where the missing links are. I like to imagine my wardrobe as a giant jigsaw puzzle, with every new purchase bought with the intention of connecting at least three other pieces together. Basically you need three times as many tops as bottoms (this is the equation most retailers use in their shops).
Enjoy the process of shopping. It's like modern dating – sometimes you have try a few things to see what fits. And sometimes the thing you never expected will be the one that you fall in love with! A meeting in person also cuts to the chase where an online liaison doesn't – I'd always rather worship at the hallowed, creaking timber halls of Liberty than simply click 'add to checkout' online. Always look for quality, natural fabrics such as cotton, silk, linen, leather, and wool. It pays dividends, if you're investing your hard earned cash then you want the piece to last – and good fabrics are a pleasure to care for. Trust me, I'm one of those weirdos who actually enjoys ironing and inspecting the construction of a garment.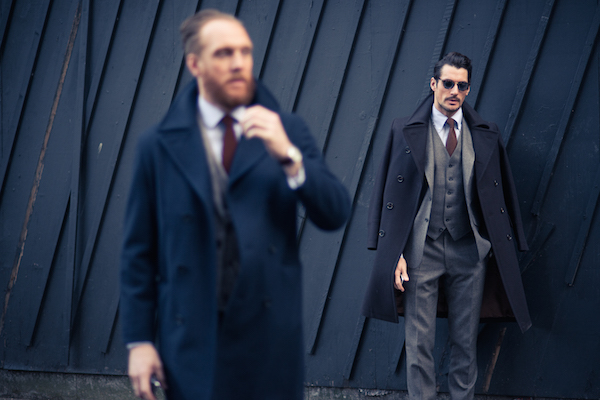 David Gandy
Time to stamp your identity on it all. Putting together moodboards on Pinterest is helpful for narrowing down the style you're attracted to. Collect magazines! What are the keywords you're searching for? Boho? Ladylike? Streetwear? Mine's currently an homage to minimalist master (sic) Tilda Swinton, with a secret love of all things Grace Kelly. I have favourite designers the same way my dad is a die-hard Tottenham fan – to name a few Celine, Hermes, Yves Saint Laurent, Paul Smith – and Uniqlo for the basics. I'm also a fiend for a decent charity shop and will venture into wealthy London suburbs with the sole purpose of hunting down a bargain. I adore tailoring, so often look to traditional menswear designers for styling inspiration.
Play to your strengths. What do most people compliment you on? Embrace the thing that makes you, 'you'. Find your signature piece – whether it's a fabulous hat à la Isabella Blow, or a black roll neck like Steve Jobs. One of my chicest friends always wears fabulous statement earrings by Aussie designer House of Baulch. Get a great haircut, it's the one thing you wear every day.
Anna Della Russo
Dame Vivienne was half right when she said at her SS14 show "Buy less. Choose well. Make it last. Quality, not quantity. Everybody's buying far too many clothes." I'm going to add that of course there's a place for the high street. Realistically not everyone can afford to shop at Westwood, however hard you save. It's something to aspire to. The high street also gives you freedom to experiment with a few of the more directional trends – remember how crazy we all went for peplums a couple of years ago?
But, as a general rule, owning fewer luxury pieces that you love, and that all go together really does make getting dressed a doddle.
But if, like Madonna, your signature style turns out to be constant reinvention – well, that's all right too.
Words: Hannah Kane