Think of Gran Canaria – and its cluster of neighbouring islands, located just off the coast of west Africa – and you might visualise sunny package holidays and expat communities. In part, you would be right; the Canary Islands count among Spain's farthest-flung territories, and their long, balmy summers and mild winters have made them a year-round hot spot with holiday makers. But beyond Gran Canaria's vast, sweeping sand dunes and Bourgainvillea-draped side streets is something less well documented: its indigenous beauty ingredient, aloe vera.
Drawn from the aloe plants dotted around the island's rugged, volcanic landscape, Gran Canaria's aloe vera is the purest in the world, so much so that it does not need to be treated. The natural gel, cultivated in a subtropical climate at an average temperature of 24 degrees, can be extracted straight from the plant, and applied just as it is. Used for centuries to soothe, heal and hydrate skin, treating ailments like eczema and psoriasis, the powerhouse substance puts Gran Canaria firmly on the wellness map, but which spa hotels are best for a spot of aloe pampering?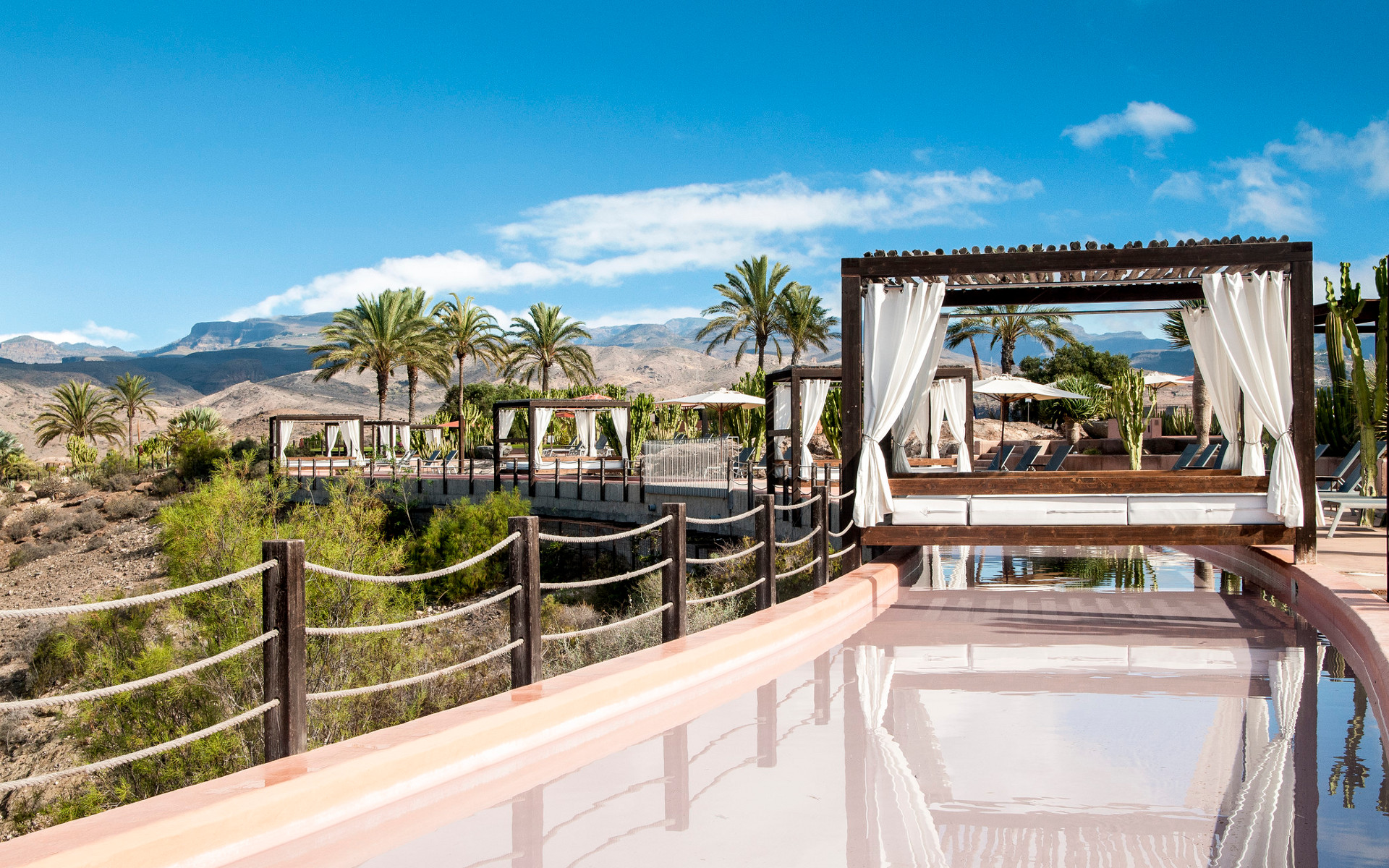 Sheraton Gran Canaria Salobre Spa & Golf Resort
Situated in the heart of the countryside to the south of the island, this sleek, contemporary 5* star hotel combines top level spa and fitness facilities with idyllic outside space to relax and unwind. The rooms are chic, spacious and full of light, each with a private terrace, vast bed, and bathroom kitted out with rain showers and roomy tubs. Don't be put off by the golfing element – regardless of your prowess on the two 18 hole courses, their flashes of verdant green contrast beautifully with the surrounding rocky, arid terrain, making the hotel's views especially striking. Drink in the scenery during an al fresco yoga session as the sun goes down, or from the open-fronted fitness studio, which offers a dose of fresh air and stunning vista while guests sweat it out on the cross trainer.
Once the seven pool areas have been exhausted, it's time to retreat into the calm of the onsite aloe spa. Starting with a refreshing shot of aloe juice is recommended – crammed full of amino acids, vitamins and minerals, it's a total immune system booster. Next, sooth any sunburn or heat rash with a blissful aloe aftersun back massage, using locally sourced aloe vera. The quenching gel penetrates deeply, relieving redness and irritation. A host of alternative aloe rituals are also available, from antistress facials and scrubs to full body massages. Post-treatment, a warren of rooms beckons: a Finnish sauna and Turkish baths lead to a eucalyptus-scented steam room and oxygen therapy room, releasing a steady stream of 99.9% pure air. Outside, the vitality pool is accessorised with therapeutic jets, bubble beds and waterfalls, surrounded by four poster sun loungers and backed by mountainous views.
Rooms from 145€ per night. Car hire is recommended if you wish to explore the island.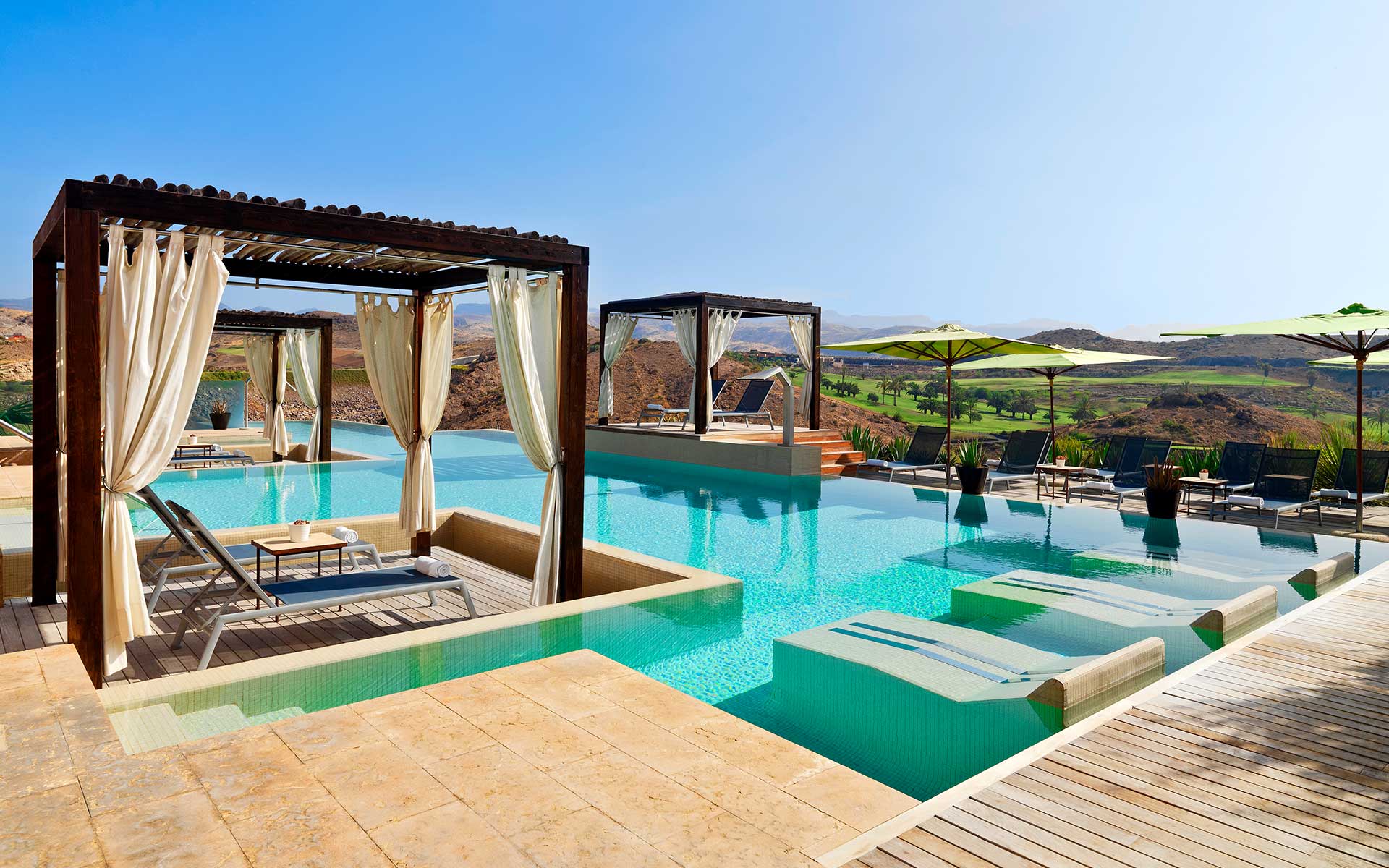 Seaside Grand Hotel Residencia
For those seeking something a little more traditional, this luxury five star Spanish-Colonial style hotel in the Maspolomas Beach is quiet and peaceful. Adult only, it has just 93 rooms in total, with white walls, a terracotta tiled roof, and a central square built around a water fountain. The pretty landscaped gardens are dotted with palms, cacti, colourful blooms and hanging wrought iron lanterns. Inside, all rooms and suites have ornate beds with high headboards, antique looking furniture and Spanish tiled bathrooms, with screened wooden balconies and terraces that reveal views of the pool and gardens.
After a dip in the 30°C Thalasso saltwater pool – enriched with sea salt and minerals, with air jets to unknot the muscles – head into the spa for a stint in the sauna or steam bath (followed by the dip in the cold water plunge pool, if you're feeling brave enough). Seek out the salt cave too, filled with minerals like iodine, magnesium, calcium, potassium, bromine and iron to relax body and mind. Choose the 50 minute aloe vera body wrap for pure aloe indulgence; soothing and nourishing, the authentic Canary Island gel seeps into the skin, leaving it supple and dewy. Finish with the multi-sensory shower and some herbal tea in the quiet zone.
Rooms from 228€ per night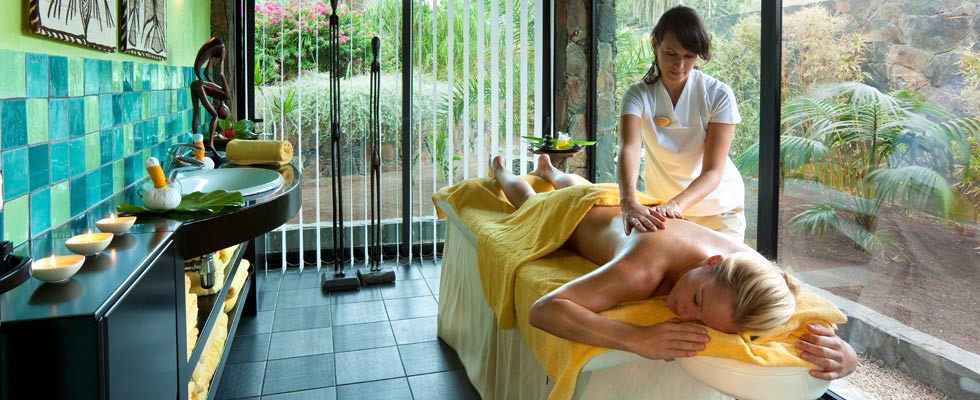 Inagua Spa
Tucked inside Cordial Mogan Playa hotel is the Inagua Spa, its gorgeous outdoor terrace area bordered by white four poster bed-style sun loungers, looking out onto the surrounding hills and towering cacti. The hotel itself is just a ten minute walk from Puerto Mogan's harbour – known as Little Venice thanks to its bridges and quaint waterside houses – and impresses with its lush gardens, courtyards and terraces. Head to the nearby beach for calm, shallow waters, or choose from two large pools, both flanked by trees to provide shade. Tennis courts, bike hire and hiking tours count among the list of daily sports and fitness activities on offer. Unwind post-workout with a soak in the spa's thermal pool and outdoor flotarium, followed by a body peel using exfoliates of aloe vera to rejuvenate and invigorate the skin. Two hour spa sessions for thermo-pool, sauna, steam bath, jacuzzi, ice fountain and experience shower cost 25€ per person.
Spa entry: 25€ non-guests, hotel guests 16€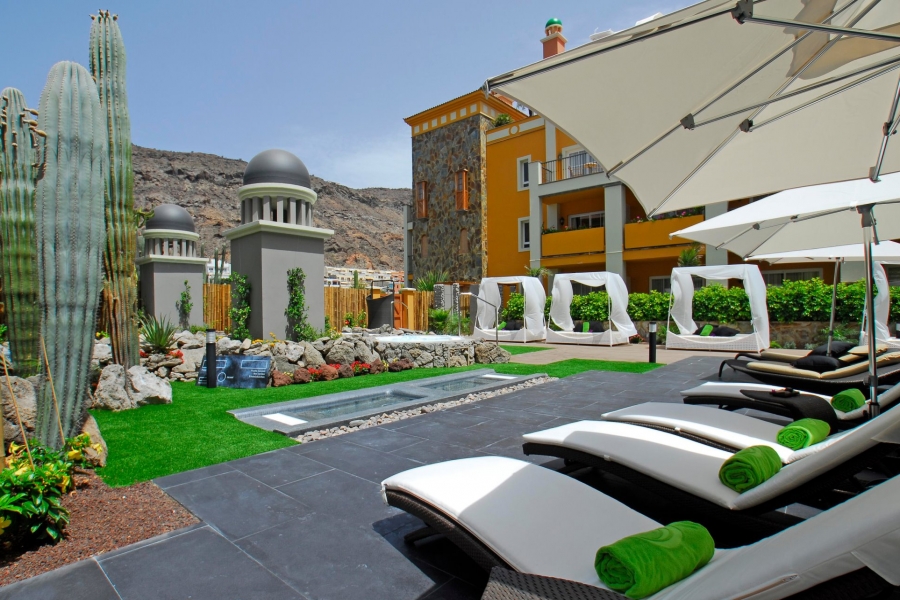 Thompson Airways, Monarch, EasyJet and Ryanair fly regularly from London Stansted and Gatwick to Gran Canaria.
Visit GranCanariaWellness.com for more details.
Words: Mary-Jane Wiltsher