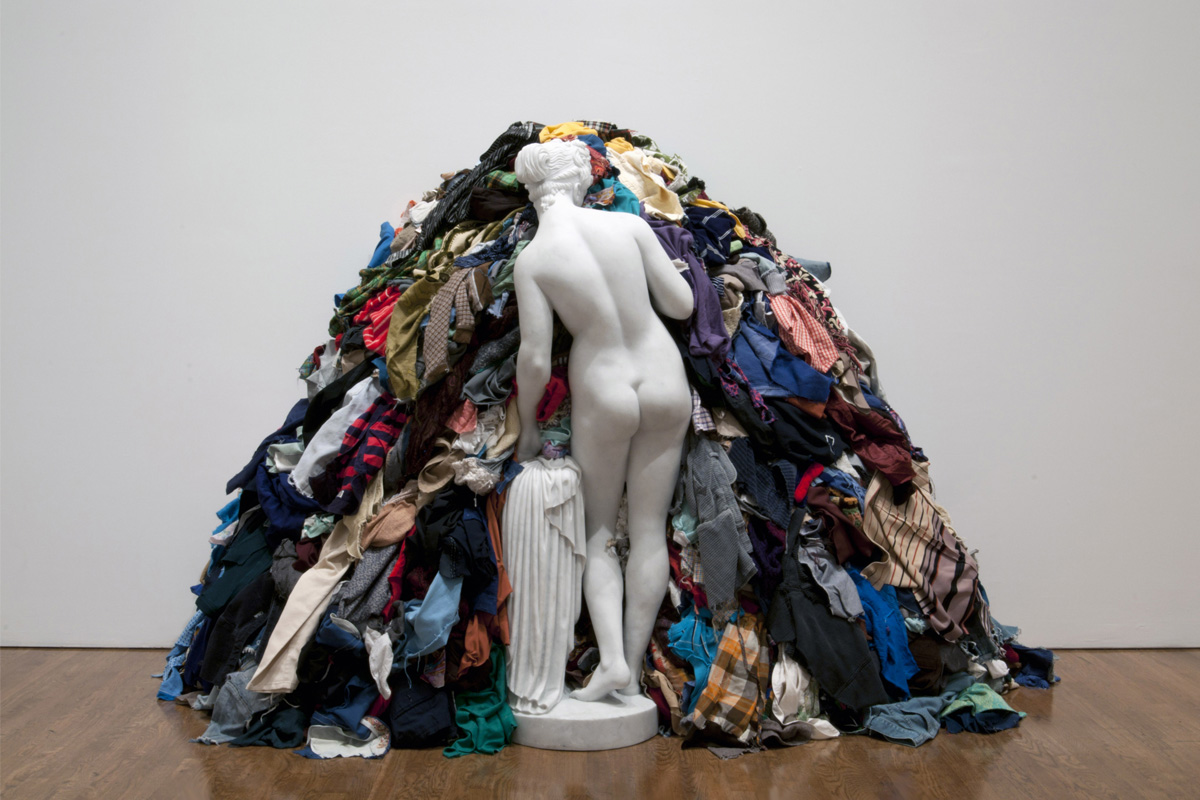 September is a month of change, and for those of us who struggle with summer dressing (give me a tailored coat and long boots over shorts and sandals any day) the chill in the air and biscuit coloured leaves are a welcome arrival.
It's a good time to do a wardrobe overhaul, pulling everything out, sorting it, and if you're super organised, time to get everything dry cleaned and pressed for the day you want to wear it. As I pick apart the mountainous pile of clothes now on the floor, a less glamorous version of Pistoletto's Venus In Rags (see image above), I'm struck that this is going to be one of those classic "it's going to look worse before it gets better" scenarios.
To the charity shop go the old high street threads and man-made fabrics. There comes a point in your life when you grow tired of polyester making you sweat in places you didn't even know you had pores. There's stuff of value too, but I never made it to a car boot this summer, and who has time to eBay? I'm trialling the new Beta eBay Neighbourhood function which connects you to sellers in your area who deal on your behalf. I'm speaking to Beverely, a stay at home Mum, who will take 40% of the sale price. For the faff of photographing everything, uploading the descriptions, and dealing with postage, this seems a fair cop. 
I'm trying to be strict when it comes to the wardrobe edit, anything that hasn't been worn in a year has to go. Anything that doesn't fit, ditto. Slightly depressing to think I'll probably never get into those super-skinny size 6  leather trousers again. I'm cheered up though by the find of a treasured Ashish sequinned top stuffed down the back of the closet that I thought I'd lost at Carnival. Luckily there's sequins on the horizon for the AW16 party season, with Preen, Dolce and Gabbana and Gucci all offering up the sparkly stuff.
So what to keep? For AW16, fashion takes a perennially darker, heavier, and more waterproof turn. To paraphrase Miranda Priestly, "Tartan for winter? Groundbreaking". Other unsurprising autumn-winter trends include: black (seen at Daks, Felder Felder and Simone Rocha), houndstooth (Topshop Unique), and trench coats (Burberry, Celine, Gucci and Prada).
The fabric of the new season is oh-so-strokable velvet, seen in jewel tones at Valentino, Preen, Rochas and Ellery. Less usual was the palette of seemingly unseasonal pinks (looking at you Alexander McQueen and Holly Fulton), and violet purples (Michael Kors, Kenzo, Miu Miu and Roberto Cavalli), which are sure to pop against a backdrop of rain-soaked concrete.  Other trends to transition from the summer of sixteen include ruffles, which if it was your bag you'll be pleased to know cropped up again at Peter Pilotto, Roksanda and J.W. Andersen. Raw-edged denim also shows no sign of abating, seen everywhere from Kate Middleton favourite Emilia Wickstead to the high street. Slash your hems and get into the fray DIY style: I took scissors to an old Uniqlo pair, cutting them to expose a slice of ankle (how very Jane Austen).
Trends I shall personally be avoiding include quilting, as seen as Chanel, Haider Ackerman and Sacai, which doesn't work if you're five foot two and a half inches (that half inch is important). The 80s also made an unwelcome comeback, though in my opinion Hedi Slimane's Quality-Street-wrapper final collection for Saint Laurent AW16 probably only just works on the very, very thin and very, very young models he sent down the runway (seriously, Google that shit).
The reality is I'll probably wear a variation of the same minimal, utilitarian look I usually favour. I was always intrigued by late, great Steve Jobs' approach to dressing. While the Apple founder is perhaps an unusual style icon to reference, his pared down, uniform, (dare I say it, 'normcore') look was apparently designed to help him focus on the daily task of his running his business, which can only be good. Luckily the ultimate styling update this season is a Jobs' worthy poloneck, the perfect layering partner for everything from brocade dresses to satin slips according to Céline, Valentino, and Hermès.
Sorry Steve, this is fashion after all.