Mercedes Benz Fashion Week Russia is celebrating its 30th season, running from 26 to 31 March 2015. The collections from both established fashion icons and rising stars will demonstrate the best of Russian design. This week, we're celebrating by profiling some of the most exciting up-and-coming designers you should be keeping an eagle eye on.
Evgenya Malygina created PIROSMANI BY JENYA MALYGINA in 2004 and specialises in complex asymmetrical shapes. She pairs contrasting fabrics and uses unique draping techniques to create tension in her designs, and her sharp Eastern European cuts strike a modern tone – whether in the office, on the streets or at a party. Her shows lean toward performance art with the models and designs taking the role of art objects. Ahead of her AW15 show, we asked her a few questions.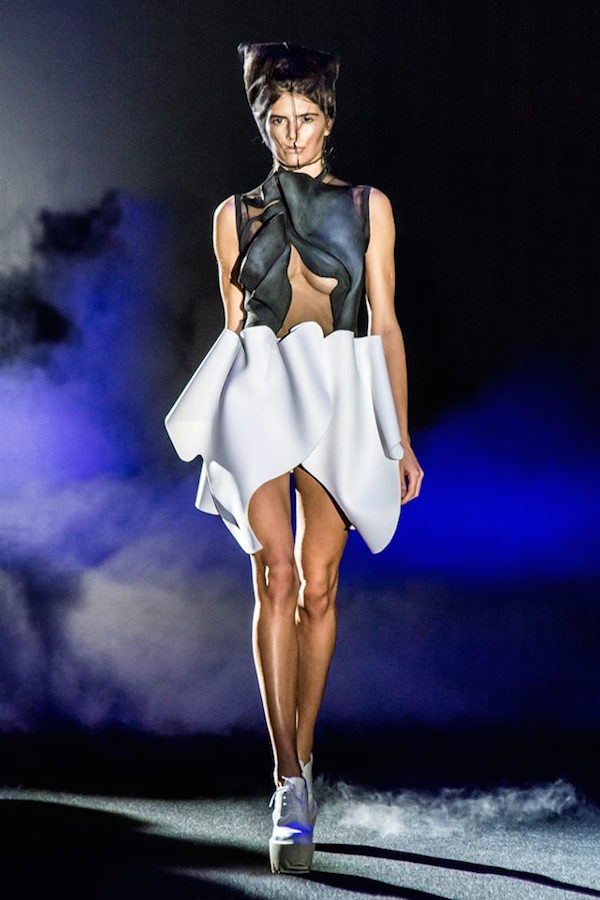 What words would you use to describe your design aesthetic?
Black, abstruse, in the beauty of artistic chaos.
How do you bring inspiration to life?
Each collection is [part of] a certain flow which can be called inspiration. Each artist is addicted to the feeling of the flow, which is filled with impulses, that's why artists create various things, finishing current projects and starting new ones. It's a life-long process. The quality of the flow depends on aesthetic effects from music, art or cinema on a person. It's as if I catch a wave of contemporary beauty, which then carries me to the next surf.
What is your earliest memory of fashion?
When I was a child, I saw beautiful people as gods. I used to look at them with fascination: flying dresses and beautiful hairstyles of adults seemed incomprehensible, like a symbol of a different beautiful world of freedom that those adults were in… when I started sewing for myself it felt like I was opening a door to the world of independence.
What is the bravest thing you've ever done?
The bravest thing I've done was saying "no" to fear. This releases a huge amount of productive energy, so essential for creating, for love and life.
What kind of risks do you take with your fashion?
There's only one risk – to disappoint yourself, not to be able to do what you wanted, to fail in expressing your artistic idea in a material embodiment.
How do you mentally prepare yourself for a show?
Getting ready for a show is just as cruel, exhausting and beautiful as love. It's impossible, but without it is just as impossible.
PIROSMANI BY JENYA MALYGINA is showing on 30 March 2015 at 7pm; watch the live stream live stream here.
Words: Julie Reid