What I Wore: Vintage Coat, Topshop Skirt, Topshop Boutique Tee, Louis Vuitton Tote, Zara Boots, Ray-Ban Sunglasses
Joanne Stoker
Day 2 began with Joanne Stoker's 80s revival – a presentation that paid tribute to the strong, power-dressing woman. Dizzying footwear and fierce attitude reigned supreme, with leather booties adorned with multi-coloured geometric lines and some interesting wide monochromatic heels. Despite the retrospective flavour, the footwear on display felt fresh and current thanks to its host of creative references. The collection evoked the work of Yaacov Agam, evident in the patterns used, as well as architectural notes of Luis Barragan, seen in the inter-play of colours on the meticulously crafted shoes. The results were chic, wearable, and firmly rooted in the present.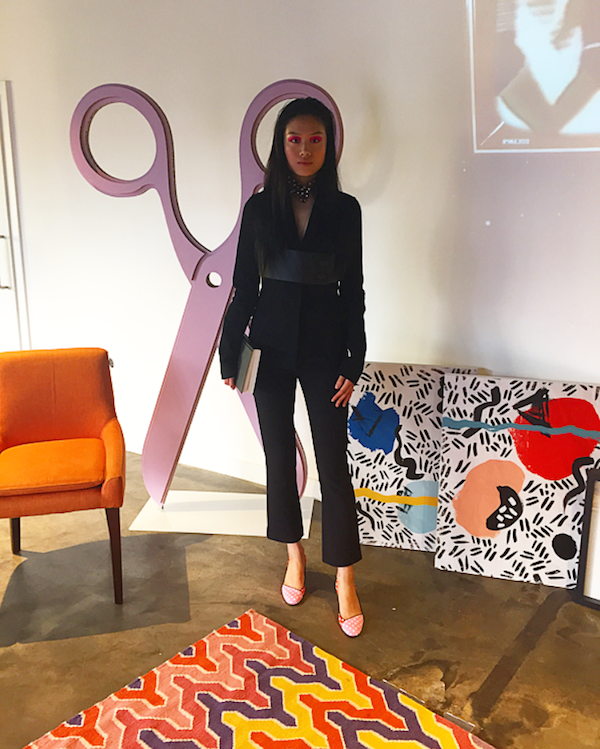 Hemyca
To the menacing sounds of a chainsaw, Hemyca SS16 opened with a short video of a mannequin being dismembered by the power tool, with disturbing American Psycho-esque undertones. Our show notes clarified that the inspiration behind the collection was the overlapping of the digital realm and the real world, the ambiguous 'in between space'. The meticulously tailored clothes presented a sculpted silhouette of gridded pencil skirts and structured neoprene. A muted palette, mainly monochrome, with heavy use of concrete grey broken by the occasional pop of blood red gave a distinctly industrial feel. A collection for the urban-dwelling, professional woman in search of escapism.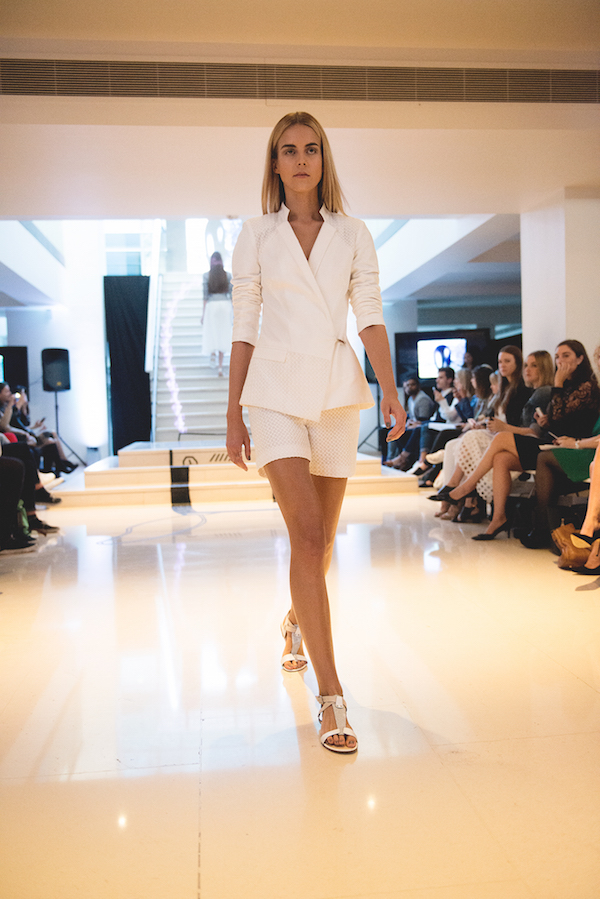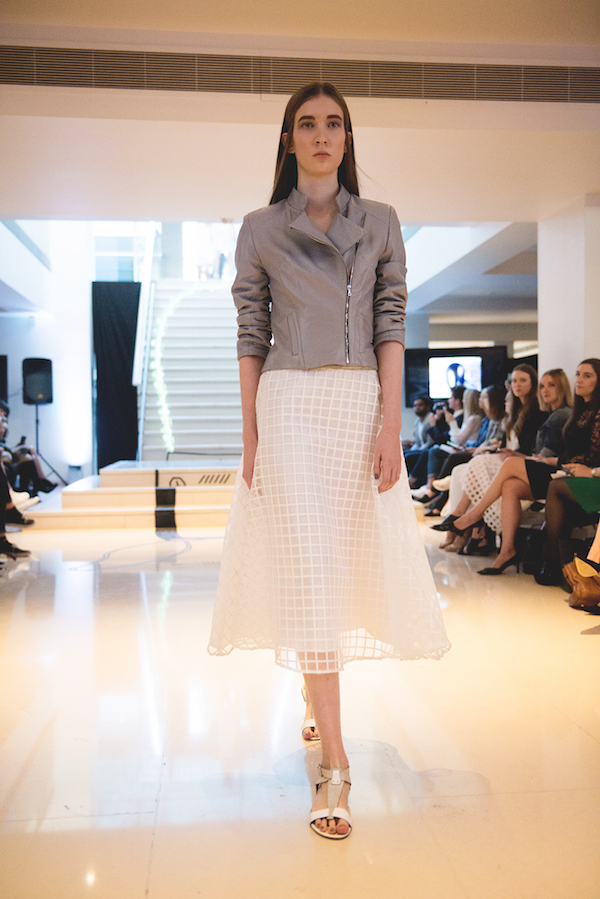 Hemyca photography by Daniel Towel
Judy Wu
With the Freemasons Hall's interiors forming a suitably grandiose backdrop, Judy Wu followed last season's catwalk debut with a conceptual collection focussing on femininity and all things girl-power. Relaxed silhouettes came in outer space prints, fluidly draped with waterfall pleating. Minimal hair and make-up were elevated through the use of frayed organza veils, heightening the air of theatrics, while cosmic prints were offset by clever use of colour blocking in coral, jade and turquoise, with interspersed hints of metallics.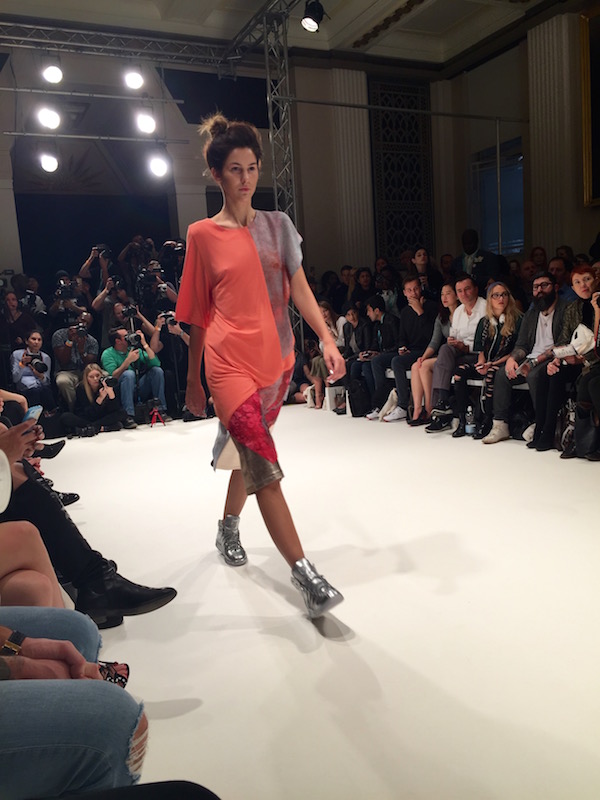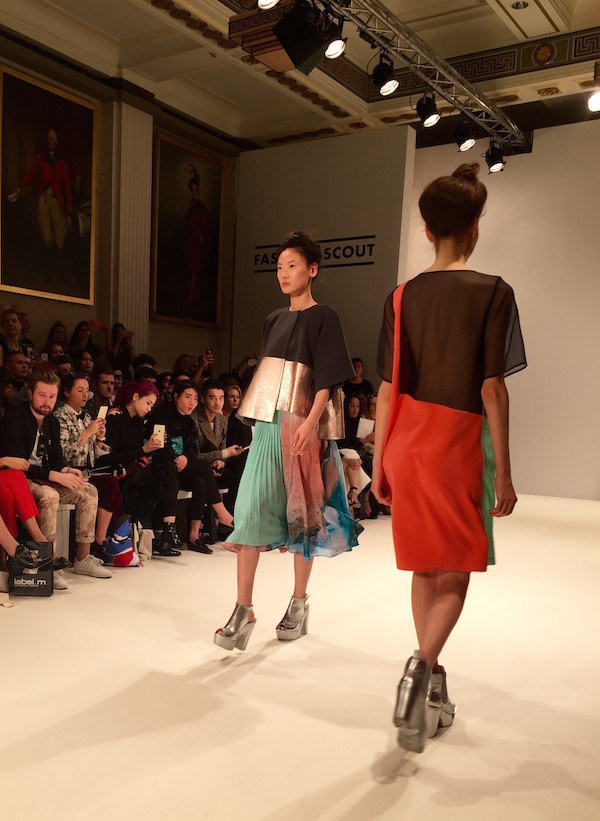 Words: Cecile Stefanova