One of the most prominent features of yesterday's shows was the heat. London's indecisive weather landscape often makes it hard to make the practically appropriate sartorial choice – add this to being herded into a basement at Victoria House and here is the formula for the removal of the fashion pack's usual easy breeze nature. It is really rather comical to see 400 invites being swooshed towards the face, in desperate search of a little cool air.
But really we're here to talk about the clothes. MAN's 10th Anniversary show was first up here. The collective funding body – headed by Fashion East and Topman – which hurled the likes of JW Anderson, Christopher Shannon, and Craig Green to the cutting edge of global menswear design has been the key in discovering an entire menswear market which continues to grow each season. The film screening which begun the whole offering reminded the attendees that MAN was just a day – tacked onto the end of Women's Week. Eventually this garnered so much attention that the biggest and the best in fashion would stay around in London an extra day just to see the few men's shows. Now we have two autonomous men's weeks – really rather a feat.
And the first collection showed was by the young Irish designer Rory Parnell Mooney. Apparently using the relationship between the conceal and the reveal and a message of protest, the pieces harnessed the juxtaposition between super clean bonded and webbed lines against raw and ragged edges and undergarments. Think sharp boxy vests in black and white, oversized ponchos with beautifully simple cuts, and knee length trapeze culottes all with super clean hems. Add to this the opening of the garment upon walking to reveal a disheveled underlayer of fraying or flowing fabric and the contrast Mooney was looking for really comes to life. Pieces of note were the knee length grey marl tunics which were slit to the hip, the super sharp long white trench-esque coat which looked as though it had been chewed, scratched, and frayed all across the back. Spring Summer was taken by the horns with the tiny trunks, which had pieces of yellow daubed white pleated silk flowing in panels from the hip. The collection really did feel like a message of protest – the relationship between the relentless internal jumble that we are, juxtaposed with the clean, cool and happy persona we aim to give out perhaps?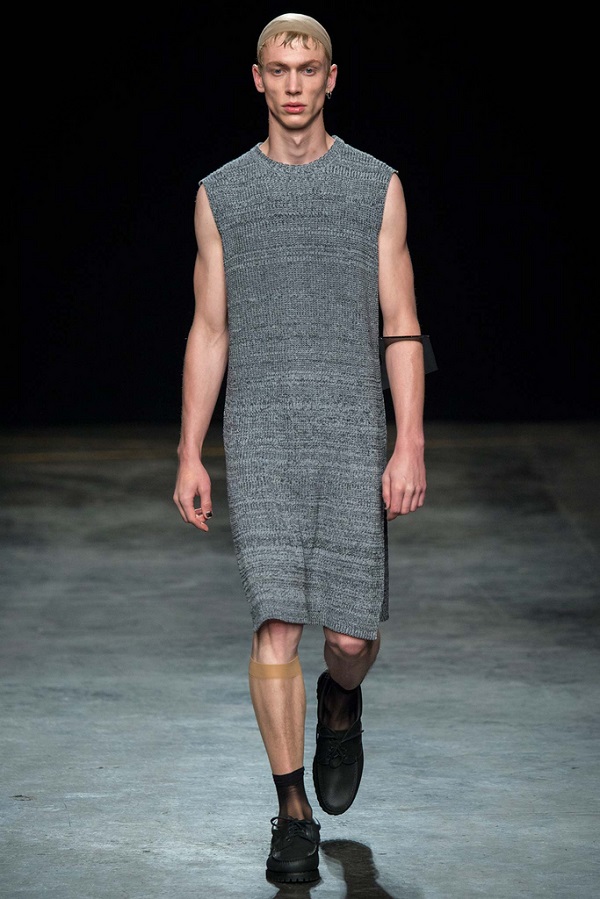 Liam Hodges presented his last collection with MAN today. Showing shiny jaquard football kits in blacks and whites, oversized trousers and jackets in a palette of black, white, teal and deep blue – the garments had images woven into their fibres. Climbing harnesses strapped up the bodies around the torso, or hung from big white boxy trousers or black combats. Could this be the return of the much missed 90s jungle trouser? At last!
Next up was Nasir Mazhar – the designer who was one of the first to really create the contemporary streetwear cult here in London. With adoring fans in head to toe Nas getting down to the beat, the air was febrile with a much more excited energy than most shows. As for the collection, it was rather a re-direction for Mazhar – leaving all traces of his previous black and white brand-bands behind, in replacement for a simple embroidered black embossing which read 'Nas'. The whole collection was black (bar three pieces, that were kind of black and white marble print) – cut away cargo pants and the ankle and the knee, bullet proof utility pocket vests revealing whole torsos, and tracksuits which were ruched from top to bottom creating a kind of exoskeleton feel were all heavy features. The puff ball sleeves and shoulders on some of the womenswear smacked of Comme Des Garcons and provided an almost parodying musculature to the silhouette. From badass clothes to badass casting – both in look and diversity – Nasir really manages to capture a true youth feel time and time again.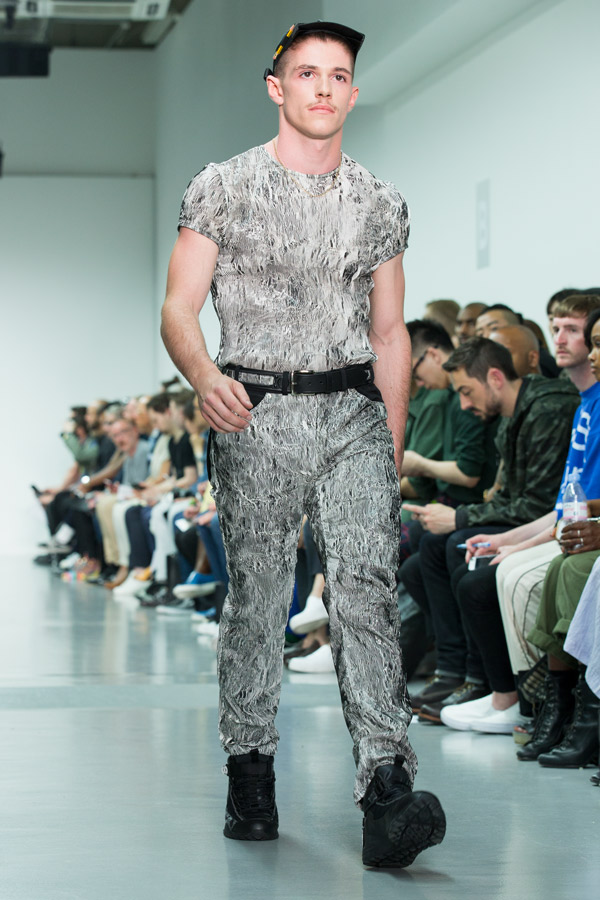 Photography: Ella Sadika
Kit Neale couldn't have been more different – gigantic swishing jacquards in deep blues with bulbous flowers – pinks, oranges, yellows, greens, browns, purples all in sumptuous fabrics and oversized cuts reminded of the time when one used to wear hand me downs of all shapes and sizes, and make necklaces out of grandma's balls of wool. Bob hats were shoved on all of the models with huge silk bows loosely tied atop. Bombers were oversized, culottes were A-line, and jackets saw huge shoulders and collars slung atop mini model frames. As ever, Neale manages to capture a certain British charm. The offering was inspired by the obsessive collection of bits picked up at British car boot sales – and it really takes a stroke of genius to work the incredibly eclectic idea of regional British Sunday markets so evidently into a collection.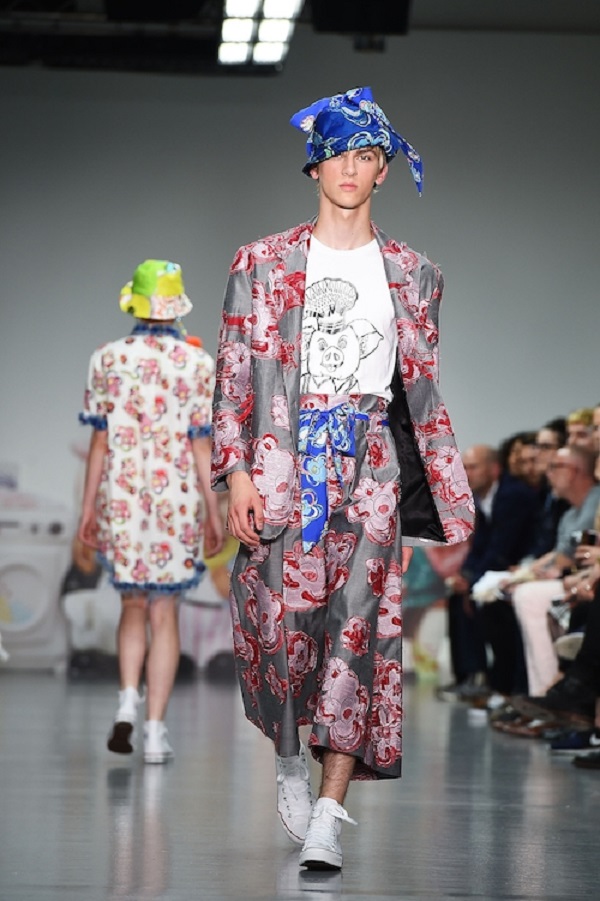 Last of the day for me was Alex Mullins. A designer who so often takes simple silhouettes and intelligently modifies them, this collection smacked of that awkward mid-teen stage we all had to endure. An almost entirely white collection – the linens and denims had blue wobbly lines – like childhood crayon drawings – in place of visible seams. Circular knee pads were tacked on to trousers, and linen jackets were loosely cinched at the waist t create an almost Karate uniform feel. Skirts which looked like cleverly positioned jackets flared out from the waist down with button detailing, and models stared with a kind of adolescent attitude in front of a set of messy foam boards bundles into bails. The collection was youthful, a little messy, and a lot wearable. Another great work.
One down. Three to go.
Words: Tom Rasmussen