TOPMAN
The Topman Design SS16 collection oscillates between London and Palm Springs, nodding to the familiar here at home but eliciting an appreciable wanderlust. Refreshing is the collection that can dress a man in style for both a dank underground club and a breezy desert hideaway.
For gritty nights in East London, look to the studded black denim jackets with haphazard badge-work, and skinny black jeans (naturally), messy hair, shocks of fire engine red. It was standard punk-lite.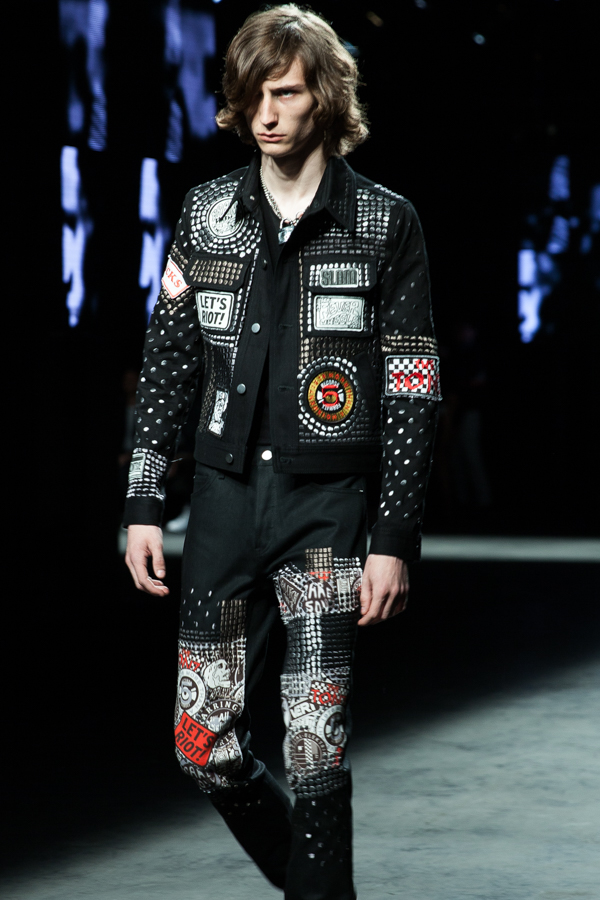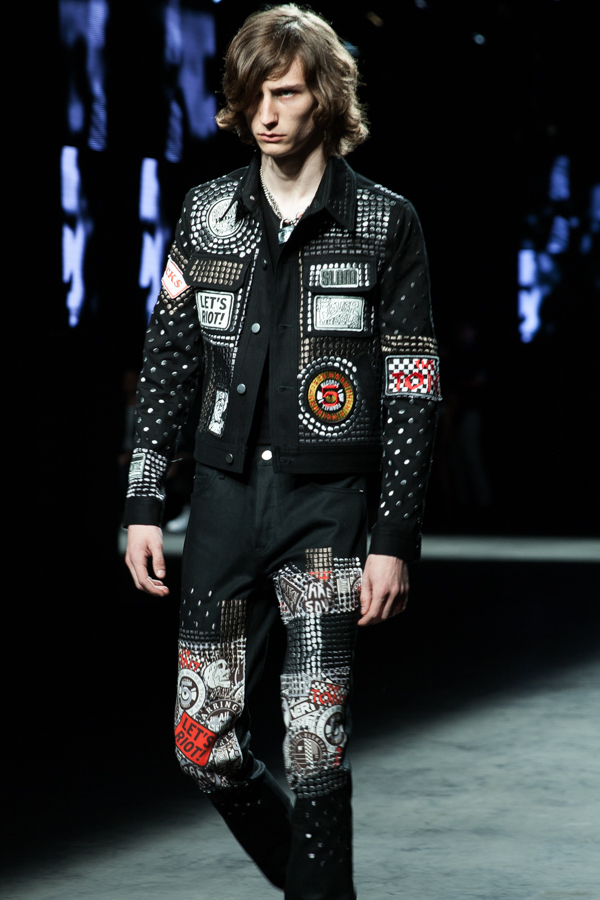 Photography: Robert Binda
If you're planning languid afternoons in Palm Springs, pleated, dusty-pink-candy-stripe trousers are a must-have.  Don't worry about the heat; box-cut short-sleeved shirts will ventilate, and washed-silk suits promise to cool, as they billow and flow in the desert breeze.
Lashings of pastel purples and pinks, and a shock of cerulean, evinced the heyday of 80s sportswear, and some blushingly short gym shorts will be a great addition to the summer wardrobe of those brave enough to wear them.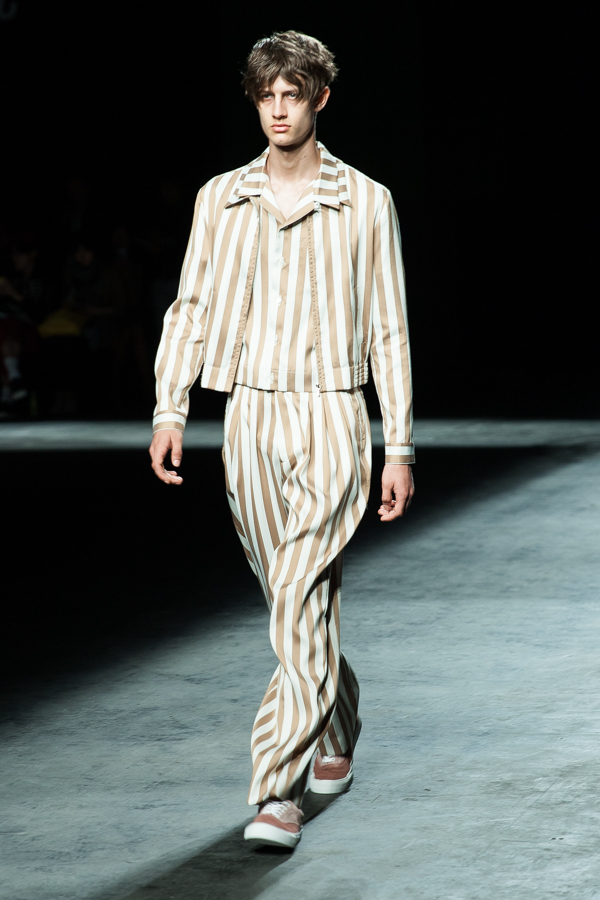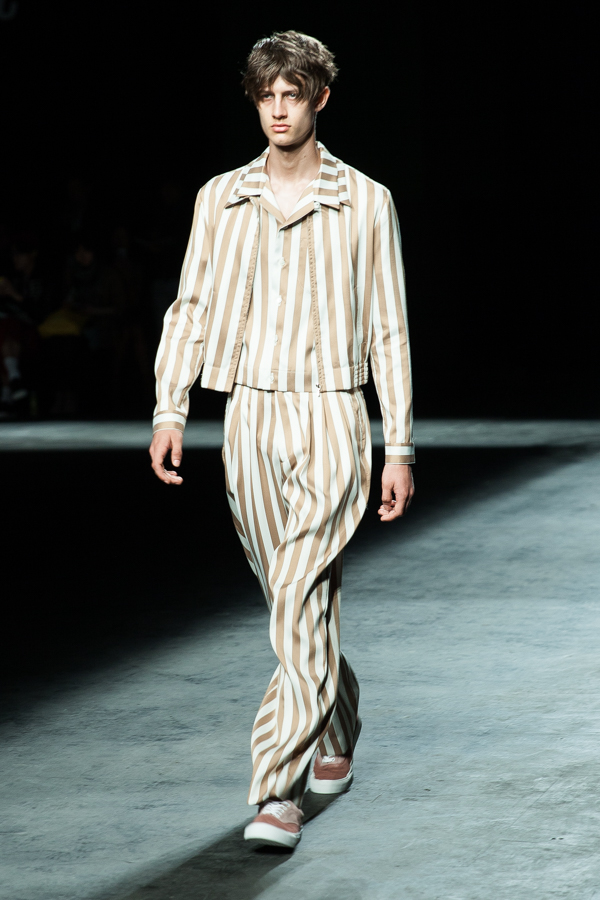 Photography: Robert Binda
If you have the requisite swagger, tailored tracksuit bottoms are very Danny Dyer in The Business, and if you're not afraid of colour, the pink leather bomber was delicious; a luminescent hue, just shy of gaudy.
The pastel badge-print throughout was hit and miss; it badgered (sorry!) innocent and well-tailored trousers, but found a welcoming lover in a washed silk poncho.
If this all seems a bit disjointed, it's because it is. The collection could be accused of being incoherent, with looks so wildly different from one another that it's not beyond reason to imagine three (perhaps four) different teams working on the collection simultaneously, each in isolation. Still, what the collection lacked in coherency, it made up for in personality, and couldn't we all do with a bit more of that?
COTTWEILER
The most unexpected venue of the day, the Oasis Sports Centre, enclosed a sea of calm on which floated boy-Sirens cloaked in white and cream, carrying bull horns and conk shells. The irony was, no doubt, not lost on Cottweiler duo Ben and Matthew.
The ascetic venue was the perfect backdrop for this refined, undeniably chic collection of streetwear. The first of three rooms finds a solitary model in an elegant coat, with sheer panels that direct the eyes down to a must-have pair of interpretation Jika-tabi. The second room, pink with seven models perched on white podiums, seemed at once Japanese and Grecian; statuesque ninjas cast in marble. Cropped trousers appear to be PVC upon first glance, but closer inspection reveals a lightweight fabric coated with an iridescent pearl finish. Magical. The final room sees two models, one seated, one standing, and the clothes don't stand out so much as a patent boredom (though a collarless three quarter length coat did not go unnoticed).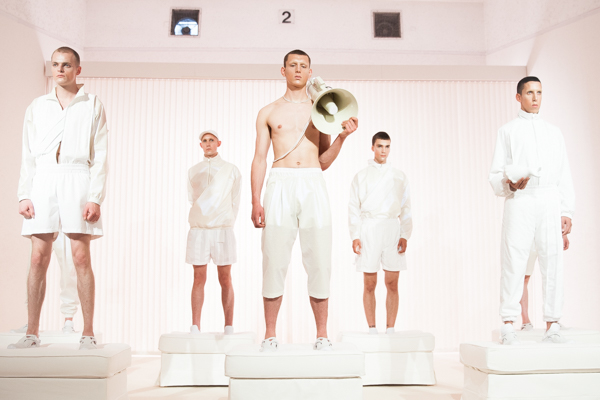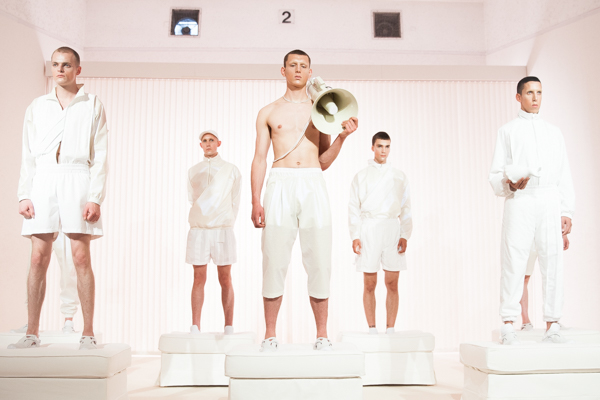 Photography: Robert Binda
If the models were bored as a result of profession or direction is irrelevant; the result was powerful. When one is truly unaffected by whether or not he thinks he looks good (like these models), his boredom compounds his elegance. Further, when clothes are built for purpose, one does not need to worry if it fits here or there, if it looks good like this or like that.  This collection is of incredibly intelligent design.
It was also a strangely erotic presentation. Downstairs, tiered seating encouraged one to sit, stay and to voyeur, if you will – young men in semi-sheer streetwear looking like angels behind glass is an arresting visual. Paradoxically, one is fixated not on the models, but on the clothes, the details of the clothes unfurling themselves as you blow hot air onto the glass.
All in all, well-designed and highly covetable streetwear in cuts and fresh finishes to take notice of.
CHRISTOPHER SHANNON
Christopher Shannon always delights, and his SS16 collection does not disappoint.
To open, models with shaving foam across their faces were sent down the catwalk in fragmented tops and trousers, reminiscent of a teenage designer who, in all his angst and stuck with his brothers hand-me-downs, cuts up all the clothes and sticks them back together as both a middle finger to a lack of resources and an impressive demonstration of a virile imagination.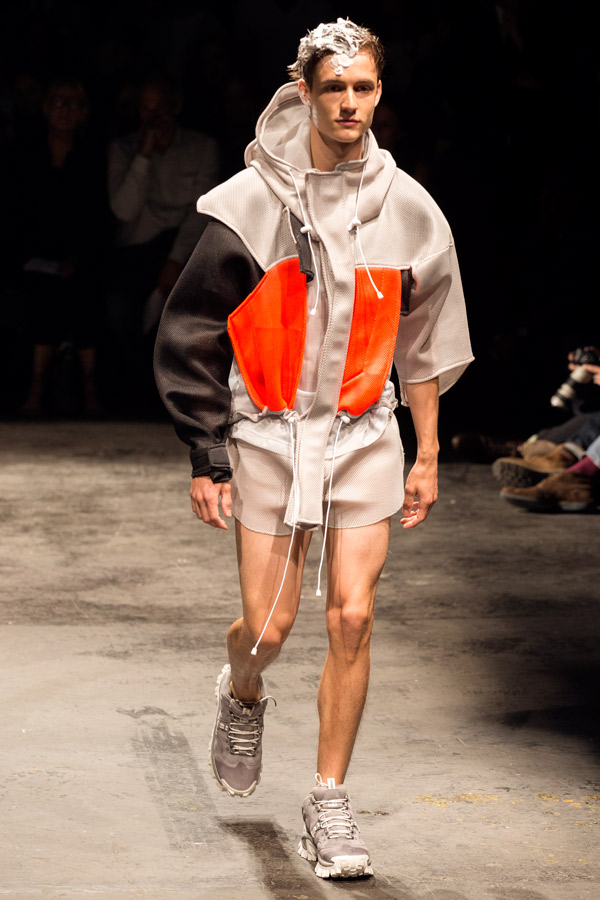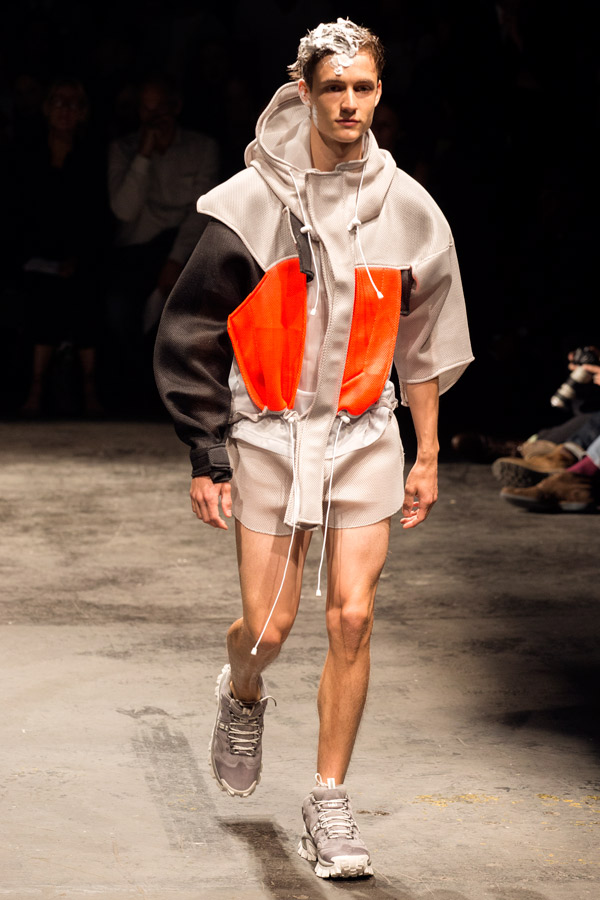 Photography: Ella Sadika
The collection delivers a number of "I must have that" moments, and an attitude of irreverence persisted throughout. Christopher sites "summer hedonism" and "Marbella frenzies" as moods that inspired the collection, realised in fine gauge knits and a brilliant foam mesh, both ensuring a protective and cooling respite from the Balearic sun.
It's clear, also, that Christopher enjoys and celebrates the male form. Shorts and trousers complemented the physique and confident gait that often comes with youth, and puffy foam mesh jumpers revealed adonis-like bodies underneath. The takeaway: clothes don't have to be skin tight to be sexy.
Incredibly high-cut athletic shorts in foam meshes, and the reimagined terrain trainers (in collaboration with CAT and which paid a flattering homage to Nike's 1997 Air Max TN) were the best of the collection, and in Christopher's clothes (as always) we're reminded that we're allowed to have fun when we get dressed, too.
TODD LYNN
Set to a throbbing live set by Glasgow three-piece Baby Strange, Todd Lynn's SS16 show left nothing to be desired.
Showcasing beautifully his Rock 'n' Roll pedigree, Todd sent down the catwalk stomping models clad in white and silver suits, biker jackets and tunics. Of particular note, a silver chain-mail suit, which is equally at home on stage and the red carpet.
This collection incites a strong desire to find somewhere fabulous to go. His collection encapsulates the most appealing of 70s fashion, the glamour, and Todd's clothes are for the man who prefers the limelight over quiet nights at home, and the man who feels comfortable showing off his body.  A sheer suit in cream left little to the imagination, including the seams and the pocket linings, and eyelets and fastenings on jackets and coats mean the wearer can adjust for their individual range of motion.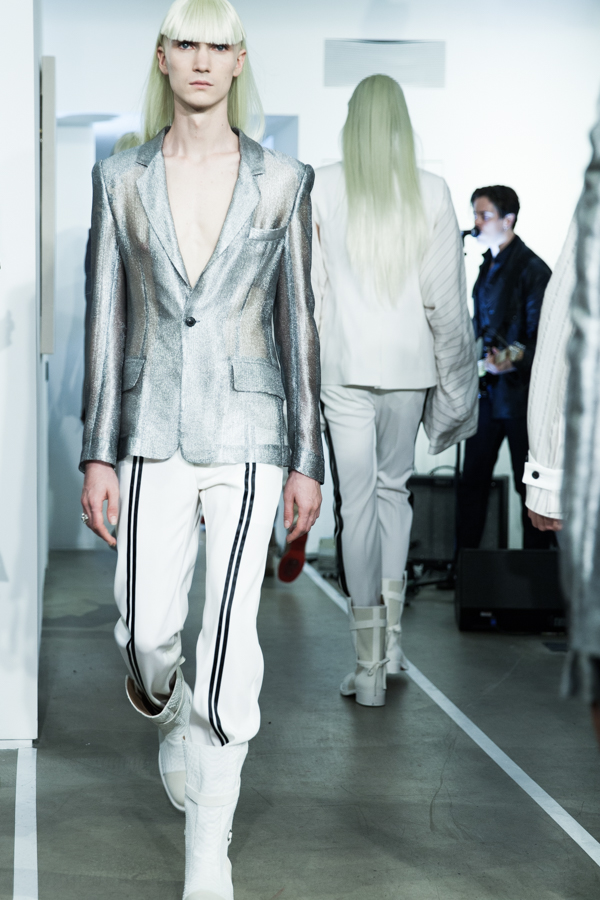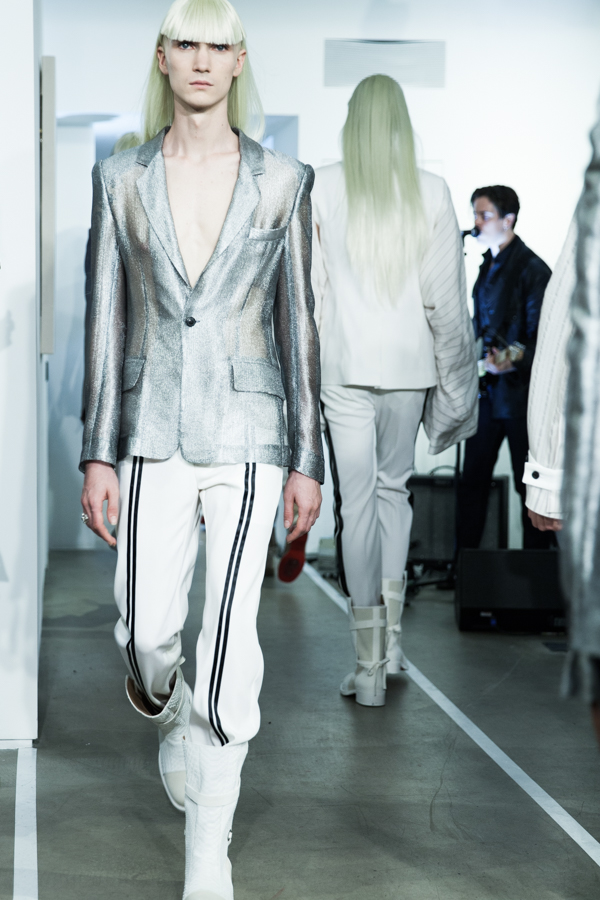 Photography: Robert Binda
The collection is incredibly aspirational – one either wants to be the guy in the suit of armour-like tunic, or he wants to touch him.
Christian Louboutin python biker boots throughout added an air of invincibility, and the black ribbons flowing from tops and trousers meant the wearer could be restrained if he wanted to, a hopeful nod to those who might want to get close to him.
Todd encapsulates beautifully the romance in rock 'n' roll, and one is hard-pressed not to fall madly in love.
 Words: Josh Rivers