Graduate Fashion Week kicked off on Saturday, May 30th with not only impressive designs on the catwalk, but also stunning exhibitions and insightful GFW Live! Talks with top-notch guests. The enthusiasm was palpable at the four-day event, packed with innovation, inspiration and most importantly, the best in up-and-coming British talent. Here are some highlights from the best shows.
University of Central Lancashire
Trends
Voluminous skirts and vivid prints made a number of appearances on Saturday's catwalk, evoking a fresh, summertime vibe.
Rising Stars
Rachel Page's vibrant prints and clean silhouettes made for a standout set, while Jessica Leigh-Wall's playful collection harked back to the 1950s with gingham and frilly details. Daniel Chu closed the show with stunning eveningwear pieces featuring eye-catching embellishments and equally memorable transparent headwear.
Standout moment
Megan Kimmance's sporty menswear collection – complete with geometric details – was a hit, and was fittingly shown again at the Best of Graduate Fashion Week show on the final day.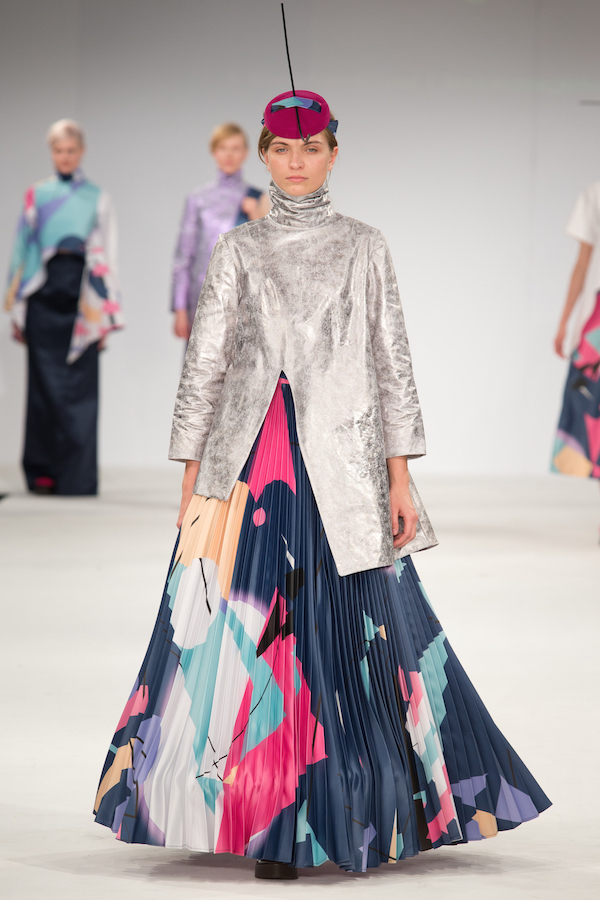 Michael Egerton's designs incorporated full skirts in punchy colours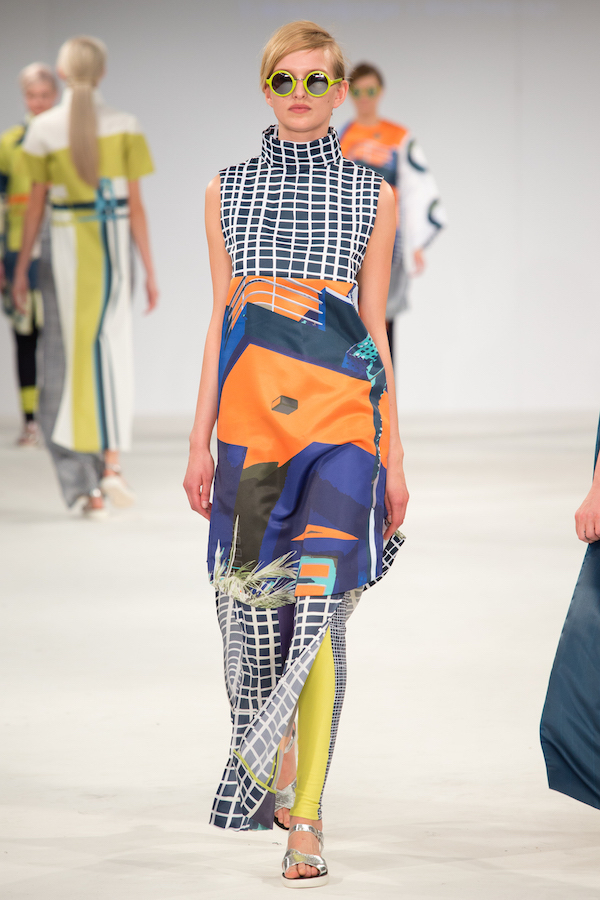 Rachel Page's pieces were modern and fresh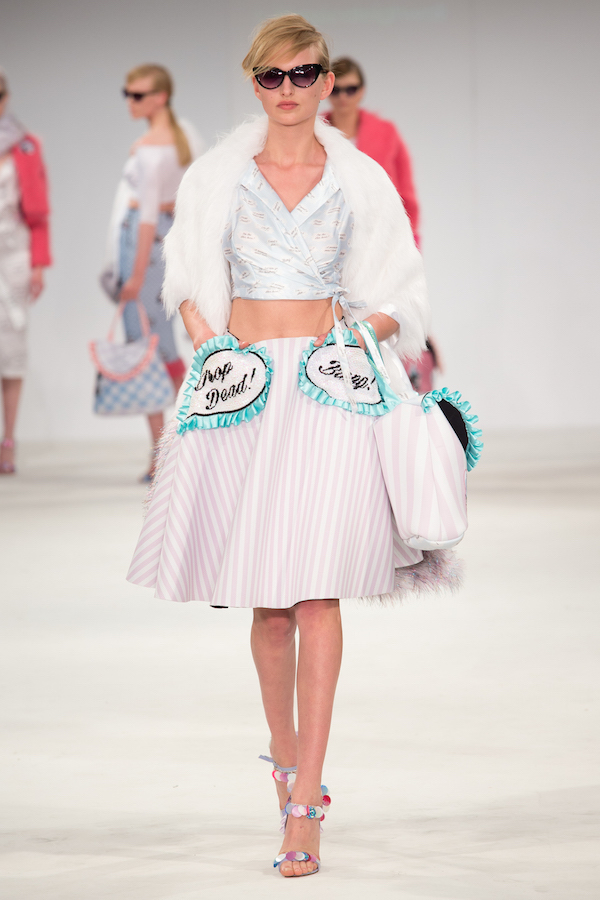 A new take on retro by Jessica Leigh-Wall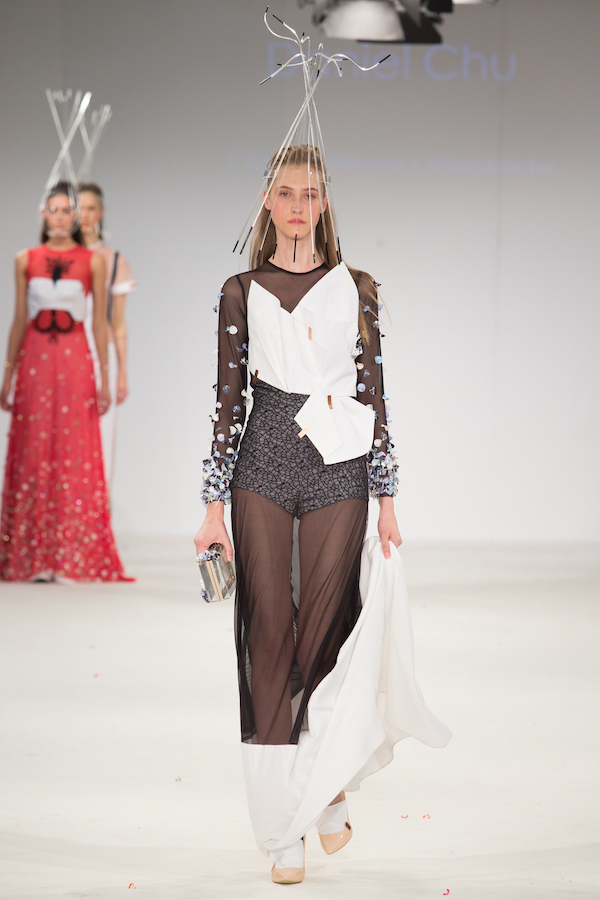 Handmade sequins at Daniel Chu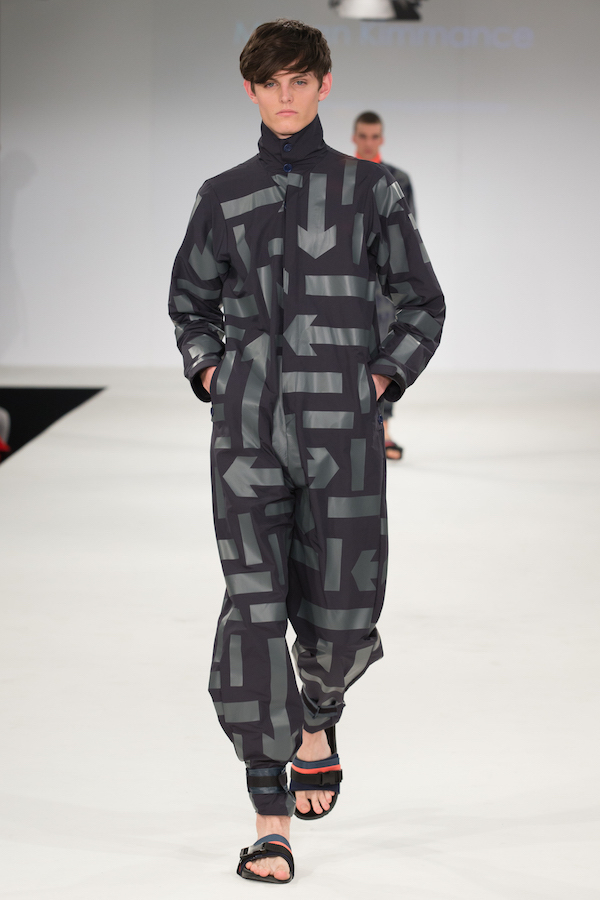 Megan Kimmance's collection offered up a new level of sporty chic
UCA Rochester
Trends
Metallics (a prominent trend throughout the weekend) plus glittery details provided sheen on the catwalk, while exaggerated silhouettes brought drama.
Rising Stars
Rosheen Comerford Brunt's pieces featured athletic details and were simple yet exceptionally chic, while Rebecca Kellett incorporated flashy embellishments and experimented with shapes to create beautifully designed sets.
Standout moments
Verity Esaw's 'Fast Food Forever' collection was inspired by both vintage and modern signs and added a refreshing dose of humor and colour to the show. Lauren Ward's pieces were lively yet gothic and were paired with balloons that spelled out: "I hate you". Charming.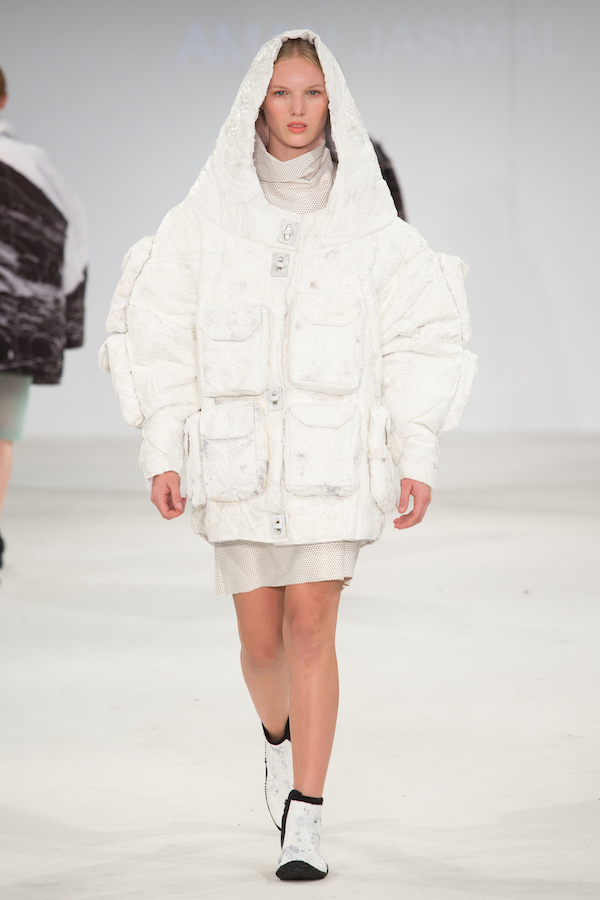 Aman Jaswal played with proportions
Simplicity at Rosheen Comerford Brunt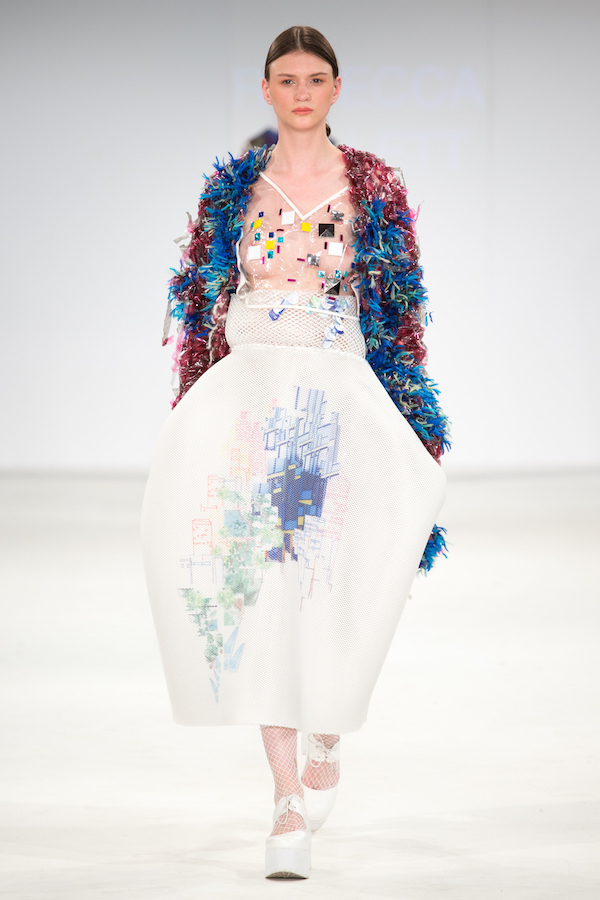 Graphics at Rebecca Kellett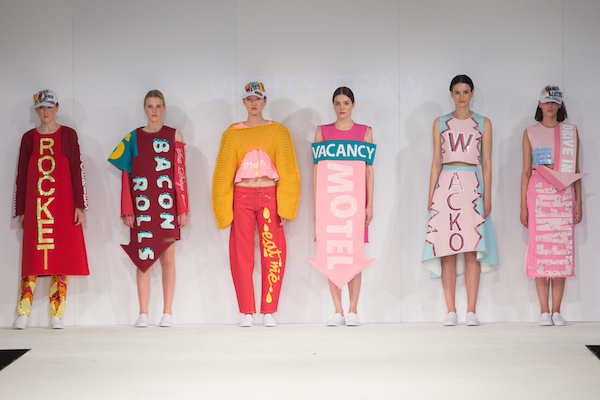 Bold typography by Verity Esaw
Lauren Ward's dark and kitsch collection
UCA Epsom
Trends
Structured silhouettes prompted powerful catwalk moments, while sheer details made for a unifying feature throughout.
Rising Stars
A novel use of shape was incorporated into both Paula Talja and Naba Shan's designs, evoking a progressive and dynamic feel.
Standout moments
There were engaging menswear looks from Holly Cooney, whose use of cellophane evoked a futuristic vibe, while Annie Bostock's text-heavy designs were striking against a complimentary colour palette.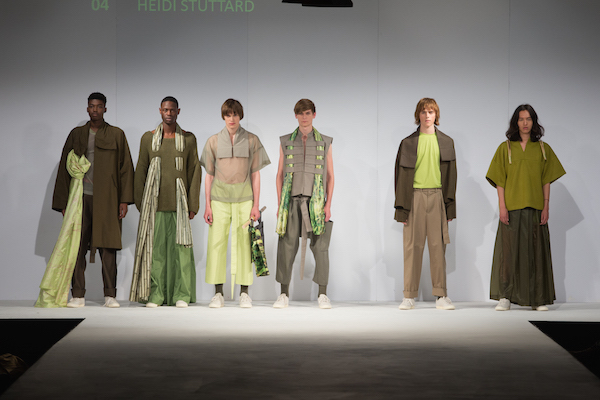 Heidi Stuttard showcased earthy tones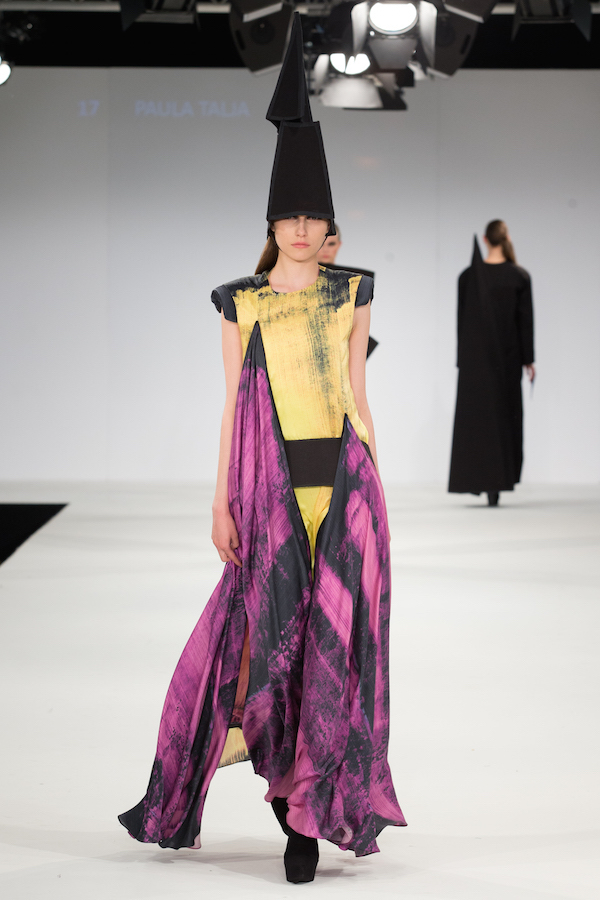 Brights and black at Paula Talja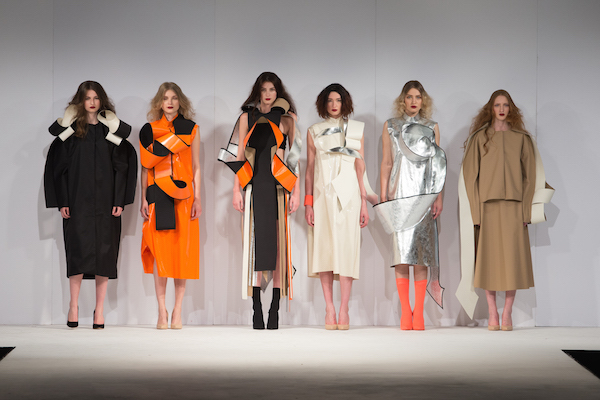 Original shapes by Naba Shan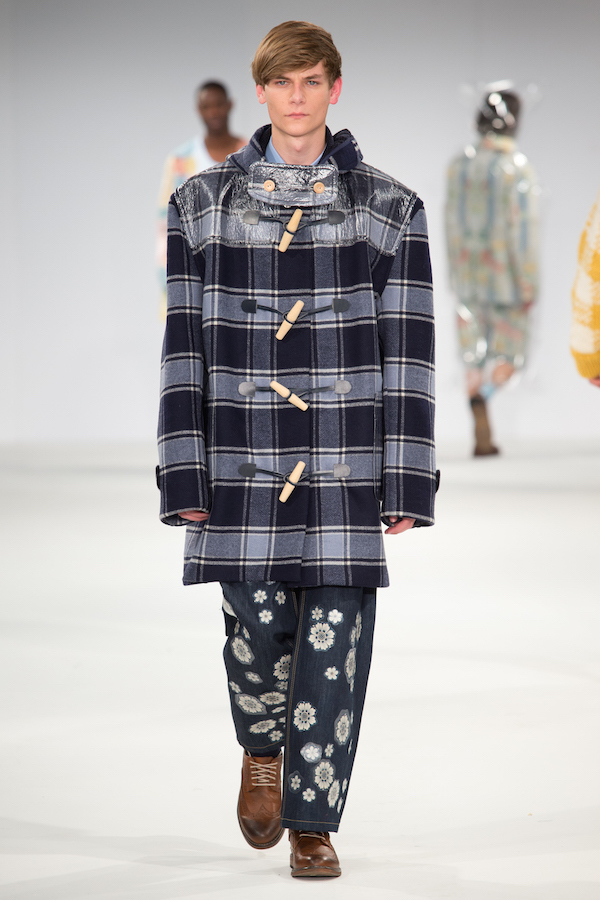 Prints by Holly Cooney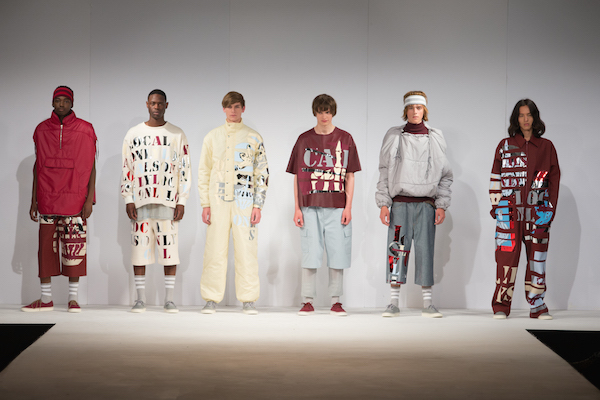 Text prints at Annie Bostock
Kingston University
Trends
The presence of thicker fabrics, such as knitwear, balanced out the popular weekend trend of sheer and mesh.
Rising Stars
Josh Read, who recently landed a role at Dior, wowed with his elegant collection which was inspired by the grandeur of the 1950s, incorporating lush fabrics with a no-holds-barred approach to colour.
Standout moments
Johnson Deng's collection was resplendent with metallic pieces that screamed texture, while Shaun Harris sent minimalistic white mesh dresses down the runway that played with structure and shape.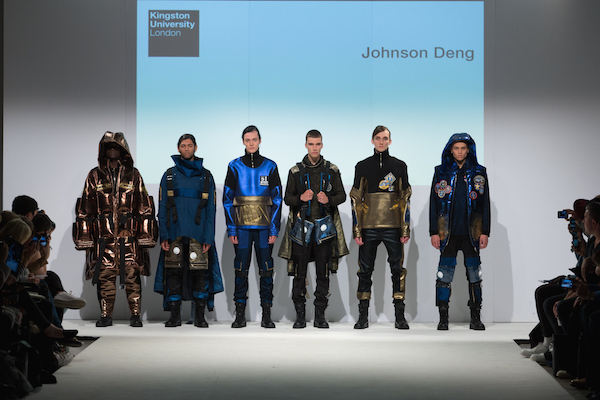 Texture at Johnson Deng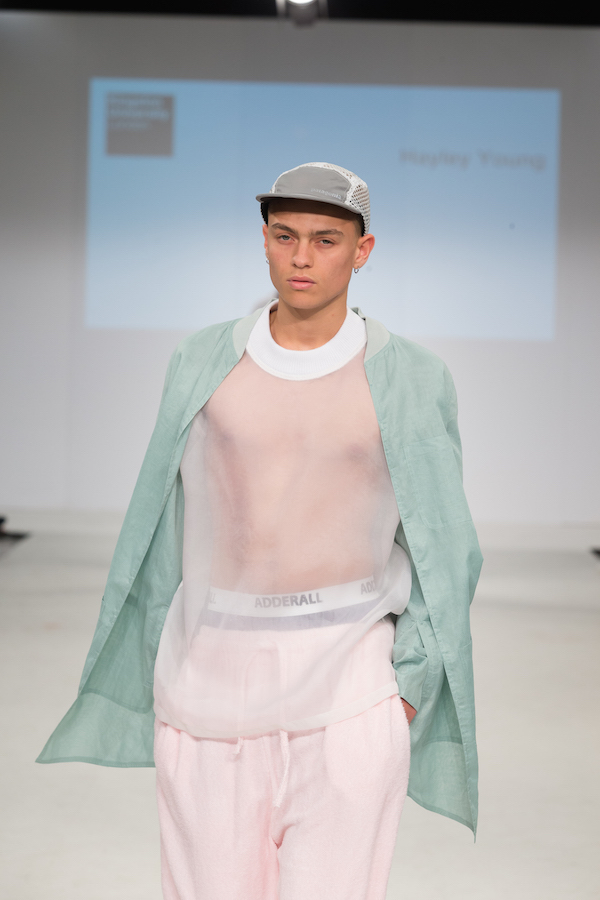 Clinical looks at Hayley Young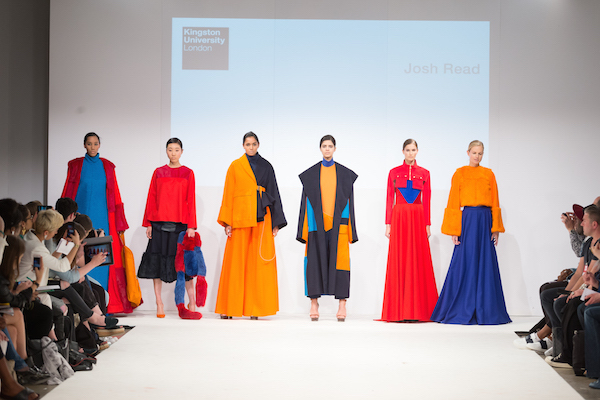 Colour blocking at Josh Read
Words: Devin Howell