The Northern Ballet returns to London with its sell-out sensation The Great Gatsby at the Sadler's Wells Theatre. If you missed its first tour in 2013, as I did, this is your chance to pounce on tickets. But hurry – it's only in town for seven performances.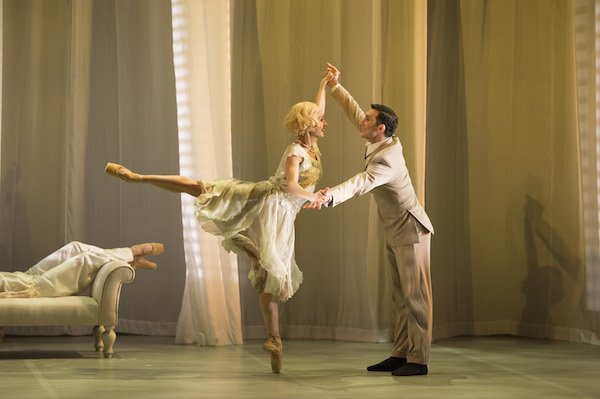 Scott Fitzgerald's The Great Gatsby captures the heady Jazz Age of 1920s America. It's a story packed full of decadence and luxury. You can almost hear the hot jazz on the summer night breeze and taste the bootleg cocktails. But underneath the dazzling display of excess, obsession and unrequited love lead inevitably to tragedy.
Such a plot-driven story was always going to be difficult to translate into a ballet, relying as it does on the clarity of Fitzgerald's language. But David Nixon OBE and the Northern Ballet do an admirable job. If you know and love Gatsby, you'll love the ballet. If you haven't a clue who these people are and what they're on about, you may be a bit confused. But any misunderstandings along the storyline will fade with the impeccable performances the dancers give.
Tobias Batley's Jay Gatsby is tightly controlled and watchful, only becoming expansive and joyous in the presence of Daisy. Martha Leebolt gives frivolous Daisy Buchanan a more thoughtful side, her facial expressions and gestures hinting at her regret for past decisions and inability to change her future. They dance together with an ease and fluidity that is a joy to watch.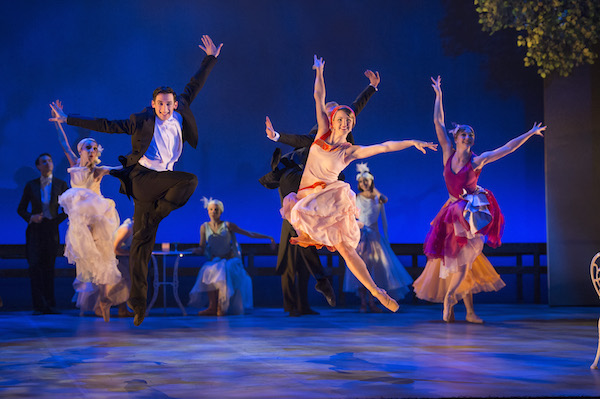 Kenneth Tindall as Tom Buchanan is all swagger and macho egotism – legs in a wide stance, chest puffed out. He dominates those around him, yet still has the ability to turn soft and gentle with both Daisy and Myrtle. Giuliano Contadini, who plays Nick Carraway, highlights Nick's youth and keenness, making up in enthusiasm what he lacks in experience among this fast crowd on Long Island. His duet with Gatsby toward the end of the programme was incredibly moving. The camaraderie they'd built was evident and their movements were perfectly timed to each other.
Isaac Lee-Baker plays George Wilson with a raw, animalistic energy that is truly captivating. When he was onstage, I couldn't look anywhere else, especially in his opening dance sequence with the automobile tyre, which brings to mind Fred Astaire's clever duet with the hat rack in Royal Wedding. Jessica Morgan, who portrays Myrtle Wilson, brings pure sensuality to her role and you can feel her desperation to escape her daily routine and find a life of glamour, even if it comes with a few blows.
The skill of the ensemble cannot go unmentioned. This wonderful corps of dancers brings such precision to their performances. Whether portraying wild partygoers descending into drunken revelries or Gatsby's henchmen sneaking through the shadowy streets or efficient servants with palpable disdain for the rich, they add a real character and energy to the evening.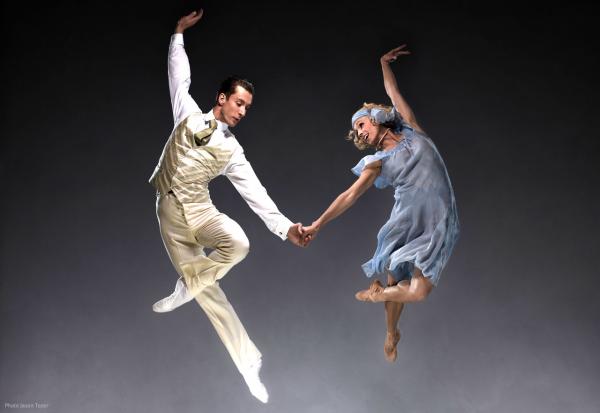 From a technical point of view, Tim Mitchell's lighting is superb. His work creates a moody atmosphere that enhances every scene and adds emotional depth. Nixon's costumes are beautiful, from lead to ensemble, and feel authentic without crossing the line into fancy dress cliché. The stage sets are spacious, with Jèrôme Kaplan making a clever use of screens, drapes and panelled doors to separate the narrative time and space.
Sir Richard Rodney Bennett CBE arranged the musical score. The symphonic, light melody feel perhaps overly polite during the scenes with the moneyed classes. When we are with the Wilsons, either in their garage or bedroom, the jazz is earthy and full of passion. When Gatsby and Daisy dance, it takes on a sweeping, cinematic quality. I found myself wishing the score had stayed closer to the wild Jazz Age that inspired the story.
The Great Gatsby is playing at Sadler's Wells until 28 March 2015. For more information and to buy tickets, click here.
Words: Julie Reid