A luminous portrait of Alexander McQueen fills the whole wall in front of you as you enter the V&A's exhibition space, but that's where the Lee McQueen the man ends and McQueen the designer begins. There's little mention of his early life and work as a tailor on Saville Row before he entered the world of high fashion in the early 90s, and no hint whatsoever of the shock his premature death created in the fashion world. Savage Beauty – quite rightly – makes the clothes themselves the beating heart of the exhibition.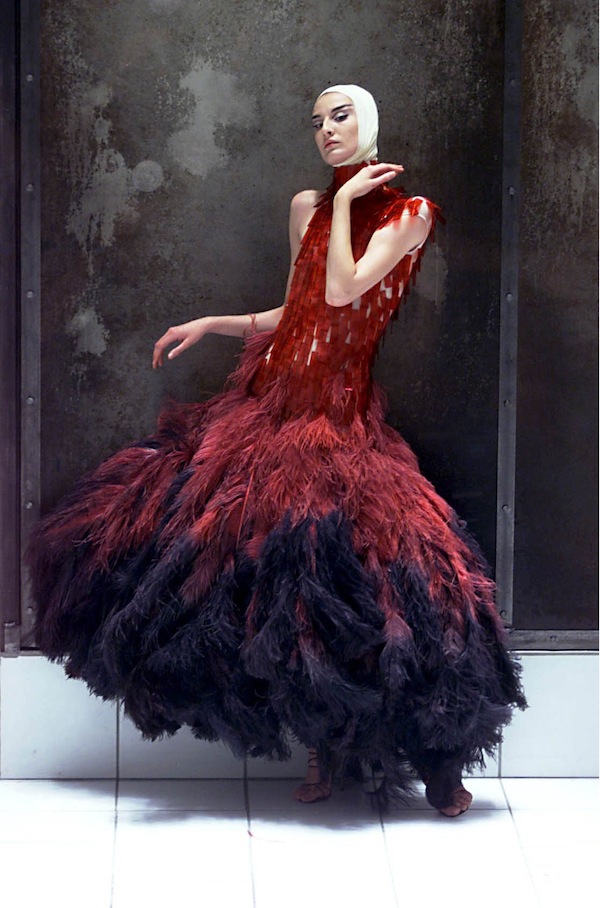 Dress of dyed ostrich feathers and hand painted microscopic slides Voss SS01. Model Erin O'Connor
Spanning  the beginning of his career as an MA graduate at Central Saint Martins in 1992 right up until his last full collection in 2010, the V&A's retrospective is an exhibition that returns firmly to the roots of McQueen's talent for detailed and stunning design, dark romanticism and weirdly wonderful theatrics. The largest exhibition of the late designer's work to ever have been shown in Europe, Savage Beauty is based on the exhibition of the same name showcased at the Metropolitan Museum of Art in New York in 2011, and takes a thematic rather than chronological look at his work, starting with his impeccable tailoring and low-rise 'bumster' trousers which sparked the low-slung trouser trend that radiated through the 90s and 00s, and moving through his wide ranging influences: the gothic, romanticism, primitivism, nature, nationalism and exoticism.
Special attention is paid to perhaps his two most groundbreaking collections. SS 2001's VOSS, which was staged in a two-way mirrored box resembling a mental asylum with fetish writer Michelle Olley lying naked in a gas mask covered in live butterflies as the centrepiece, is recreated complete with a video installation. Key pieces from his final complete collection, AW2010's Plato's Atlantis, which saw ethereal sea-creature girls in complex digital print dresses towering on McQueen's now famous sci-fi 'alien shoes', are displayed alongside its original video backdrop footage.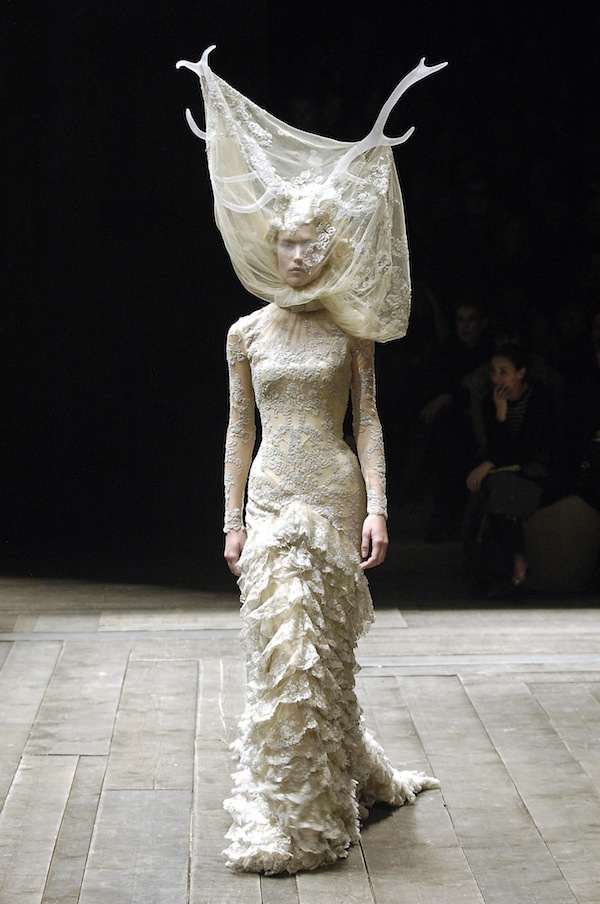 Tulle and lace dress with veil and antlers; Widows of Culloden; model Raquel Zimmerman VIVA London
But although it does nod towards his controversial theatrical shows, it's clear that the main focus here is the craftsmanship of McQueen's work itself. A Cabinet of Curiosities forms the centre of the exhibition: a room filled from floor to ceiling with one-of-kind headdresses, accessories, shoes and specially selected pieces, individually displayed as innovative works on fashion design in their own right. No-one can forget the iconic McQueen skull scarves which were copied by brands around the world, but here you can see the memento mori memorialisations of death which inspired them, from skull headpieces to wearable silver spines and bones.
With so many iconic and varied looks and collections, it's hard to imagine that such eclectic design could all be accommodated in one exhibition, yet everything that made McQueen so obviously McQueen is accounted for: the criss-cross tartan pattern and lace pieces of AW 2006's Widows of Culloden, the West African Yoruba mythology inspired Eshu from AW 200 and the zany fetish Gothicism of AW 2009's The Horn of Plenty are all featured in detail, alongside iconic pieces from his appointment as head designer of Givenchy between 1996-2001.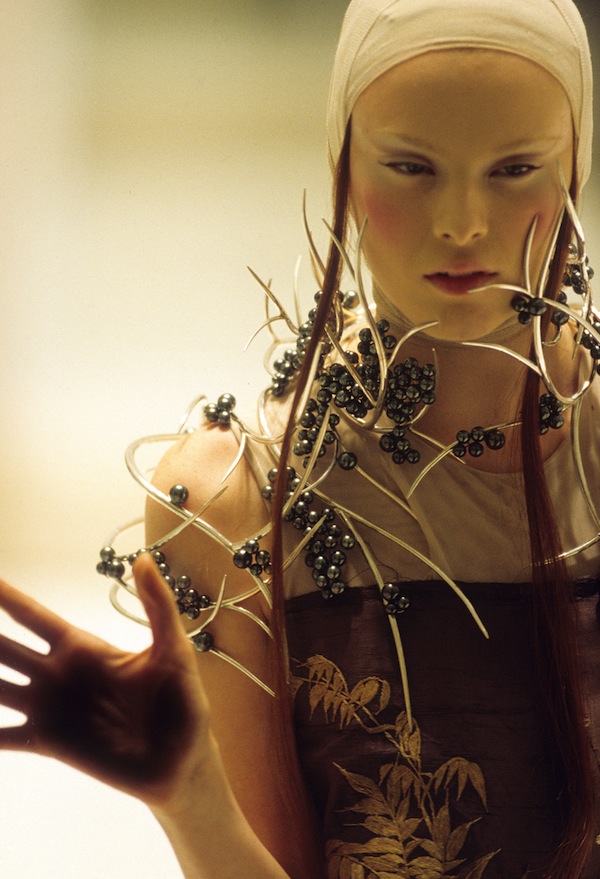 Tahitian pearl neckpiece; Shaun Leane for Alexander McQueen Voss SS01, copyright Anthea Sims
Taking the myth out the of man himself and presenting his work as true works of incredible design, Savage Beauty succeeds at creating a breath-taking portrait of a designer who sent waves through the fashion industry throughout his career and whose talent is still sorely missed. 
The hype is justified: for any lovers of fashion, the imagination, visual storytelling, or sheer artistic craftsman, this show is a must-see.
 Words: Rachel Michaella Finn