British actor Tom Hughes stars in a mod-inspired shoot for PHOENIX and tells Mary-Jane Wiltsher about his role in character-driven film The Incident
Last month, Edinburgh's sombre skyline once again crowned its International Film Festival, ushering in screen stars from across the globe. Among this year's flock there was one talent that PHOENIX earmarked way back in 2009, when he made a guest appearance in Burberry's AW campaign, alongside Emma Watson and Douglas Booth. Given his unnerving blue eyes and precariously high cheekbones, it's no surprise that Burberry was quick to capitalise on his potential, but beneath the genetically fortunate exterior is a diverse actor. Tipped as one of Screen International's 'Stars of Tomorrow' and with a BIFA nomination already under his belt, British actor Tom Hughes is now starring in Jane Linfoot's debut feature film The Incident.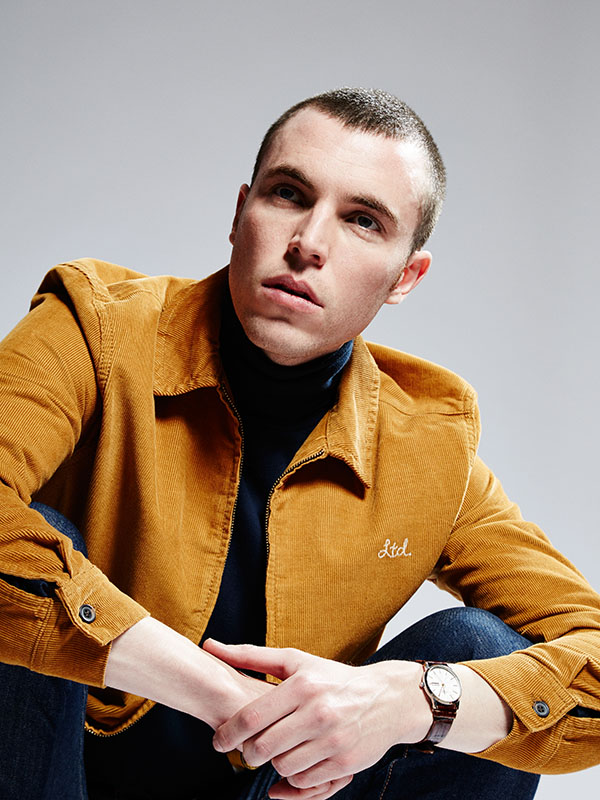 Jacket and Jeans, both TOPMAN
Roll neck, REISS
The film, which premiered at the Festival, tracks the lives of a comfortably settled couple (played by Hughes and Ruta Gedmintas) who encounter vulnerable teenager Lily (Tasha Connor). They choose to ignore Lily's circumstances, which triggers an unsettling incident, upturning the couple's lives and forcing them to reflect on their own decisions.
It was Linfoot's writing that first attracted Hughes to the role: "I didn't know Jane's work, but I thought [the script] was brave in its subject matter, and also delicate and generous in emotional terms. Jane has such a sense of how to tell a story." Shot in just six weeks in Huddersfield last summer, the intensive drama is, in Hughes' words, "not really about what happens, but the emotional implications of that. It's about three people whose lives are irrevocably changed in only two weeks. It looks at the choices we make, shining a light on the things people sweep under the carpet."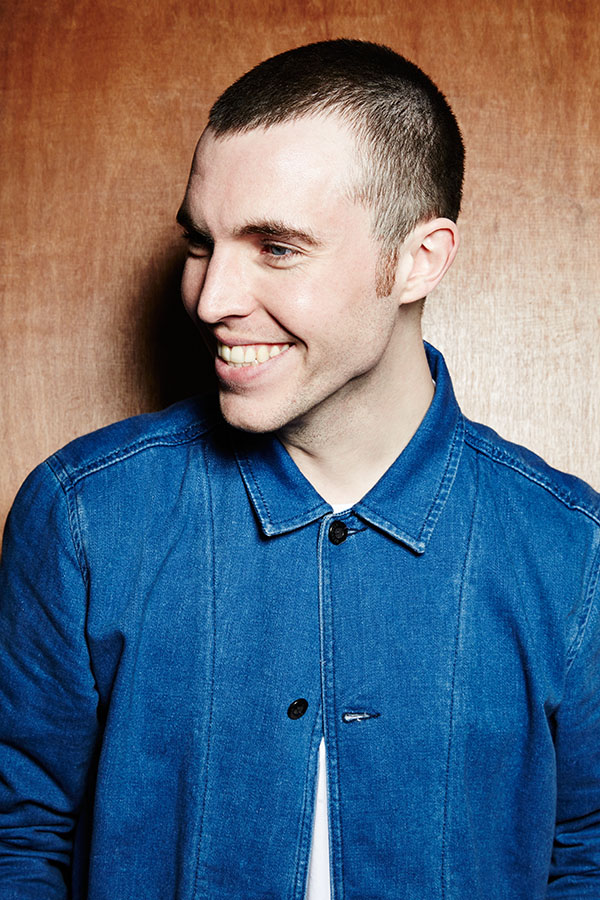 Denim jacket, BETHNALS
T-shirt, TOPSHOP
Hughes embarked on the project bolstered by an already eclectic acting CV. His BIFA nomination for Most Promising Newcomer came courtesy of his role in Ricky Gervais and Stephen Merchant's 2010 release, Cemetery Junction. Onstage, he's played the lead in Luc Bondy's production of Arthur Schnitzler's Sweet Nothings and appeared in Peter Gill's critically acclaimed production of Versailles. More recently, he turned his hand to BBC Two's espionage series, The Game, playing troubled but genius interrogator Joe.
It's an impressive roll-call for someone who, by his own admission, didn't watch movies or go to the theatre much as a child growing up in Chester. "I don't know where the whole acting thing started in all honesty," he says, breaking into a laugh. "No one in my family acts. I started playing the guitar when I was five and spent my whole youth in bands and listening to music. But I did do a couple of school plays, mainly musicals."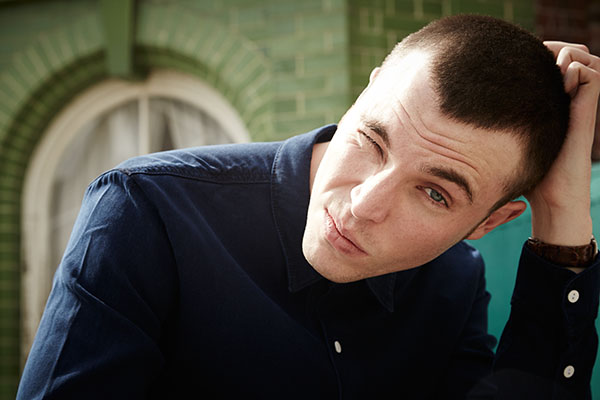 Shirt, FRED PERRY 
Following a stint at Liverpool's Everyman Youth Theatre ("every Friday night I'd go there while all my mates were out partying") Hughes won a place at RADA. "For me, that was the holy grail. I'd already had to fight tooth and nail just to get into the The Everyman — it was hard convincing them to let this Cheshire kid in. I was concerned that I might not buy into the whole drama school experience, but it was quite the opposite. It's tough love, and I'm someone who needs that. I was erratic and my acting was based on instinct. They teach you how to be a professional."
Since graduating, Hughes has focused his attention on snaring roles with emotional depth, something he finds lacking in a lot of the parts written for his age bracket. "The thing that draws me to characters is their contradictions, but in your twenties it's hard to find characters that have that kind of complexity. For me, it's about telling stories that resonate with me. Film, TV and theatre hold a mirror up to life and hopefully the audience is left thinking about that."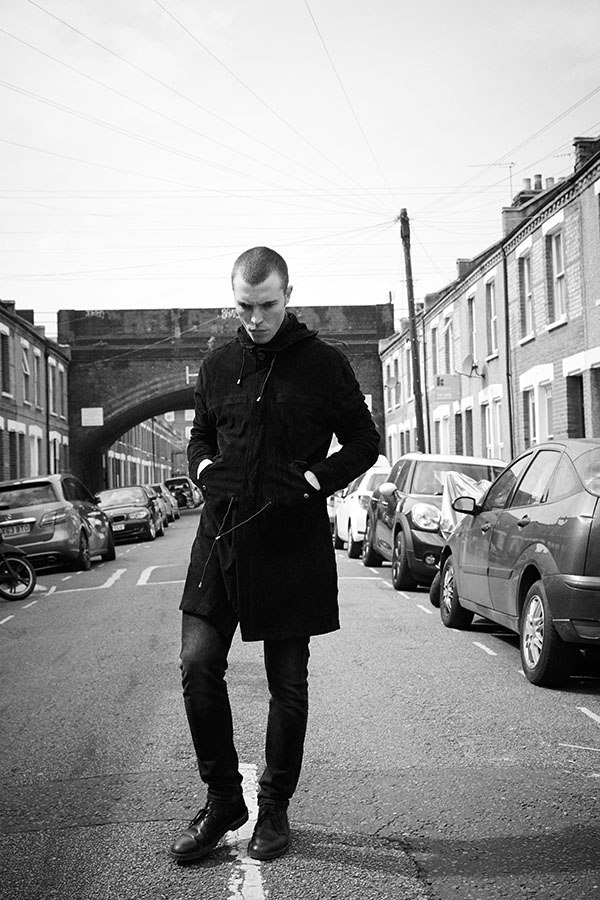 Jacket, PRETTY GREEN
Jeans, TOPMAN
Boots, Tom's Own
Looking ahead, Hughes' next major project is likely to be a play. He's just finished shooting Project Lazarus (Mateo Gil's "sci-fi drama with echoes of Frankenstein") but for the moment he's looking forward to a summer where he will "actually have some free time". Describing himself as "a bit reckless, and prone to itchy feet", it seems unlikely that Hughes will be out of action for long. He has a genuine hunger for his craft, fuelled by a level of modesty about his own abilities. "I've still got loads to learn and I want to keep challenging myself," he says. That's about the size of it; inside Tom Hughes, there's still an eager kid from Cheshire who wants to keep grafting.
Photographer: MIKE BLACKETT
Stylist: FIONA DOWNIE
Groomer: LOU BOX
Photographer's assistant: BRYCE TORRENCE