The underground house DJ on the benefits of releasing under two personas – and why she never plans a set list ahead of gigs
Photographer  Uzo Oleh
Fashion Editor  Deborah Latouche
Interview Sabina Dewfield
D
ance music has consistently stuck two sweaty fingers up to anyone who questioned its intellectual capacity since the meteoric rise of rave culture in the late 80s and early 90s. Beyond the pill monsters and sticky basements of the Human Traffic caricature was a genre with the creative depth and anarchic edge to spawn a rarified – even cerebral – group of tech-literate, experimental artist-producers. Look at Bonobo, Flying Lotus, Joris Voorn or Actress today and you see an avant-garde collective composing highly referential, atmospheric and sample-heavy tracks. As studio technology becomes increasingly sophisticated, however, some emerging music can seem less individual, too manipulated, not human.
Being able to completely control the mood and atmosphere of a room full of thousands of people is pretty amazing
Maya Jane Coles is a good example of a finely calibrated producer. She can cut a mean track, deftly employing the full gamut of studio techniques with precision and style, but all in service to her unique sound and artistic voice. Or indeed, voices. Under the pseudonym Nocturnal Sunshine, the producer unleashes her bass instincts: a deeper, roaring, underground sound that directly complements the minimal aesthetic Coles lays down under her own name.
Coles took time out from her hectic schedule to talk Ibiza, the UK underground, the power of the human voice and where her split personality is taking her next.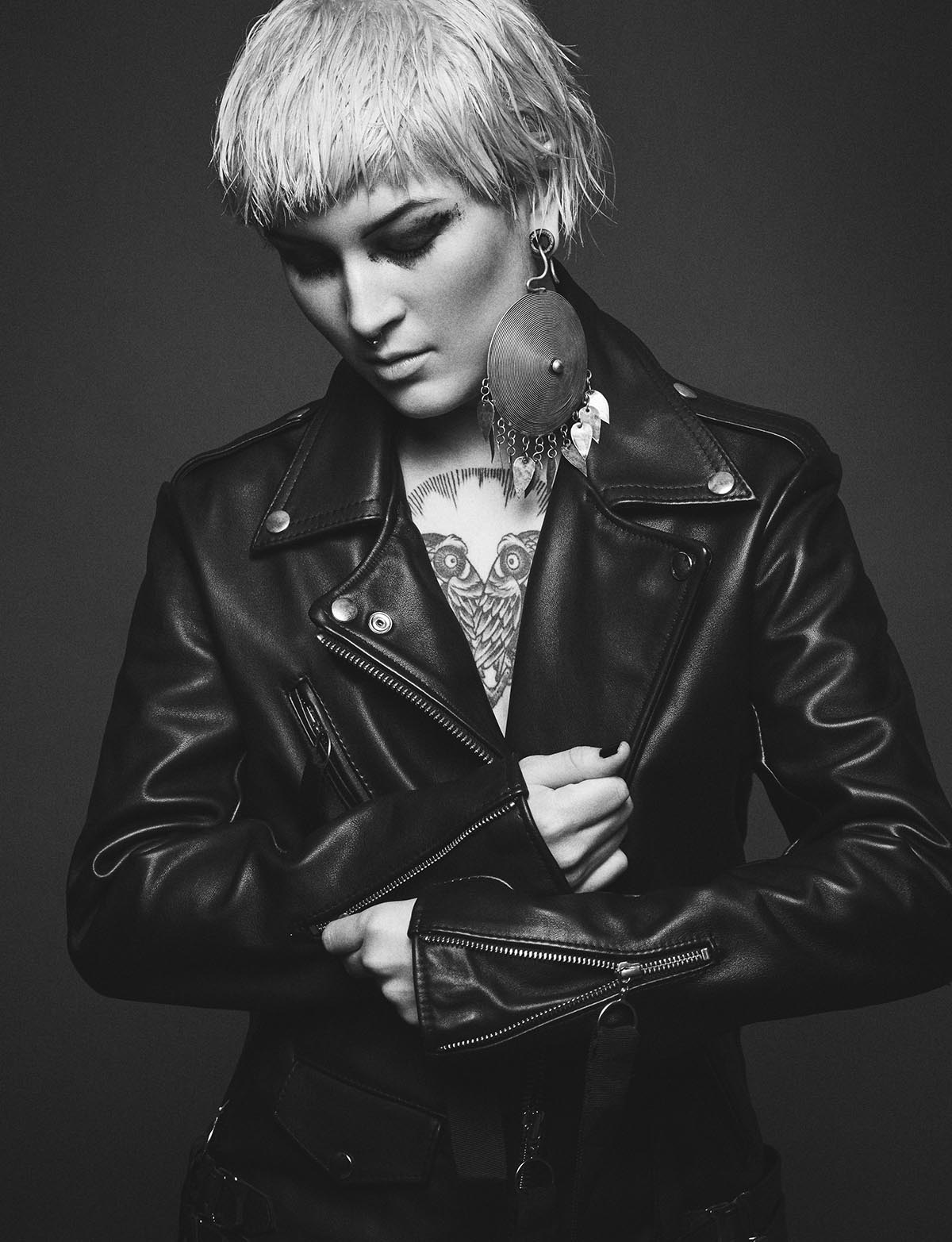 Jacket, MATTHEW MILLER
Earring, PEBBLE LONDON
What's your earliest memory of music?
When I was about five, I remember driving around in a car with my dad and his friend who was really into heavy metal; he had loads of cassettes and was playing loads of different stuff. I seemed to have an opinion about every track and would tell him which songs I liked. He ended up making me a heavy metal mix tape that I would play on my FisherPrice cassette player at home, head-banging around the house!
Aside from your early heavy metal education, who are the artists that you grew up on?
Missy Elliott, Aaliyah, The Pharcyde, Nas, Portishead, Massive Attack, Kruder & Dorfmeister – the list goes on.
You first got into producing music not through dance or electronica, but through hip-hop and R&B. What was it about those genres that attracted you?
For me, it was the beats and the hooks. I would always look up who produced a certain track or what was sampled. I remember in my early teens watching MTV Base and discovering new music through those kinds of TV channels. That was actually really good for hip-hop and R&B, but the dance stuff was really cheesy and commercial, so naturally I was more drawn to hip-hop.
Do you remember your first club booking?
I think it was at the End club in London just before it closed down. I was 17. I remember being nervous as hell before I was about to play, then, all of sudden, it was over in a flash.
Did you have any formal musical education or did you learn your trade through listening and experience?
I played a few instruments when I was growing up, including guitar, cello, drums, saxophone, bass, which definitely helped tune my ear. I never really practised anything enough to master it properly, but just being familiar with the instruments was good enough when I later got into production. I also used to do these free summer courses in music production that the council ran in the area, when I was about sixteen. When I left school, I started a degree in Music Technology but dropped out after a year as I found it didn't nourish my creativity.
You cultivate a different sound under the alias of Nocturnal Sunshine. What are the benefits of releasing under two separate personas?
The Nocturnal Sunshine alias is for my darker bass-driven productions; it has quite a distinct sound. I guess that is more of a side project and it's quite specific, whereas the music I release as Maya Jane Coles is basically everything else that I do. It's much broader; there are no genre boundaries and it's constantly evolving.
Nocturnal Sunshine – "Believe" ft. Chelou
<iframe width="100%" height="166" scrolling="no" frameborder="no" src="https://w.soundcloud.com/player/?url=https%3A//api.soundcloud.com/tracks/203848602&color=ff5500&auto_play=false&hide_related=false&show_comments=true&show_user=true&show_reposts=false"></iframe>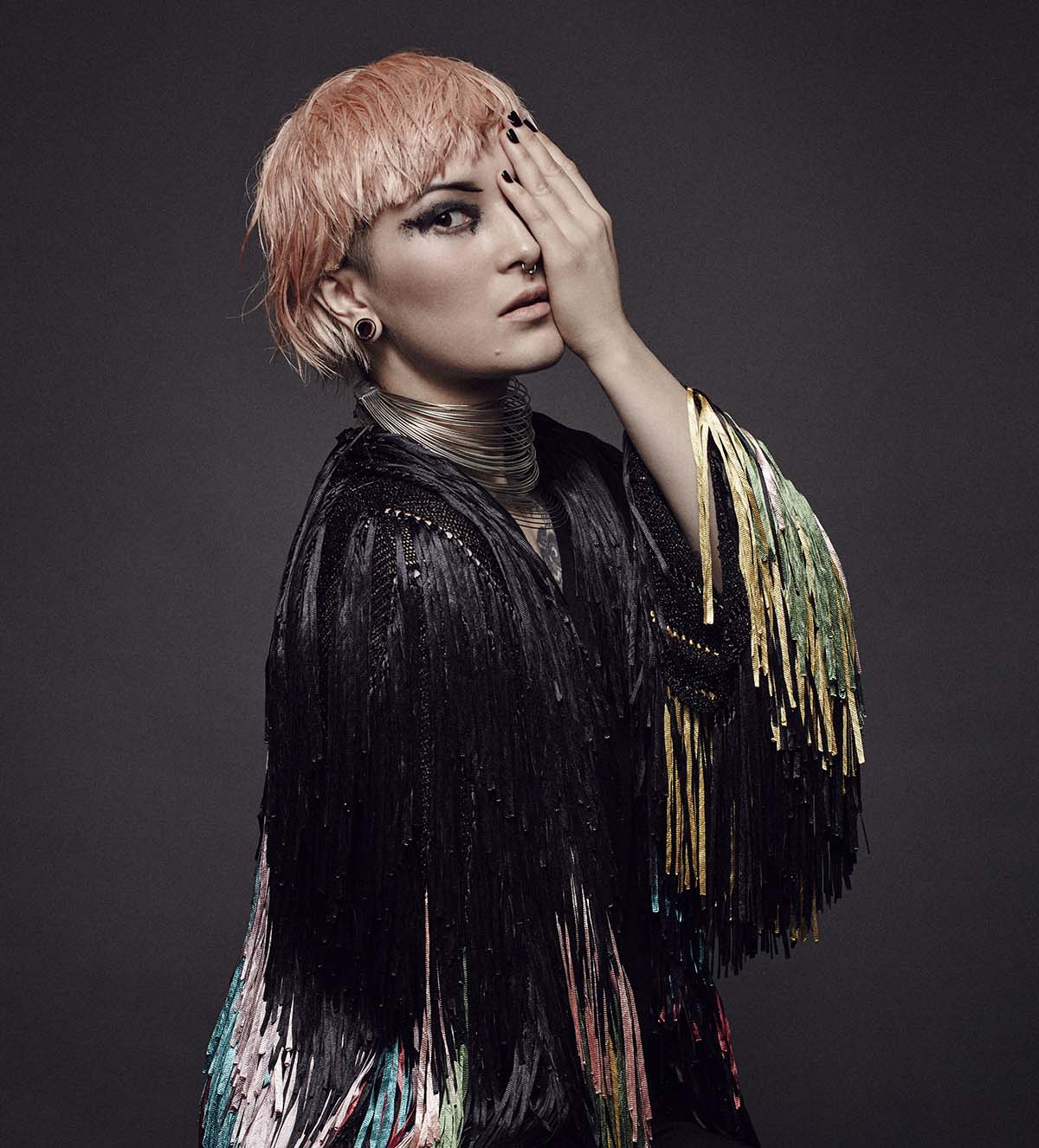 What projects are you working on right now that we should be getting excited about?
I'm producing some tracks for the debut album of an artist called Chelou, which I'm super excited about. I've also just finished my second album, which is a double album, so a lot of material to come, including collaborations with Chelou, Bob Moses, GAPS and Wendy Rae Fowler.
What do you look for in an artist that you are collaborating with?
Just raw talent and someone that is doing something unique. There are so many people trying to copy trends or who are heavily influenced by a specific sound, but it's really refreshing when you hear a new artist that just naturally has their own distinct vibe.
In a digital age, how important is the 'voice' – whether sampled or not – in your music?
It's nice to have that human touch on a track. I think we subconsciously connect more to a track when it has a vocal on it.  I rarely make a track without any type of vocal on it, even if it's just using a snippet of my voice as an instrument without lyrics. I like to have that organic feeling that you can't recreate with a synth sound.
What do you like most about performing?
Well, my means of performance is DJing. I wouldn't be able to just get up and sing onstage. I much prefer being able to hide a bit, but still be able to express myself through the music. Being able to completely control the mood and atmosphere of a room full of thousands of people is pretty amazing.
Can you tell us about your creative process? Is there any particular formula you follow in organising a great set list?
No not at all, I think the main thing is to actually never properly organise a set list. I never pre-plan what I'm going to play as I prefer to read a crowd and go with the vibe. You can never predict what a gig is going to be like, so there's never any point in planning ahead too much.
Jacket, TIM RYAN
Necklace, PEBBLE LONDON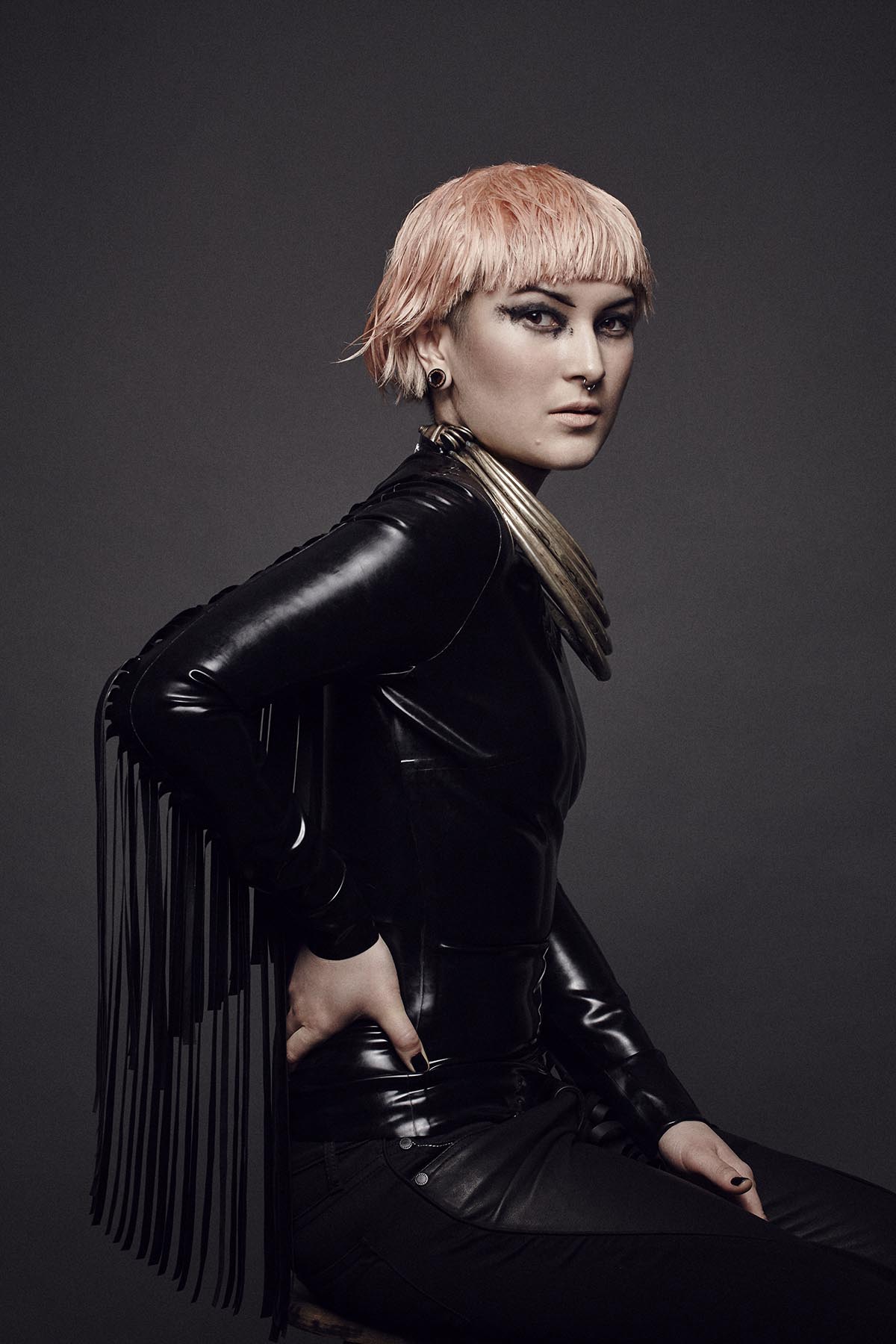 So how do you tailor your set between an Ibiza crowd and a more typical underground UK night?
Playing a 5,000+ capacity super club is always going to be totally different to playing an intimate club or basement somewhere. I really don't know which I prefer because both have their different perks. What I like about the Ibiza crowd is that it's so mixed and you have people that have flown in from all around the world sharing the same dance floor.
You're a veteran of the festival circuit, which ones are you most looking forward to performing at this year and why?
I've never been to Morocco before so I'm looking forward to Oasis festival in Marrakech, as that is supposed to be really nice.
To what extent do you still have to be aware of making 'marketable' and consumer-focused music?
I don't worry too much about stuff being 'marketable'. I'm sure Massive Attack didn't worry about marketing when making "Mezzanine", but it definitely sold a lot of records! I think the main thing is making music that really resonates with people. All I do is make music that I love, and if lots of other people love it too, then that's just a huge bonus for me.
Is there a new artist or track that you're currently obsessed with?
I signed and released the debut album by GAPS called "In, Around the Moments" on my label I/AM/ME. They were my first ever signing, so I guess they are my current new band obsession.
Finally, you have a great sense of personal style, who or what has influenced the way you like to dress?
I've always been into fashion and always been creative with it. Visiting Japan a lot when growing up definitely inspired me in that sense. Now that I travel everywhere I get to go to all the coolest little shops around the world!
Top, WILLIAM WILDE
Trousers, SUPERFINE
Necklace, PEBBLE LONDON
Hair  Elvire Roux
Make-up  Jane Bradley
Fashion Assistant  Alice Manners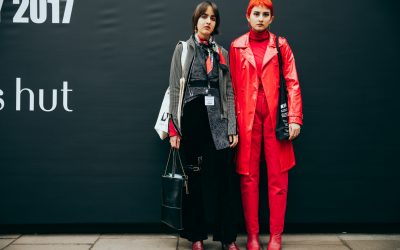 From bloggers to Editors-in-Chief, we round up the best of the street style contingent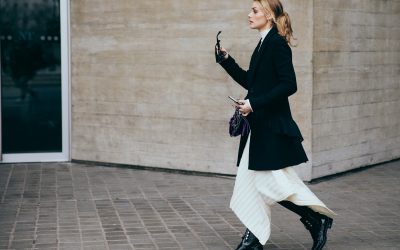 From bloggers to Editors-in-Chief, we round up the best of the street style contingent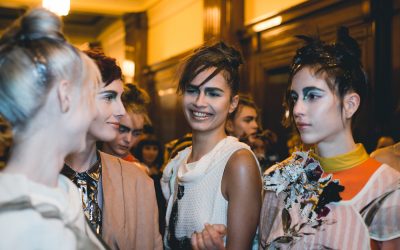 The eco-friendly brand presented a painterly, nature-inspired collection for their second catwalk appearance