With 238 films showing across the capital over 12 days from 7th October, coming from a whopping 71 countries, the London Film Festival is without doubt our biggest and most expansive national celebration of movies. But with so many possibilities, and tickets far from cheap, it's not always easy to choose what to see.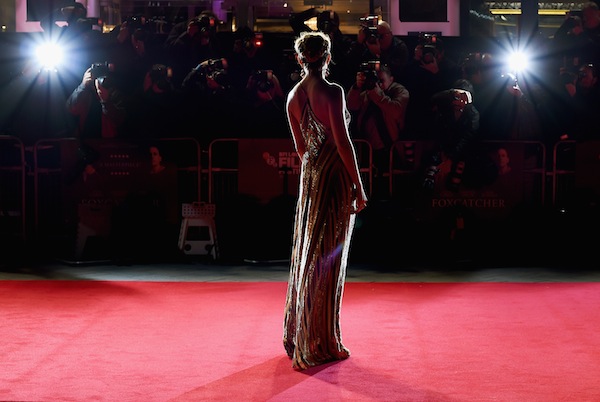 It's usually not worth splashing out on the big-ticket movies unless you're an unrepentant star-gazer, as they'll usually be in multiplexes a few weeks afterwards. Suffragette, the worthy British period drama that recreates the struggle for voting equality as a guerilla warfare thriller, is opening the festival on 7th October but opens nationwide only 5 days later, while the crazy dystopian Cannes Jury Prize-winning The Lobster, starring Colin Farrell and Rachel Weisz is showing on 15th October but opening across the country the following day.
So to help you decide which of this smorgasbord of filmic delights is worth a cross-London trip and forking out £15 for, here are my top ten weird and wonderful options for you viewing pleasure.
10. Lucifer 
Or, the day the devil came to a tiny Mexican village after climbing down a ladder from the sky and caused a bit of a rumpus. Filmed as though through a telescope, this delightfully unusual comedy drama it promises to be a mix of Stephen King's Needful Things and Ken Russell's The Devils.
9. The Witch 
This Sundance smash, set in a superstitious, oppressive 17th Century New England, bleeds dread and threat from every frame. After a child goes missing from a remote farmstead the intrinsic paranoia and supernatural fear of the time and place quickly reach fever pitch, leading to the inevitable misery and horror. Smart and unrelenting, it's probably the scariest film of the festival.
8. Cemetery of Splendour
Thai director Apichatpong Weerasethakul makes luminescent, troubling films that defy glib analysis, and his latest – about a team of soldiers struck with a Sleeping Beauty-style malady and the weird psychic  – promises to be every bit as haunting, playful and unfathomable as his superb Uncle Boonmee Who Can Recall His Past Lives.
7. The Assassin 
Director Hou Hsiao-Hsien won the Best Director prize at Cannes for this ravishing, thoughtful and melancholic period martial arts epic about a disgraced female assassin sent to kill her former lover, now a regional big cheese, but who rebels against the system that has enslaved her. Like This Zhang Yimou's equally glorious Hero, this begs to be seen on the biggest screen possible.
6. Chronic 
Tim Roth apparently gives one of his greatest performances as a hospice nurse whose devotion to his dying patients is slowly revealed to be more disturbing and self-destructive than his touching efforts at first suggest. Mexican director Michel Franco's shocking After Lucia was a worldwide festival hit in 2012 and his follow-up stands to be every bit as punishing.
5. Green Room
Jeremy Saulnier's follow-up film to his 2014 low-key thriller Blue Ruin, the main draw for this violent revenge / siege thriller is Patrick Stewart's turn as a raging neo-Nazi hunting down a desperate punk band in a grimy gig venue. It's not clever, and it's definitely not pretty, but it's one of the LFF's most visceral and unrelenting thrill-rides.
4. Tangerine 
The little scrappy, yappy dog in a field of pedigree pooches, this micro-budget urban comedy drama about a transsexual prostitute and her friend ripping up Los Angeles on the hunt for her pimp was filmed entirely on iPhones and took Sundance by storm. Part screwball comedy, part insightful and poignant urban drama, everyone's going to be talking about Tangerine soon.
3. Taxi Tehran 
Iranian director Jafar Panahi has been banned from making films for 20 years by the authorities in his native Iranian. Thankfully that hasn't stopped him from making this slice-of-life drama about the lives, loves, thoughts , dreams and sorrows of a host of people picked up by a Tehran taxi driver, played by the director. His bravery alone makes this gentle drama a brave thriller of sorts.
2. Mediterranea 
The couldn't-be-more relevant tale of two African migrants who've made it to Italy and are having very different experiences of setting up a new life there, this debut  feature film from Italian director Jonas Carpignano will undoubtedly hit a deep and uncomfortable chord as the migrant crisis in the Europe only stands to get worse.
1. Yakuza Apocalypse 
This may be a personal choice, but any new film from barmy auteur Miike Takeshi is worth a trip to the cinema in my opinion, especially one that involves immortal vampire gangsters, weaponised severed heads and demented frog beasts. Suffice to say, it probably won't win many awards at this festival, or any other.
These are just a few of the wonderful, beautiful and strange movies on offer across London in October, and one of the greatest pleasures is to simply choose an evening and randomly select a couple of movies you've never heard of that sound intriguing. You almost certainly won't regret it.
 View the programme here.
Words: Greg Taylor