How would Jesus fare in a breakdancing competition?
A lesser-asked question, perhaps. But it's one that London-based artist Cosmo Sarson answered in 2013 with a glittering 28ft piece of headline-spawning street art. The mural, painstakingly crafted on a well-known Bristol wall, threw Sarson into the limelight. But you'd be wrong in thinking of him as solely a street artist.
Classically trained in Fine Arts at the Byam Shaw School of Art, Sarson's work speaks just as much of a love affair with the paintings of Caravaggio, Manet and Bacon as it does his affinity with the capital's urban cultures of skateboarding, hip hop, breakdancing and graffiti. His early work was inspired by advertising and brand worship, but he later became a scenic artist on film sets, producing graffiti and mural work for Children of Men, Edge of Tomorrow and Guardians of the Galaxy, among others. Elsewhere, Sarson has sought inspiration from riot photographer David Hoffman's images, produced a riot cop series on high viz jackets, and created his anti-war piece Cheese Eating Surrender Monkey on US army uniforms.
Now, in his first solo show since he made the news with his shape-throwing messiah, Sarson has created a series of works that meld his street art style with Catholic imagery and Greek mythology's gods and monsters. Mixing traditional mediums like oils, etchings and charcoal with spray paint and print, Sarson catapults classical motifs into a modern urban landscape. Think Bacon-esque screaming Popes, a rich maroon and burnt orange palette, and a re-imagining of Caravaggio's Execution of Saint John the Baptist in a shadowy graffiti-strewn alley.
PHOENIX dropped into Sarson's paint-splattered Dalston studio for a behind-the-scenes peak.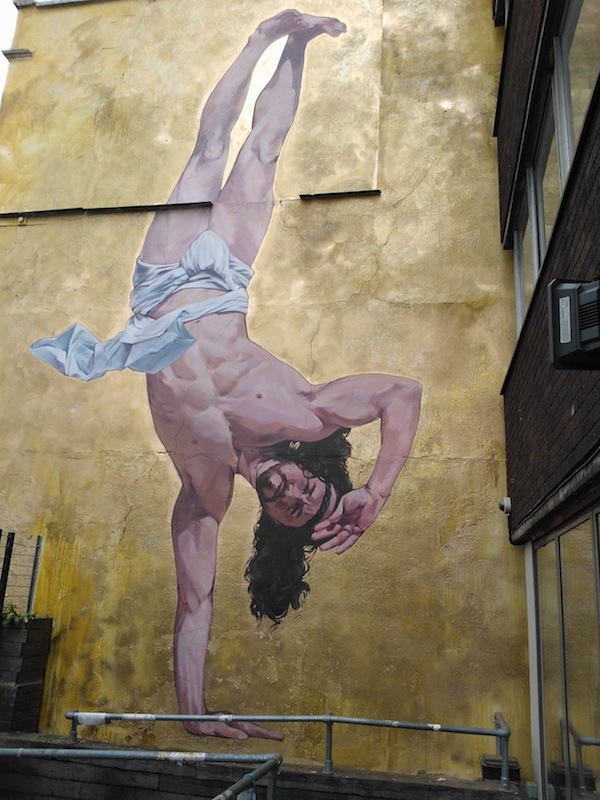 Sarsons' breakdancing Jesus mural in Bristol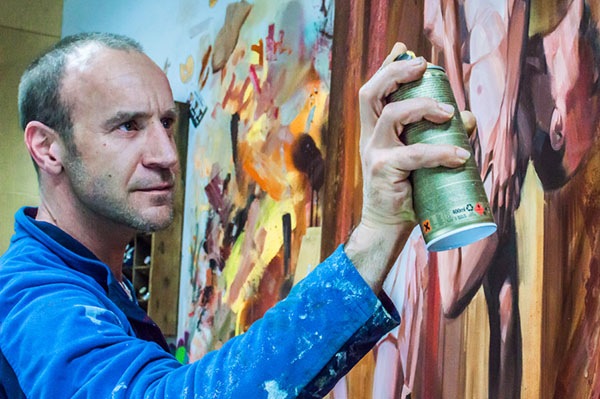 Sarson in his Dalston studio
How do you think your London upbringing has shaped your work?
I'd say I'm a product of a classical education but a very urban experience. I grew up around Islington, went to art school and learned about the Old Masters, but it was at a time when electro and hip hop were really taking off. We'd arrive early to class so that we could practice breakdancing on the lino floors and I got into the graffiti scene. The generation of '89 was all about raving and clubbing. So ultimately, I'm not a graffiti artist or a fine artist, I'm somewhere in between.
What was it about advertising that interested you in the beginning?
Artists like Damien Hirst, Andy Warhol and Jeff Koons seemed to be cashing in on a name and turning themselves into a brand. I hated the idea of people buying art as an investment regardless of its beauty. Pepsi Max was doing a similar thing and using its advertisements to cash in on subcultures that I felt belonged to me, like skateboarding. I felt like a f*cking can of soft drink, you know? They were staking claim to my heritage.
After your solo show on Regent Street in 1997 you retired from the arts scene for over a decade – what triggered that decision?
I thought it would only be a brief intermission, in all honesty. But I got into working on film sets as a scenic artist, doing everything from Roman frescos to gypsy caravans to faking tapestries to medieval heraldry to graffiti. Working on set teaches you to paint on an enormous scale, which means I can now bang out a street art piece quickly with lots of confidence. But it also teaches you to paint in different styles, like Monet or Caravaggio.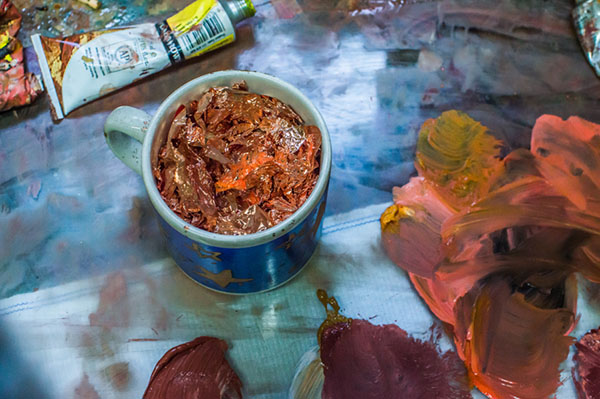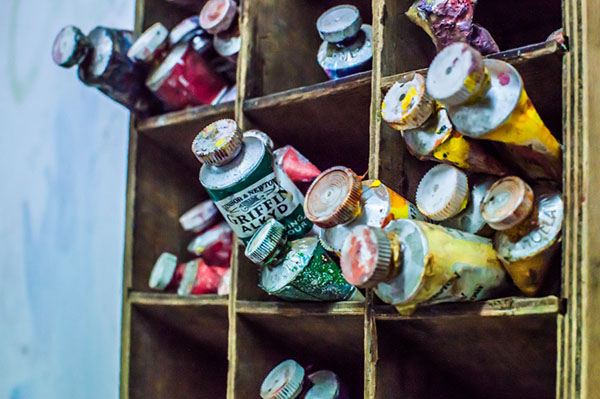 What spurred the idea for the breakdancing Jesus mural in 2013? 
I was just reading a newspaper and discovered this tiny little photo of a guy breakdancing in front of the Pope. After a couple of beers I looked at it and thought, 'this could be turned into something'.
You use a lot of religious iconography across your work – are you interested in the idea of worship?
Not specifically, no. But when you're looking to the Old Masters like Titian, who were commissioned by the church, it's impossible to avoid that sort of religious subject matter.
How does this new exhibition depart from and build on your previous work?
Stylistically I'm still influenced by the Old Masters and also Greek mythology, but I'm translating that into my own world. It's all about me trying to marry the high and low brow. I'm working from photos that I've taken of friends in classical compositions, dressed in costume. With the flesh and skeletal details I've drawn from racks of meat I've bought at the butchers or anatomical drawings. Oil is still my preferred medium, but having worked on so many films as a graffiti artist I've learned how to use spray cans. I'm taking a Caravaggio painting and thinking 'how can I make this new?'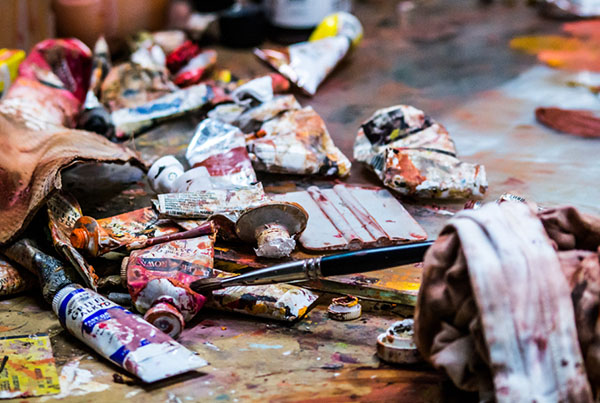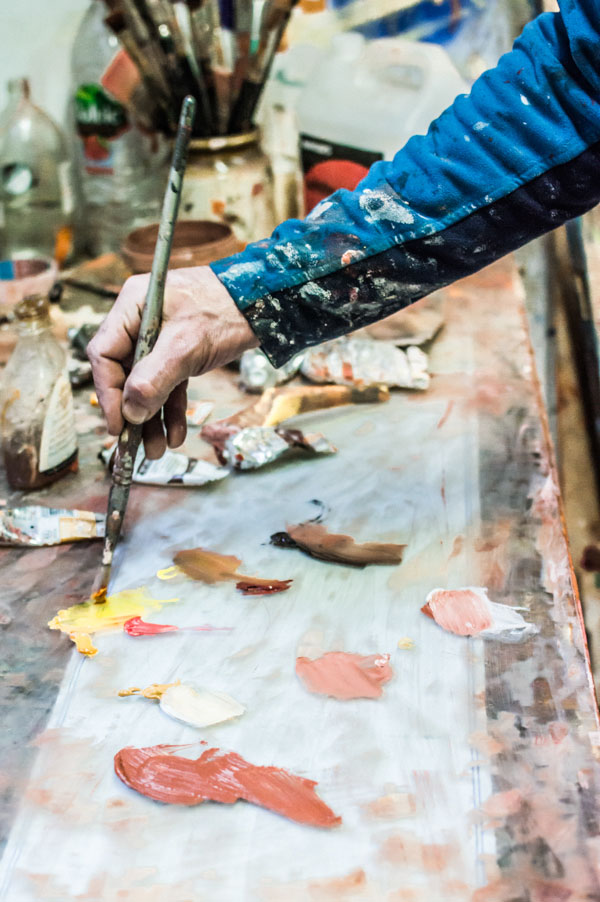 Will you be producing more street art in the future?
I'll always be happy to paint on walls, but I don't consider myself a street artist. I suppose when I was doing my riot pieces I considered that an act of process, but I think angry material geared around coppers is a bit passé now. It's had its moment.
When you're not in the studio, what would we find you doing? Are you still into breakdancing?
Yeah, that's still me. I love clubbing and collecting records – I'm heavily into my music.
What happens next?
I'm looking to create some pieces with a post-apocalyptic feel. Rebellion against Big Brother, Mad Max-esque, that sort of thing. But I'll always return to Caravaggio.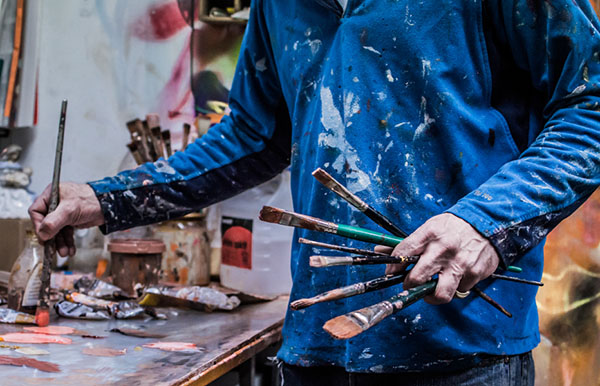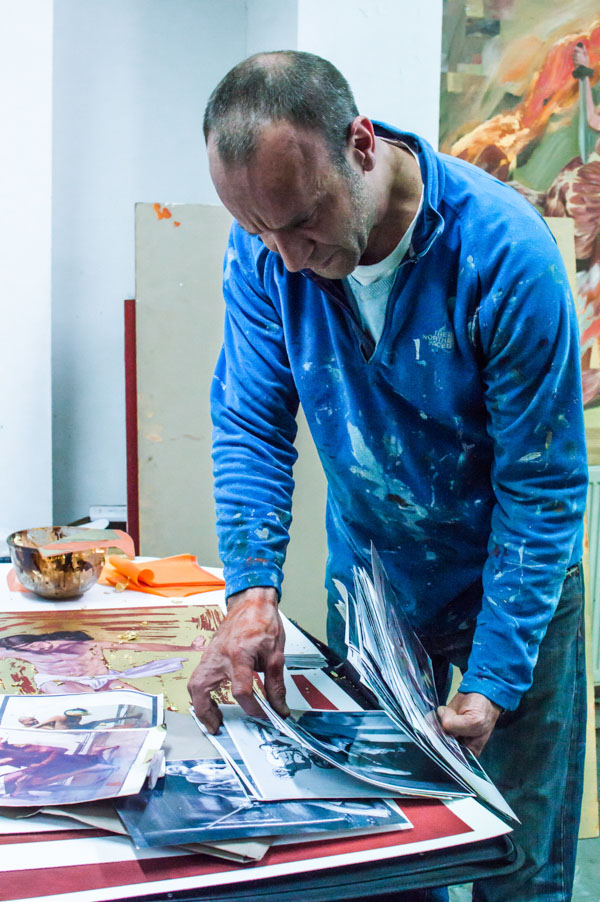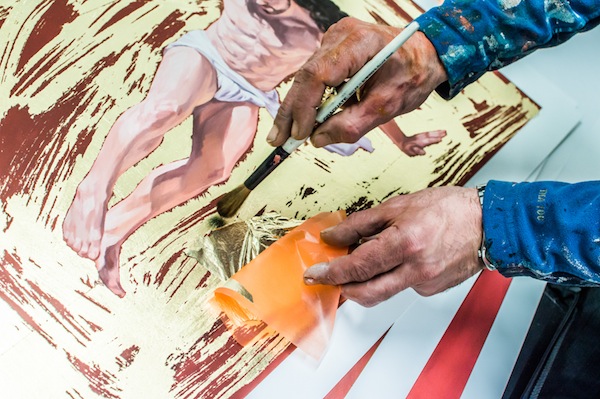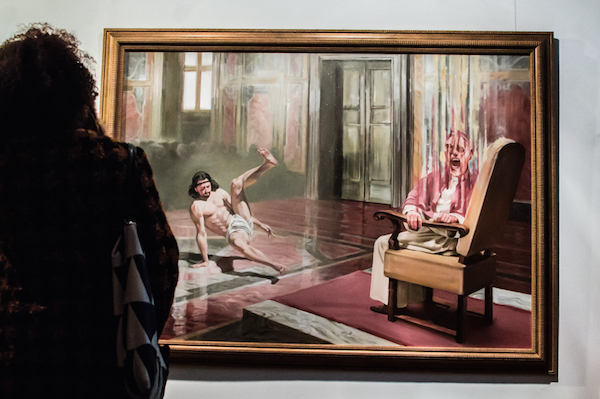 Pure Evil Gallery Press Preview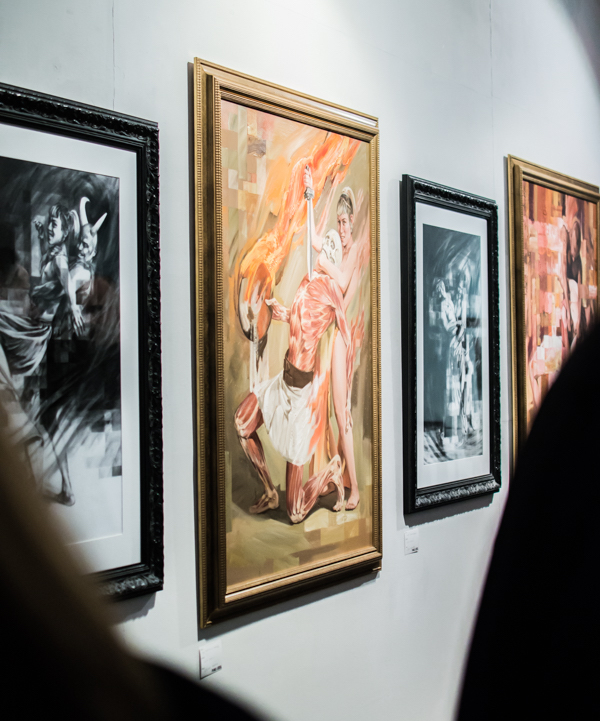 Press Preview
Exhibition runs 3 – 26th April at Pure Evil Gallery | The Department Store | 96-98 Leonard Street, EC2A 4XS
Words: Mary-Jane Wiltsher
Photography: Silje Skarra