Part art gallery, part member's lounge, Lights of Soho on Brewer Street is now open, launching with a five-week group exhibit entitled 'City Lights'. Bringing together established artists with rising stars, the gallery aspires to become the "global home of creative neon and light art formats" as well as a place where creative and cultural influencers come to connect and collaborate. "If we can capture a little of the magic the old Colony Rooms created, we will have done a great thing," said Art Curator Hamish Jenkinson.
It's a big ambition, but the dream is starting well; 'City Lights' is exciting, dynamic and simply good fun, even if you're a neon-neophyte, and there was a real buzz about the space when we popped along to the preview night to hobnob with the artists, their friends and supporters over tasty cocktails from Hoxton Gin.
Neon was first discovered by British scientists in 1889, but it was a French engineer named Georges Claude who realised it's potential for outdoor advertising. He introduced the signs to American gas stations at the beginning of the 20th century and their commercial popularity has been lighting up the night sky ever since.
Neon signs are associated with seedy signage as much as vintage Americana, and it was in this guise that neon came into its own in 1970s Soho, with most of the work created by the late Chris Bracey.
"I did 99 percent of every sex establishment in Soho for 20 years," Bracey told the BBC in 2013. "For me it was an artistic endeavour." In the gallery's homage to Bracey's God's Own Junkyard, an exposed concrete wall holds such gems as 'Kiss Kiss Klub', '24 hour liquor' and 'Sex' spelled out in racing dots. Instead of feeling cheap or tawdry, the tin shapes and coloured bulbs are almost celebratory.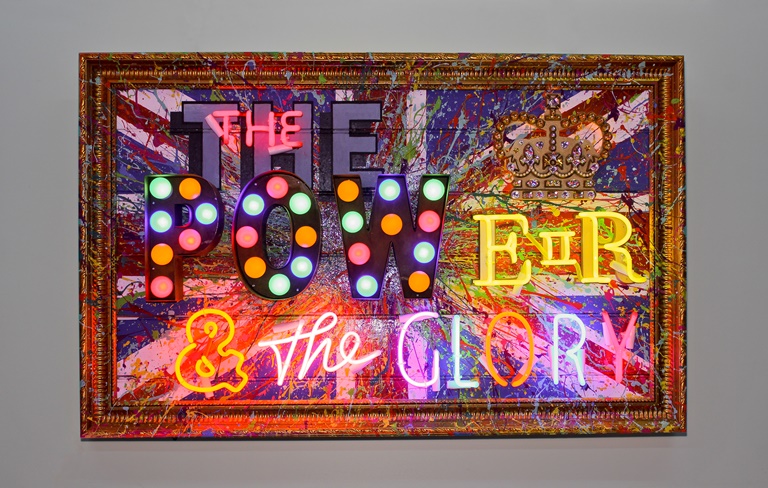 Turning the traditionally loud medium on its head, Tracey Emin's handwritten neon pieces feel intimate and quiet. 'I promise to love you' says one. 'Keep me safe' says the other. The vulnerability of these statements is makes you lean in. It's an honesty that Josef O'Connor embraces in his 'I'm Afraid There Is No Money' – a statement created, appropriately, in the scrawled typeface of a man in a hurry.
The pull of these works is what most excites artist Aphra Shemza. 'Light art has an ability to draw people in," she says. "They want to see it and interact with it. That's what I want to do with my work." We're standing in front of Composition X, her mixed media installation that consists of a sphere within a pyramid within a box, the whole glass and mirrored piece shot through with light. "Depending on where you stand, it changes. Your experience of it changes."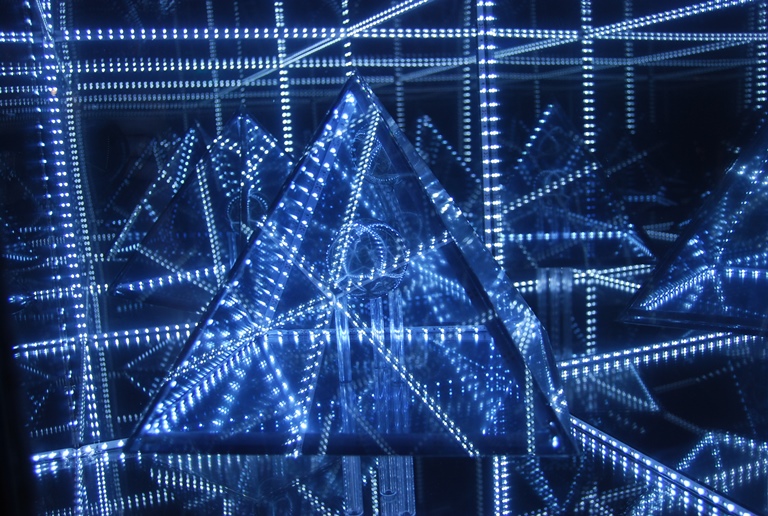 The title cards on the pieces contain the barest details. 'Natasha Archdale, Unsubscribe, 2015, Neon and acrylic'. There is no commentary, no backstory, no artist's biography. We must take them at face value with only our own context and worldview to give them resonance, and the white text all in caps – 'UNSUBSCRIBE' – plugs directly into the desire I have to free my life from clutter stretching far beyond my inbox.
In an utterly charming pairing, milliner Victoria Grant uses neon in her hats.  "I've been obsessed with neon forever," she says. "I love the energy and wanted a way to bring the fun and interactivity into my hats." Her contribution to 'City Lights' comes from her latest collection. "It was called From Savoy to Soho and tells the story of a party that starts the day sipping champagne, and then at midnight they get into a taxi and descend into Soho, into the underbelly of it all."
Gesturing to her hat – a phenomenal number in black with a long red plume, the whole thing edged in red neon – she says, "When you go out in a flashing hat, as I'm learning tonight, you meet brilliant, interesting and fun people. They bring out the best in everyone. They get the party started and make people happy."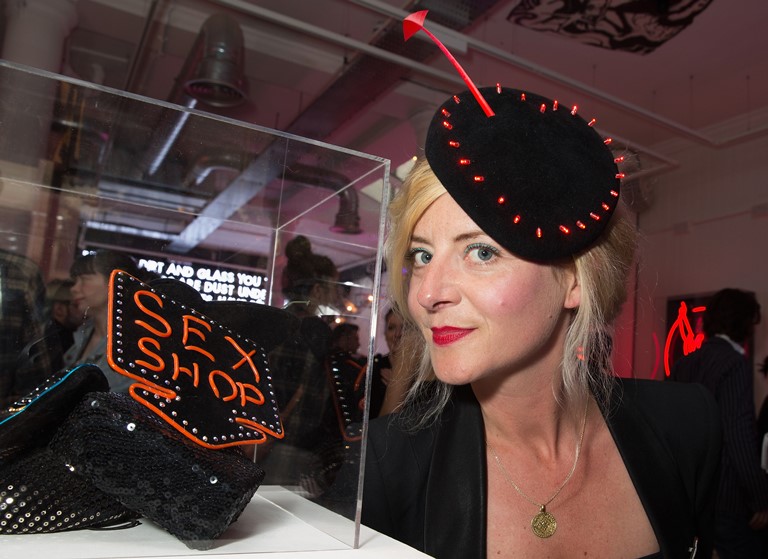 Drawing people in, inviting them to interact, encouraging them to have a bit of fun – this is art that lights up more than a wall.
Words: Julie Reid