Exploring the hype behind the latest beauty buzzword
Pestle & Mortar is the baby of Sonia Deasy, a portrait photographer who has spent years examining beauty through the photographic lens, and understands how the slightest imperfection is magnified in photos and on-screen. The latest in a recent line of one-product label launches, her debut product is one of simplicity and substance. The HA Pure Hyaluronic Acid Serum harnesses the intense moistening effects of its namesake molecule in a gel-like formulation with skin-plumping and blemish-soothing properties.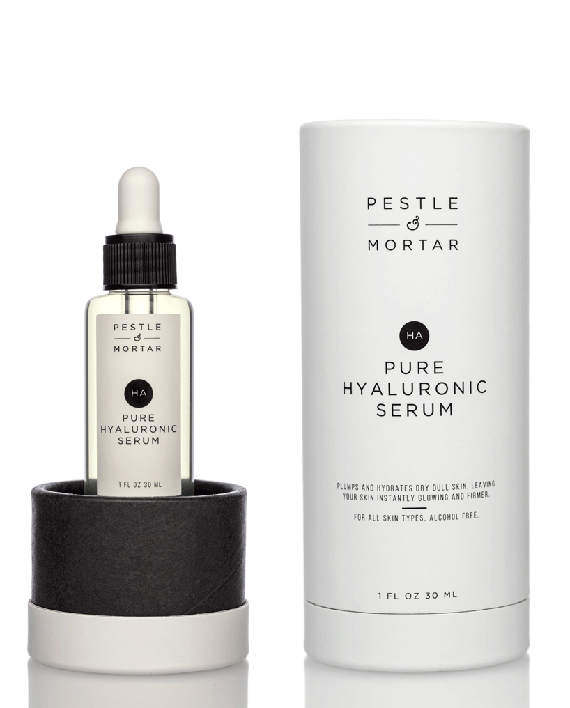 Hyaluronic Acid is a naturally occurring polysaccharide (read: carbohydrate) found in the body, and the latest it-ingredient to grace our beauty cabinets. The molecules can hold up to 1000 their weight in water, and so are coveted for their intense skin-plumping potential. As babies, we naturally possess high levels of HA – which explains the chubby faces – but sadly, as we grow the level decreases, resulting in fine lines, dry skin and all those other undesirable aging afflictions.
Pestle & Mortar's Pure Hyaluronic Serum contains 80% Sodium Hyaluronate – a smaller, penetrative molecule that sinks deep below the skin's outer layers to moisturise from the inside out. The results, particularly when used as a make-up primer, are excellent. Skin has that lit-from-within glow that usually comes only after a lengthy facial, and foundation glides on beautifully with no dryness or flaking, even after 8 hours under the office air conditioner.
Pestle & Mortar is available at www.pestleandmortarcosmetics.com, but a word of warning: these babies sell out fast. At the time of writing, there are 39 bottles left for purchase – so we suggest you get clicking.
Words: Roberta Lister