It's hard to believe that, at the turn of the decade, fashionable eyes were framed by intensely threaded lines of barely-there hair. Thanks to Cara – the modern mother of the thick brow – not to mention our current seventies-inspired hankering for a natural, earth-maiden look, eyebrows are now as important a feature as the peepers they frame. Brow-enhancing products have never been so popular.
For S/S 2015, however, the classic bold Delavigne brow is being tempered with a slight arch – see Lily Collins and Emma Watson. But achieving eyebrows which are full yet neat can be tricky, and with so many products clamouring to cash-in on the trend, it can be hard to know which will really help. Cue our first battle of the brands.
In this week's metaphorical brow boxing ring we pit Paul and Joe's eyebrow powder duo against Charlotte Tilbury's brow lift. Both products are from reputable brands, but which really earns its place in your beauty arsenal?
Charlotte Tilbury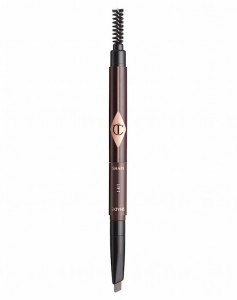 HITS
– The angle of Charlotte Tilbury's brow cream pencil helps to create a precise arch and makes for more realistic 'hairs'
– The nifty three-in-one kit offers not just the brow cream pencil but a brush to help shape and remove any excess product, and a highlighter to lift the brow
– Nice smooth texture
– The longevity was impressive, staying in place for hours, with no smudges in sight.
MISSES
– Although the creaminess of the pencil made it great for application I found it quite brittle and it broke numerous times during use
– A small detail, but the beautiful gold writing on the packaging rubbed off within three weeks, making it look distinctly less elegant than at first
Paul & Joe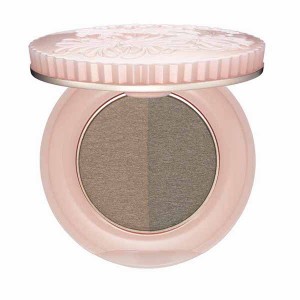 HITS
– This brow powder comes with a small slanted brush. Due to the densely packed bristles it had perfect hair-gripping power, making the application process very easy
– Using a powder on your brows can be risky, however the staying power of this little duo was immense, lasting all day and night, including tightly packed, sweaty commuter tubes
– Coming with two shades per compact means it's easy to get the best shade for your brows. I soon discovered that by altering how hard I swirled the two shades together I could control how dramatic or soft my brow outcome would be
– The packaging itself is a work of art. Craig Ryan French says it's inspired by his first memories of makeup: seeing beautifully packaged cosmetics on his Mother's vanity table
MISSES
– Being a powder means that it's not the most natural of looks – if over-coloured, the caterpillar look can start to creep in
– The brow powder can be purchased in two different shades. I naturally have very dark eyebrows, but had to opt for 02, which is meant for light brown and dark blonde hairs – so the shades are not quite true to form
VERDICT
Although the packaging is less aesthetically pleasing, Tilbury wins it by a whisker. Being the more natural of the two, and with its 3-in-1 power, the multi-purpose wonder just scrapes past Paul & Joe's brow powder to cross the finish line.
Words: Mia Riley