Because you can't rely on the British weather for a golden glow.
We need to talk about fake tan. In recent times, the world seems to have fallen out of love with the orangey stuff, favouring a more natural #iwokeuplikethis approach to beauty. It may not be the chicest of products, yet let's be honest – who doesn't long for a little glow, especially now that Spring has officially sprung.
This season, it's time to get serious. No more flaky patches or terracotta tinges – if you're gonna do it, do it right. Here's the lowdown on the next-level fake tans which you need to know about now.
The Newbie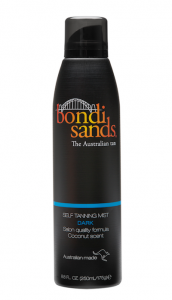 Bondi Sands is already the no.1 selling self-tanning brand in Australia – the land of enviably tanned limbs. The business is a bit of a word-of-mouth success story, which has built an incredibly strong cult following on performance and reputation. Their best-selling product is a classic Self Tanning Foam, which comes in two shades: Light-Medium and Dark. There are no bells and whistles here, but the soothing Aloe Vera-infused formula and beautiful bronze (read: actual bronze, not terracotta) end-result speaks for itself. Not a foam fan? Try the less intense, yet equally excellent Self Tanning Mist, Gradual Tanning Milk, Gradual Tanning Face and Wash-off Tan.
For those looking to dive straight-in with the Dark stuff, a word of advice: do it gradually. You wouldn't bleach your hair from black to blonde in one go, (Kardashians excluded), so why do it with your tan? The upshot is: it will look obvious, and will be patchy.
Bondi Sands is available at Superdrug stores nationwide, starting from £9.99.
The Relaunch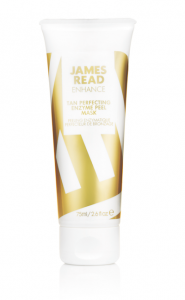 James Read is no stranger to the world of expert tanning – in fact his skills are relied upon by the likes of Mariah Carey and Lady Gaga – and this month sees his iconic self-tan line receive an Art Deco-inspired makeover. His line of impeccable tanning products now looks as good on your bathroom shelf as it does on your legs. The range has also been expanded and divided into found sub-categories which simplify the selection process: Self, Overnight, Gradual and Enhance.
Our pick of the new products includes the fantastic Tan Perfecting Enzyme Peel Mask – a facial treatment which may be used to exfoliate and prep pre-tanning, or to even and hydrate a fading tan – and the new Day Tan Hydrating Cream, which boasts an SPF 15 to protect and hydrate as it imparts a subtle, lasting glow.
James Reed is available online and at Net a Porter, from £24.
The Skincare Fusion
Clarins' Radiance-Plus Golden Glow Booster is the ultimate self-tan product for the skincare junkie. Its oil formula is packed with a high concentration of active tanning ingredients – much higher than a regular self-tan – combined with gentle skin-conditioning ingredients. Simply mix into your serum or moisturiser (we love it with a luxuriously dense night-cream) for a customisable glow.
Clarins Radiance-Plus Golden Glow Booster is available at Boots stores nationwide, £19.
The Organic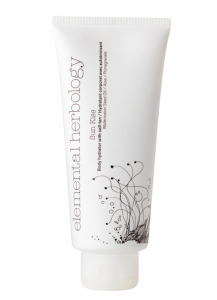 Anyone who has dabbled in the world of organic beauty will know that it's often a case of trial-and-error. We consider Elemental Herbology's Sun Kiss Body Moisturiser a risk-free winner – it's a daily moisturiser that contains a low-level (perfect for paler limbs) tanning agent derived from sugar beets – no DHA in sight. Furthermore, it's packed with impressive body-nourishing ingredients including Kalahari watermelon seed-oil and the brand's very-own patented Proteol APL: a secret cell-renewing weapon.
Elemental Herbology Sun Kiss Body Moisturiser is available at Space NK stores nationwide, £27.
The Body-Conditioning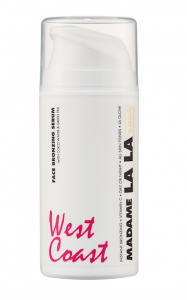 We've raved about this brand before, and credit its nourishing green tea and coconut water-infused potions as the products that cured our tanning phobias. Our only gripe was that our faces never glowed as wonderfully as our beautifully-bronzed limbs. This year, the brand solves all of our (first-world) problems with the launch of West Coast Bronzing Serum. This face serum imparts the same gorgeous, subtle glow as the body formula, whilst protecting and hydrating the skin. Use it twice weekly for a hint of a tint: think weekend in Cali, not month in Marbella.
Madame La La West Coast Bronzing Serum is available from Fenwicks from May, £28.
The High-Tech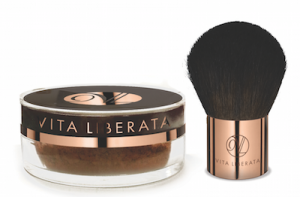 Vita Liberata is a mainstay in many an obsessive-bronzer's beauty cabinet, and this month sees the brand break the mould with the launch of Trystal Minerals: the world's first tan-enriched mineral bronzer. Merging the worlds of makeup and self-tan, this super-fine loose powder contains an active tanning DHA that slowly infuses into the skin over the course of the day. The bronzer itself is pretty great – with two shades that are glimmery, not glittery. But the most exciting aspect here is the potential to build those Kardashian contours, and have them last a week. Think of it as precision-tan for your face.
Vita Liberata Trystal Minerals is available from Boots stores nationwide, £35.
Words: Roberta Lister