Author Sarah Bladen explores the Island of the Gods to reveal the most divine eco retreats
IN SEMINYAK
WHERE TO STAY: THE AMALA
WHY: Located in a heady, buzzy neighbourhood, this stylish boutique hotel is a secluded haven with calming water features, bamboo plants and delightful contemporary villas. Just a short walk away from bohemian shops, beach bars and restaurants, The Amala is a great location for those wanting peace and quiet as well as access to action on their doorstep. This adult-only wellness retreat is a short taxi ride away from the popular golden sandy beaches. My partner and I stayed inside a luxurious Balinese style villa with an outdoor Jacuzzi pool, a lavish sunken bath and a steam room with minty essential oils. Rooms from £118.96.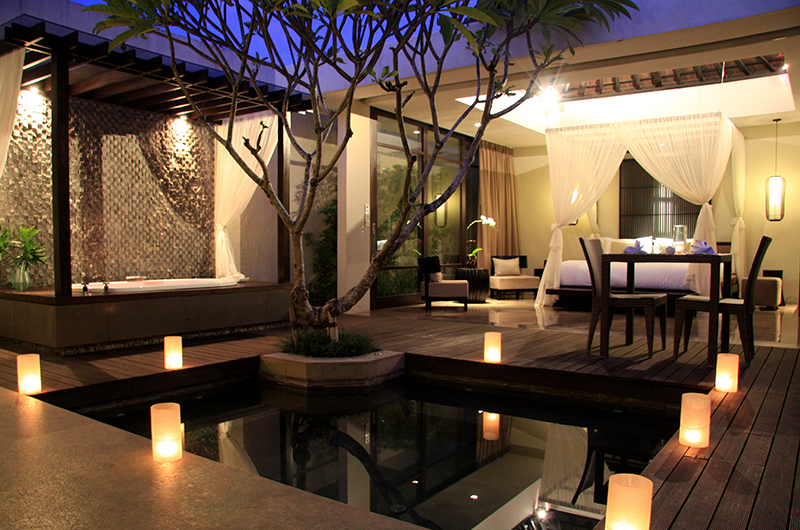 Designed according to feng shui principles, you can feel the harmonious atmosphere here. A delicious organic breakfast is included in the rate and can be served in the comfort of your villa or in the sleek, al fresco restaurant. At night, the lighting at the resort makes it look seductive – I also experienced tropical rain and thunder at its best while ensconced in a Balinese-style four poster bed, making it even more romantic.  If you can tear yourself away from your sumptuous villa, it's well worth visiting the spa. Not only is it a heavenly setting but the therapists have truly magical hands. A traditional Balinese massage was the ideal way to cure our jetlag and kick-start our island adventure.
IN UBUD
WHERE TO STAY: GAIA RETREAT CENTER
WHY: If you're keen to experience a yoga, meditation or neo-tantra retreat, then Gaia Retreat Center attracts some of the world's leading facilitators. This cosy, sacred space has a community atmosphere and is conveniently located in Ubud. Being here is an ideal opportunity to explore the spiritual heartland of the island. This is Eat, Pray, Love territory with lush rice paddies, mystical temples and a plethora of craft stores and yoga studios. It's easy enough to hop from one holistic café to another by scooter. Gaia Retreat Center has a chef who serves up delicious raw food dishes, a lovely local massage therapist and a knowledgeable local tour guide who took to the Gunung Kawi Temple. 
Our guide gave us an enlightening history of this awe-inspiring 11-century temple, set along the sacred Pakerisan river. If you stay at Gaia, which has eight cute bedrooms and a therapeutic sauna, it will most likely be the actual retreat itself, that really nourishes your spirit. Standard Cottage from £45 per night. 
JUST OUTSIDE UBUD
WHERE TO STAY: COMO SHAMBHALA ESTATE
WHY: This gorgeous high-end wellness destination has a real wow factor. Surrounded by a lush jungle in the quiet hills, it's just a 15-minute drive along a winding muddy road, away from the hullabaloo of Ubud.  As soon as we arrive at this nine-hectare tropical paradise, we are treated like VIPs. Welcomed with genuine smiles and freshly made juices, we were then whisked away in a buggy to our jaw-dropping residence, Teja Suara. Sanskrit for Sound of Fire. It's named after the fire pit located at the pool's edge outside our luxury cottage. Every evening the fire is lit, fuelling a mystical ambiance.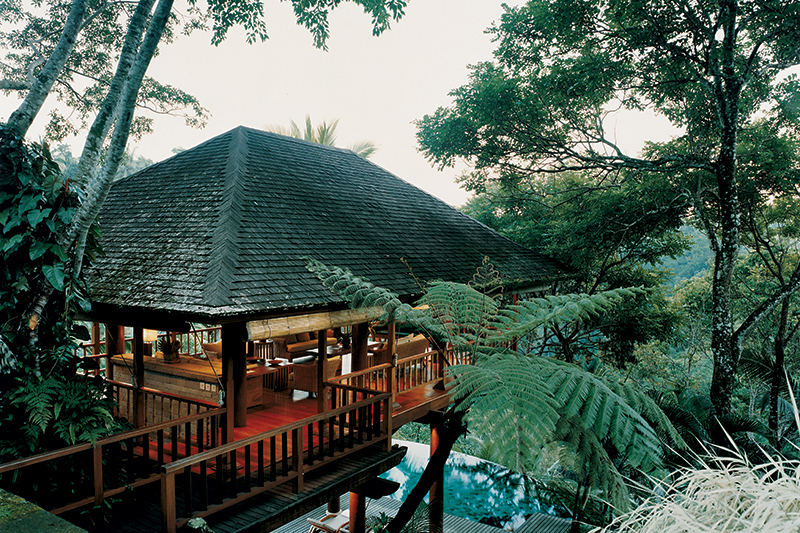 We had a personal butler assigned to look after us during our stay and he was super intuitive, always looking for extra ways to ensure our stay was impeccable. This dreamy five-star hideaway is all about bespoke health care and has several holistic experts on-site. At the spa there's everything from acupuncture to hot stone massage. One of my highlights was a personal consultation with a leading Ayurvedic doctor followed by an Abhyanga treatment – a rhythmic massage using specific herbal oils to stimulate the circulation of blood and prana (energy). Besides the decadent spa, you can find healthy extravagance at Glow restaurant. Expect delicious nutritious food, freshly prepared by award-winning chefs while you soak in the stunning vistas. Perhaps the most memorable was waking up in a romantic netted four poster bed, listening to the sounds of nature. A dawn chorus of chirruping cicadas and serenading birds. Talk about being on cloud nine!
IN THE NORTH
WHERE TO STAY: ZEN RESORT BALI
Why: Zen Resort Bali is a sustainable luxury sanctuary located in Singaraja (meaning 'Lion King') at the northern tip of the island.  Nestled in tropical gardens, the concept behind this eco-conscious resort is to combine a healthy lifestyle with saving the environment. At sunrise, we enjoyed meditation and yoga with friendly teachers, outside on the terrace, before a hearty nourishing breakfast.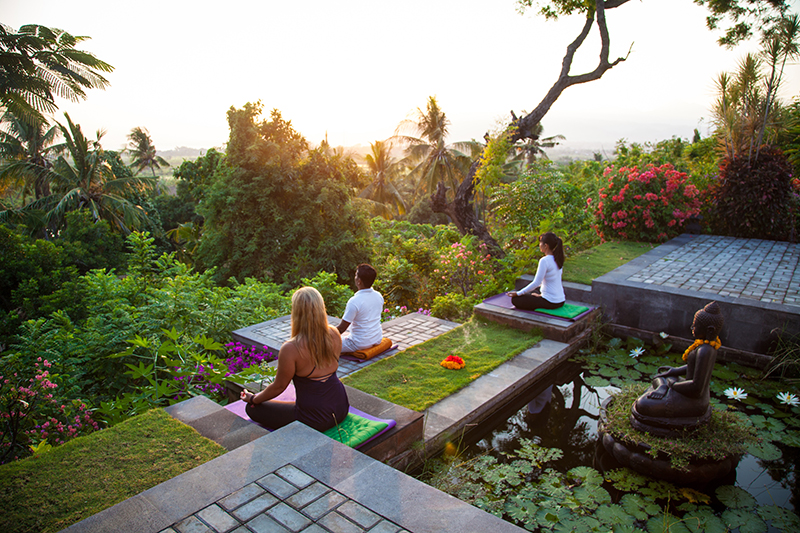 Later we discovered Zentsu – a magical water therapy that begins with a meditative prayer. This is followed by floating in the infinity pool with a holistic therapist who guides the body into a deeper state of relaxation. It was amazingly serene, it almost felt like being back in your mother's womb. We also combined this with a pranayama (breathwork) session. This is all part of the preparation for those who wish to try Zen Harmony Diving. A yogic-inspired scuba diving practice, unique to this resort, when you can experience mindfulness and a feeling of being at one with the ocean. So, one morning around 4.30am, we drove to Tulamben and arrived just in time for a stunning sun rise. I did some meditative snorkelling while my friend enjoyed the Zen-inspired scuba diving. Not too far from the shoreline, I was able to view a multitude of exotic sea creatures – everything from the dazzling royal angelfish to the giant bumphead parrotfish, also known as the elephants of the coral reef. Most of these fish congregated around the impressive looking sunken 130m World War II shipwreck. One thing is for sure, all your worries completely cease when you immerse yourself in this incredible underwater utopia. 
Rooms from £182 per night.
IN THE WEST
WHERE TO STAY: PURI DAJUMA BEACH ECO RESORT & SPA
WHY: Something of a hidden gem, Puri Dajuma Beach Eco Resort & Spa is a friendly four-star, down-to-earth beachfront venue set among banana plantations and magnificent landscaped gardens. Our charming indigenous style, eco-friendly cottage had hand-carved wooden furniture and an inviting outdoor shower, bath and toilet –  in Bali quickly become accustomed to these little luxuries! In terms of facilities, right outside our villa was a pretty, overflowing natural stone swimming pool where you can gaze out to the Indian Ocean. There's also a fun slide taking you down to waterfall pool. Here you have sun loungers and a luxurious day bed where we spent an afternoon. There's several hammocks overlooking the sea – ideal spots to sit and read a book or contemplate life.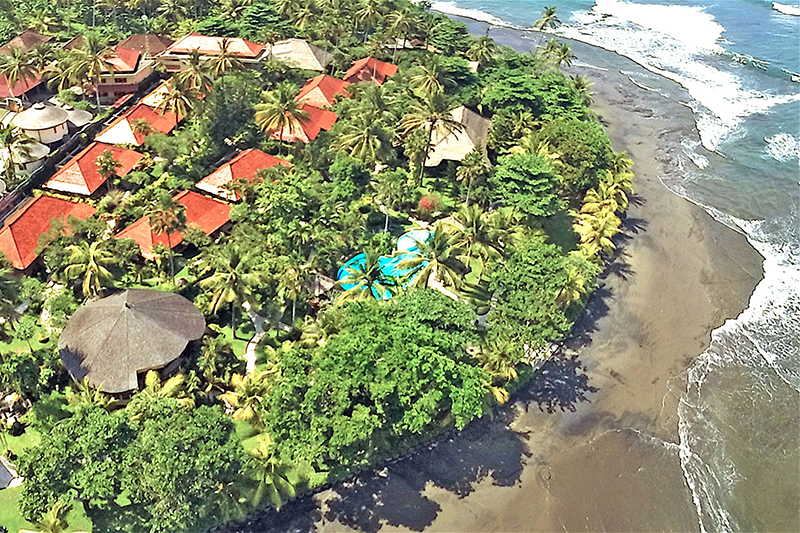 We enjoyed a tasty Balinese breakfast with fresh coconut juice at the casual outdoor organic restaurant which overlooks the sea. Everything here is designed with respect to the ecosystem and the local way of living.  I walked off my nasi goreng breakfast with a long walk along the dark grey sandy beach. Breathing in the rich salty ocean air and listening to the crashing waves unfurl, it was glorious. The west of Bali is sometimes referred to as the 'wild west' by locals and surfers and now I understand why. Here it really is an untouched and unspoilt paradise. Rooms from £65 per night.
Practical Zen for Health, Wealth and Mindfulness by Sarah Bladen and Julian Daizan Skinner is out now and priced at £9.99 in paperback and £6.99 as an ebook.