Modern art has given us a glittering artistic hall of fame, from Picasso to Lucian Freud. But which contemporary artists might have an equivalent impact?
Across the globe, galleries and museums are filled with universally acclaimed great works of 'modern art'. You'll know the names: Picasso, Pollock, Giacometti, Brancusi, Bacon, Freud, Alexander Calder and co. Their pieces can fetch hundreds of millions at auction and private sale. Their artistic styles – surrealism, cubism, expressionism and abstract expressionism – are obsessively studied and imitated. Their dates range from the 1860s to the 1970s, with a particular flourishing of talent in the 1950s and 60s.
But who – if anyone – is going to exert a similar influence over the public imagination in a couple of generations' time?
Artistic achievement is always easier in retrospect. 'Contemporary art' is, inevitably, a much woolier proposition than the neatly labelled movements of previous decades. With a few notable exceptions, both critics and the public need time to give them the perspective, and proof of longevity,  that declares a true masterpiece.
But it is possible to sniff out a potential new honour roll. By examining currently active artists in terms of ambition, critical reception and market prices, we can get some hints about who looks set to stand the test of time. Here are eight who might well make it into the art history books for years to come…
Blue by Zeng Fanzhi (2015) 400 x 700cm
The Christ Child by Zeng Fanzhi (2012) 150 x 150cm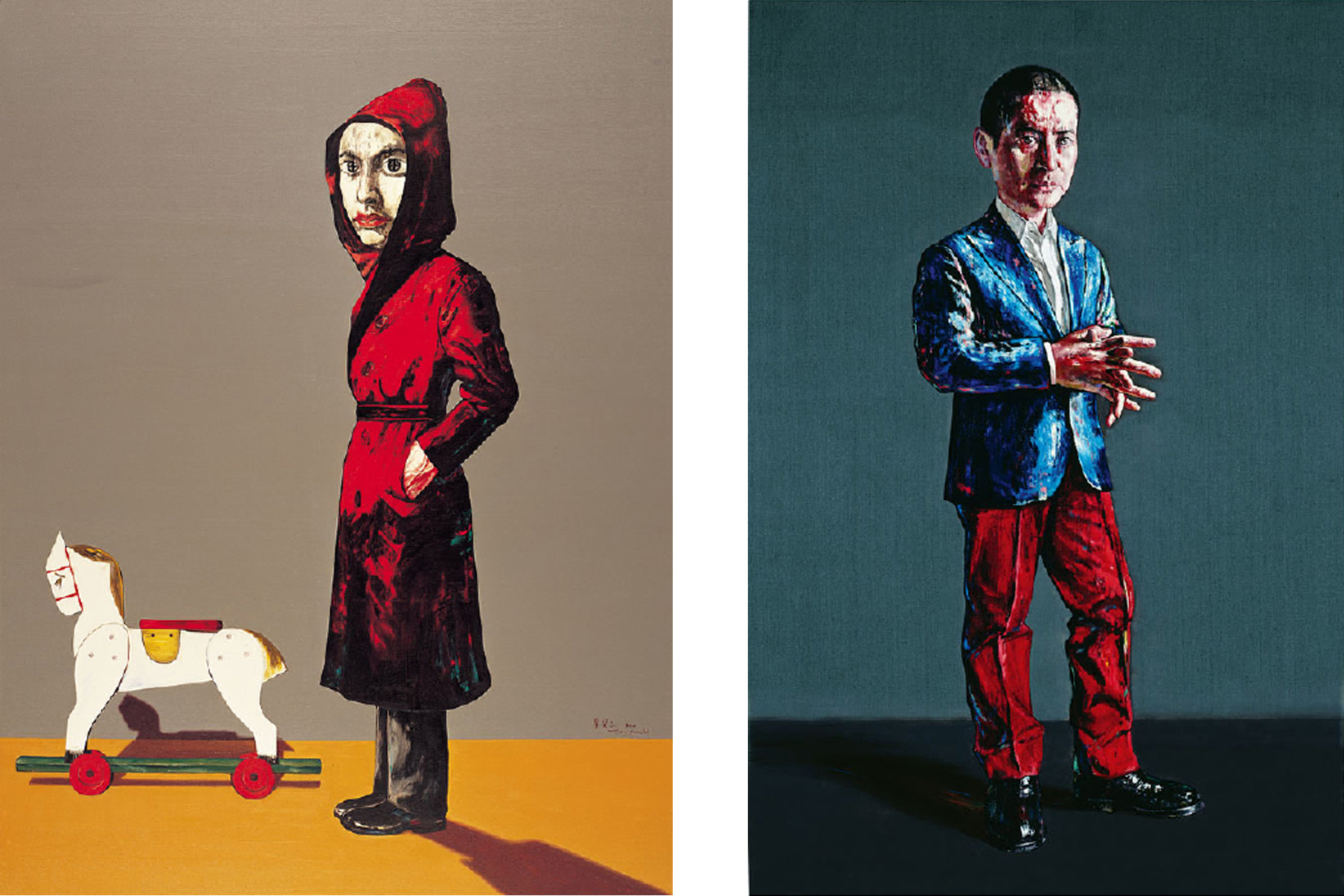 (L) Portrait by Zeng Fanzhi (2004) 200 x 150cm
(R) Self Portrait by Zeng Fanzhi (2011) 150 x 100cm
@zeng_studio
1. Zeng Fanzhi, born 1964 in Wuhan, China
According to the TEAF report of 2017, the Asian market accounts for a 40.5% share of the world auction sales, up from a 31% in 2016. Considering the land mass, volume of people and hunger for collecting their own domestic art, Asia is likely to be a big power in the future of contemporary art, and Fanzhi is one of China's art superstars. His expressionistic portraits, rural landscapes and politically charged motifs are instantly recognisable, garnering acclaim from domestic and international collectors alike, His highest price fetched to date is $23,300,000 reached in 2013 for "The Last Supper" sold at Sotheby's Hong Kong.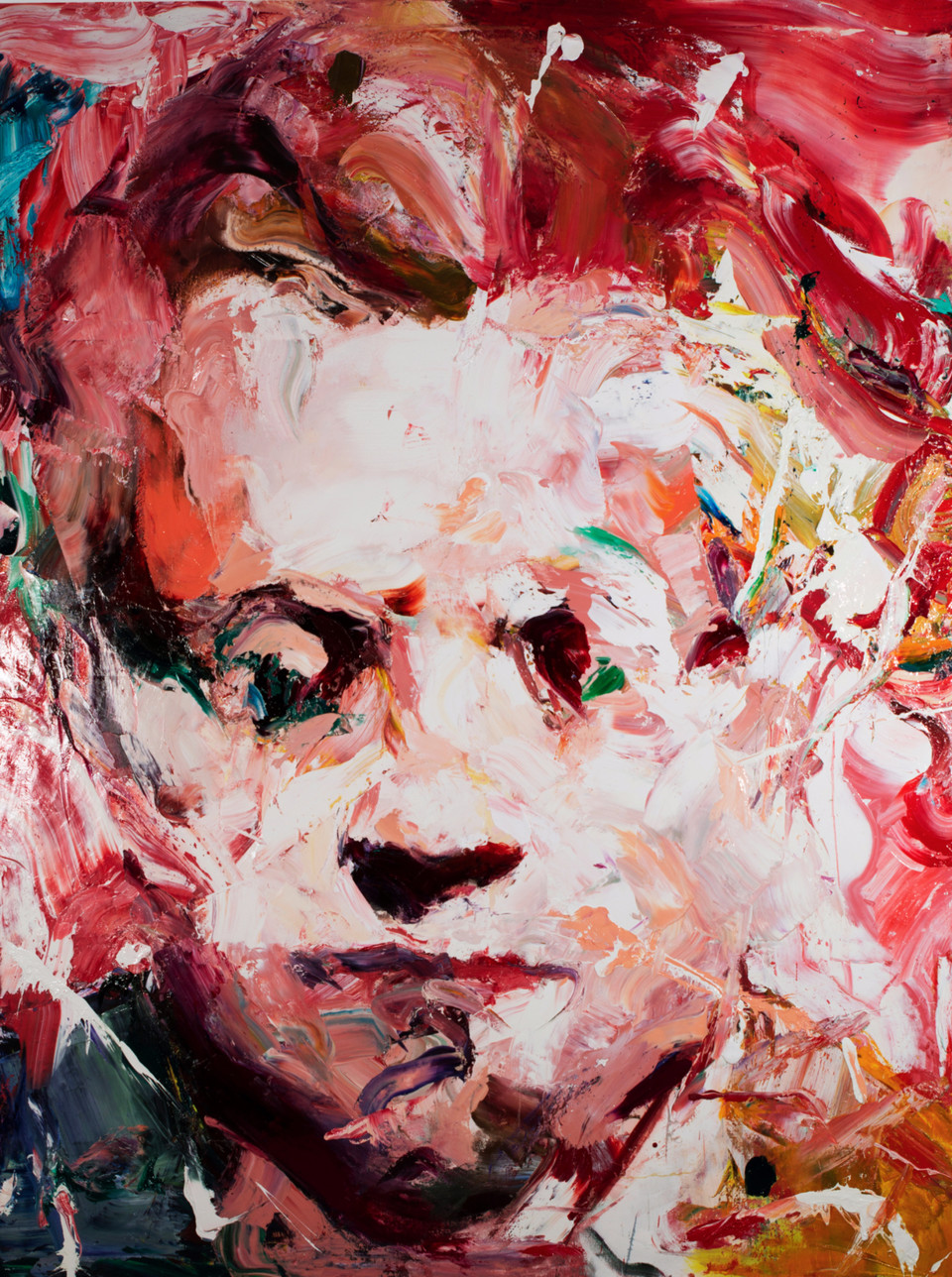 Leonardo DiCaprio by Yukimasa Ida (2017) 259 x 194cm (kindly supplied by
@yukimasaida)
2. Yukimasa Ida, born 1990 in Tottori, Japan
Yukimasa Ida is a young break-out artist who, in the last two years, has raised his profile on the international stage – he was the youngest ever artist to be selected by the LDF (Leonardo Dicaprio Foundation) to submit work for its annual fundraiser last summer. The resulting painting fetched €175,000 and was bought by Daryl Katz, the Canadian billionaire businessman and philanthropist.  Ida's abstract realism is full of both brilliant technique and heart, and his first London show – last October – sold out. 2018 promises to bring bigger and better things for Ida, with a commission under way for a major new museum opening next year.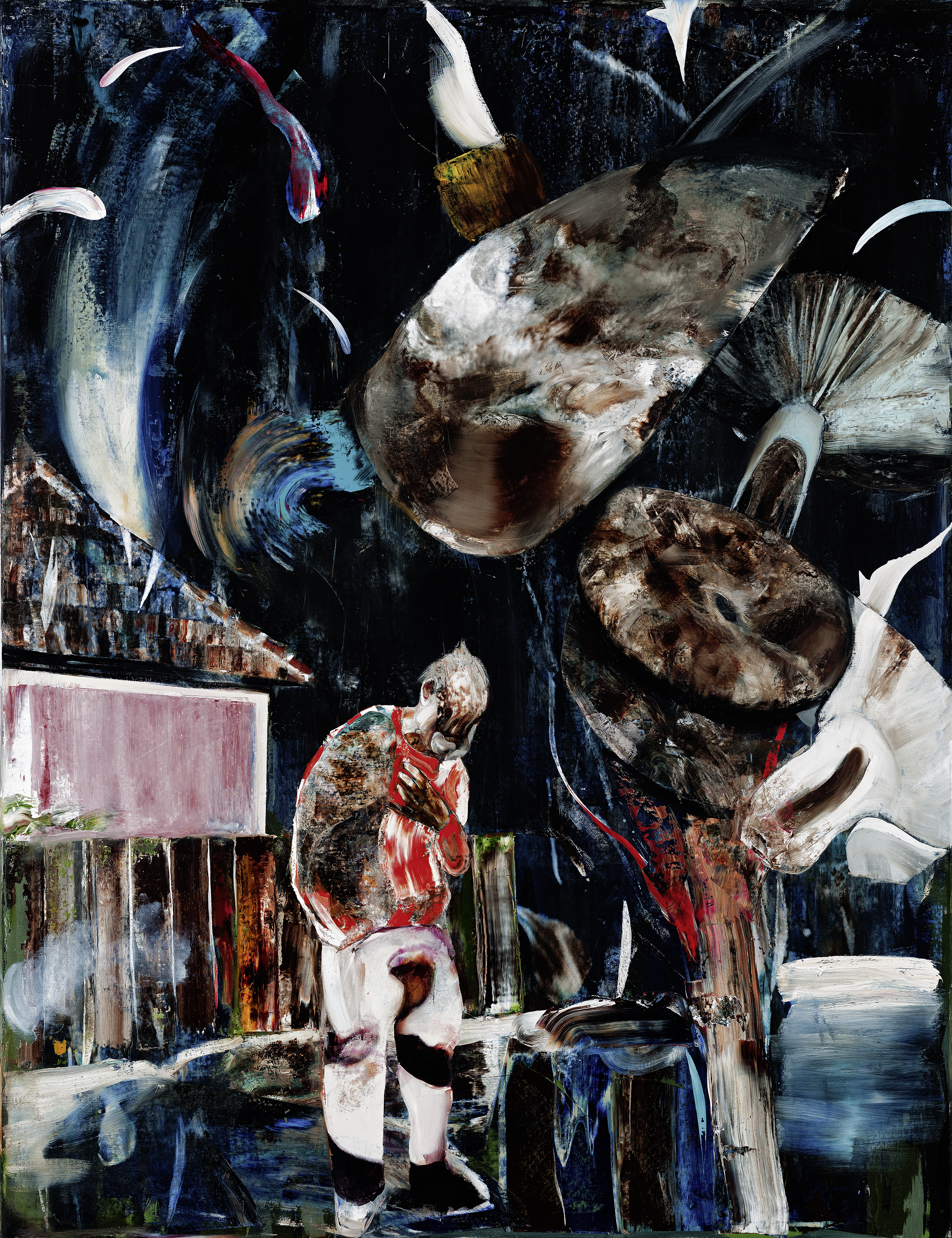 3. Adrian Ghenie, born 1977 in Baia Mare, Romania
Ghenie is known for painting unique portraits of 20th century figures associated with genocide. Using a palette knife and stencil technique, he achieves a raw and distressed aesthetic, with his grisly characters slashed and burnt onto the canvas in a way that viscerally reflects their dark intent. Ghenie is collected worldwide by major museums and public collections including Centre Georges Pompidou, MOCA and Stedelijk Museum voor Actuele Kunst, Ghent. Ghenie's highest price fetched to date was £3,177,000 for "The Sunflowers of 1937" sold at Sotheby's in 2016.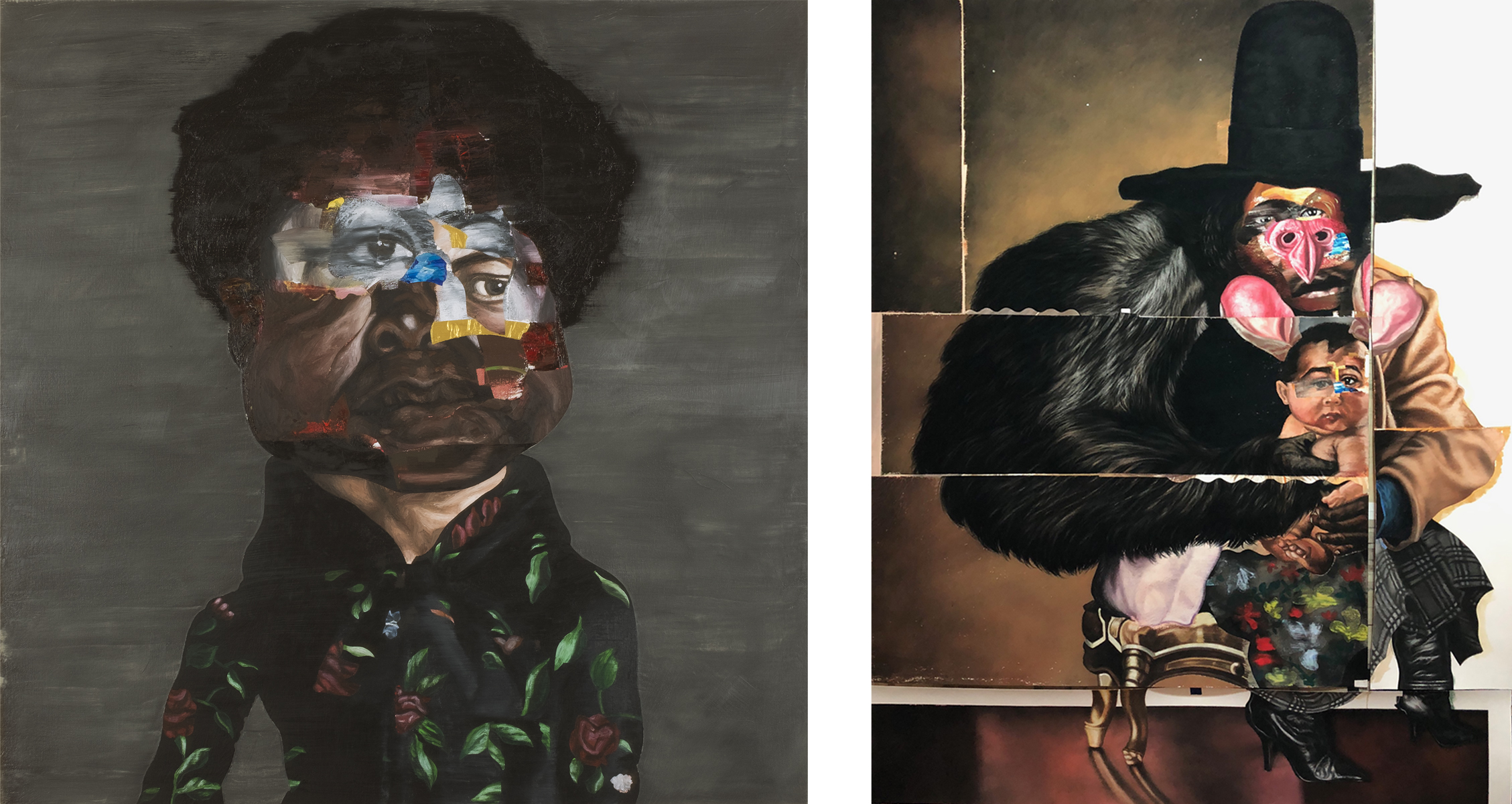 (L) Pool Hall by Nathaniel Mary Quinn (2017) 91 x 91cm
(R) Big Rabbit, Little Rabbit by Nathaniel Mary Quinn (2017) 183 x 142cm
Kindly supplied by @nathanielmaryquinn (IG)
4. Nathanial Mary Quinn, born 1977 in Chicago, USA
Quinn grew up on the South Side of Chicago in a housing project, one of of five boys. Quinn's work draws upon his own family and background, with discombobulating yet beautiful results, redolent of Francis Bacon. His paper works are an aggregate of abstraction and figuration, taking a mixed media approach utilising black charcoal, oil-paint, paint stick, gouache, oil pastel and cardboard. Quinn was invited in 2014 to show with Pace London, which confirmed his arrival on the scene, and achieved a sell-out at Art Basel last year. His work currently sells for between $3,000-$60,000 and he seems set to follow Kerry James Marshall as the next torchbearer for African American art in a landscape dominated by old white guys.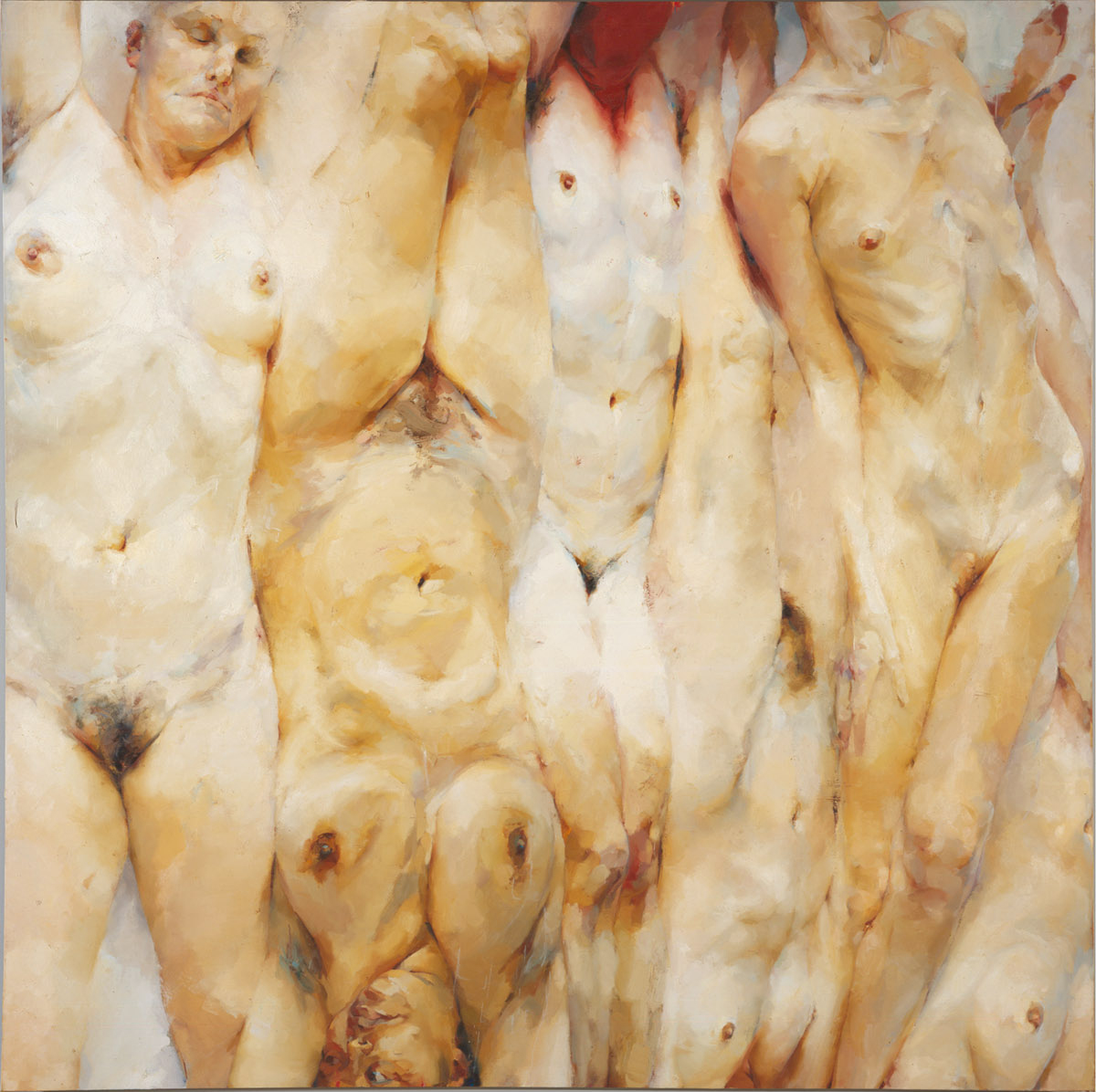 Shift by Jenny Saville (1996) 330 x 330cm @jennysaville (IG)
5. Jenny Saville, born 1970 in Cambridge, UK
Perhaps the least flashy of the Young British Artists cabal, Saville is known for her large scale painted female nudes. A painter of modern life and modern bodies, her work is instantly recognizable and full of emotional power, making it coveted by collectors and museums alike. Saville's highest price fetched so far is £6,800,000 for the picture "Shift" sold to the Long Museum, Shanghai in 2016. It's great to see a woman achieving top-level prices in a notoriously male industry.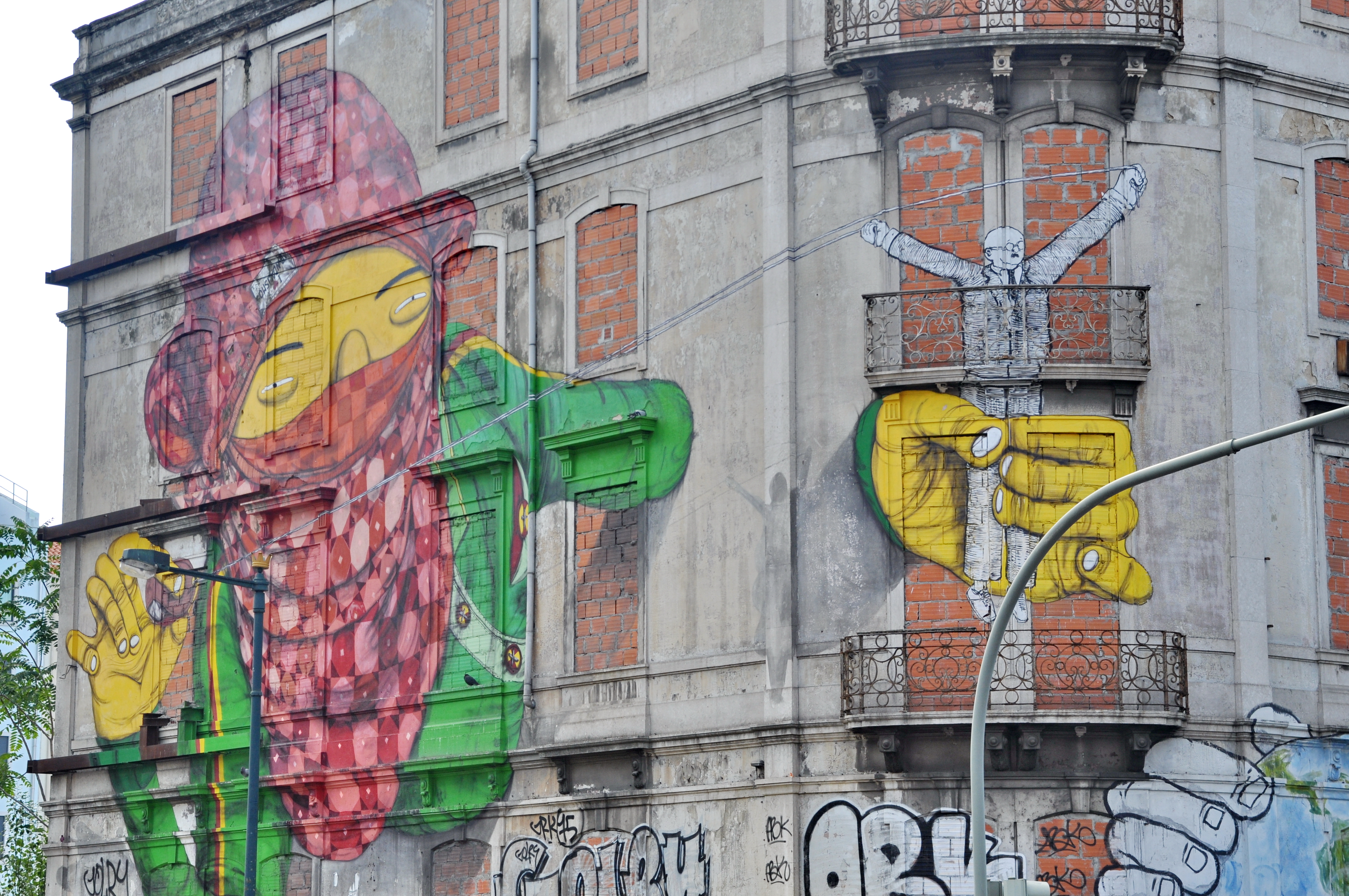 By Osgemeos (2010) in Lisbon
@osgemeos
6. Osgemeos, born 1974 in Sao Paulo, Brazil
Osgemos comprises the identical twin brothers, Otavio and Gustavo Pandolfo. These street and graffiti artists are famous for their yellow-skinned characters, both in simple tags and incredibly detailed murals. They tackle everything from family portraits to social and political commentary on Sao Paulo. Their work can be seen on streets around the world but now in global museums too – they contributed six large-scale murals for a Tate Modern exhibition in 2008. With comparisons to Bosch and Escher, and a $300,000 private sale under their belts, they seem to be making the difficult journey from street art to museum piece with gusto.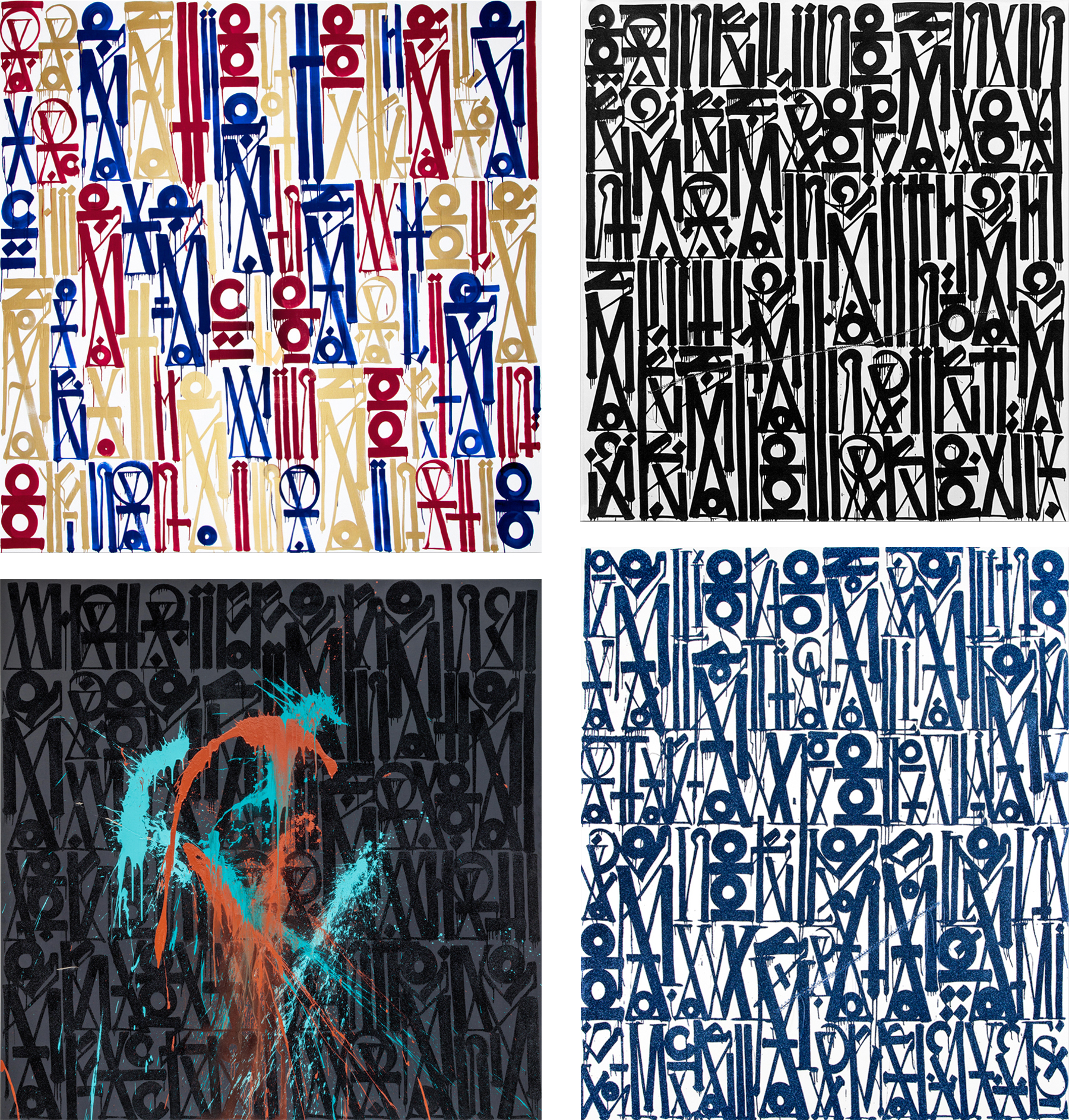 (TL) A Destination To The Legacy of Great Achievements Who Lives Above The Clouds by RETNA (2013) 244 X 244cm
(TR) Gambling, Numbers and Dope by RETNA (2014) 665 x 620cm
(BL) What Difference Does It Matter What I Say. You're Gonna Do Whatever The Fuck You Want Anyway by Retna (2014) 244 x 244cm
(BR) Forgotten Dialects by Retna (2014) 244 x 213cm
7. RETNA, aka Marquis Lewis born in 1979, Los Angeles
RETNA's unique script, that has been developed from Egyptian Hieroglyphics, Arabic and Hebrew calligraphy, makes for a powerful and unmistakeable visual signature. Jeffrey Deitch, Swizz Beats and Usher collect his work, and his consistent success at auction peaked with a piece called "Entitled", which sold in 2014 for $48,000. Jonathan Cheung, Head of Acquisitions for Maddox Gallery and the rep for RETNA in the UK, says "Contemporary art is about breaking boundaries, something that is out of the ordinary – RETNA is an artist that I believe fits directly into that category. You could arguably say he bridged the gap between graffiti and fine art."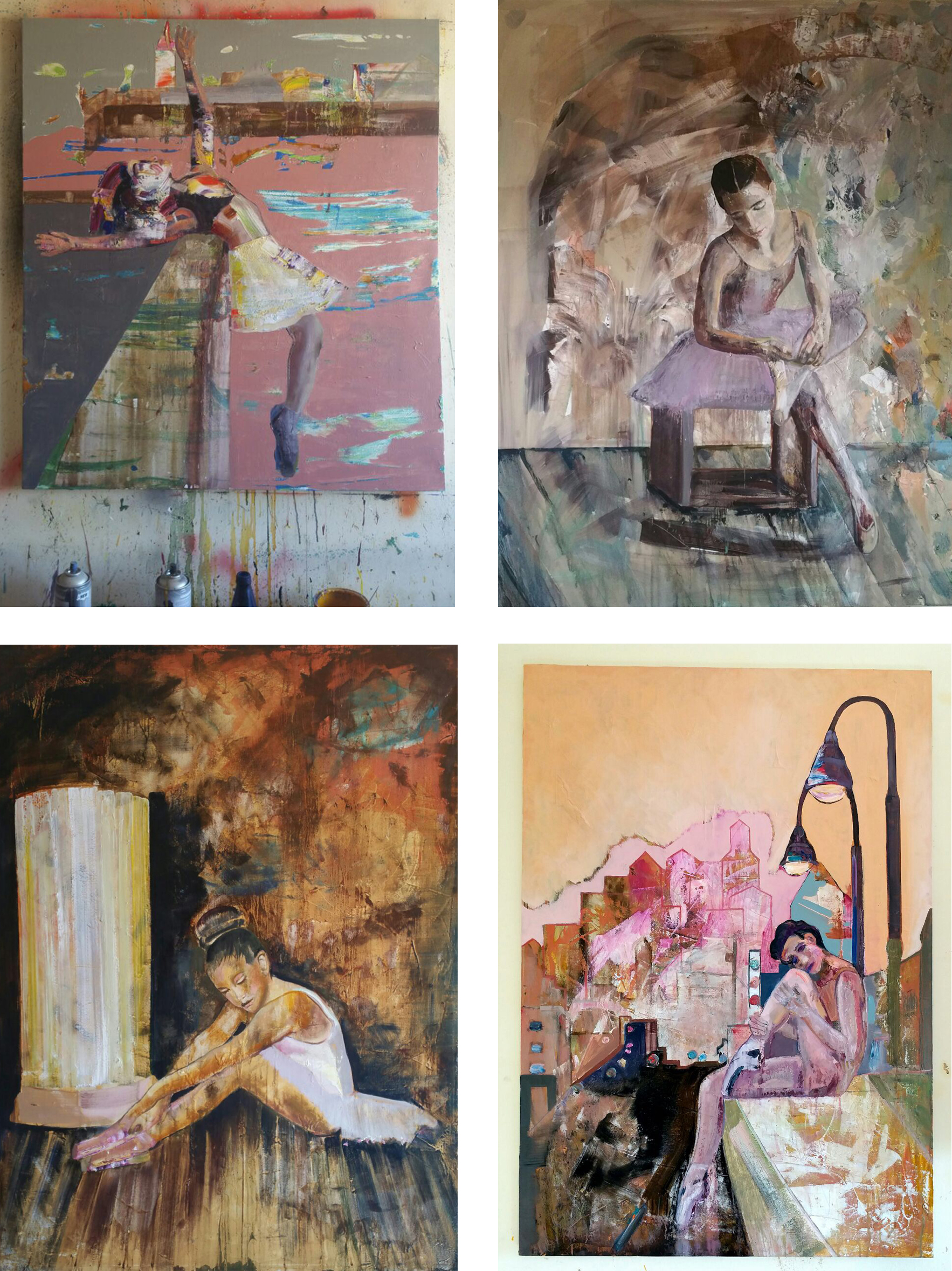 Various Images of new Artist Ornela Gjoci (2016/2017)
Kindly supplied by @ornelagjoci (IG)
8. Ornela Gjoci, born 1996 in Tirana, Albania
Young contender Gjoci has so far not exhibited outside of Tirana, but her skill and vision promise great things. Working with oil paints on canvas, her subjects are mostly young girls posed as ballet dancers or playing instruments, and her style is figurative – think heavy abstraction, blending with geometric lines that blur into the horizon. One to watch – and collect now, before she hits the big time, if you have any spare cash.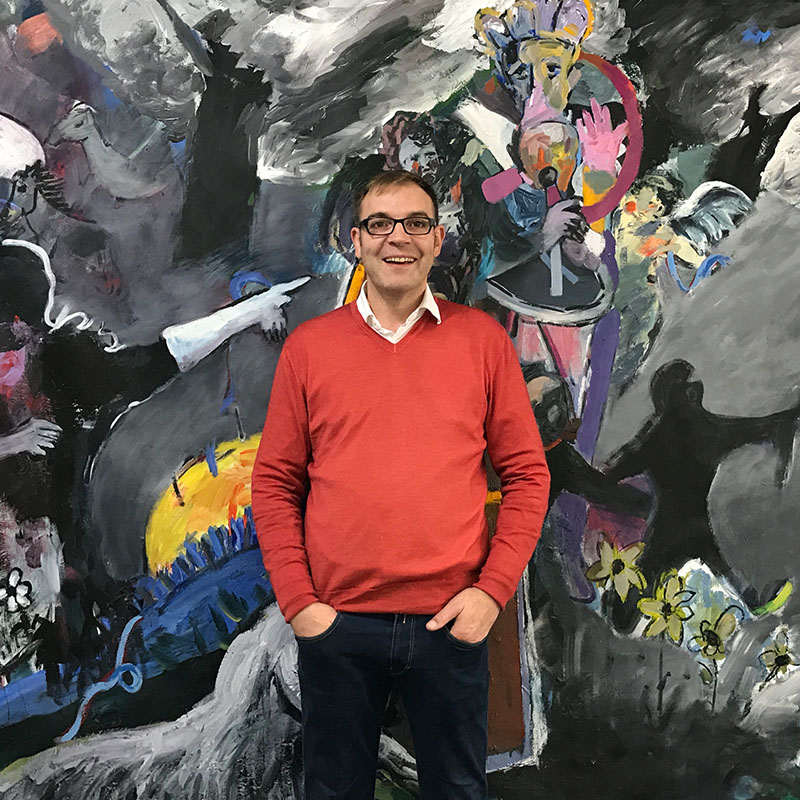 JUSTIN COOK
Art Dealer
Justin is a London-based contemporary art dealer who is continuously sourcing the most exciting new artists from around the world. He comes from a music business background and is used to travelling great distances to find the best artists. Justin also produces art shows with exciting brand crossover concepts.