A seasoned Editor's guide to standing out while fitting in
Words Hannah Kane
Photography throughout Christina Fragkou
Illustration Aase Hopstock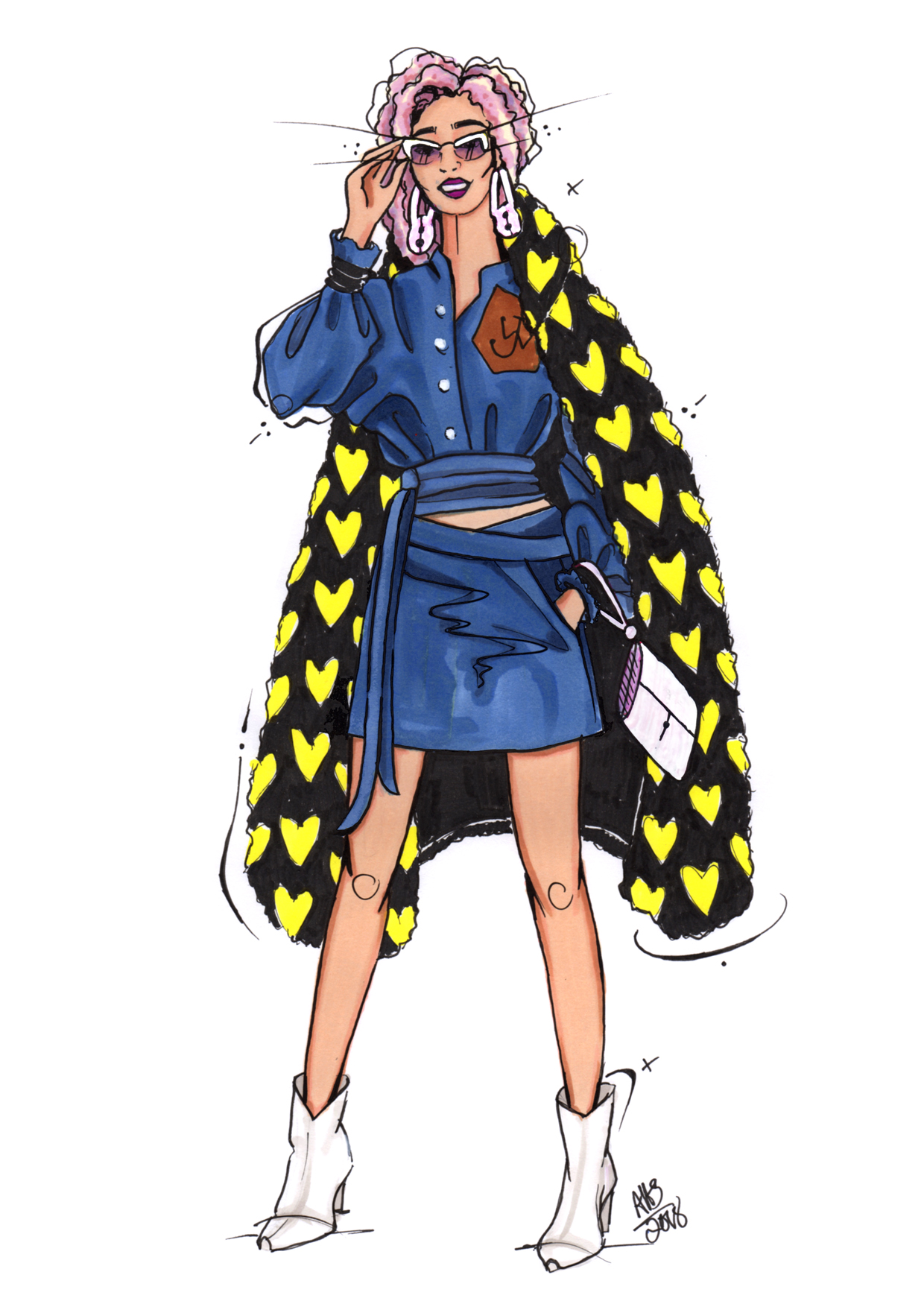 More is More
Fashion Week is time to network, and there's no better way to get yourself noticed than to take the 'roll in a big pile of clothes on the floor and see what sticks' approach to styling.  The more unusual combinations the better. PVC and tulle? Yes! Throw on an oversized Puffa jacket for good measure. Plus a Nike bum bag. Mix and match wild prints – good taste has no place on the FROW. We joke, but in reality it's a fine line between avant-garde and comedic. Much praise for the super-stylists and bloggers who get it right.
All Black Everything
Still the default setting for half the industry; when in doubt, stick to impeccably-cut tailored pieces in 50 shades of noir, mixing up textures and fabrics. The people wearing all black, brandishing clipboards and wearing earpieces are the show PRs and must be respected at all times. For an SS18 update try head-to-toe navy, or (you heard it here first) chocolate.
One Amazing Accessory
Investing in one street-style-worthy piece will pay dividends for your style rep. Choose from a hero bag emblazoned with designer logo, an of-the-moment silk headscarf in the style of the Queen's Award winner Richard Quinn, a rope bag by J.W. Anderson, towering 90s Buffalo trainers, or even a pimp cane. Yes, we've seen it all.
Ticking the Trend Box
Trends in fashion act like a secret code of belonging, so during Fashion Week you'll be able to spot the key looks of the season many times over. This September we'll be playing "trend bingo" with heritage checks, kilts and tweeds; highlighter brights; leather clad biker grrrl; liquid silver; fabulous animal print; and old-school logos.
Statement Outerwear
September's weather can be changeable in London (although we're seeing increasingly hotter ones – hello climate change!). Either way, savvy show-goers will always have a great jacket or coat to throw over the top. Sounds simple, but the key is to check the forecast. If it's raining go for an edgy PVC trench; if it's cloudy but cool grab an embroidered silk bomber. Chill in the air? Swaddle yourself in a coat that costs more than most people's monthly salary, accessorised with salon fresh blow dry, a la Anna Wintour. 
Denim
Wearing denim to fashion week says "I'm so important, I don't need to try". However, it should always be off-set with a very nice (read very expensive), bag and/or shoes. Beware trainers that lead you into dangerously casual normcore territory. There are seasonal shifts in how denim should be worn – at the moment it's all about heavyweight fabrics and wide cuts that swathe the wearer's silhouette, with frayed, deconstructed hems.
A Smile
Actually, this is a hopeful suggestion I'm throwing out there. There's nothing more depressing about your choice of career path than being elbowed in the queue for the free champs/goody bag by someone born in the 90s bemoaning how exhausted they are because they've had, like, sooo many shows and parties to go to. Plus, the endless catty remarks, hair flicks and rolled eyes as "oh my gaaad, what is she wearing?" gets whispered in a fash-pack drawl. Instead, why not be nice, kids? People watching is fun but the serious players never feel the need to bitch.