Welcome to Love Trails, the Independent Running and Music Festival Where the Highs Are Purely Natural
Hands up who's keen for the run-to-wine-tasting?
Words Hannah Kane
Banner Image Tanya Raab 
There are a few key elements you want from a festival, namely great music, beautiful scenery, and good vibes. Love Trails, a three-day trail-running and outdoor adventure festival set in south Wales' beautiful Gower Peninsula ticks all the boxes, plus some we never considered. The idea that you might return fitter, healthier and more wholesome than when you left is certainly not a festival experience we're used to.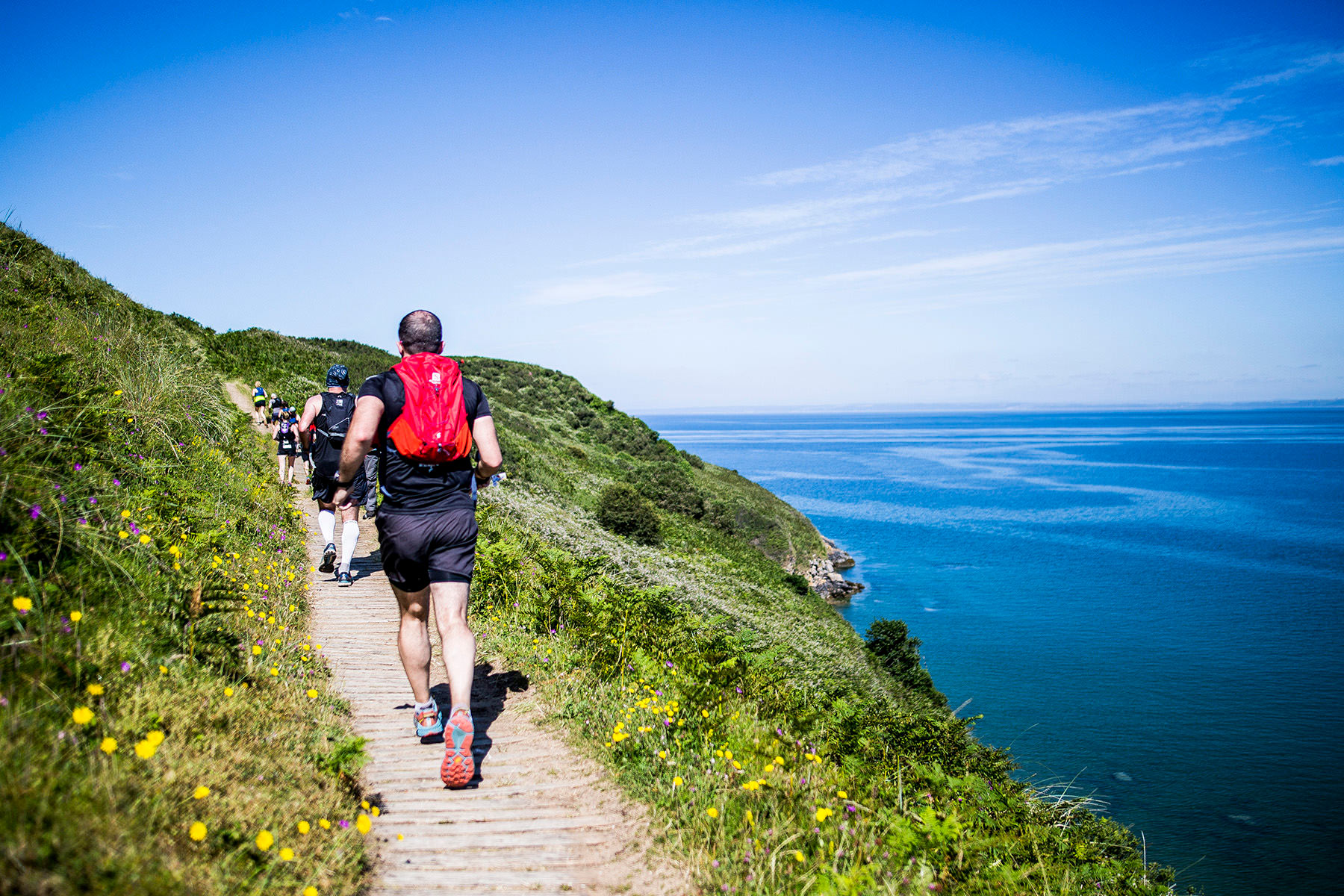 Founded in 2016, the festival has expanded quickly yet remains charmingly bijoux with around 1600 visitors – big enough to have buzz, small enough that you can make friends easily and bump into them over the three days, as if you were at summer camp for adults. The crowd is a mix of your expected hardcore runners, outdoorsy types, general fitness enthusiasts, and a few who were there for the entertainment only (no judgement). It's family friendly, and more unusually for a festival – dog friendly. 
Personally I'm an enthusiastic, if sporadic runner when not in training for a race. I've completed one full marathon and a dozen half marathons, but ahead of the festival I hadn't run properly in 6 months due to an injury. Luckily the runs range from easy 3km beach jogs to mammoth 55km 'ultra' distances – not for the faint-hearted, literally. That said, I laced up my trainers and signed up for a 10km guided group run led by London-based female running group WMN RUN, whose mission it is to see equal female participation in endurance sports – currently weighted 80% male, 20% female according to their statistics.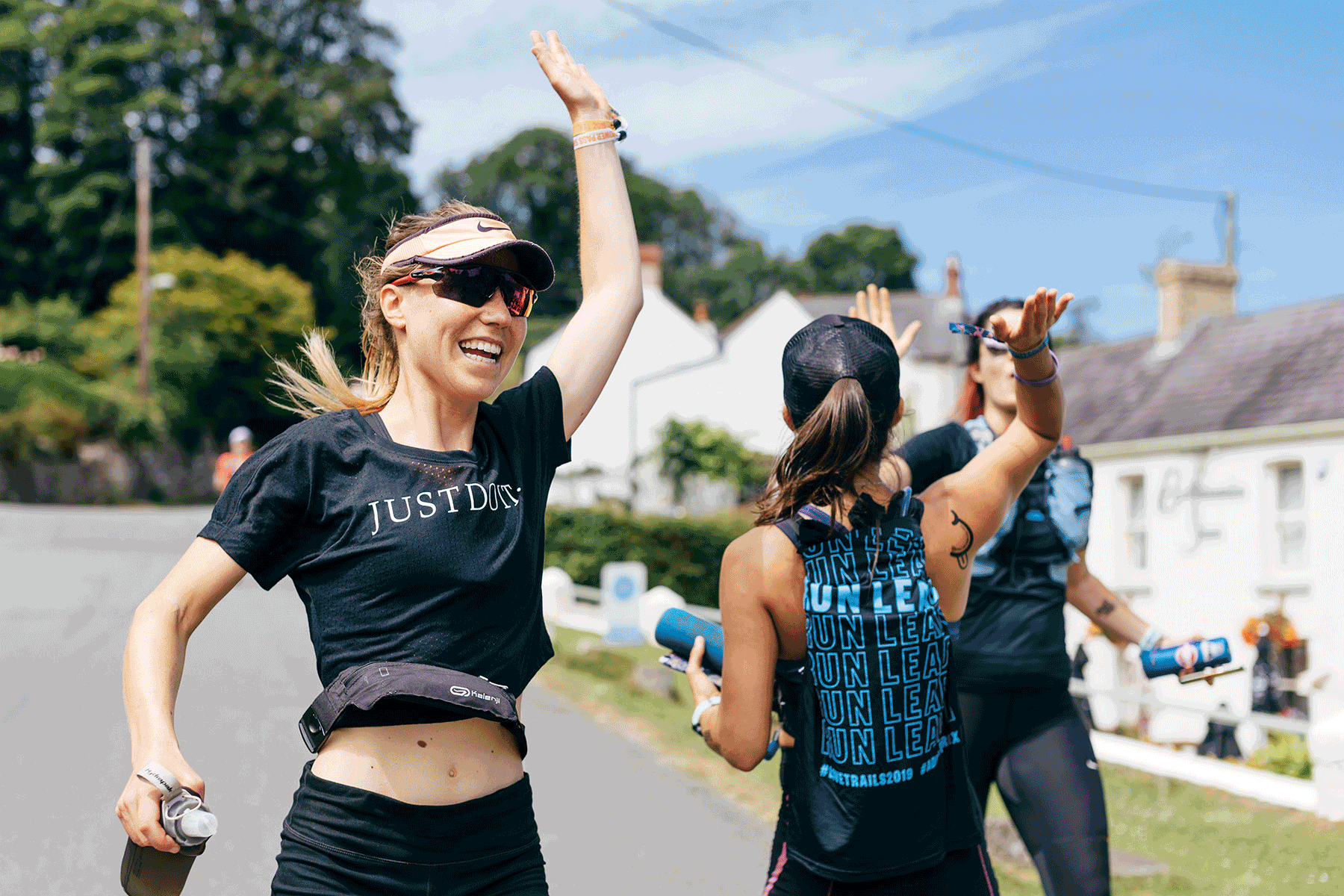 Photography Anna Rachel & Clement Hodgkinson
We set off at a brisk pace across grassy farmland, through undulating woodland, with a brief detour as we tried to cross tidal marshland and failed, rerouting down to the coast where we fought through deep sand dunes to experience a memorable run along a deserted beach. By the time we got back we'd clocked 15km, but there's nothing like adrenalin and running with a pack to help you go the distance. 
With achy legs, my second day run was an 8km women's run led by festival sponsor Salomon, which ended up being a gruelling near vertical climb in the blazing heat at a blistering pace. As we reached the hill summit, the view over the peninsula was worth it, but my resolve is to return considerably fitter next year.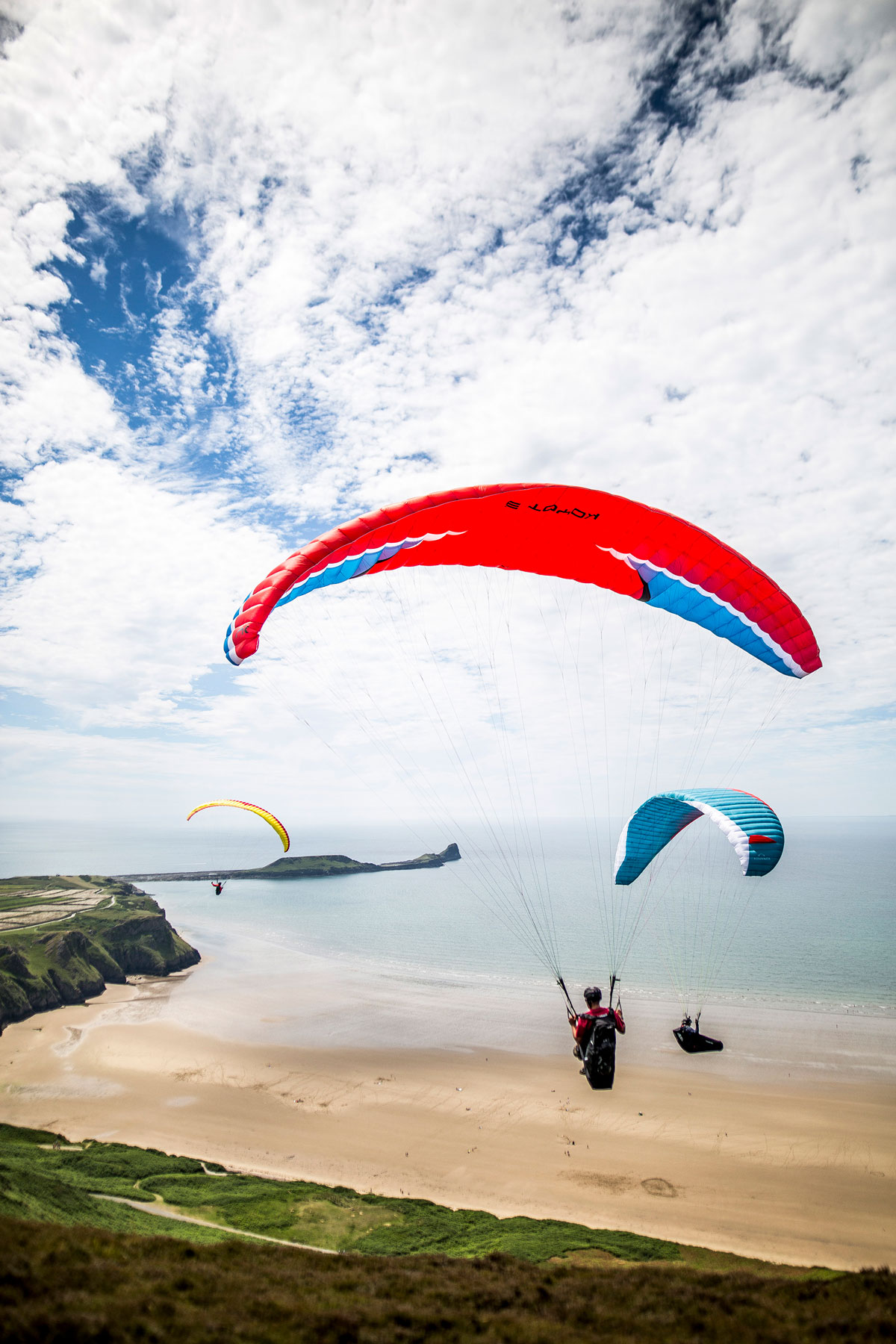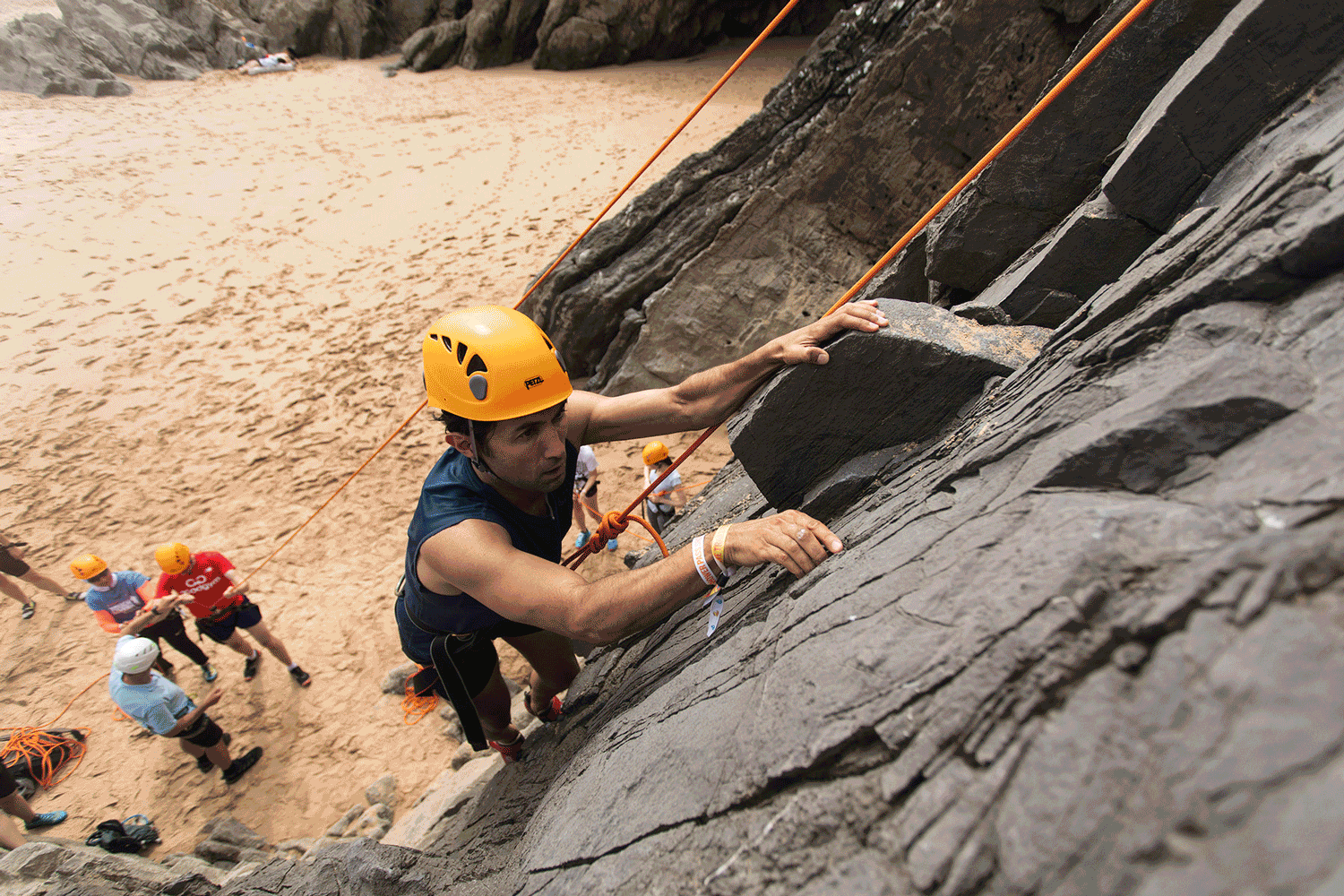 Photography Anna Rachel & Clement Hodgkinson
I was tempted by the runs to coasteering, sea kayaking, rock climbing, surfing, and wild swims, but again, I think you'd need to be feeling strong to get the most out of them. There were also a few novelty runs, such as the infamous 'Beer Mile' relay, where teams down a pint of the festival's own brand beer (yes really, the running festival has its own beer!) and hurl themselves full pelt around the festival site, a pub crawl run, and a run to wine tasting. Cheers!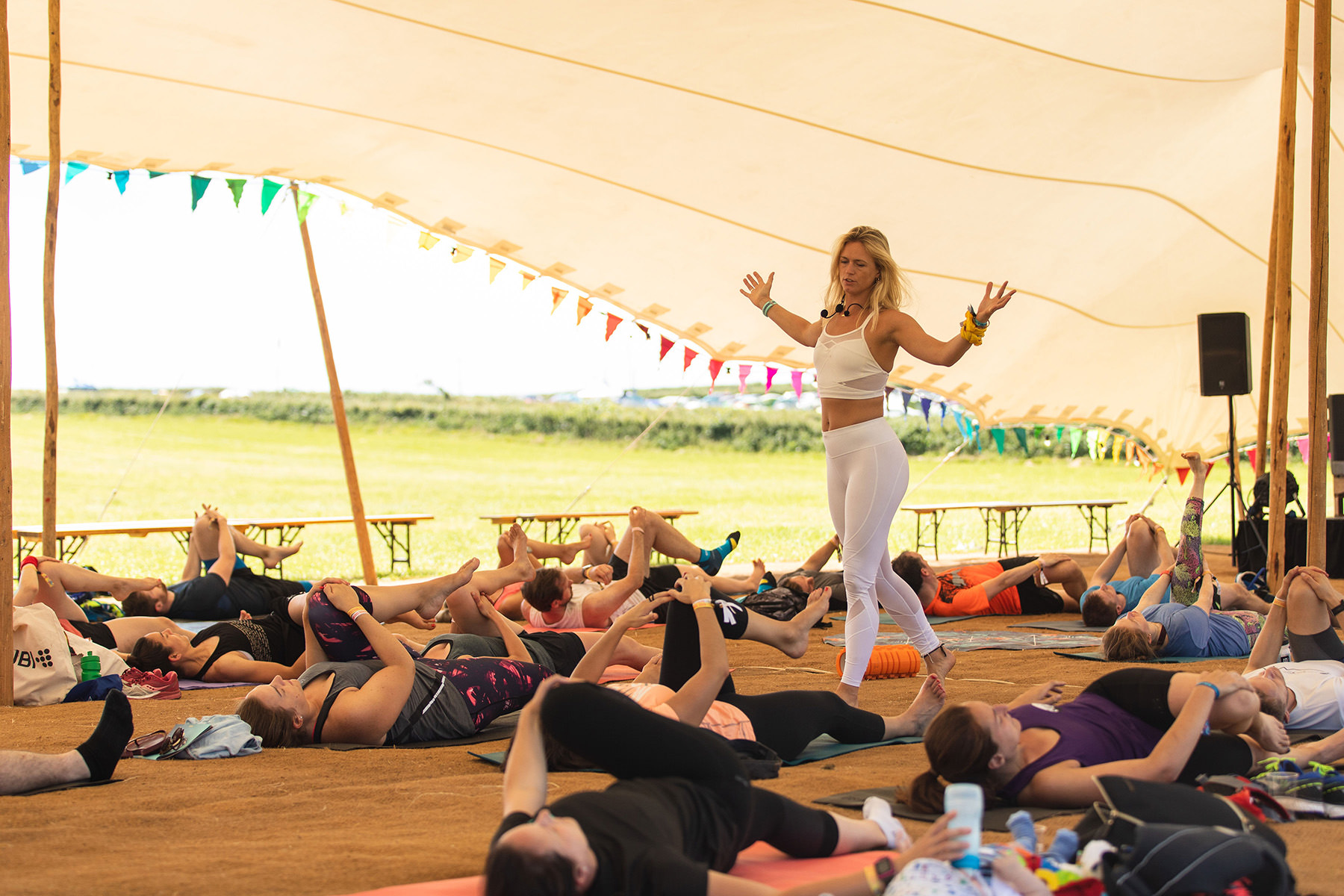 Photographer Clement Hodgkinson
After all that exercise, it's important to stretch, and Love Trails offers a varied programme of yoga and pilates. Highlights included a pumped-up pilates session to the music of Queen by Hackney based Strong + Bendy, an inspiring kundalini yoga session by Doug Wilson, author of Kundalini Running, and a laugh-a-minute yoga class suitable for all levels by charismatic Run Dem Crew co-founder Charlie Dark, a DJ, poet and youth mentor who discovered running aged 35, and yoga later as a way to minimise injury. 
For a luxury festival experience, the cherry on the cake was the Estuary Spa, an area of wood-fired hot tubs, plunge pool and sauna with a jaw-dropping view overlooking the Gower, all in the shadow of the majestic, ruined Woebley Castle no less. Revellers can book time slots at the spa and enjoy gin-based cocktails from the mobile bar. I certainly did.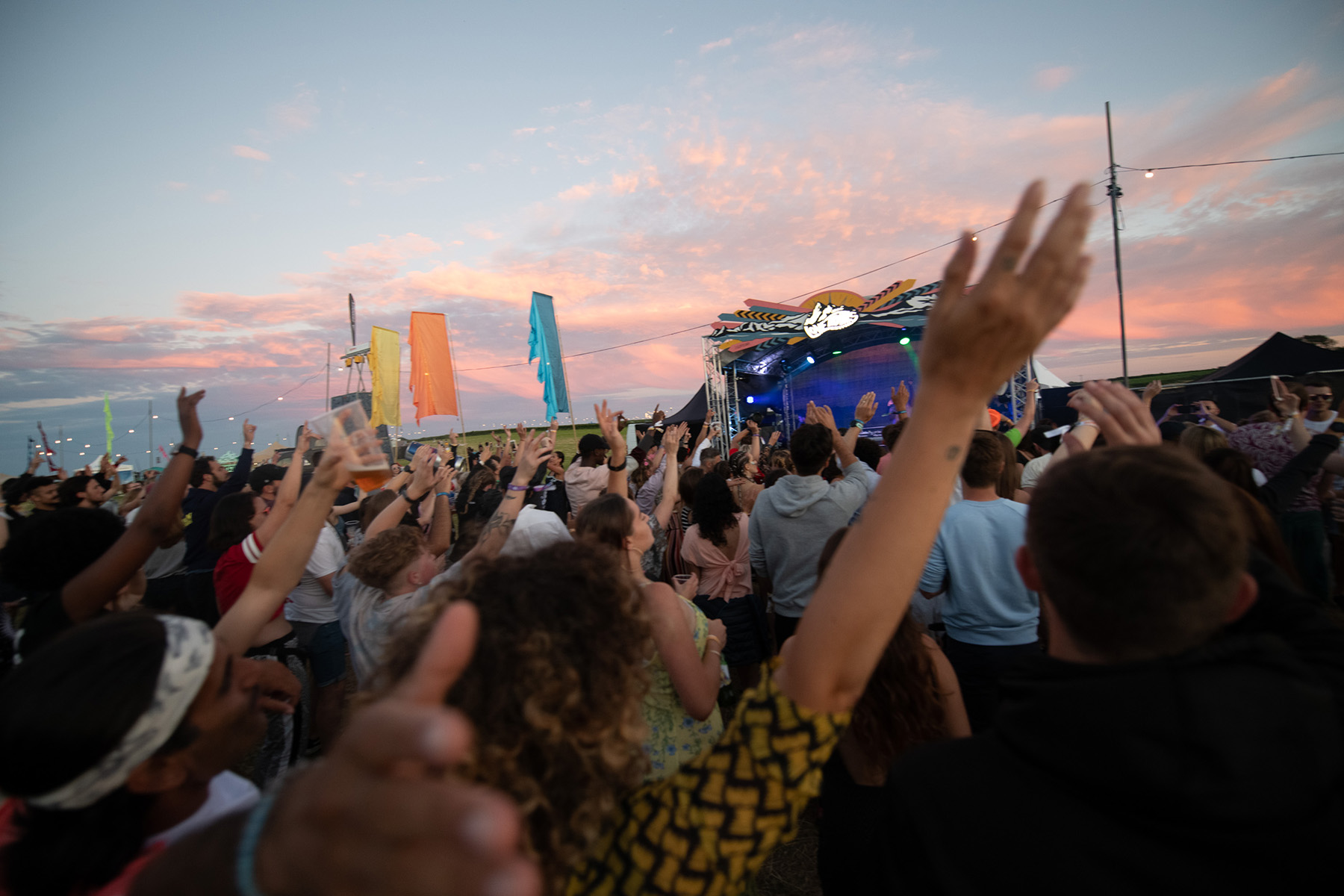 Photographer Simon Roberts
The music kicks off early afternoon, and while the line-up was what you might call streamlined, the quality of the acts was surprisingly good, including names such as DJ Luck and MC Neat, DJ Melody Kane, The Hackney Colliery Band, blindingly energetic electro-swing band The Correspondents, and my highlight – Afriquoi, a fusion of African dance music, Congolese guitar, Gambian kora and UK electronica. 
Down time can be spent listening to inspiring talks by athletes such as Ross Edgley, the adventurer who swam round the British Isles, writer and community leader Danny Bent "voted one of the 100 happiest people in the UK, and one of the 50 most inspirational people in London", and a host of incredible women including Holly Budge "the first woman to skydive Everest and race semi-wild horses 1000 kms across Mongolia in just nine days", elite endurance runner Anna-Marie Watson, and Sarah Thomson, "a life enthusiast, endurance athlete, surfer, and world record holder." That weekly zumba class just doesn't cut it. 
My takeaway feeling from the festival was how refreshing it was that it appeared to be completely drug-free, with people dancing wildly through purely self-generated energy. Amazingly the party raged until the early hours of Saturday night / Sunday morning – and (for the most part) everyone got up for their Sunday runs. The location is second to none, and blessed with good weather it was nothing short of a life-changing weekend that has kick-started my training for a half-marathon this autumn.