Not yet made it to Deptford's culinary hotspot? Book a table now – and in the meantime whip up your own version of its winter hero dish
Words  Mary-Jane Wiltsher

On our Tuesday night visit to Deptford's Marcella, there isn't a single spare seat in the house. Alive with explosive chatter and clinking glasses, the modestly decorated, white-walled space is packed front to back. It's a pleasing hotchpotch of people, too, with older, earnestly conversing couples sat alongside groups of artfully dishevelled young Peckhamites.
The sheer buzz inside is no great surprise. Since its launch in the summer, the unassuming Italian eatery – sister of SE15's Artusi – has racked up countless rave reviews of its small seasonal plates and artisanal pasta, with Grace Dent declaring Deptford 'officially fashionable'. She may, it seems, be on the money: we find ourselves sipping garishly-accessorised aperitifs around the corner, tucked under the railway arches in Royal memorabilia shrine Little Nan's Bar. If a Sexy Frank Butcher cocktail served in a leopard print mug with a whirly straw doesn't indicate that a postcode is having a moment, I'm not sure what does.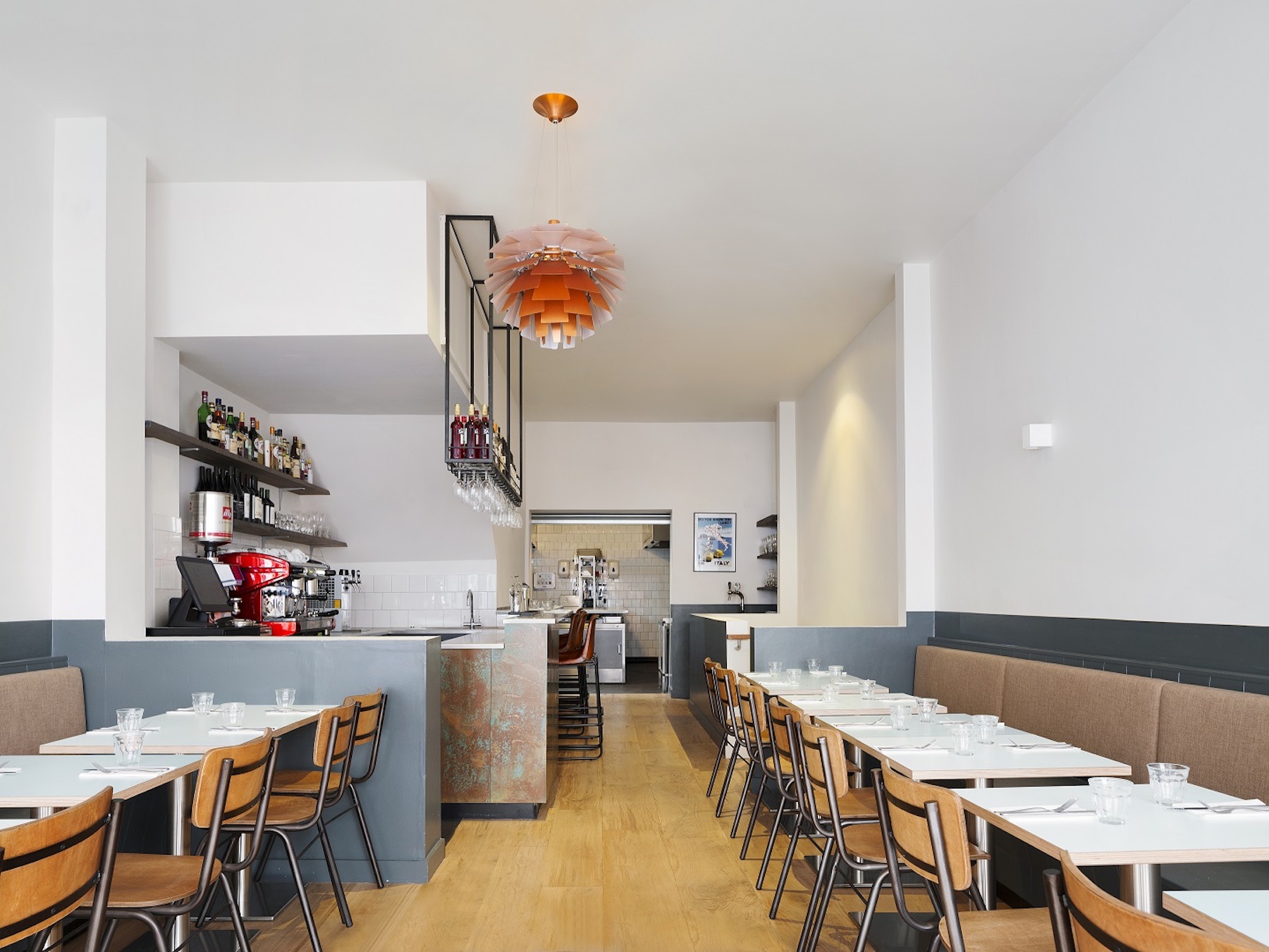 A starter of nutty Jerusalem artichoke enveloped with homemade ricotta and scattered with tarragon and toasted hazelnuts provides a delicious, cloud-like opener. We narrowly miss the last order of fennel and herb sausage, served on a vibrant pepperonata, the heavenly smell of which wafts over from an adjacent table, but we soon forgot our woes when the real tour de force arrives: the pasta course. No ordinary pasta, but hot, slippery tagliatelle heaped with a rich, slow-cooked lamb ragu – blissfully good, and a dish to redefine your ideas of what constitutes true comfort food. A simple serving of buccatini with anchovies, chilli and a drizzle of olive oil is slurpable enough, but a touch too heavy on the garlic for our taste. Marcella's larger plates are similarly deft in their execution – like the roasted cod, whose mild and succulent flesh is matched with a sweet mass of squash and spinach leaves, and studded with crisp, salty lardons. We finish – though we are rather too stuffed to fully appreciate its excellence – with the lightest sliver of torta caprese, Italy's traditional flourless chocolate and almond cake, topped with a snowy dusting of icing sugar.
Marcella nails that rare and wonderful combination of genius and humility, fastidious in its attention to flavour but relaxed and unfussy in its style of delivery. The service is warm and genuine, the wine list streamlined but faultless. Take your friends, treat your family. Go.
And – if you can't go immediately, make this heart-warming dish of braised lamb shank with soft polenta in the meantime. With its hunks of tender, juicy meat cooked in red wine and rosemary, teamed with a garlicky, parmesan-oozing side of polenta, it's a dinner party showstopper. Grazie mille, Marcella.
Braised Lamb Shank with Soft Polenta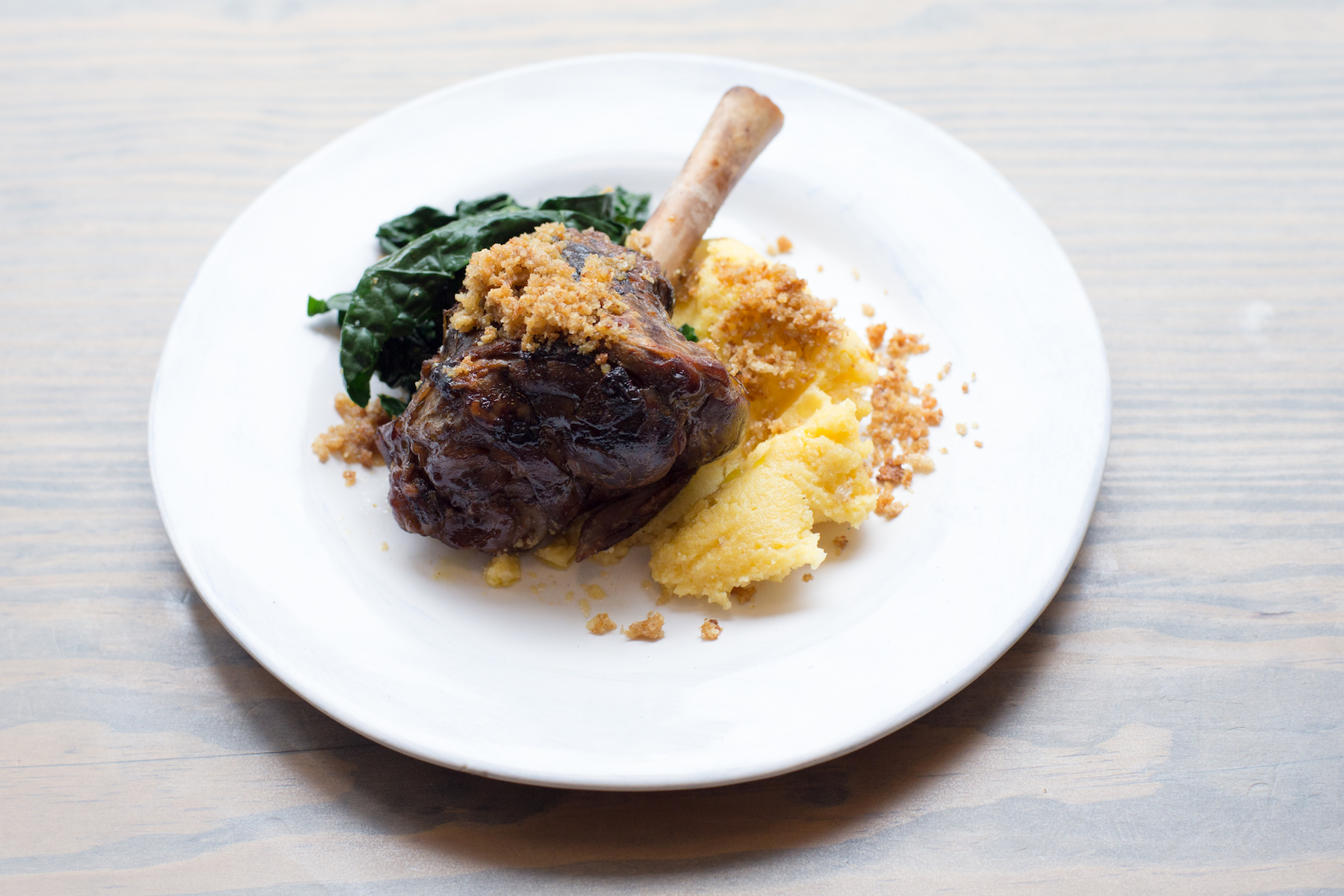 For the lamb
4 lamb shanks
2 onion, sliced
1 stick celery, sliced
1 head garlic, cut in half
1 carrot, diced
4 fresh bay leaf
2 sprigs rosemary
Glass red wine
Chicken stock
75ml extra virgin olive oil
For the polenta
200g polenta bramata
1000g water
8g maldon salt
100g butter
Marjoram
2 clove garlic
100g parmesan, grated
Method
1. Brown the shanks in the oil in a heavy bottomed pan, then remove and set aside.
2. Add the sliced onions and cook until golden.
3. Add the rest of the vegetables and herbs, then sweat for 4 minutes.
4. Deglaze with the wine and reduce.
5. Place the shanks back into the pan, (you want them to be as tight fitting as possible, in one layer).
6. Spoon the veg over the top of the lamb, and add enough chicken stock so as to fill the pot half-way up the height of the shanks.
7. Add a big pinch of Malden salt, cover with parchment, then a lid.
8. Make sure the stock is boiling, then place in an oven at 140C.
9. Cook until the meat is tender (check after 3 hours).
10. Bring the water to the boil.
11. Whisk in the polenta and the salt and whisk until it is boiling.
12. Turn the heat down and cook for approx 45 minutes until the polenta well cooked.
13. Fry the garlic and marjoram in the butter until garlic is lightly golden and you can smell the herbs.
14. Strain the butter into the polenta (off the heat), add the parmesan, and beat them both in with a wooden spoon.
15. Serve with some greens, such as cavolo nero.