The DJ, composer and mum-to-be shares her eclectic inspirations during our neo-noir inspired night shoot
Interview Mary-Jane Wiltsher
Photographer Euan Danks
Fashion Editor Nini Khatiblou
We're 37 floors up in the glass-and-chrome heart of Canary Wharf, with London shimmering like a toy town below. Bathed in Blade Runner-inspired hot red and cyan blue light, Kate Simko teeters on a pair of high-shine boots, her elfin features crowned with a blonde 1940s back-roll. The Chicago-born composer, producer and DJ is six months pregnant ("I can't believe there's a little alien in there!") and nursing a sprained ankle ("I was jogging – not the best idea, my centre of gravity is way off right now") – but she powers through the shoot with unhindered enthusiasm.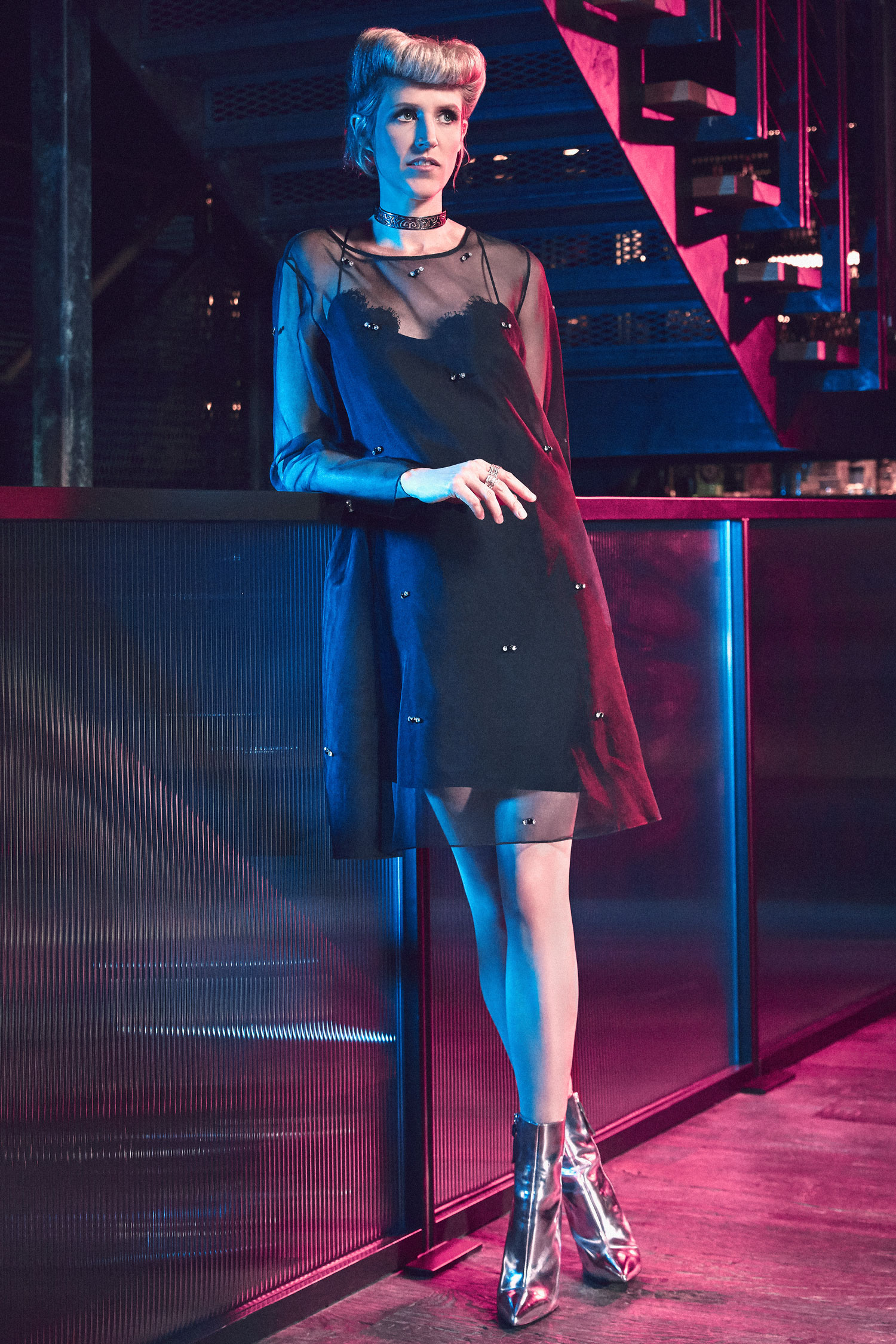 When we meet a week later in Broadway Market, a short stroll from Kate's recording studio at Netil House, she is sans-ankle brace and dressed in black gymwear. Hackney – along with Highbury, where she shares a home with husband Brian and Burmese cat Yuki – is very much her stomping ground, and she suggests a café backing onto the Regent's Canal. Between mouthfuls of veggie burger, Kate gives me a rundown of her week ahead. She's substituted jogging with pilates, but otherwise it's business as usual, in spite of the bump: a day of laying down strings in the recording studio, jetting off to DJ at Ibiza's DC10, then boomeranging home in time to play WOMAD festival.
"I get a lot of joy from what I do, so I hate the thought of a show not going ahead," she says, plucking at her bowl of fries. "DC10 is my last trip away before the baby, and obviously if there are any questions about health, I won't get on that plane, but I really want to, you know? Like, there's no part of me that thinks 'you'll be too tired'. I visualise myself there and it going really well."
In the States, new classical music is often very experimental… There's that chin-stroking impression. Over here you have The Little Orchestra selling out Oval Space. Young people are intrigued rather than alienated.
Given what a success story 2017 has been for Kate, it's hard to visualise it going any other way. It's five years since she moved to London to study at the Royal College of Music, where she merged her background as a classical pianist with her knowledge of electronic production to form the all-female, classical-electronic ensemble London Electronic Orchestra. Why all female? "It just sort of happened," Kate admits. "None of it was manufactured. But yes, there's no man behind the curtain, it's all us, which is powerful."
Initially an offshoot of Kate's MA in Composition for Screen, the LEO's textural, hybrid soundscapes – which fuse the power of an orchestra with the rhythmic beat of the dance floor – have since taken them to the Royal Albert Hall. Their debut self-titled LP dropped to widespread acclaim in 2016, followed by the ensemble's first US tour this year. Now back on home turf, they're preparing for one final live show at Camden's iconic Jazz Café before Kate takes her foot off the gas in time for the birth of her baby boy in October.
"It's been a nice transition actually, being able to see so many faces in the States before having the baby, when it'll be harder get around and see people," she smiles. "I played nine shows in total – not just LEO shows, because I was DJing out there too – in a bunch of different cities, and I played Movement Festival on Memorial Day Weekend in Detroit. Jazz Café is the final hurrah, and it's a great venue for the last show."
The tour took LEO to New York, Washington and Chicago, with a live performance for WNYC and sell-out shows at NYC's Rockwood Music Hall and Chicago's Old Town School of Folk Music. The latter, Kate explains, "is one of the most respected venues for hybrid music in the area, and right for a debut. There were lots of friends and family there too, so a huge show of support – it really felt special. We had some cool visuals and used a time-lapse video of Chicago's skyline to create that sense of place." Touring while five months pregnant had its challenges but, in true Simko style, Kate appears resolutely unfased. "New York was a long day, I didn't finish DJing until 3am! But then, it's a hustle city, so we had to hustle."
This month's show at Jazz Café promises to be a showstopper, with designer Jack Irving – long-time favourite of Lady Gaga – working his magic on the costume and set. Kate is heavily involved in all aspects of the production, and has a strong vision of the interplay between sound, lighting and stage design. "We wanted something really mysterious and futuristic," she says, excitedly. "I can't say too much, but Jack is creating an installation for the stage that will really impact on the lighting, our outfits and the overall mood."
My goal is to bring out the natural beauty of the instruments. Philip Glass is a great example of a composer who is able to layer instruments on top of each other in that very tasteful, stripped back way.
Like Kate's heroes Max Richter, Philip Glass and Steve Reich – whose "crossover into the aesthetic of dance music, particularly in their subtle use of repetition or minimalism" is "a huge inspiration" – the LEO founder is a pioneer in her field, seeking out new territory to cultivate fresh sound worlds. When composing, her goal is to "bring out the natural beauty of the instruments", an approach inspired by Glass' ability to "layer instruments on top of each other in that very tasteful, stripped back way." She's a true multidisciplinarian, drawing on anything from modern architecture to acid house when composing new material. "Right now I'm writing a new song, so I might listen to jazzy chords, soul, live disco… but a lot of other artistic mediums can be really inspiring too: interviews, new art exhibits, films."
Talking of which – this year, on the side of touring and releasing an album, Kate also found time to score her first feature length Hollywood film. Lina Pendharkar's 20 Weeks is an indie title about an accidental pregnancy. "It's an interpersonal story about what you do when faced with those kinds of decisions. Not everyone has the perfect pregnancy."
The composer's pluralistic tastes started early on. She grew up on a diet of classical music thanks to her father ("he'd be playing it while riding in his car and I'd look out of the window and daydream") but soon became immersed in the Chicago music scene of the late 90s. "Thrill Jockey was on fire, Pitchfork had just been formed, Kanye West and Common were the Chicago hip-hop sound, and obviously Chicago house music was inspiring the whole world. It was such an amazing time for music in the city." It was during university that she began DJing on the radio and in local bars, developing her own IDM, jazz and world music shows, but "by 2012 things had sort of normalised. I didn't feel challenged there anymore."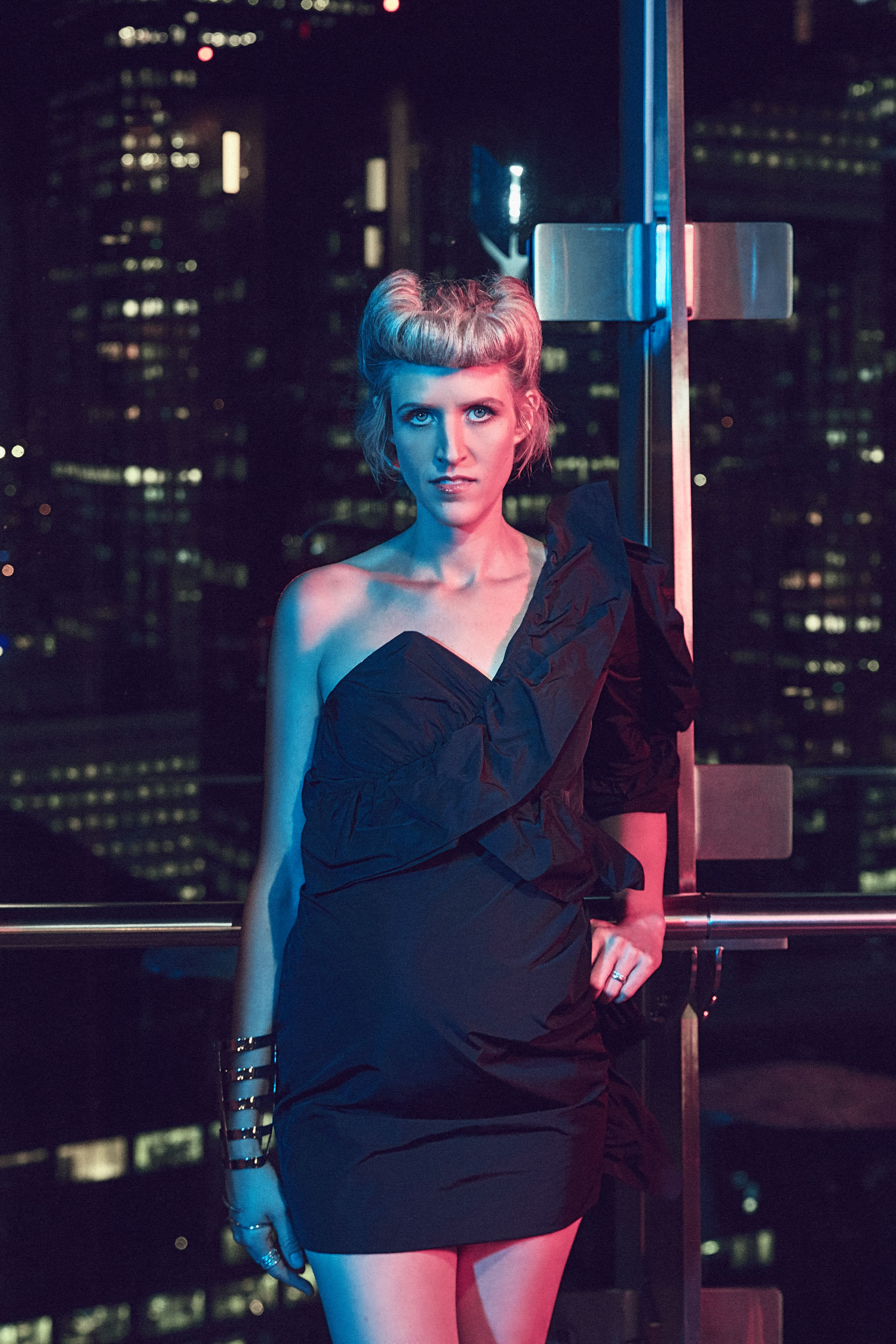 The move to London was "re-energising", driven by a desire to learn how to write for orchestra. RCM gifted her with composition tutors who encouraged her to build on her electronic portfolio, adding an orchestral palette to an already well-defined sound. "They totally respected my background and there was an acceptance that electronic music was still music. That was important for me – I love electronic music and I don't see any less creativity in composing for electronic, melodic or percussive sounds than traditional instruments."
Film music appealed because "it draws on people's emotions, using the orchestra in a more traditional way" (fittingly, 'Tilted', the London Electronic Orchestra's first official track, was originally written as part of a short film score). But with no prior experience in orchestral composition, Kate had to start from scratch. She likens the process to "learning math, or how to blend colours… You're wondering: 'but how do you know?' and then you get to a point where it clicks."
Today, Kate enjoys working in a city with a flourishing classical music scene that has "real diversity in terms of age and ethnicity" and is inclusive enough to allow space for her own brand of hybrid sound. "Growing up in Chicago, we have the best symphony in the States, but at the concerts it's mostly older white-haired people," she explains. "It's not like going to the Southbank Centre and seeing smartly dressed twenty-somethings. In the States, new classical music is often very experimental, atonal, abstract, academic. There's that chin-stroking impression. Over here you have someone like Nicholas Little and his project The Little Orchestra selling out a venue like Oval Space. Jeff Mills is playing the Barbican and Sacha's playing hybrid shows with a string quartet. It's rewarding to not be the only person doing what I do. Young people are intrigued rather than alienated, and they're excited at the idea of a live orchestra bringing to life music that they've heard previously."
[Being an all-female ensemble] just sort of happened. None of it was manufactured. But yes, there's no man behind the curtain, it's all us, which is powerful.
It was the capital's musical eclecticism that spurred Kate's decision to build a life here after graduating, and in five years she's become a fully-fledged Londoner. The north-easterly neighbourhoods between London Fields and Islington are her patch, but she's a regular at Tate Modern and the Barbican and loves wandering around Borough Market. Transitioning into raising a family here and being a mum in music is something she is "feeling really good about – I'm ready to have a pause, particularly having been able to put new work out so close to the birth."
But then, Kate isn't wired in a way that would allow her to take her finger off the pulse entirely. Other than the small matter of having a baby, she has several other projects in the pipeline. There's the upcoming LEO single, due out in autumn, which she wrote around a set of string recordings that she originally composed for Jamie Jones' band Hot Natured. Kate and Jamie are long-time friends and collaborators, and she tells me they have "another project planned, this time involving a full orchestra", which will likely tour in 2018. She's making new dance music of her own, too, with an "acid, tribal kind of feel".
It's time to wrap, but before we part ways, I'm curious to know whether baby Simko responds to Kate's music. She glances down at her bump and grins. 'Sometimes, yeah. But I think it's just the norm for him, you know?' 
Photographer Euan Danks
Fashion Editor Nini Khatiblou
Hair Stylist Dominique Kasperowicz
Make-up artist Ema Kasper
With thanks to Bokan