From actors to jewellers to pro-skaters and concert pianists, the male models walking the international runways are a talented bunch…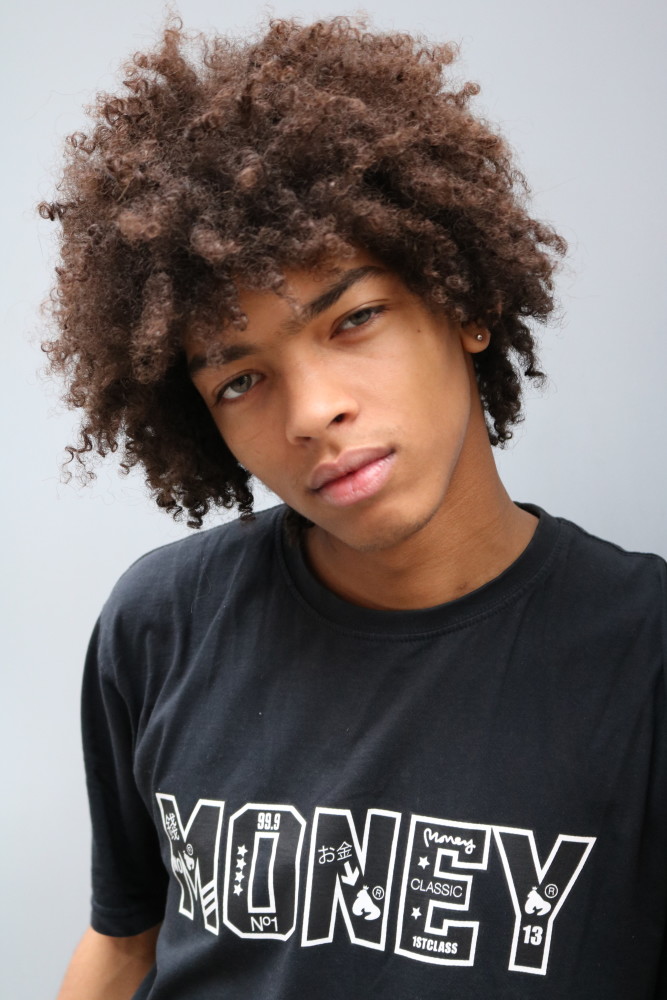 Omari Phipps
Age: 20
1. What's your home town and what's the best thing about it?
I'm from Greenwich in London and the best thing about it is definitely the people. I have a lot of inspiring friends who I've grown up with over the years.
2. How were you discovered?
At Wireless Festival. Funny thing about that is I was trying to sell my tickets that year and didn't want to go but with no-one to sell it too I decided to go enjoy myself and came home with a job.
3. What have been your modelling highlights so far?
I loved my first campaign for the shoe brand Filling Pieces, because I was already a huge fan. The team was great, they flew me out to Iceland to shoot, which is honestly one of the most beautiful places I've ever seen, plus they sent me two pairs of shoes after the job which I cherish to this day. My first big magazine shoot was for Vogue Italia which was shot by Tim Walker and I was shooting with Adwoa Aboah which I think did really help me grow in the industry. At the time I had no idea who they were or their importance but they taught me to be myself and always try to enjoy my work.
4. You've become something of a muse to Virgil Abloh. What's that like?
Working with Virgil has been a really cool and humbling experience because I remember when I first saw him I didn't even believe it was him and now I'm here working with him more than I see my mother! It's definitely a learning curve for me becuase I also want to launch a clothing brand so this work has helped me understand how designers and brands approach the fashion world. One of the most important lessons I've learned from working with Virgil is if you believe and work hard enough anything is possible. One week he's 'joking' about creating a 50ft mannequin of me and the next it's in stores world wide…
5. What would you say is your best quality?
I hope it's my openness and approachability because this is a business full of many different kinds of people from every single background imaginable but I'm trying to be helpful and friendly to everyone I meet whether you're head of Louis Vuitton or an intern for Primark. The way I was raised is to show everyone the same respect and love.
6. Do you have a secret skill?
I don't have any 'secret' skills but I have skills that I don't promote. I've always enjoyed being as creative as possible so I'm opening up a music studio to make music during my time off. I'm also a fashion freak who doesn't like spending money so I'm going to try and create a clothing label.
7. What's the best thing about modelling?
The best thing about modelling has to be the pay and the people because I mean we're all working to get paid, right? And the amount of friends I've made through this job is crazy. I love the friendship aspect because when I got scouted they spoke about the money and the travelling but the people was a nice surprise on top.
8. What's the weirdest thing you've had to do in the name of fashion?
I've had to do A LOT of weird shit. I'm not going to tell you the worst things I've had to do but if you're really interested you can check out my Instagram and understand the things I've been through!
9. What's guaranteed to make you laugh?
There's a lot of kids in my family and all of them are hilarious so any time I get to spend with the kids is time I'm guaranteed to be laughing my ass off.
10. What's been your biggest 'pinch me' moment so far?
Pinch me moments are happening all the time. Like the fact I get paid to be abroad, working with Virgil and meeting his friends, being invited to a club with Virgil…so much stuff that's out of the ordinary being a kid from where I grew up. But I gotta keep going and act like I'm used to this life!
Omari's Instagram: @captain_greeneyes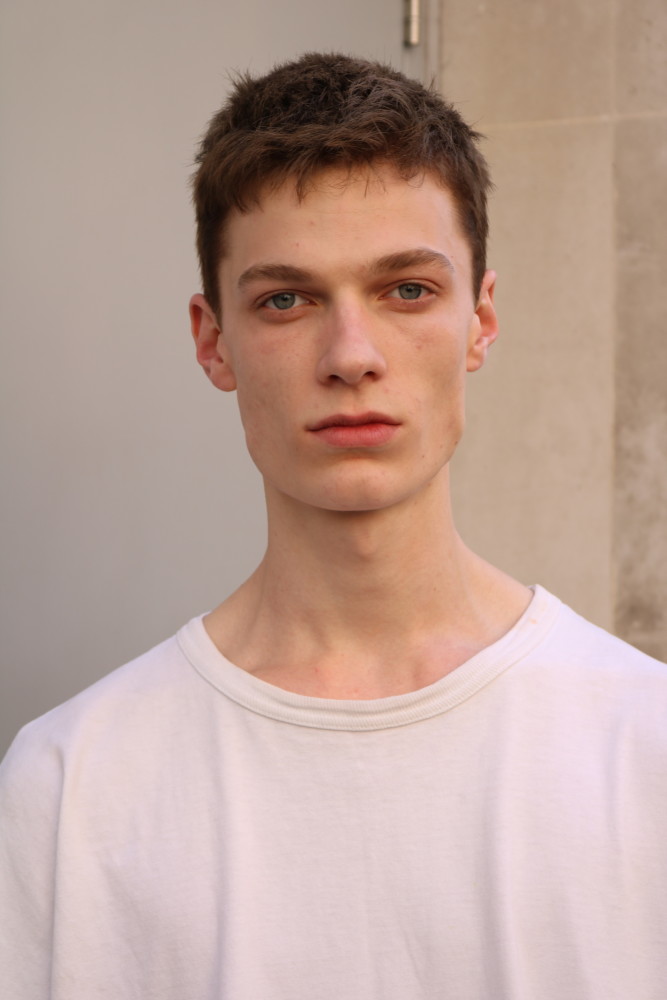 Luard Fyson
Age: I'm 21. I have the same birthday as Bob Marley – I'm proud of that.
1. What's your hometown and what's the best thing about it?
I was born in Ipswich but the countryside in Suffolk is definitely more my home. It's where I've always lived and where I went to school. I love how peaceful and how picturesque it is and I appreciated it a lot more once I moved to London.
2. How were you discovered?
I was stopped on my way in to a Rihanna concert… I'm not much of a Rihanna fan if I'm honest, my friend and I were taking our girlfriends at the time. We had just finished school.
3. What have been your modelling highlights so far?
I've walked for Valentino, which I guess was my first big show. I had Raf Simons a couple of hours after, so that was a big day for me and one I'll always remember for sure. Shooting with Willy Vanderperre and Olivier Rizzo is definitely a highlight – fashion was already a huge interest of mine when I started modelling, so these were two big names to me. I'm a great admirer of what they do and working with a photographer and stylist of that calibre is really special.
4. You studied fashion journalism. What was that like? What do you like to write about?
I really enjoyed my course. It was tough juggling it alongside modelling at times but this also meant I got a first hand look at the industry I wouldn't otherwise have had, so I was really lucky to have that. For my final major project I produced a menswear magazine called Byron, for which I was able to get some really special content and features which I wouldn't have had access to without the contacts I've made through modelling. The magazine will be on show at Graduate Fashion Week!
5.What would you say has been your big break?
I couldn't really say for sure but my first season in Paris recently is probably what got things going, I was lucky enough to do a couple of amazing shows for Valentino and Raf Simons. I also have Prada coming up at the beginning of June, which I'm really excited for.
6. What's your best quality?
I think being able to empathise with people is really important. That's something my Mum instilled in me when I was growing up and probably what I value most about my character. My Dad has shown me how far it can get you to just be polite and well-mannered, even if this is something I found difficult to apply growing up. I'm sure it's gotten me further than I think.
7. What's the best thing about modelling?
It would have to be the people you meet. Everyone probably says that but it's true, you're surrounded by so many different personalities that you're bound to strike up good relationships. Closely followed by the travelling.
8. What's the weirdest thing you've had to do in the name of fashion?
I guess I've been lucky and not really had to do anything that terrible but on one of my first test shoots I had to wear nothing but leather briefs and cowboy boots, which at the time wasn't the most comfortable thing in the world… I'm happy they aren't available for my friends to see.
9. What's the geekiest thing about you?
Probably just how much I obsess over clothes, to be honest. I spend a lot of time just looking at them online, researching designers and watching footage of old shows.
10. What's been your biggest pinch-me moment so far?
Doing the Raf Simons show was a pretty unforgettable feeling just because I admire him so much and it seemed like an idea that was almost too good to be true – having him want me in his show was a massive compliment.
Luard's Instagram: @luardfyson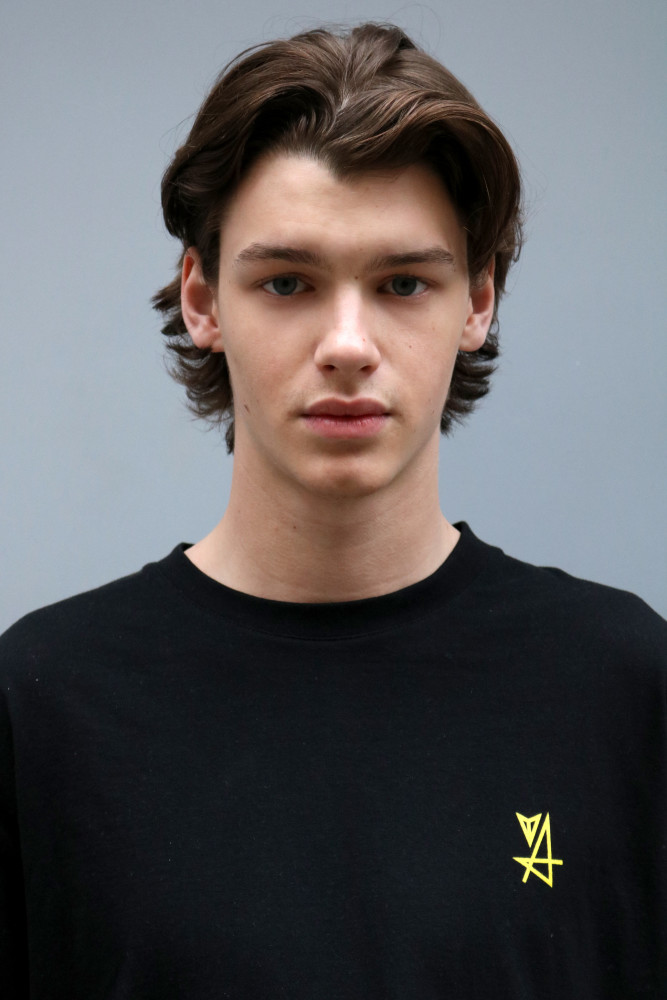 Rendy Giorgini
Age: 19
1. Where's your home town and what's the best thing about it?
Prague. Cheap beer, nice girls, the vibes. I love Prague, it's the best city for me. If I make some good money then maybe I'd like to live in LA – I've been dreaming about the sun and the sea. 
2. How were you discovered?
I was scouted at 2am in the centre of Prague. I was drunk. This guy came up to me, speaking English, and said, "Hey man, you wanna be a model?" I said, "yeah man for sure", not really taking him seriously. Then he wanted to take a picture but I refused that. I didn't really trust him at first. I was a bartender at that time and hadn't ever thought about being a model! He gave me his card and then it went from there. Changed my life.
3. What have been your modelling highlights so far?
I just got back from Tokyo where I did a few photo shoots for magazines – Chloelle [CHECK NAME] and Silver. Then I did men's fashion week in January. My favourite show was Prada, which was my first ever show. It was crazy because my legs have been super skinny my whole life and they put me in very short shorts. I was like, "damn". Also my head is really small as well and they put this big winter hat on me. It looked okay in the end though. I was very happy. The euphoria from it, there's nothing like that. I met Miucca Prada too, she's a legend.
4. What kind of kid were you?
I never liked school. I remember one time my mum going to the principal's office, and coming home with a message for me. She said the principal had said I had bad energy and everyone was scared of me. I was so young! I was never a bully or anything, just a quiet kid. I was a boy. That's it.
5. When you were younger, what did you want to be?
When I was young I wanted to be a lawyer. But I don't think I have the brains for it really. Then I wanted to be in the mafia!
6. What was your big break?
That had to be Prada. I had a test shoot in Czech Republic and after that I went to straight to fashion week. It was crazy. I didn't really believe it. I told my friends three months before that I had this option for Prada and we didn't really believe it. Then it happened and I was standing there in the line-up. I was crazy nervous.
7. Do you have a secret skill?
I can cut my nails really quick. It takes like 40 seconds max with the clippers. I'm very proud of that. Haha. 
8. What's the best thing about modelling?
Travelling and meeting cool people. I met [fellow Premier model] Honza by modelling and he is one of my best friends now. Tokyo is a whole different world. Big big place, loads of people. Everybody follows rules so strictly. I wasn't ready for that. But it's their lifestyle – I'm not gonna complain about that.
9. What's the weirdest thing you've had to do in the name of fashion?
I don't know if I'd call it weird but it was definitely edgy. It was my first fashion week, I was at a Ludovic presentation. I was standing in front of 100 people for like 20 minutes in just leather underwear, with me weighing only 60 kilos!
Rendy's Instagram: @rendygiorgini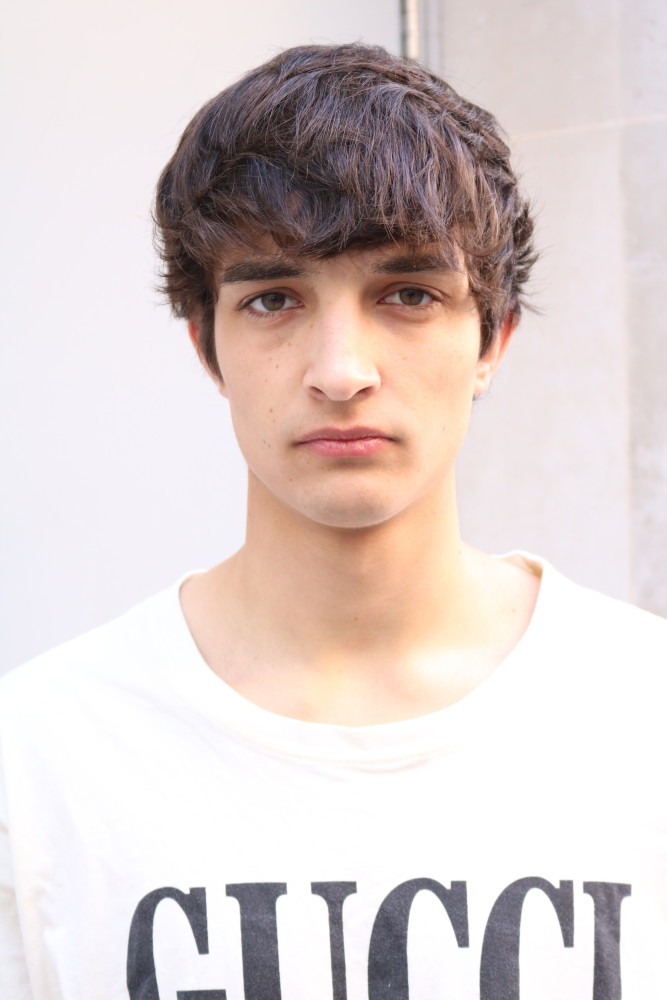 Pablo Fernández
Age: 18
1. Hometown and best thing about it?
I'm from Granada. The monuments, the culture, the Alhambra, the people… so many things!
2. How were you discovered?
I was in Barcelona camping to buy the Nike Sean W in a special sale and when I left the shop a scout from UNO Models saw me. 
3. What have been some of your most memorable jobs so far?
Last week I did an editorial with Willy Vanderperre for Zara and since January I have been working for Prada, Boss… and Hermes several times! 
4. What kind of kid were you?
I don't have brothers or sisters so I was a curious one always looking for new adventures!
5. What was your big break?
I think my debut with Prada was the greatest way to start in this business. Also to open and close the Hermes show was awesome!
6. Tell us a fun fact about you…
Last week I was in Milano airport wearing my Off White belt and very big jeans and after the security check, I put my belt back on the wrong way and my pants felt down. Lol.
7. Do you have a secret skill?
My mum is polish so I can speak Polish perfectly.
8. What's the weirdest thing you've had to do in the name of fashion?
To wear a dress and a pink crown in a shooting was pretty weird but, you know, if I'm working I don't think about it.
9. What's your ultimate ambition?
I would like to join an organization to collaborate against global warming. Looks like some people don't realize yet that this is serious. There is not a Planet B.
10. What has been your biggest 'pinch-me' moment so far?
My first season in Milan and Paris walking for brands like Prada, Hermes, Loewe or Kenzo was a huge pinch-me moment.
Pablo's Instagram: @pvbloo_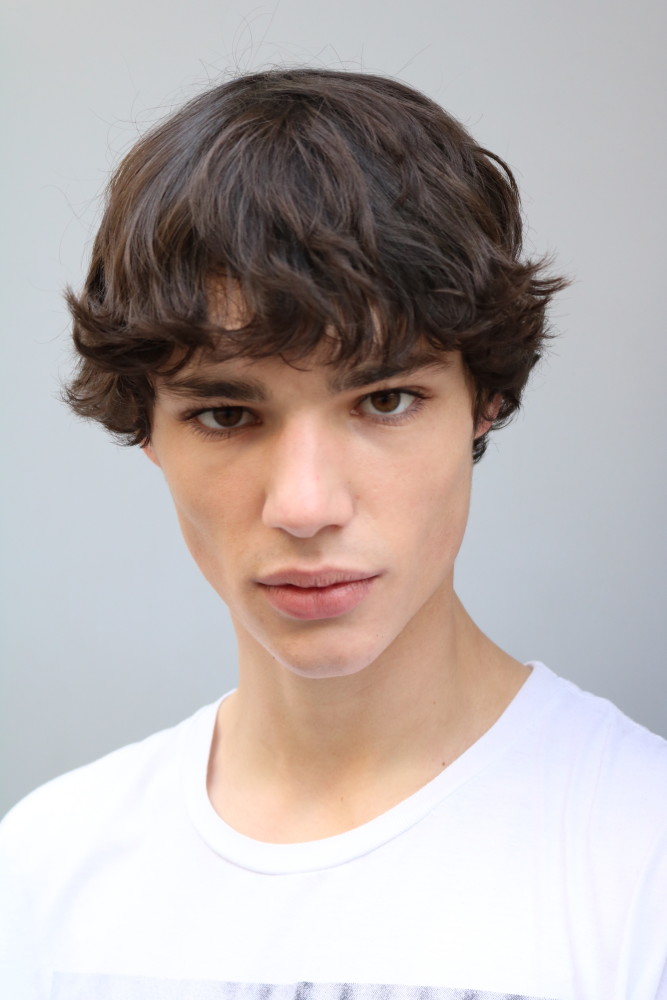 Fernando Lindez
Age: 19
1. What's your home town and what's the best thing about it?
Madrid. It's very beautiful and all my friends and family are here. I've spent all my life in Madrid so I love the city and the people.
2. How were you discovered?
I was discovered through Instagram. I was having a normal day at school and then one day I had a message from Uno models in Madrid asking me to visit them at their offices and it went from there.
3. What have been your modelling highlights so far?
Versace was my first big job, for fashion week in January. I went to Paris to do the castings and after a week they told me I was confirmed for the show in Milan. Then, I went to Milan for the fittings and they told me I was going to open the show! I was so happy, but so nervous. I couldn't sleep the night before. After Milan I went to Paris to do some castings and got confirmed for Raf Simons. Not bad for my first fashion week! Other highlights have been shooting Prada's look book and I'm going to Shanghai in June for the Prada show. 
4. You're an actor, as well as a model. What roles have you played recently?
I'm on a TV show in Spain called Skam Spain. It's about teenagers growing up. I've been in it for about a year. I play the cool guy of the school. It's easy – I just play myself. Haha. 
5. Is acting the thing you want to pursue?
I don't know. I have to do one more season of the TV show to do and then next year I'm going to focus more on the modelling and then I'd quite like to go to London to study acting.
6. What kind of kid were you?
I was sporty. Before I was a model I wanted to be a professional golfer. I used to play golf every day. Also I did a lot of karate.
7. What's your secret skill?
I can do very tall kicks with my legs. I have very long legs!
8. What's the best thing about modelling?
Discovering new places I've never been before. I've also met a lot of people I never thought I'd meet. Like the first time I was in Milan, I was in the Versace house and I went into a room and Donatella was there. I got so nervous! I was with another model and she said to us: "Hello guys you are very very tall".
9. What's the weirdest thing you've had to do in the name of fashion?
One of my first jobs in Madrid was for Palomo Spain and they dressed me like a girl. It was very strange for me but it was funny. 
10. Ultimate ambition?
To be happy. If I can be a top model, too, then that would be great.
Fernando's Instagram: @fernando_lindez