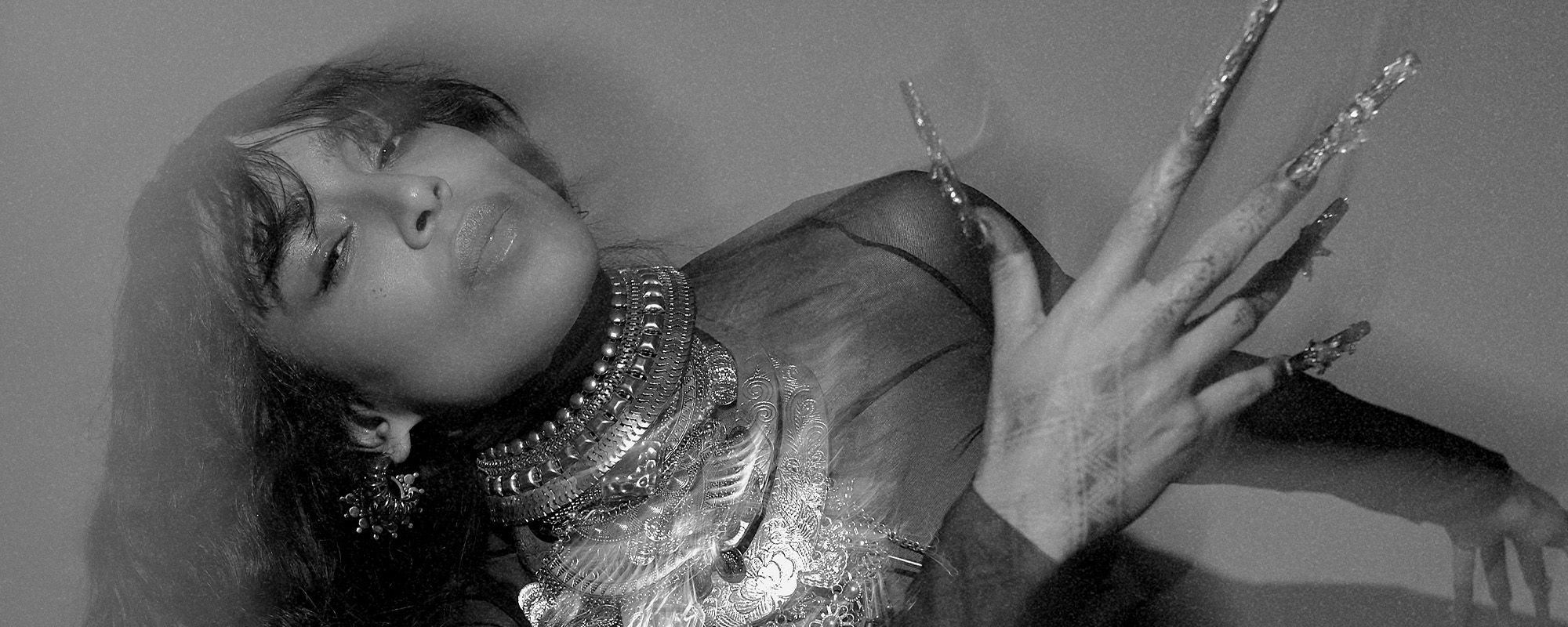 The Universe According to Loreen
The Swedish-raised artist of Moroccan-Berber heritage and double Eurovision winner marks a new era in her pop career, and talks to PHOENIX magazine about life, death, love, and spirituality.
Hair Stylist,
Alex Price at Frank Agency
Fashion Assistant, Elodie Purcell 
Makeup Assistant, Gemma Horner
Editorial Assistant, Blazej Palka
Production Assistant, Louma Caracalla
Post-production, Lewis Hughes at
Surface Retouch 
Loreen talks fast and breathlessly, her words occasionally punctuated with staccato sounds. She is animated and gesticulates for emphasis, long nails slicing the air. Her eyes, dark and mysterious shine from under a heavy, choppy fringe with jet-black hair that she wears below her waist. There is sound and movement in everything she does. 
'Is It Love'
We are here to talk about her latest single 'Is It Love' which marks a new direction in pop music for the self-taught multi-platinum, double Eurovision-winning powerhouse. It incorporates for the first time the flavour of her Moroccan-Berber heritage in its instrumental choices, with desert drums and haunting backing vocals. Loreen felt a connection to the track immediately, sent over by a team of top songwriters. "It's a very spiritual thing that happens when you connect with something," she explains. It's the same feeling you get when you connect with a person or a place when you "constantly think about that person, that thing and song, and you want to listen to it all the time." 
She explains it was "a match", a message from the universe that the song was a path to be taken. "I sent up to the universe that I wanted a little bit of heritage – I got a lot of heritage." She smiles wryly. "And I felt the feeling of trust, like wow, I sent that out and you gave me everything." There is a duality to the song, and the artist considers it interesting that life sends her songs about "different aspects of pain and love." She laughs that they are the only things she sings about, but feels that's what she is "supposed to channel."
Intuition and Identity 
The universe, spirituality and the connectedness of energies are recurring themes. She says that since her childhood she has felt very connected to her body and "very aware of the fact that I have a soul. I guess it's because we talked a lot about that in my house." Loreen was born Lorine Zineb Nora Talhaoui to first-generation Moroccan immigrants in Stockholm. Her mother, who she describes as "fearless" and "powerful",  fled North Africa to escape an arranged marriage at the age of just fourteen. She became a young mother and had Loreen at sixteen. By the time her mother was 22, Loreen had another 5 siblings, and then her parents split up. Loreen explains in her musical intonation that her home life, "was a lot of discipline, but also very free. The conversations that we had about life and spirits and death." She says her mother was a feminist, without even knowing.
Despite her strong sense of intuition as a child, she lost her ability to trust as a teenager.  She considers that life has always found a way of teaching her the direction she needs to go, with some painful lessons along the way. "I did not trust but the thing is, when not trusting, it's been very painful, like, physically painful… Life had to teach me this the hard way." The more she tried to resist acting on instinct, life would send a roadblock. Eventually, following her instinct, she decided to take on Eurovision for the second time (2012 and 2023), becoming the first female artist and only second person ever to win the competition twice (Ireland's Jonny Logan won in 1980 and 1987).  Her advice when making a difficult decision is not to complicate matters and to take the direction of "flow and happiness and joy. This beautiful energy where it's almost too easy."
The Duality of Existence 
So what does she believe in? She's in her stride now. "What I really feel, it's like that everything is energy, and everything is connected. And I also feel very deeply that we're obviously here to learn certain things." She doesn't believe in one god but believes that god exists in all of us. "What do I believe in? I believe in everything". She laughs and shakes out her jet-black mane. "I don't know if that makes sense." Loreen also believes in "laws of nature" and the idea of balance. Incidentally, this idea is found in both Eastern philosophy (yin-yang) and Western philosophy (such as Aristotle's 'Golden Mean', whereby happiness is found in the balance between two extremes). She realised in her own life that "distortion is the key to development."
"We wouldn't know what love was if we didn't know what pain was. And we wouldn't know what day was if we didn't know what night is. There's always these dualities." This explains her affinity for the latest track. She's optimistic about the future of humanity and thinks that times of crisis lead to change, for the better. She says "There's extreme distortion, with everything that's happening in the world. And there is an extreme awareness." Relentlessly positive, she refuses to say that the world is broken. "Because it's going to work out. But it's gonna be hard for us because we need to level up. But we are going to level up. We are." She believes that it is her Moroccan heritage, connected to the nomadic Berber people that gives her the confidence to hold "mystical conversations" about energies without feeling judgment or shame. That said, she does not feel that identity is about "otherness", but fusing it with her Swedish upbringing in a creative way. Prejudice kills creativity, she muses. 
Music as a Healer 
Loreen says that the world started with a sound, and it is sounds that bring us together. "A soundscape can create a movement, a collective change in our life, on a subconscious level, or conscious level, this is very powerful!" She mimics a drum beat. "Now we're using it like something like 'bing, bing, bing, bing.'" In ancient times her tribe would use sound, dance and music to cleanse stagnation. "Animals shake. We dance – music or sound opens things up." 
She refers to music as a "universal medicine" that can change our vibrations. The cells and organs carry frequencies. She echoes the thoughts of the Stoics, that death is an ever-present reminder to live each day, "At the end of the day, we all getting born and we are all going to die."
So what makes a good life? "I would say one, change perspective on traumas and negative energy and understand this is a universal law. Understand that it is necessary for certain situations coming into your life, use it to your advantage and use it as a tool to develop yourself." Rather than bemoan your fate, use it as an opportunity for growth. She adds, "And forgiveness is really important. We should say, 'Thank you. Just thank you for teaching me that. I'm moving on.'" The final question is 'What makes you happy?' "The truth" she replies. "When you're in that space where being authentic towards yourself." Finding your true path. "I think those moments are just the most beautiful ones. Letting go and just stay true to yourself." 
This is the universe according to Loreen. You are what you put out into the world. You create your reality. Everything is connected. Bad times call for good vibrations. It's all worth listening to. ✦
"Is It Love" is out now on Universal produced by Swedish record producer and songwriter, Rami Yacoub (Ariana Grande, Lady Gaga, Madonna) and written by written by MTHR ("Can't Tame Her" – Zara Larsson, "Better Days" – Neiked) together with Dag Lundberg ("Where Are You Now" – Lost Frequencies) and Maia Wright (Armin Van Buuren, Gryffin NOTD). 
Loreen embarks on a sold-out UK & European tour this winter, kicking off in Dublin on 7 November with shows in Glasgow on 8 November, and London's Electric Brixton on 10 November with a further 15 stops across Europe before wrapping on 5 December in Paris, France. With stage visuals designed by Tobias Rylander whose previous work includes lighting design for Beyonce's Renaissance World Tour and Loreen's Eurovision-winning performance of "Tattoo", the fully immersive show features Loreen's ethics of prioritising connections with fans, nature, spirituality, and music. 
Follow Loreen on Instagram below.