This Day-centric Festival Ticks All the Boxes
Over the August bank holiday, as the sun blazed down over the UK with summer's parting flourish, we travelled our southern selves to Lincolnshire to experience the magic of Lost Village.
One of the newer festivals to the calendar at 5 years old, 2019 attendance was circa 13,000 which is enough to create an atmosphere yet small enough for it to still have a laid-back, boutique feel.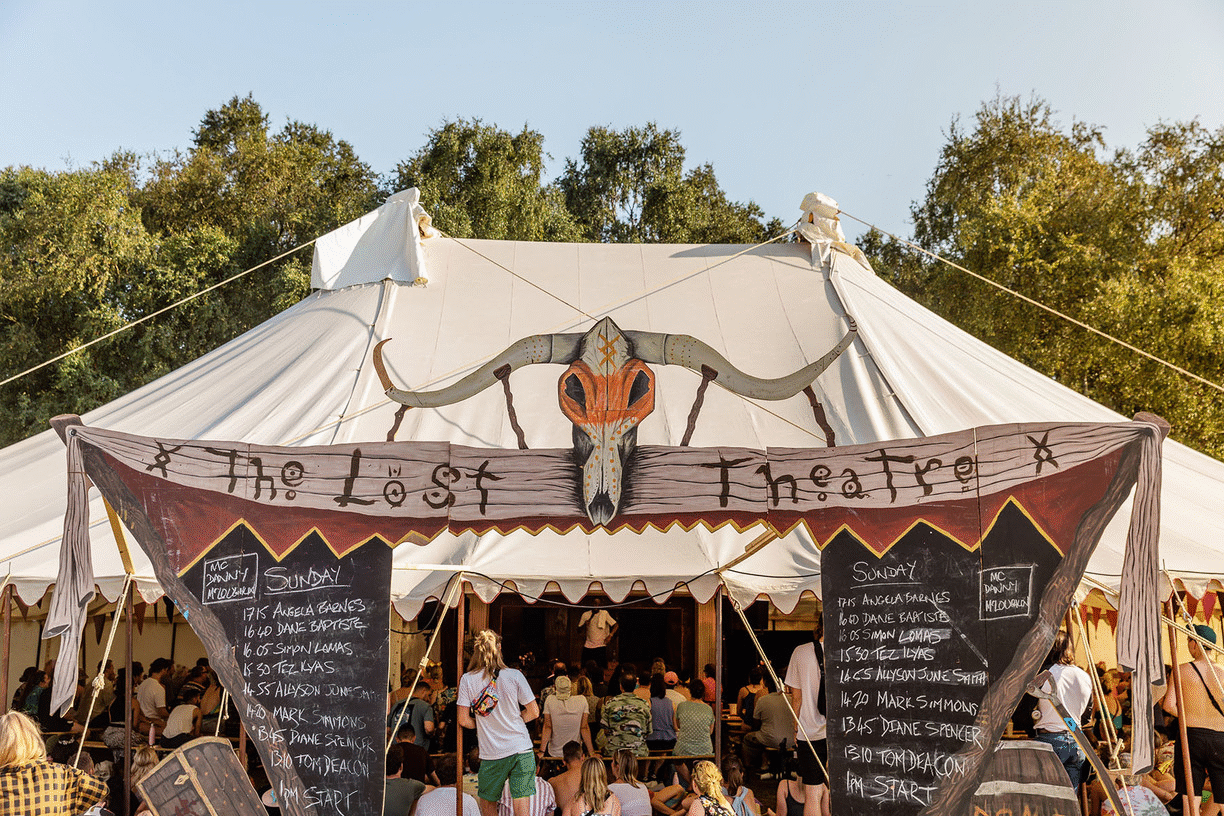 Attention to detail is what really sets it apart. The set design was impeccable, with themed stages a veritable playground for adults, from a real jet engine at Airbase, to the industrial feel Junkyard, pretty flower garlands at the Forgotten Cabin, and the tribal themed main stage Burial Ground – replete with giant, mummified spirits. Actors in intricate costumes floated through the crowd to add an even more otherworldly feel.
The stunning woodland setting was utilised for several stages, and we danced in merciful coolness as temperatures soared to the mid-thirties. An extended daytime disco set from Greg Wilson in the dappled shade was a pure 'good vibes only' highlight.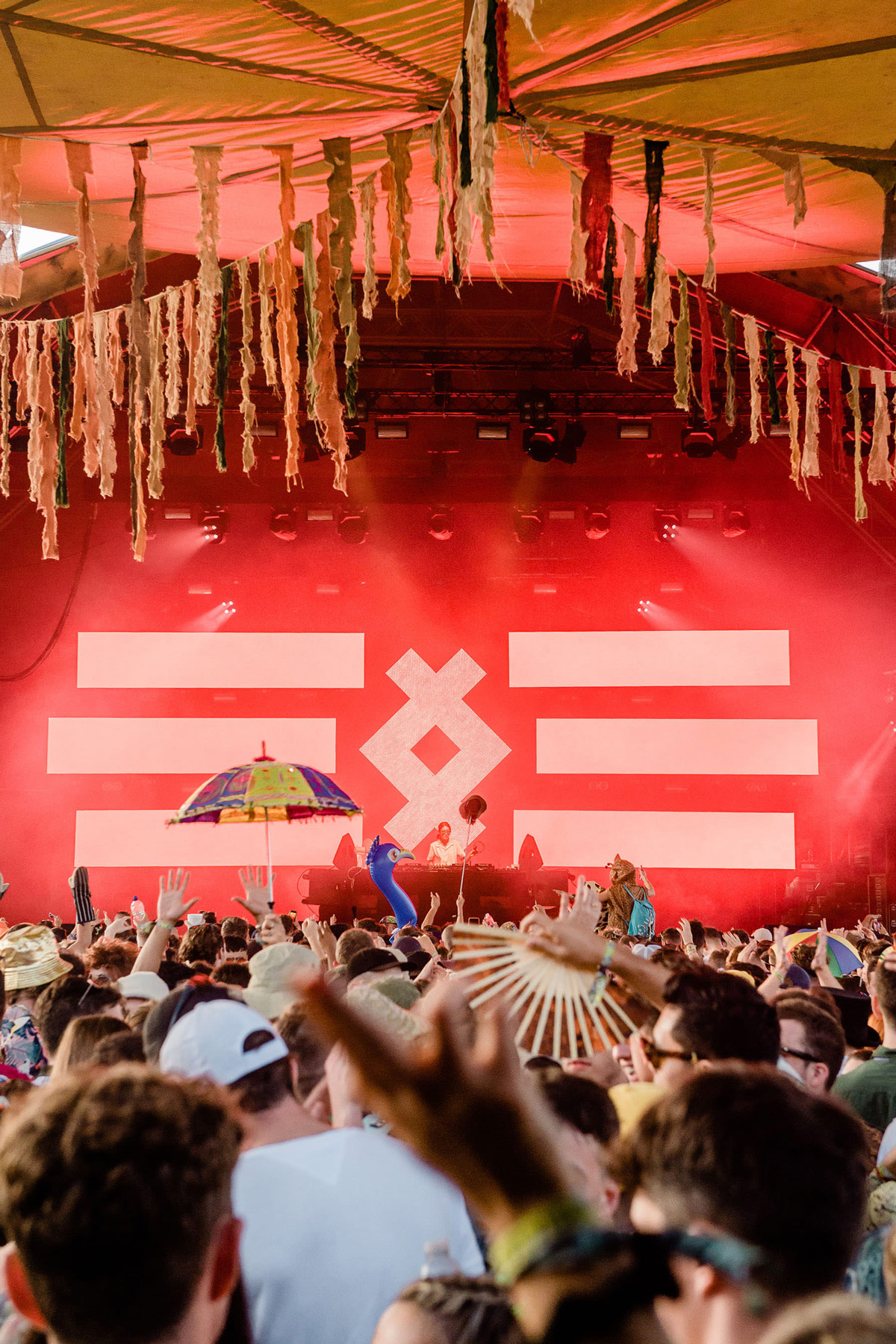 Maribou State's atmospheric electronica was perfect in a festival setting 
Image courtesy of Andy Hughes
The music programme was heavily electronic orientated, with some house, funk and soul, disco, and a dash of grime – all of the highest calibre. Sets from techno geniuses Peggy Gou, Midland, Bicep, Richie Hawtin, Jon Hopkins, Nightmares on Wax, and live electronica collective Maribou State were truly memorable, and a mere ten-minute average walk between all stages and a foolproof festival app showing set times meant it was easier than usual to get around and catch everyone on your 'must-see' list. 
My one gripe was the lack of healthy food options, even the vegan options were fried or fast. Delicious, but not something you can eat every meal. Without sounding like a London hipster, by day four I could have murdered a Buddha bowl. The signature banquets by top chefs such as Merlin Labron-Johnson and Jackson Boxer, Neil Rankin, and steak gurus Hawksmoor were tempting – but at £69 per person, not cheap.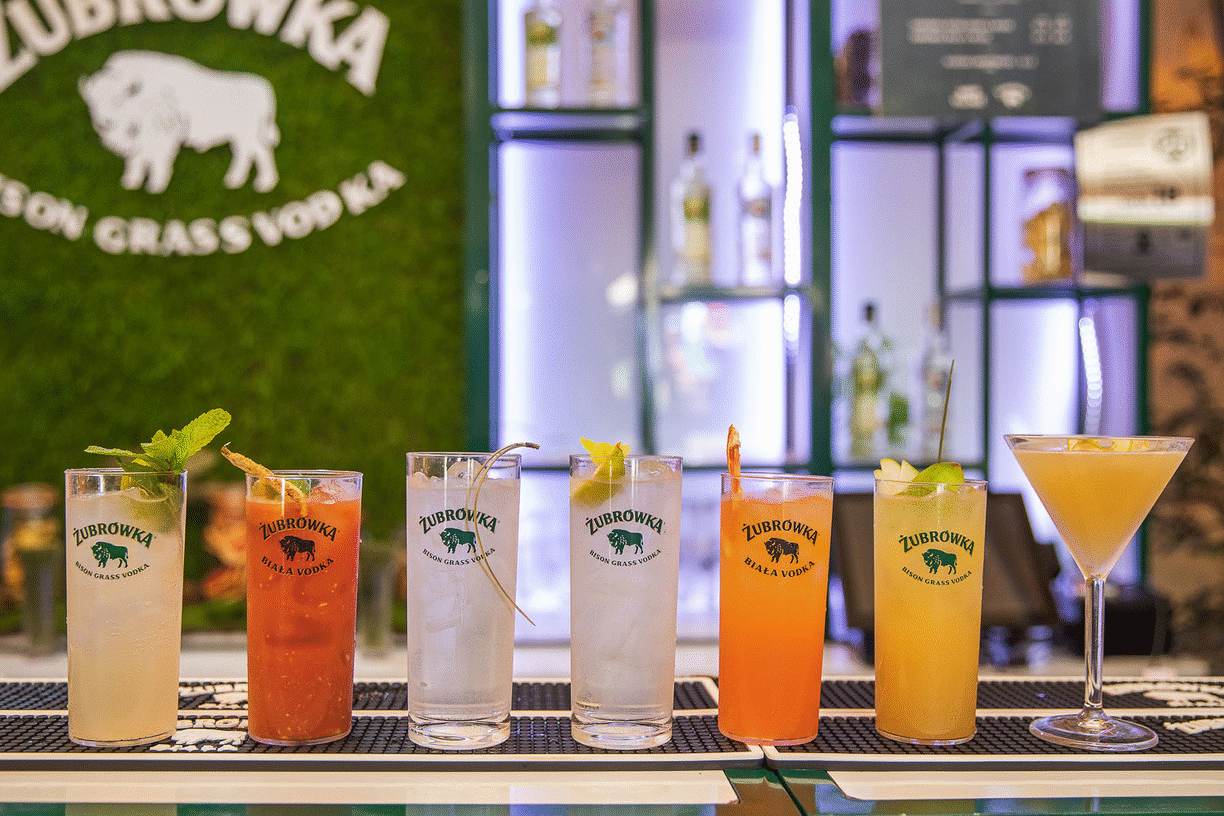 The cocktails side of things fared much better. Several rounds were consumed in the Żubrówka Bison Grass Vodka tipi, which became a night-time hotspot in its own right. Like the Chanel little black dress of vodkas, this premium spirit really does go with everything.
London brewery Camden Hells hosted their vast circus-themed Hells Parlour (we heard rumours of a free beer giveaway one day), The Botanist gin had their very own greenhouse bar, and overlooking the lake the Patron Tequila chaps were getting everyone quietly (in some cases, not so quietly) sloshed.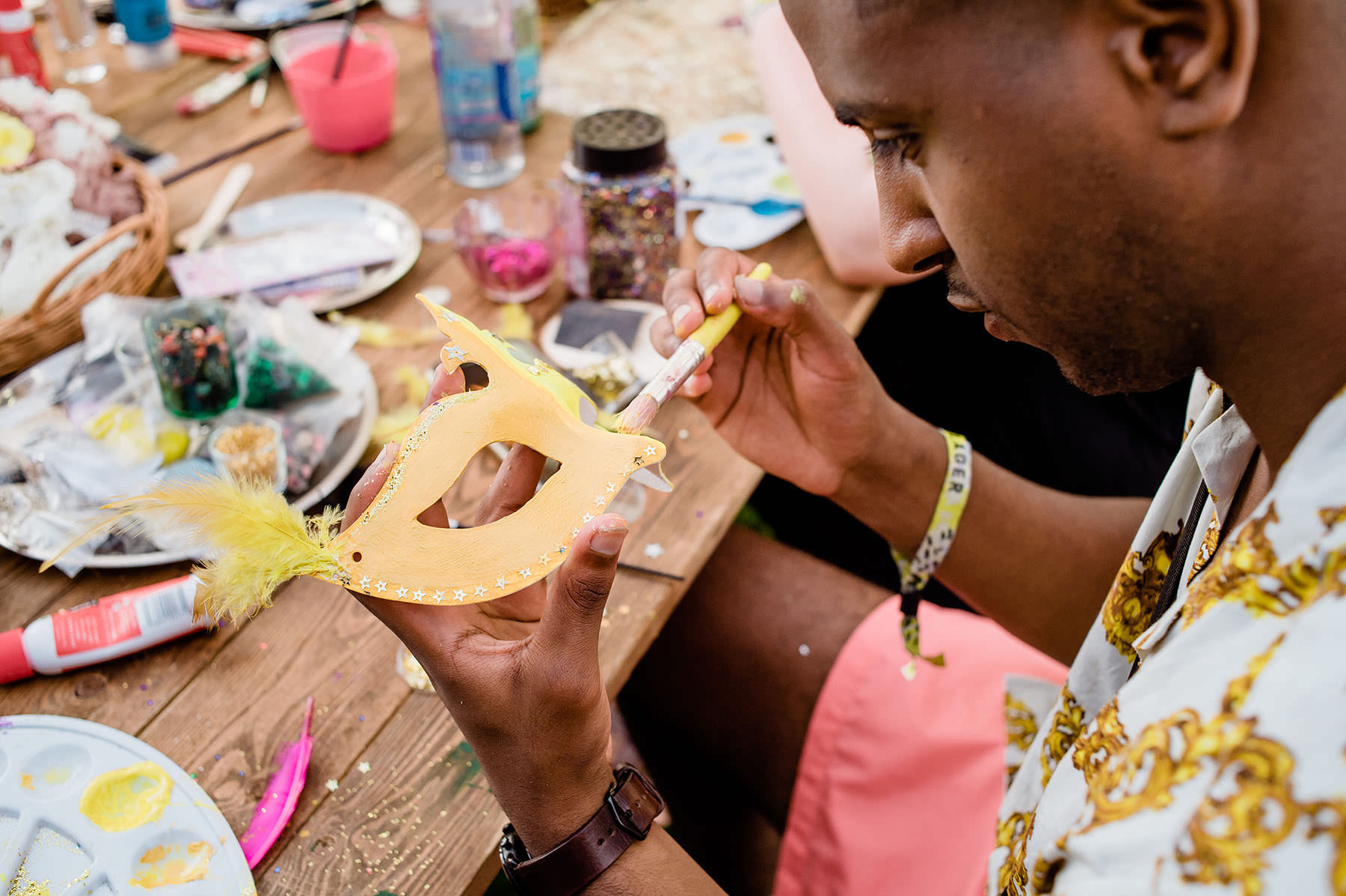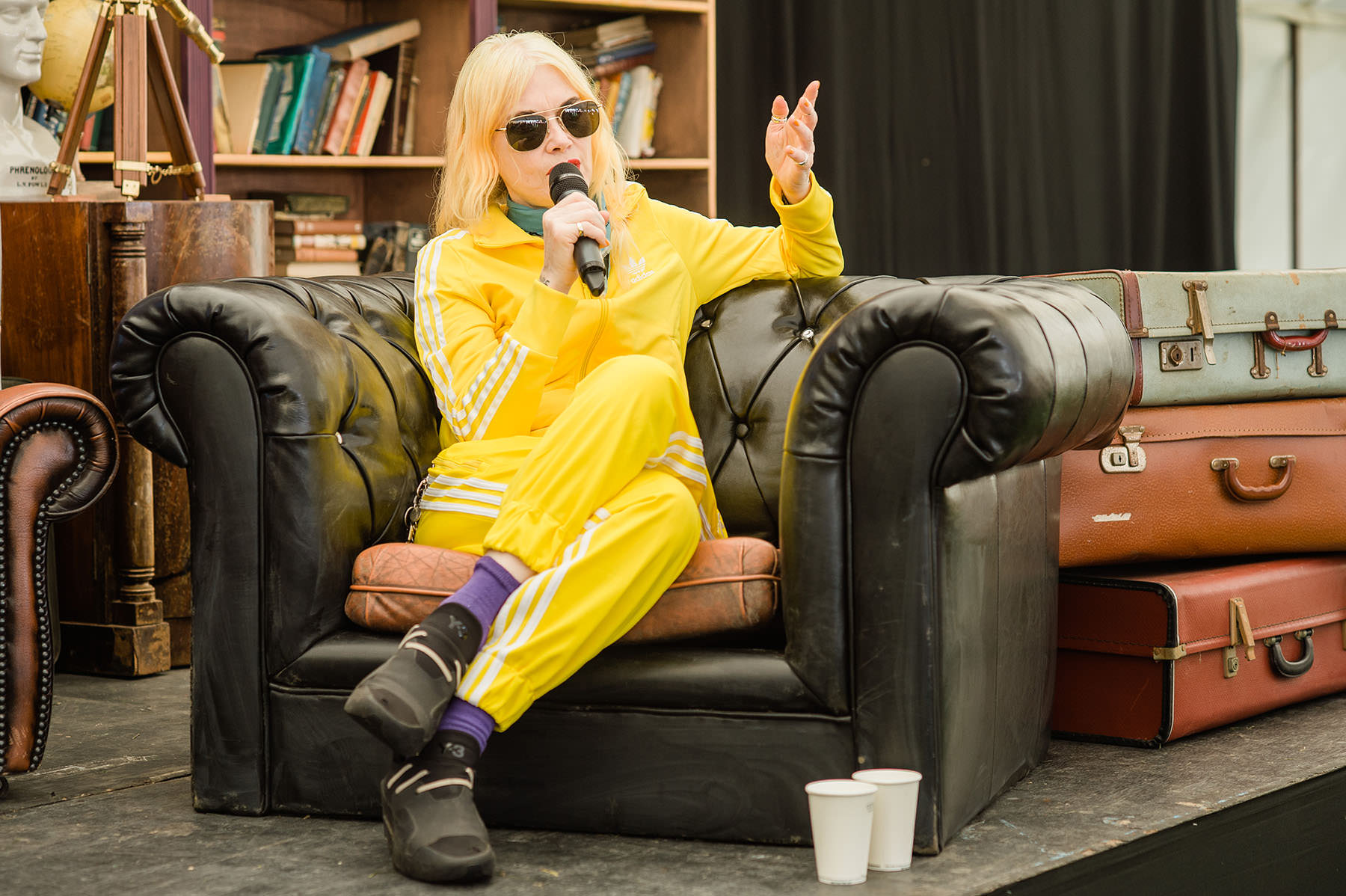 Top: Creative workshops
Below: Fashion designer Pam Hogg discusses her life's work 
Image courtesy of Justine Trickett
Unusually for a festival, there was more to do than just eat, drink and be merry. We enjoyed a liberating 'Primal Awakening Yoga' session with Jonathan Shanks which dissipated any raving aches and left us feeling smug that we made it to sundown sober. A variety of intriguing yoga practices were offered, such as the music-led 'Yoga Sonore', disco fabulous and toning 'Voga', story-telling vinyasa 'Spiritually Ripped Vinyasa Flow' and more. Next year we'll be aiming for a class a day.
Creative types could get stuck in with workshops – everything from headdress making, to fire writing, mosaics, leather craft, resin jewellery making and woodcraft. It was heartening to pop in and see a throng of glitter-encrusted millennials focusing intently on their art projects, sound tracked to the low hum of friendly chatter. Meanwhile over at the Lost Theatre, comedy had the crowd in stitches, and talks on everything from feminism to football, and sex to sustainability at the Institute of Curious Minds had queues out the tent. We spotted fashion design icon Pam Hogg, holding court like a neon fairy.
Our morning ritual became rise and shine poetry, accompanied by a soya flat white from artisan baristas Climpson & Sons. We danced until the music stopped at the reasonable hour of 1am, bar Saturday night when we followed the crowd to the wild after hours party at the Dishoom tent. Still, we made sure we got a good 8 hours sleep before the sun's rays turned the tent into a hellish sweat box and forced us out to do it all over again. Luckily there were free showers. 

Register now for Lost Village 27th – 30th August 2020