Every woman needs a silver puffa this winter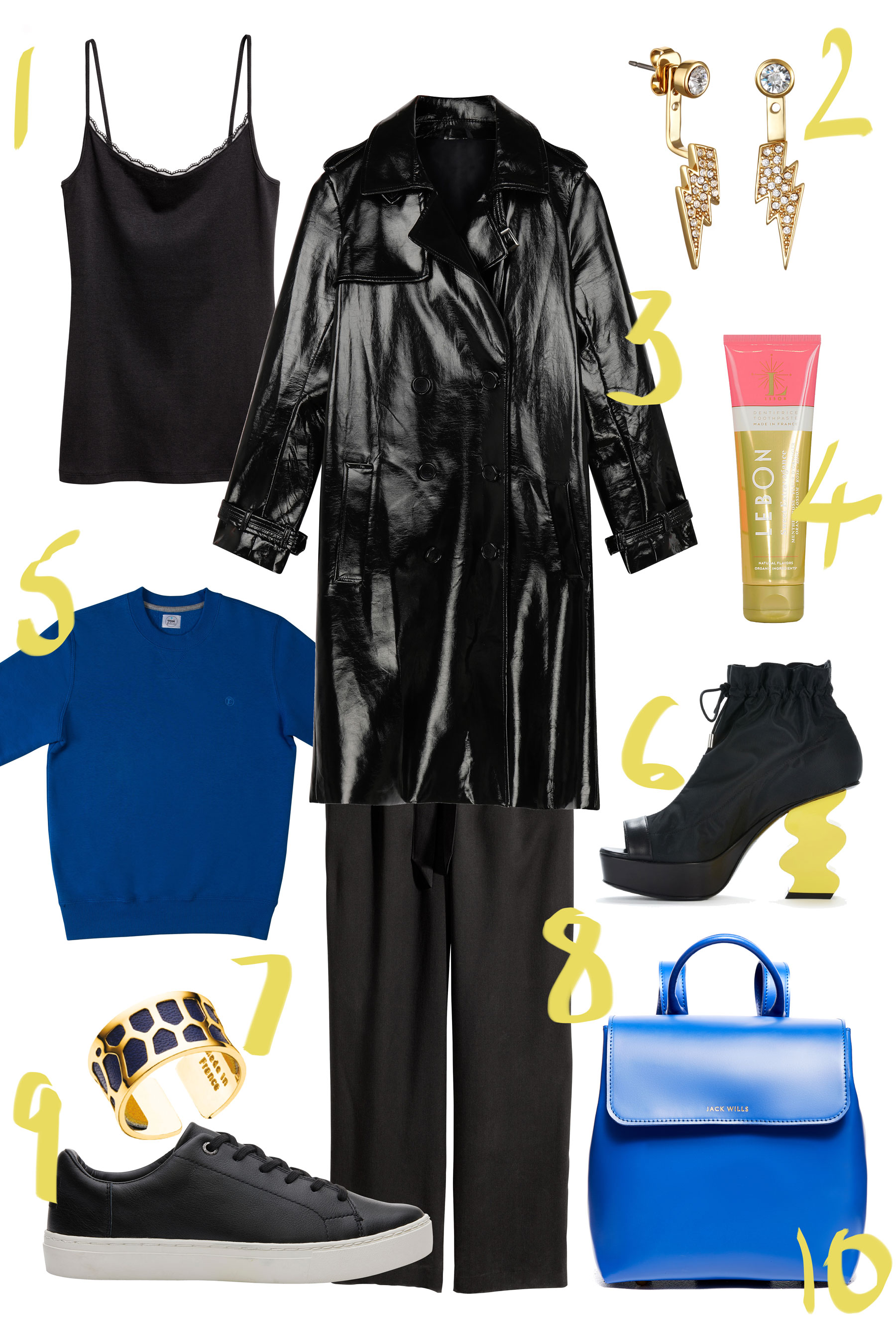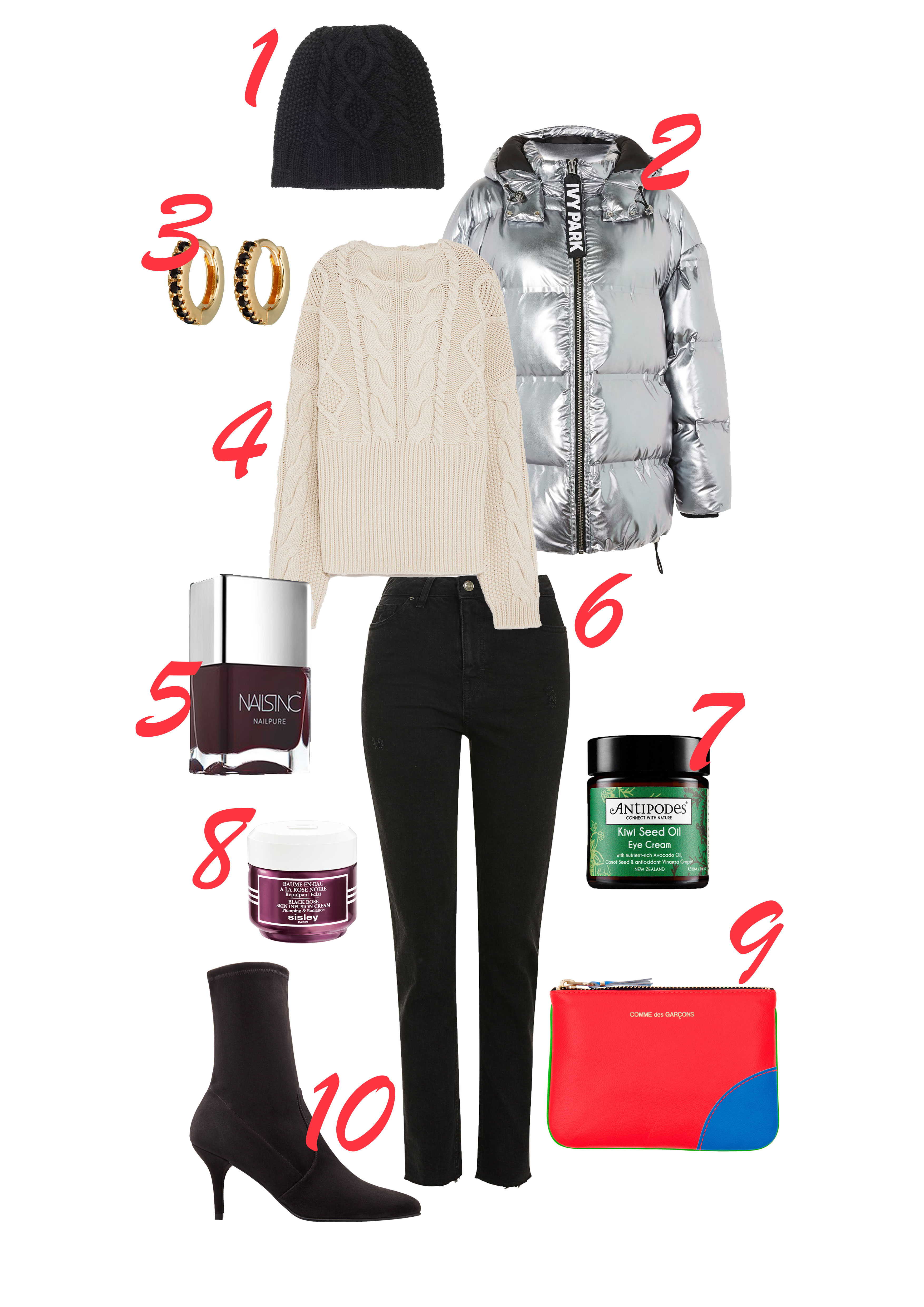 1. Beanie, FRAME at NET-A-PORTER, £130
2. Pewter Puffer Jacket, IVY PARK at TOPSHOP, £120
3. Black Diamond Huggie Hoops, OTIUMBERG, £170
4. Jumper, ZARA, £49.99
5. Nail Polish in 'Victoria', NAILS INC at NET-A-PORTER, £14 
6. Moto Raw Hem Orson Jeans, TOPSHOP, £45
7. Black Rose Skin Infusion Cream, SISLEY PARIS, £128
8. Antipodes Kiwi Seed Oil Cream, NATURISMO, £27.99
9. 'Super Fluo' Wallet, COMME DES GARÇONS, $125
10. Boots, STUART WEITZMAN, £525
November is the month when I finally accept that summer is all but a distant memory, the nights draw in and the universe blesses us with some great early evening sunsets. My winter wardrobe is one of my favourites; chunky knits, layers, big coats and black are my staples. My job requires me to look presentable but I can't spend too much time worrying about what I should wear – my job is to make sure models and talent look good.
I spend a lot of hours on my feet so comfy shoes are key and these Stuart Weitzman boots have the perfect heel height for my endless jaunts around town. Paired with these black jeans from Topshop and this chunky knit from Zara I feel ready for what the day throws at me. I like to walk a lot, so the Ivy Park silver puffer is perfect for cold, wet days. It takes me back to my youth in the 90s which is having a major resurgence of late. This black cashmere mix beanie from Frame is super cute and means I don't have to worry too much about what my hair is doing either.
When I'm shooting I joke that I'm a complete bag lady, so when I'm not with all my bags I like to have a really small pouch to carry my essentials – keys, gum, lip balm and cards, this bright Comme des Garçons clutch is just perfection.
I wear a lot of gold jewellery and usually it's the same pieces I keep on for months and months. I'm in love with these Otiumberg gold mini hoops with black crystals, they're firmly on my wish list!
A day cream and eye cream are key to my daily beauty regime and right now I'm loving the new Black Rose Cream by Sisley Paris, perfect for skin that's getting a little dry from the cold weather outside and the central heating indoors. Make-up artist Tania Grier recommended it to me and she also gave me this Kiwi Seed Oil eye cream by Antipodes Skincare to try a few months ago and I can say I'm pretty happy with what it delivers. I remember being told by a skin therapist once that using an eye cream was so important and I've lived by that advice ever since, I can't rate Antipodes Kiwi Seed Oil eye cream enough. I love natural and chemical-free products and even more so when they actually work. While I'm pretty low maintenance, the one thing I do like to make sure are looking groomed are my nails. I wear a classic nude colour most of the year but change it up in the autumn and winter months and this Nails Inc. edition in 'Victoria' is just my kind of shade.