The singer-songwriter talks about freedom, authenticity, and the meaning of happiness.
"The new record, it's very flirtatious", smiles Tamera, her brown eyes glinting. She's describing her debut EP Afrodite, announced today and set for release on the 18th November. "It's a declaration of me," she continues, "stepping into my powerful female energy. It is about relationships, I guess. And it's quite conversational. And a little bit demanding just because I think at this stage of my life, I kind of know what I want, you know?"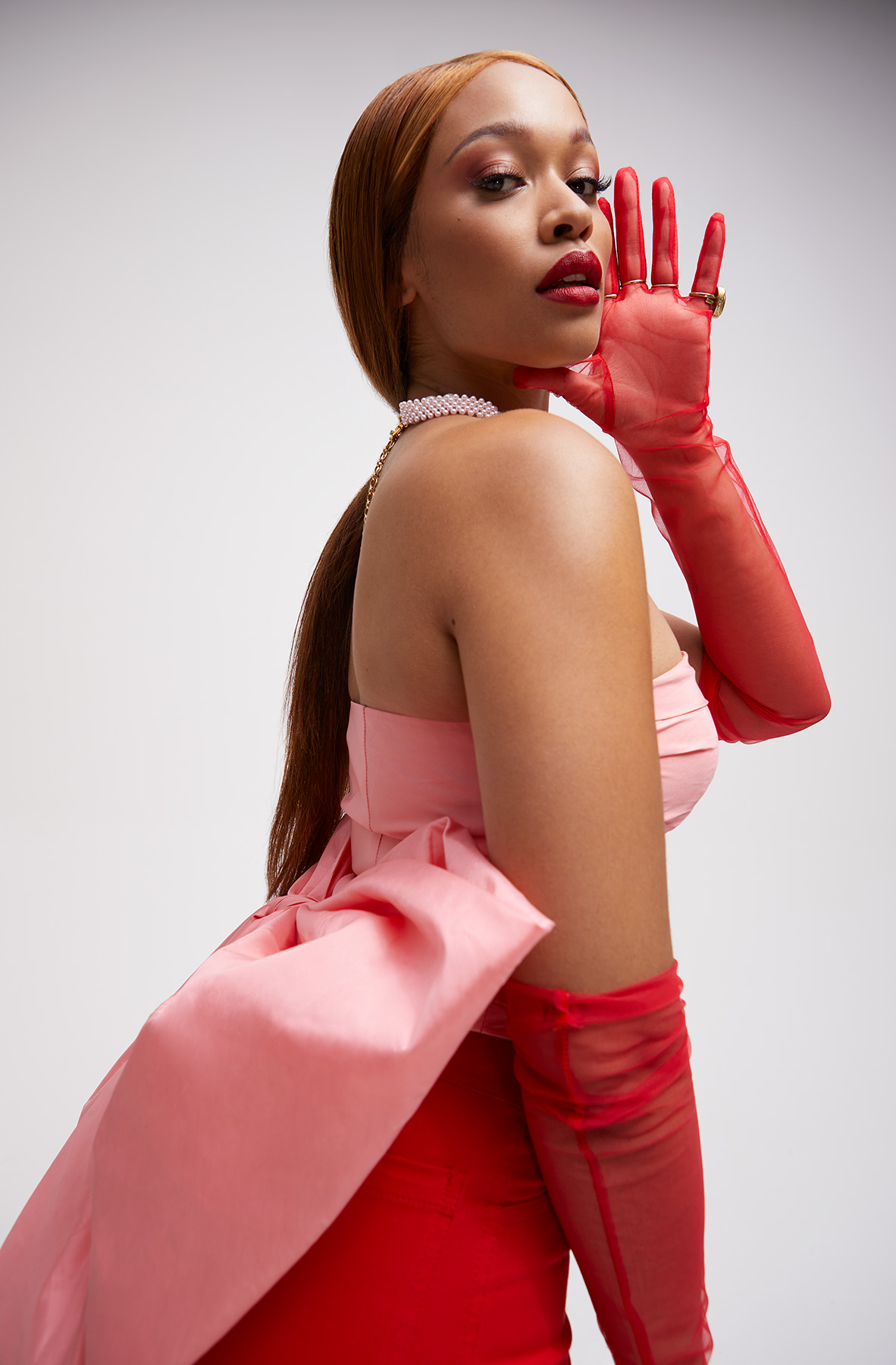 Still only 24, Tamera Foster from Gravesend in Kent entered the public eye with music when she was 16 after making a successful appearance on the X Factor, exiting the quarter finals in a respectable fifth place but still securing a record deal with Simon Cowell's Syco label who touted her as the 'British Rihanna'. Failing to agree on a musical direction, she didn't release any material, instead waiting for the 3 year contract to run its course. Free of those shackles, Afrodite is to be self-released under her artist mononym Tamera. 
What she wants now is, "to be able to express myself freely, and unapologetically". Without citing the show specifically, she is clear about what she wants at this point in her career. She says the new EP comes "off the back of a time where I felt very, like I was under a lot of restraint. I couldn't necessarily be myself or express myself… this project is like a celebration of me coming out of that."
More than anything the new project gives her total liberty. "I think you get to a point where you realise you are the only person that you go to bed with at night, every single night of your life, and you have to do what you can to make sure that you're going to bed a happy person, you're going to bed proud of yourself and the things that you do." What makes her happy? "I think I heard this is a very Aquarius thing, but for me, since I was a child, since I was very young, I always looked for freedom."
She elaborates on what that freedom looks like. "I just like to express myself in any way whether that's like romantically wherever that I want to be girly today, or I want to be masculine today, or I want to be androgynous today. Do you know what I mean? Freedom in every sense of the word. I feel like that, for me is how I am my happy self? Yeah. And my most authentic self, which in turn makes me happy."
The five track EP introduces her as an artist ("I feel like I've blossomed, I don't believe I was an artist back then", she admits) with a sound all of her own – a fluid mix of dreamscape R&B, pop, and neo-soul inflections produced by cultural mainstay P2J who has worked with Wizkid, Snoh Aalegra, and Beyoncé. Highlights include the languid 'Wickedest' with its sexually charged lyrics, "If it's only for tonight / make sure we do it twice", are the softer, emotive, 'Strong For Me' which asks, "How can I be strong for you, I ain't even strong for me?" Overall, the record showcases her silky smooth vocals and harks back to the classic R&B of the 90s, influenced by her childhood obsession with Destiny's Child, while tracks such as 'Good Love' featuring Tay Iway and 'Angel Dust' vibe to percussive Afro-beats. She likes to blend different inspirations: "I would describe my sound as just expressions, because I don't necessarily like to tie myself down to genres." 
Growing up in a white household with her mother and two siblings after her father left in her infancy, Tamera felt disconnected from her black roots until her uncle married "a lovely African lady, and she gave us two beautiful babies." She stretches out the fingers on her right hand to show miniature tattoos of Martin Luther King, Malcolm X, and Nelson Mandela. "I didn't really learn about powerful black leaders until much later in my life," she says, after being confused about her heritage growing up. "When I was in primary school, people used to be like, 'Oh, your family's white, you must be adopted'. I never looked at my afro as beautiful. I used to hate my hair and used to be so upset. I didn't have long straight, blonde hair, like my friends at school." She says being introduced to black power helped generate, "a new sense of pride in myself."  
As she's grown into a woman she's also made peace with some of the trauma of her youth. She's not the angry teenager she once was. "I experienced quite a bit of betrayal, and obviously, only the closest people to you can really betray you, so that's painful. I think when we have our own set of morals and the way we like to do things, the way we like to treat people, we can sometimes just assume that the people that are around us, share those with us. It's not always the case." Emotions would run high and without aim, "it's hard to digest, especially at an age where I really didn't really know anything about anything. I was just like 'oh well, fuck all of you.'" Echoing many other artists, she says "music is my therapy" and she uses her writing to "make sense of things".  
She came to music through singing in church, her grandmother is a minister and would ask Tamera to lead the hymns as she played along on the keyboard. Later, an English lesson on descriptive writing sparked her love of words, "I remember my brain, I guess it just exploded. I was like, 'wow, like this is insane! People can actually paint pictures in your head with words!' That was just the most incredible thing to me." On the EP, the track 'New Hobby' shows a glimpse of this spoken word element. There's freedom in this artform, too. "I still write poetry, on the days where I feel the need to write something, but I don't necessarily have a beat that inspires me, or I don't necessarily want to tie myself down to having to create a melody, and having it you know, make sense sonically."
Tamera's grandmother has had a huge influence on her life, a woman she describes as both "bloody solid" and "just so kind and light, her heart surprises me all the time. She's very gentle and patient. I think in my whole life she's lost her temper once, the whole time I've been alive." For her mother she has the utmost respect: "My mom is a freaking trooper. Wow, she has been through so much and she is just the most warm, welcoming, loving and accepting person that I know, and I just say I'm fascinated by that every day." With a family full of women, she says, "I feel like I got to see so many different colours of femininity when I was growing up. And so that was interesting, and I think that probably had a part to play in how much I have always wanted to overly express myself, because I discovered there's so many things that you can be." 
As live music returns from its long Covid-19 hiatus, Tamera is excited to play a headline show at The Grace in London this Wednesday the 3rd November. Although she suffers from social anxiety at times, luckily performing doesn't make her nervous. It allows her to express herself and communicate with people, while she says might be anxious in a room full of people having a conversation. She reveals she's "a little bit nerdy in that way", adding ruefully, "I'm 100% I'm not cool bro. It's a sham. I try my best." Clearly it's working, the Tamera we see on screen is every inch the femme fatale. 
She has ambitions of travelling the world with her music, making money to buy a house, but more than anything she just wants to be happy. "I feel like when you're at peace with yourself when you're happy with what you're doing. You trust in the universe, you trust in your decisions, you trust your gut and you go with that. I love my work and everything and this industry but I really want to end it all knowing that I stayed true to myself, I gave people an authentic expression of me and my experiences, and hopefully I would have helped some people." 
Spoken like a true artist. It may be a long time coming, but with vocal talent to rival anyone in the charts, and now with her own material and authentic production, Tamera is finally ready to step into the spotlight.