Meet the woman who wants to make rustling up an authentic Indian dish as common as throwing together a stir-fry
Words  Mary-Jane Wiltsher
Anjum Anand believes we're in the midst of a major revelation when it comes to Indian cuisine. "The full range and depth of Indian food is really only just being understood," she says, excitedly. "In the past it was mostly experienced through old fashioned curry houses, which is not proper Indian food. It's actually one of the healthiest cuisines and not one of the richest, as many believe."
The award-winning cookery writer and entrepreneur, who founded at-home cooking range The Spice Tailor in 2011 and has penned a total of eight Indian cookery books, has lived, worked and studied around the world, leaving her childhood home in London for stints in Geneva, Paris and Madrid. From Café Spice in New York to the Park Royal Hotel's Indian restaurant in New Delhi, she's honed her craft in a series of internationally renowned restaurants, but it was her passion for at-home Indian cookery that she always found herself returning to, driven by a desire to bring simple, health-conscious interpretations of her native food into the repertoires of everyday cooks.
Anjum's latest book, I Love India, now available to buy on Amazon, is a personal culmination of recipes inspired by family, travels and her own fresh and light twists on local dishes. Here, she gets our mouths watering with descriptions of her father's fish curry, her signature green mango tart, and two vegetarian, street-food inspired dishes: mini paneer kathi rolls and cauliflower tandoori.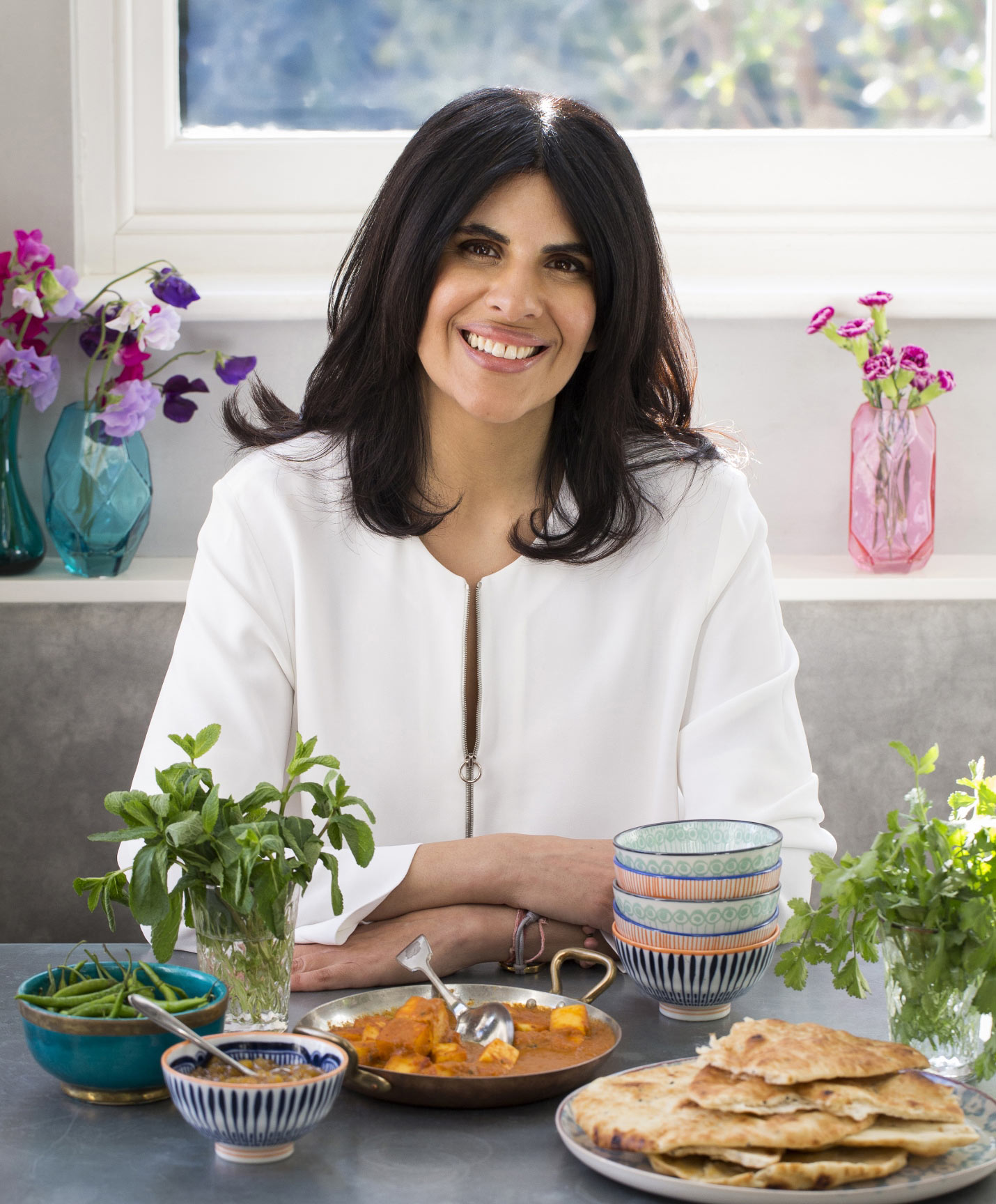 Tell us more about these two recipes, the tandoori cauliflower and the mini paneer kathi rolls…  
I love tandoori food – it's often the highlight of my Indian restaurant experiences. As my husband is vegetarian, we always order some tandoori vegetables and I have to say, they are always delicious and light. I love cauliflower, especially roasted, and in this recipe I've used some gentle tandoori flavours to dress up this humble vegetable. It's also a really quick meal to make which requires little hands-on cooking.
Kathi rolls are Indian wraps and are a much-loved street food. Traditionally, these would be made on a larger scale so they are a filling meal, like a warm Indian sandwich or wrap with a warm spiced filling and some cool herb chutney all wrapped in a parantha; flaky and rich. Recently, I find myself making lots of street-food dishes when I have friends over instead of a traditional Indian meal, and they always go down really well. This is one of the dishes I regularly make but with a lighter wrap. You can use chicken or meat if you prefer, or vary the vegetables.
What values or philosophies does Indian food signify for you? 
For me, Indian food is a journey through Indian history and culture. It's good, honest food using seasonal and regional ingredients and fashioned into a balanced plate which reflects the produce and historical influences.
What's a typical day like for you? 
I'm up by 6.30 in the morning to have a little space and calm before I get the kids up and ready for school. I often check for important emails at this point. Once the kids are out, if I have the time and energy, I'll do a bit of exercise as it makes me feel good all day.
Once back, I'm straight at work and every day is different, it could be spent in meetings, writing, cooking or going through packaging design and texts. Today, I spent much of the day looking for office furniture as we (The Spice Tailor – my company) have just got a new office. We're exciting to move into our new space!
I tend to stop work for a while if I'm home once the kids are back and start again once they are in bed to finish things off.
Tell us about a dish that makes you feel nostalgic… 
I'm mostly nostalgic for my father's fish curry and my mother's chicken curry as my family is vegetarian and so these don't get cooked anymore. They are both delicious with clean flavours and a harmonious sauce.
Which ingredients do you rely on most? 
Garlic, ginger, onions, tomatoes, yoghurt and spices are all very important in Indian food.
Top three tips for home cooks wanting to expand their Indian recipe repertoire?
Try different regional dishes to understand the range of flavours.
Get into tandoori food; it's fun to experiment with new marinades. Taste the marinade before you add the main ingredient and place in the oven or on the BBQ.
Choose a favourite seasonal ingredient and find a lovely-sounding Indian recipe to cook it in.
Go-to meal for a summer dinner party? 
A few small tapas-like bites with drinks to start with. One that always goes down well is Kutch Chicken Biryani with some simple raita with a green mango tart to finish.
Words to live by?
Life may be too short to "peel tomatoes" but it is also too long to eat bad food.
Any idols?
I'm inspired by women who break barriers or push boundaries to do what they believe in. Having said that, I think Jamie Oliver is quite exceptional in the way he has handled his career as well as his passion for real causes.
You have family homes in Delhi and Calcutta, how much of the year do you spend in India?
Not as much as I would like – I'd go at least once a year if I could.
Favourite foodie spots in London?
I love Borough Market and walking around Selfridges' food hall and Wholefoods. I live in Marylebone so tend to go out locally or in Soho. I love the eggs and coffee in Providores and go to the Good Life Eatery for a healthy meal, or to L'Etto for something more indulgent. I head to La Fromagerie for cheese, China Town for dimsum, and Snowflake for ice cream. There's a new German/Austrian artisanal café-cum-shop-cum-eatery on Baker Street that I also love – it reminds me a little of my childhood in Europe.
What's the biggest misconception about Indian food?
It's mostly understood through old-fashioned curry houses, which is not proper Indian food. The range and depth of Indian food is only just being understood. Also, I feel it's one of the healthiest cuisines and not one of the richest, as many believe it to be. Most people eat simply and healthily but of course, like any other cuisine, there are many treats and temptations beyond your regular meals.
The tandoor oven cooks some of the most flavourful dishes in India, but is often skewed towards meat eaters. One of the few concessions to the large vegetarian population is tandoori cauliflower. I have to say, I love cauliflower, and this recipe gives it that extra edge. It is now a go-to appetizer for when I have friends round and don't want to serve a lot of meat or sh. It doesn't need a chutney or anything else. Serves 6-8.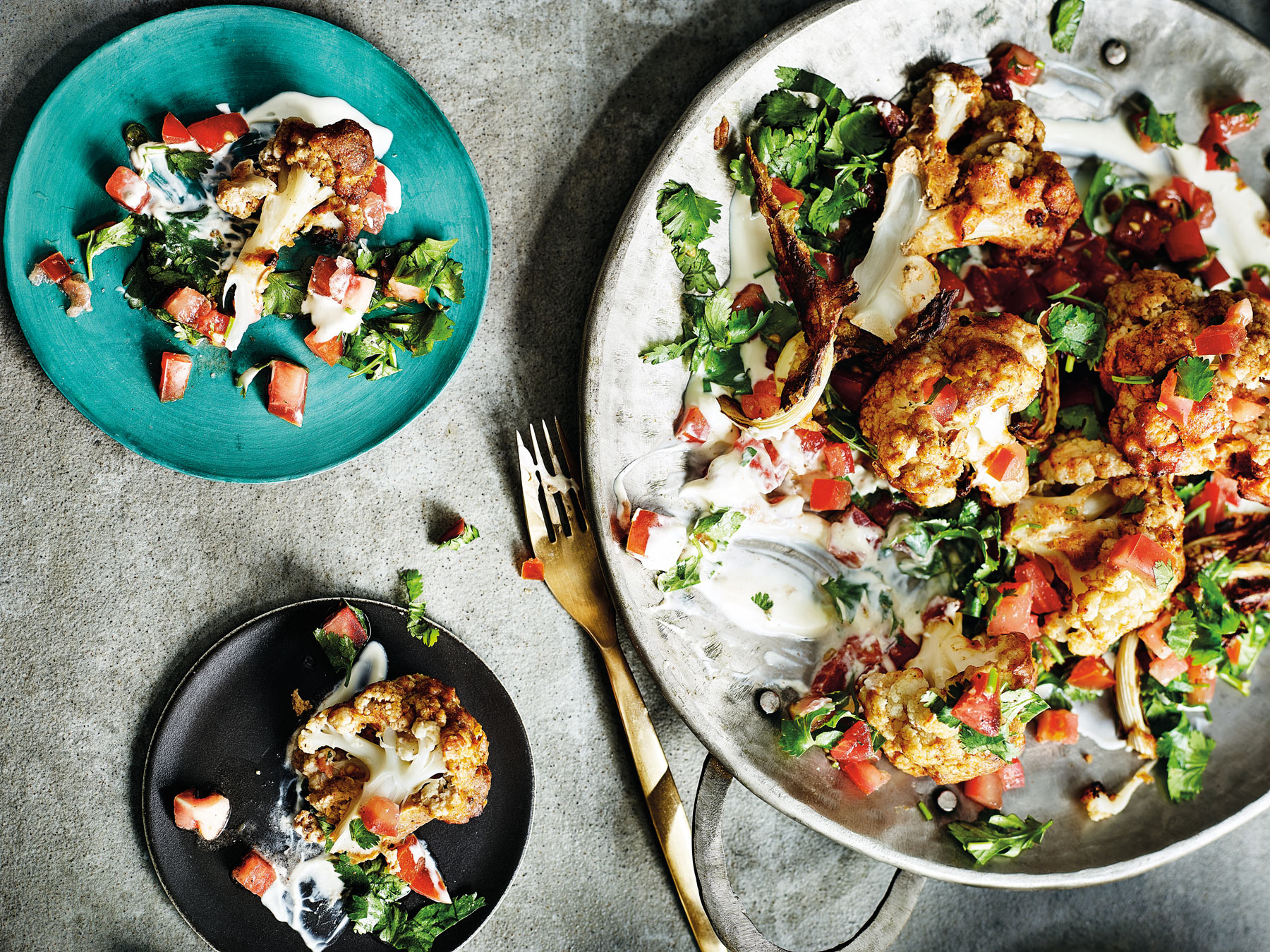 For the cauliflower
900g (2lb) cauliflower (around 1 small one)
salt and freshly ground black pepper
4 tbsp chickpea (gram) flour
60g (1⁄2 cup) cashew nuts
3 small garlic cloves
20g (11⁄2 tbsp) finely grated root ginger (peeled weight)
3 tbsp vegetable oil, plus more for the oven rack
400g (13⁄4 cups) plain yogurt
1⁄8–1⁄4 tsp chilli (chili) powder, or to taste
paprika, for colour, if you like
1 tsp carom seeds
3 tsp garam masala
3 tsp ground cumin
To serve
Large handful of chopped coriander (cilantro)
2 small tomatoes, deseeded and chopped
3⁄4 tsp chaat masala, or to taste
1 small Indian green finger chilli (chile), finely chopped, or to taste
200g (1 cup) crème fraîche
Method
1. Cut the cauliflower into large 7.5cm (3in) florets. Bring a pot of water to the boil, add 1 tsp salt and the cauliflower. When it returns to the boil, cook for 1 minute, then drain.
2. Dry-roast the chickpea flour in a frying pan, stirring very often, until it has darkened by a couple of shades and smells roasted. Take it off the heat.
3. Place the cashews, garlic, ginger, oil and half the yogurt in a measuring jug or blender and blend until smooth. Stir in the remaining yogurt, spices, a little more salt and the chickpea flour. It should taste good, so adjust the salt if necessary. Place in a large bowl, add the cauliflower and leave for 20 minutes or so, if you have some time.
4. Preheat the oven to 200°C/400°F/gas mark 6. Line the base of the oven with foil, then oil an oven rack and place it in the middle of the oven. Once hot, place the cauliflower florets on the oiled rack and bake for 20–25 minutes, or until charred in areas and cooked through (the stalk should be tender when pierced with the point of a knife).
5. Meanwhile, mix together the coriander, tomatoes, chaat masala and chilli, then taste and adjust the seasoning. Spread the crème fraiche in a swirl over a serving platter. Spoon on just over half of the tomato mix. Place the cauliflower evenly over the crème fraîche, spoon over the rest of the tomato mix and serve.
Kathi rolls are hot Indian wraps and one of India's favourite streetfoods. They come in many guises, few of which resemble cold wraps as we know them. I have probably tried most versions, buying them in bustling markets in New Delhi, exchanging money straight from the car window in Mumbai – where they are known as Frankies – and in hotels and homes as streetfood made its way off the street. Different places have their own versions and there are no strict rules: as long as a soft bread with a slight chew envelopes a fresh, hot, tangy lling with red onions for crunch, you are in the right zone and in for a treat. I make these often. They're tasty, everyone loves them and they are easy to throw together. You can also substitute chicken for the paneer. If you are in a hurry, you can buy tortilla wraps and cut them in half, but homemade wraps are cheaper and tastier. Makes 10 medium-small, or 15 tiny, rolls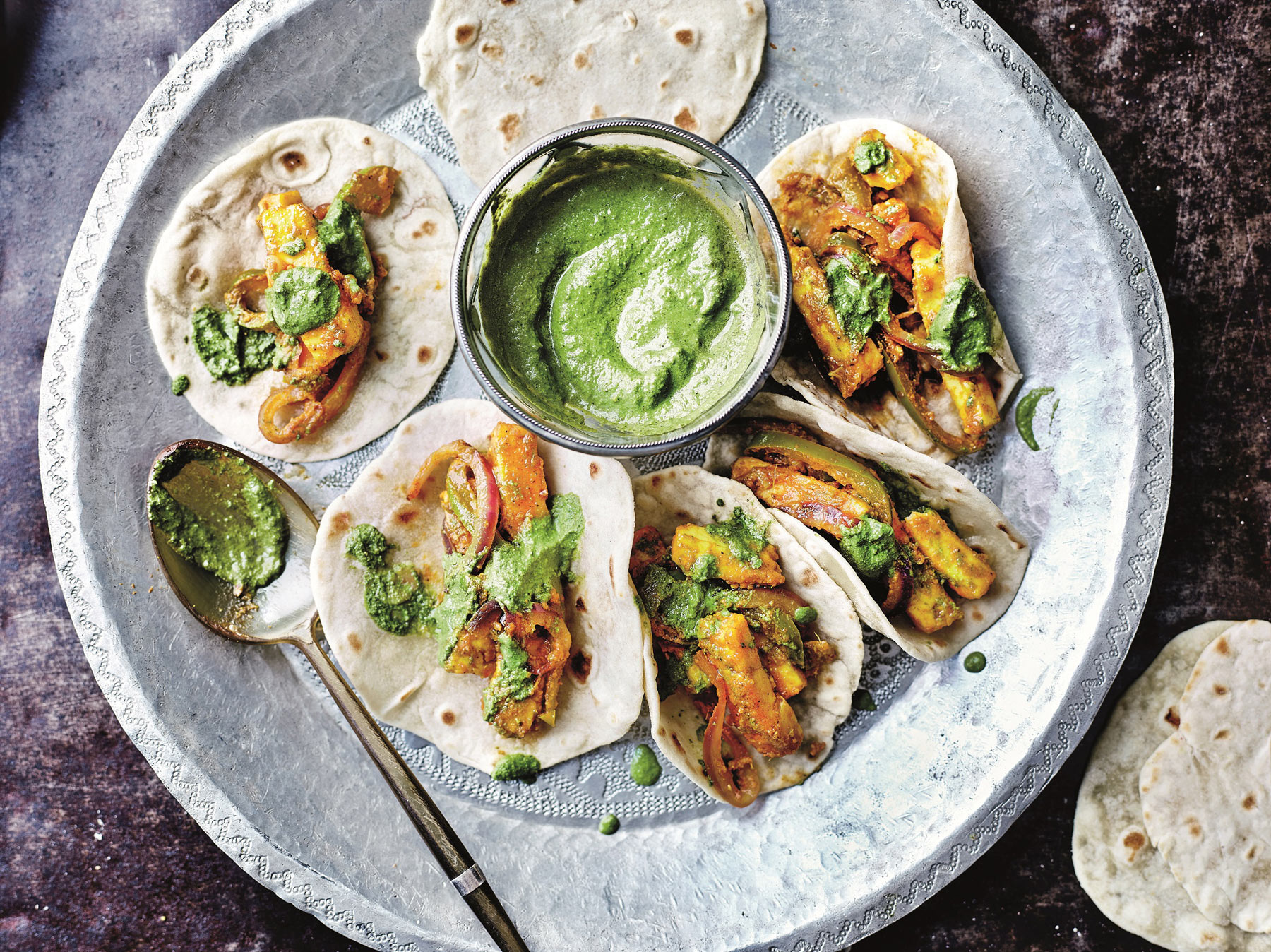 For the marinade
100g (2⁄5 cup) plain yogurt, not too sour
20g (11⁄2 tbsp) roughly chopped root ginger (peeled weight)
2 large garlic cloves
Scant 2⁄3 tsp garam masala
Scant 2⁄3 tsp ground cumin
1 tsp chaat masala
1⁄2 tsp ground turmeric
2 tsp concentrated tomato purée
Salt
1⁄8 tsp chilli (chili) powder, or to taste
 For the rolls
240g (83⁄4oz) paneer, cut into small fingers 2cm (3⁄4in) wide x 5cm (2in) long
2 tbsp vegetable oil
3⁄4 small green (bell) pepper, thinly sliced
Good handful of thinly sliced red onion rings
50ml (31⁄2 tbsp) Tangy Herb Chutney
Freshly ground black pepper 
For the wrap
125g (1 cup) plain (all-purpose) flour, plus more to dust
1 tbsp vegetable oil
6–8 tbsp water, or as needed
Method
1. Blend together all the ingredients for the marinade. Season to taste with salt; I use 1 tsp. Add the paneer, gently turn the pieces to coat, and leave to marinate as you prepare the dough.
2. Put the flour in a bowl and pour in the oil, water and a good pinch of salt. Knead together well; it will be a bit squelchy at the beginning but should become lovely and soft without cracks once it is done. Cover with a damp dish towel and leave to rest for 20 minutes.
3. To make the breads, place a tava or frying pan over a medium heat. Divide the dough into 10 pieces and roll each out on a work surface lightly dusted with flour into a thin, round bread around 13cm (5in) in diameter. Dust any excess flour off the bread and place on the pan.
4. Cook, turning once, until the bread has just a few light brown spots on both sides; it only takes a minute or so. Repeat to cook all the breads, stacking them on a dish towel, covering each with the corners as you go to help keep them soft. (You can also reheat them in some foil in the oven.)
5. Now back to the rolls. Heat the 2 tbsp oil in a saucepan, add the pepper and stir-fry for 2 minutes. Add the paneer and all its marinade and cook, stirring often, until the liquid has reduced and you can see oil in the pan, 6–8 minutes or so. You might need to add a splash of water at some point once the pan gets dry. Add the onions and cook for another minute, or until the liquid now just coats the ingredients and is still moist. Take off the heat.
6. Working quickly, spoon a line of the filling down the centre of each wrap, top with 1 rounded tsp Tangy Herb Chutney, wrap them up and serve hot.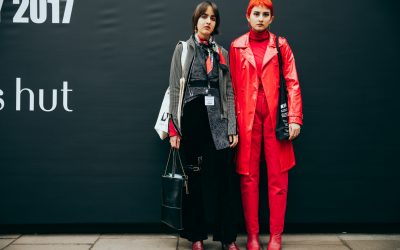 From bloggers to Editors-in-Chief, we round up the best of the street style contingent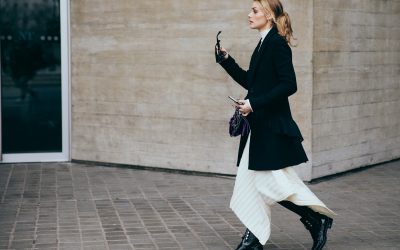 From bloggers to Editors-in-Chief, we round up the best of the street style contingent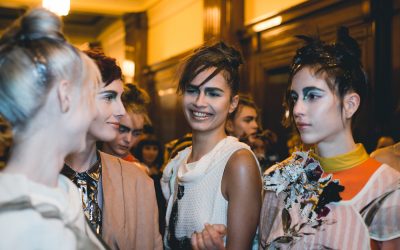 The eco-friendly brand presented a painterly, nature-inspired collection for their second catwalk appearance